The top 10 car insurance companies serve over 72 percent of the U.S., and once you see the revenue, it's clear they're banking millions of Benjamins. Appropriately, their namesake, Mr. Benjamin Franklin himself, jump-started part of the insurance industry, too.
Franklin helped form the Philadelphia Contributionship in 1751, which was the first in the colonies to offer fire insurance. From there, we zoom 150 years into the future to Ohio, which led automotive development in the late 1800s and early 1900s. In 1897, one company on the top 10 list issued the first car insurance policy, 11 years before the release of Ford's Model T.
The innovation of assembly lines and mass production increased car ownership among early motorists. By the time the worst of the Great Depression started, all of these top 10 companies were founded.
Each company targeted a niche, such as government employees or military personnel. But most focused on uninsured farmers because they rarely drove in the winter and clocked far fewer miles than city dwellers year-round. Low risk equals high profits for insurers. Some things never change.
Fast forward to the end of World War II, and prosperous Americans wanted cars, suburbs, and consumer goods. It's then that insurers saw they needed to go past the regional model and reach all states––in other words, nationwide. Sound familiar?
And the rest, as they say, is history. But the real secret of auto insurers' staggering success is minimizing underwritten losses and reinvesting excess insurance premiums. Put the money in the oven for 90 plus years, let the compound interest rise, and you get:
Top 10 Largest Car Insurance Companies by Market Share
When you're ready to grab a slice, use Insurify to compare cheap car insurance from these carriers and more in less than two minutes. And if you'd like to learn more ways to save, check out the top 10 companies:
1. State Farm Mutual Automobile Insurance
Drivers who love a strong brand name, need a policy for Lyft or Uber, or want a telematics discount should check State Farm for bargains as big as a barn, but high-risk drivers seeking low car insurance rates should move on to greener pastures.
Would you buy insurance from legendary singer-songwriter Barry Manilow? In 1971, the company commissioned him to write a jingle, and he penned "like a good neighbor, State Farm is there." The famous words became the slogan for what has been the largest auto insurance company since 1942.
As the leader, the company sold 44 million car insurance policies in 2019. Not bad when you consider the company was started 98 years ago with a handshake and a smile. The honors belong to a retired farmer turned insurance salesperson named George J. Mecherle.
Average monthly premium: $56

Market share: 16.1%

Premiums written: $40.9 billion

J.D. Power Rating: 881/1,000

Insurify Score: 83/100
2. Berkshire Hathaway Inc. ( GEICO )
People who need a low rate, have a clean driving record, or want to be rewarded for loyalty can invest "15 minutes," but those with spotty records or a desire for top-notch telematics should clock out.
Warren Buffett snapped up GEICO through his company way back in 1996 because the Oracle of Omaha could foresee the gecko's growth. And it has grown from its humble start in 1936 as a company targeting government employees and military personnel. Now GEICO insures over 28 million vehicles.
Geico skips the agent model and hopes funny ads will be its personal touch. But it employs over 40,000 employees to service its 17 million auto policies. The company advertises that "you could save 15 percent" and continues to win customers with all those savings. As the second-largest car insurance company in the nation, there's a reason that gecko looks good in green.
Average monthly premium: $50

Market share: 13.8%

Premiums written: $34.9 billion

J.D. Power Rating: 871/1,000

Insurify Score: 87/100
3. Progressive Corporation
Customers who look for bundling, value speedy claims, or search for many coverage options should look to Flo, but high-risk drivers with multiple accidents and those preferring local insurance agents should kiss her goodbye.
With a smile that makes the sun jealous and contagious perkiness that caffeinates viewers, Flo makes Progressive 's agent-less model work. The company's strategy involves heavy direct-to-consumer advertising, and it passes the savings from paying no commissions on to the policyholders.
The company also refers "bad risks" to other companies. The plan has worked to the tune of over 21 million total policies in force, giving 42,000 employees plenty to do. Innovative programs like Snapshot telematics and the name-your-price tool have policyholders popping those pearly whites just like Flo.
Average monthly premium: $64

Market share: 12.2%

Premiums written: $34.9 billion

J.D. Power Rating: 856/1,000

Insurify Score: 78/100
4. Allstate Corporation
Drivers who want a financially stable company, young driver discounts, or affordable rideshare coverage will find themselves "in good hands," but those who need the lowest price, no advanced features, or no mobile app might invite "mayhem."
Dennis Haysbert, the debonair spokesperson with a voice deep enough to dive into, wants to know "are you in good hands?" Those hands hold over 16 million households. Including employees, agency owners, and their staff, the company has 77,000 people ready to serve across the nation.
Most people don't know the company tries to reach all market segments by employing its other brands, Answer Financial, Esurance, and Encompass. There's been much growth since Sears founded the company in 1931, and it'll continue to grow by protecting its policy members from "mayhem."
Average monthly premium: $160

Market share: 9.3%

Premiums written: $23.6 billion

J.D. Power Rating: 876/1,000

Insurify Score: 86/100
5. USAA Insurance Group
People with military backgrounds and their close relatives, including spouses, former spouses, and children, should salute USAA for affordable rates and superior customer service, and everyone else has marching orders.
USAA understands military families' unique needs and tailors its insurance, banking, and even investment products to serve its target market. They help the segment well because 25 army officers seeking to insure each other's vehicles started the company.
That was in 1922, and nearly 100 years later, the company protects 12 million members. They have key financial centers across the nation to serve you, or you can "enlist" online or over the phone. Families who qualify for their savings and stellar service almost have a duty to get a quote.
Average monthly premium: $39

Market share: 6.0%

Premiums written: $15.2 billion

J.D. Power Rating: 890/1,000

Insurify Score: 94/100
6. Liberty Mutual
Customers who value user-friendly mobile apps, safety discounts, telematics discounts, and accident forgiveness should pick up the torch from Lady Liberty, but those who must have rock-bottom rates or loyalty discounts should drop it.
It's a bird. It's a plain yellow shirt. It's LiMu Emu and Doug saving the day by making sure customers only "pay for what they need." That's Liberty Mutual's version of "truth, justice, and the American way, "and the company has been protecting policyholders since 1912, the second oldest on the list.
Its unique product mix of auto, home, and life insurance works best for its target market of college-educated homeowners with multiple cars. There are 45,000 employees ready to serve you online, over the phone, or in person. Liberty has an equation that says, "you + Emu + Doug too = moola back in your pocket." A quick quote can see if that's true.
Average monthly premium: $90

Market share: 4.6%

Premiums written: $11.7 billion

J.D. Power Rating: 867/1,000

Insurify Score: 80/100
7. Farmers Insurance Group of Companies
Drivers who prefer a thorough claims process, want a large insurance company, or need rideshare insurance should copy "Old MacDonald," but those in need of the cheapest car insurance or regional touch should "E-I-E-I-go" somewhere else.
You may have caught an ad with actor J. K. Simmons in his college professor tie and vest. He educates the public about Farmers' "Hall of Claims." Hilariously, the company highlights its dedication to making things right when they go wrong.
It has been promising to make things right since 1928 when two salespeople went farm to farm. Now, rural folks to city slickers in 10 million households along with the 48,000 agents who serve them can say, "We are Farmers."
Average monthly premium: $197

Market share: 4.2%

Premiums written: $10.5 billion

J.D. Power Rating: 872/1,000

Insurify Score: 83/100
8. Nationwide Mutual Group
People looking for one-stop-shop bundling, established insurance companies, or low- credit-score acceptance should quote Nationwide, but those needing the lowest rate or best customer service should side with another company.
In 1926, the company sided with rural Americans and was called Farm Bureau Mutual Automobile Insurance Company. In 1955, 29 years later, the name changed, as the insurer wanted to help both rural and urban dwellers from Connecticut to California and everywhere in between.
Today, Nationwide offers bundling for your car and renters or homeowners policy alongside financial services products, commercial insurance, and a host of other products. Nationwide also leads in pet insurance and farms and ranch policies. Perks such as "vanishing deductibles " and yearly reviews have caused many to see whether " Nationwide is on their side."
Average monthly premium: $107

Market share: 2.5%

Premiums written: $6.2 billion

J.D. Power Rating: 876/1,000

Insurify Score: 84/100
9. American Family Insurance Group
Customers who qualify for lots of discounts, have teenagers, or need rideshare coverage should keep it all in the Family, but those who live outside the coverage area or those who need the cheapest rate should search for another insurer.
No catchy slogans here.
There's just an ongoing mission related to the American Dream. American Family was known as Farmers Mutual Automobile Corporation until 1963; that's when it changed its name to reach a broader market.
Today, American Family is the 13th-largest property and casualty insurer in the U.S., even though it serves just 19 states, mostly in the Midwest. The company says it wants to protect the most valuable thing a customer can own, "a dream."
Average monthly premium: $162

Market share: 2.3%

Premiums written: $5.8 billion

J.D. Power Rating: 862/1,000

Insurify Score: 88/100
10. Travelers Companies, Inc.
Drivers who plan to add spouses and teen drivers or who want a trusted insurance company should make the journey with Travelers, but high-risk drivers should choose another destination.
Travelers is the top 10 group's grandpa, with over 165 years of operation and a start date before the end of the Civil War. Founded in 1864, this relative old-timer had several firsts in the industry, including travel insurance, accident insurance, and the first auto insurance policy, in 1897.
Today, the company continues to innovate with products such as IntelliDrive, a 90-day telematics app that could help drivers save up to 30 percent. Travelers has 30,000 employees and 13,500 independent agents and brokers who want to protect you, just like their roadside assistance, no matter where you are on your journey.
Average monthly premium: $162

Market share: 2.3%

Premiums written: $5.8 billion

J.D. Power Rating: 862/1,000

Insurify Score: 88/100
National and Regional Car Insurance Providers: Positives and Negatives
Before you choose a national brand, such as State Farm, over a regional one, such as Erie, you should think about a few points:
Price: The bigger companies will often have better rates because of scale, but low price may cost you customer satisfaction.

Service: If you value face-to-face contact, then pay a bit more for a personal touch.

Strength: If you never want to worry about the insolvency of a carrier leaving you on the hook for an unpaid property damage claim or a bodily injury bill, then pick the larger company because they usually have better financial ratings.

Time: If process speed is essential, you'll likely want to sign up with a larger company.
Getting the perfect car insurance quote for you
It's all about the Benjamins, and you could save a few when you follow these nine quick tips:
Be a safe driver.

Check insurance rates before you buy a new car.

Get multiple quotes.

Improve your credit

Qualify for car insurance discounts.

Quote both regional and national carriers.

Skip car insurance coverage you don't need, like rental reimbursement or full coverage on older vehicles (collision coverage and comprehensive coverage).

Raise your deductible.

Try telematics, usage-based, or pay-per-mile insurance.
Armed with those pointers, you can find a fair price from the top 10 or another company. Use Insurify to save money and compare personalized car insurance quotes in less than two minutes.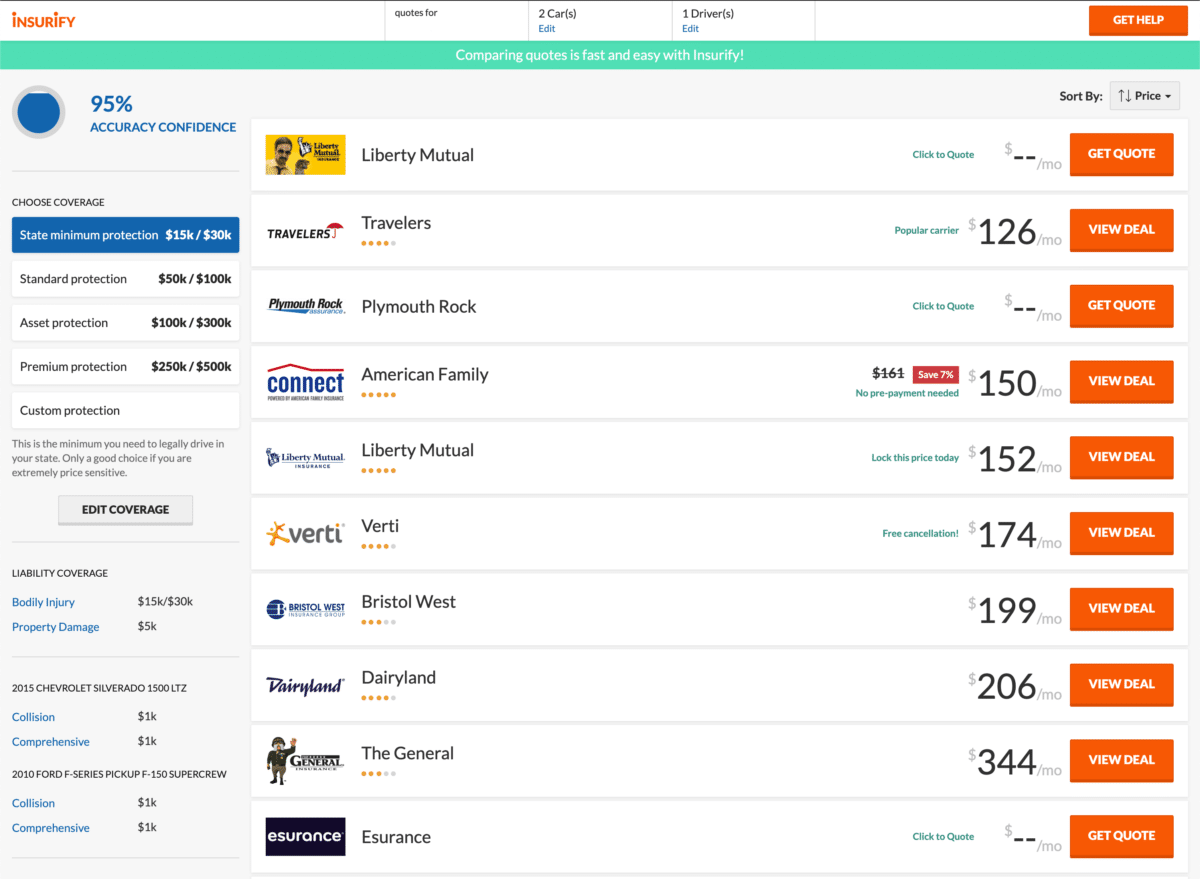 Top 10 Largest Car Insurance Companies of 2020: FAQ
State Farm, the juggernaut, gets more than one out of every six car insurance revenue dollars. It has a market share of 16.1 percent as of 2019 and has held the title since 1942.

Travelers is the oldest car insurance company in the U.S. and sold the first policy in 1897. While other companies may be older, such as The Hartford (founded in 1810), they came into the car insurance market after Travelers.

It depends. The answer is different for every driver's profile or even the same driver in separate cases. The same person with a changed credit, driving history, or even location could get drastically different rates. The best company gives you the apples-to-apples auto insurance coverage you need at a price you can afford.

That's an easy one. Try an online comparison tool like Insurify to get the best auto insurance quotes from the top 10 or other companies in less than two minutes.
Compare Car Insurance Quotes Instantly
Secure. Free. Easy-to-use.
Data scientists at Insurify analyzed more than 40 million real-time auto insurance rates from our partner providers across the United States to compile the car insurance quotes, statistics, and data visualizations displayed on this page. The car insurance data includes coverage analysis and details on drivers' vehicles, driving records, and demographic information. Quotes for Allstate, Farmers, GEICO, State Farm, and USAA are estimates based on Quadrant Information Service's database of auto insurance rates. With these insights, Insurify is able to offer drivers insight into how companies price their car insurance premiums.