What does renters insurance cover?
Renters insurance covers your personal belongings and provides personal liability coverage. You can purchase a policy for less than you might think, and it can offer thousands of dollars in protection.
If you rent a house or apartment, do you know who's financially responsible when there's a fire, theft, or other threat? If you think it's your landlord, think again. Your landlord's insurance policy doesn't cover your personal belongings. What you need is renters insurance.
What does renters insurance cover? It covers your personal property, protects against personal liability, and can pay for a place to stay if your home is uninhabitable following a disaster. Basically, it protects you financially against catastrophes.
The good news is it's more affordable than you might think. Here's everything you need to know about what renters insurance covers, what it doesn't, and how much it costs. Compare renters insurance quotes on Insurify today.
What Is Renters Insurance Coverage?
Renters insurance, sometimes called tenants insurance, protects against financial loss if you rent a house or apartment.
If you're familiar with house insurance, renters insurance offers similar types of coverage. A renter's policy can help pay to repair or replace property after an accident or disaster at your residence.
It's an important safety net when there's a disaster. Yet only 37 percent of renters have renters insurance, according to an Insurance Information Institute (III) poll conducted by ORC International.
What Does Renters Insurance Cover?
The III states that many renters believe their landlord's insurance policy will cover their personal property. But that simply isn't true. The landlord's policy covers only the structure of the rental home. It can also cover a detached garage, shed, or fence.
But if your bike is stolen or a fire destroys your personal belongings, you need your own renters insurance policy to cover those things.
Rather than pay out of pocket, you can use renters insurance to pay to repair or replace your personal property. But renters policies also have additional protections that can benefit you. Besides personal property, your policy can cover medical payments, personal liability, and loss of use.
Personal Property
Standard renters insurance covers your possessions from fire, theft, and bad storms. Unfortunately, it does not cover floods or earthquakes. But you can purchase additional coverage if you want protection from flooding or seismic activity.
How much renters insurance you need depends on the value of your belongings.
Add up the cost of your furniture, clothing, electronics, and other items to discover how much you'd have to pay to replace them. Then, make sure your property insurance coverage limit is enough to cover all of your items.
Medical Payments Coverage
A typical policy includes no-fault medical payments coverage. That means your renters insurance company can pay medical bills if a guest injures themselves in your home.
Your coverage can vary, but policies typically cover between $1,000 and $5,000 worth of medical expenses.
Personal Liability
For more severe injuries or property damage, you'll benefit from the personal liability component of your policy.
Renters liability insurance covers you against lawsuits for bodily injury or property damage that you, your family members, or your pets might cause to others. It can pay for legal costs and court awards if you're found legally liable.
Loss of Use
Loss of use covers additional living expenses if you can't live in your home or apartment while it's being repaired.
For example, suppose a fire makes your home uninhabitable. In that case, your renters insurance will pay for hotel bills, temporary rentals, meals, and other costs until you can safely move back into the home.
Supplemental Coverages
Besides the four primary coverages, a standard renters insurance policy has additional benefits you can tap into:
Debris removal pays for debris removal after a covered loss.

Building additions or alterations covers upgrades or alterations to the rental property if you paid for the cost out of pocket.

Credit card and check forgery pays for loss from theft or fraudulent charges using your credit card or forged checks.

Spoiled food covers the cost of food loss resulting from a mechanical or power failure.
Rental insurance companies also have add-ons and endorsements you may want to add to your policy. For instance, you might buy earthquake or flood coverage to protect against those disasters.
Types of Hazards Covered by Renters Insurance
Renters insurance covers many of the same perils as homeowners insurance. If a covered event damages your belongings, your policy can reimburse you for the loss of property.
Common hazards a renters insurance policy covers include:
Fire and smoke damage

Lightning

Vandalism and theft

Explosion

Windstorm

Water damage
Keep in mind that your policy may not cover all causes of water damage. For example, it may cover damages caused by a sudden burst pipe. But most policies won't cover water damage from flooding.
Make sure you read your policy and talk to your agent if you have questions about what your coverage includes.
What Does Renters Insurance Not Cover?
Renters insurance doesn't usually cover floods or earthquakes. Some companies let you add an endorsement for them. In some cases, you may need to purchase a separate policy to get the coverage you need.
If you're in a high-risk flooding area, consider buying flood coverage from a private insurer or through the National Flood Insurance Program.
Your policy may also exclude high-value items such as jewelry, art, collectibles, or musical instruments.
You can add a "floater" to your policy to cover those items. A floater is a separate coverage that covers more expensive items not already covered by your renters insurance.
How Much Does Renters Insurance Cost?
According to the III, the average renters insurance policy in the U.S. costs $179 per year. How much you pay primarily depends on how much personal property coverage and liability protection you buy. Your location, ZIP code, and the risk of a disaster happening can also impact your rate.
For example, North Dakota has an average cost of $126, making it the cheapest state to buy renters insurance in. On the other hand, Mississippi is the most expensive, with an average premium of $252.
Your cost also depends on the type of policy you choose. Renters insurance has two options:
Replacement cost coverage pays current market value to replace your damaged or stolen belongings with a brand-new version. The amount is capped at your policy limit.

Actual cash value deducts depreciation from the value of your items before reimbursing you. The amount is capped at your policy limit.
The difference between replacement cost and actual cash value is significant. For example, let's say you paid $1,500 for a mattress five years ago. Most mattresses last about 10 years. That means your mattress loses $150 in value each year from depreciation.
With a replacement cost policy, your insurer would pay the full $1,500 if a covered loss damaged your mattress.
But with actual cash value, the insurance company subtracts depreciation from the reimbursement amount. Since you bought your mattress five years ago, you only receive $750 to replace your mattress ($1,500 original – $750 depreciation).
A replacement cost policy is usually more expensive because the payout is typically higher. But the added cost can be well worth it if you consider how much coverage your policy provides.
How much is my renters insurance policy deductible?
A deductible is the amount of money you're responsible for paying before the insurance coverage kicks in. Your deductible will be a fixed dollar amount and can be $500, $1,000, or more.
Does renters insurance cover water damage?
Renters insurance covers some causes of water damage. If a pipe bursts and the water damages your belongings, your policy will likely cover the loss. Most renters policies do not cover flood damage.
Does renters insurance protect my landlord?
No, renters insurance doesn't protect your landlord. Instead, it protects you as the policyholder. Typical policies include coverage for personal property loss, personal liability, medical payments, and loss of use. A covered peril must cause the damage. You can find a list of covered perils in your policy.
What happens if I don't have renters insurance?
In most cases, you aren't legally required to buy renters insurance. But a landlord's policy covers the landlord and their property. It does not protect you or your personal possessions. If you don't have renters insurance, you have no way of getting reimbursed for items that are lost in a fire or another hazard.
Is Renters Insurance Right for You?
If you rent your living space, you need renters insurance. It isn't required by law, but policies are inexpensive and can save you from having to pay thousands of dollars out of pocket if something bad happens.
The amount of coverage you need can vary. Your renters policy should be enough to replace all of your possessions if a fire or another hazard destroys them. It's easy to shop around to compare renters insurance quotes. Use Insurify to find a policy, and discover how affordable renters insurance can be.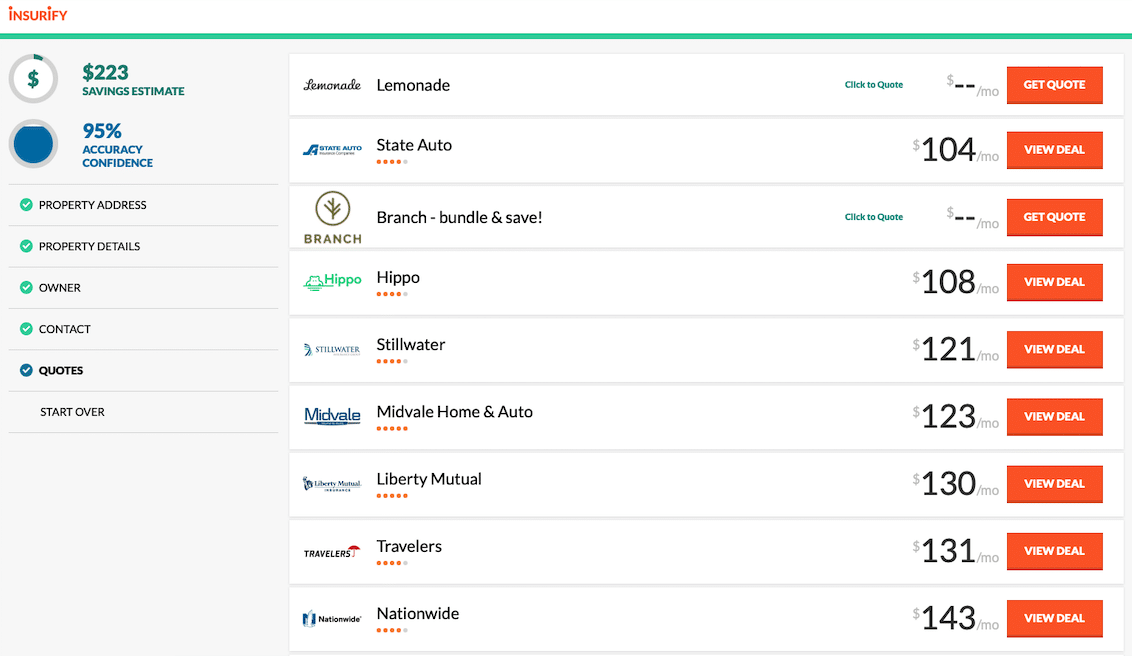 Compare Home Insurance Quotes Instantly
Personalized quotes in 5 minutes or less
No signup required