Car Insurance
Otto Review
Why you can trust Insurify
Insurify is America's highest-rated insurance comparison platform. We partner with the nation's top insurance companies and are licensed as an agent in all 50 states. However, the insurance experts writing our content operate independently of our partners, and you can learn more about how we make money by viewing our
advertising disclosures
. Also check out reviews from over 3,000 satisfied customers, our data methodology, and our editorial standards.
If you're in the market for new insurance, you should compare quotes to make sure you're getting the best rate. The best way to compare insurance quotes is by using a quote-comparison site, but with so many out there, how do you know which sites to trust and which to avoid?
Insurify is on a mission to test these sites so you don't have to. Next up: Otto Insurance. Let's take a look at Otto's quote-comparison tool and how it stacks up against other popular quote-comparison sites.
More: How to Compare Car Insurance
Quick Facts
Otto Insurance acts as a lead generation site, sharing your phone number and email with its marketing partners.

Otto Insurance does not offer actual quotes on its site.

Trustworthy quote-comparison sites will never share your personal information with third parties.
What is Otto?
What is Otto Insurance?
Otto Insurance is an insurance-comparison marketplace that claims to provide customers with quotes for auto, home, life, and pet insurance.
While its technology purportedly matches users with its best quotes, Otto is actually a lead-generation website that doesn't return quotes immediately but sends your information to its network of over 1,000 partners and affiliates.
How does Otto work?
Using the Otto tool is straightforward, but don't expect a quote right away. You'll start by selecting which type of insurance you want to compare.
More: Auto and Home Insurance Quotes
If you select auto, you'll answer a short series of questions about yourself, your vehicle, and your driving history. You'll also need to provide your gender, marital status, credit score, and whether or not you own a home. This process only takes a few minutes, and Otto shows a progress meter at the top to let you know how much you've completed.
Finally, you'll need to enter your street address and phone number. Before clicking the Get Your Free Quote button, make sure to read the fine print. Otto states that by clicking this button, you agree to be contacted by ottoinsurance.com or its marketing partners and affiliates. Click the marketing partners link and you'll see that there are over 1,000.
While Get Your Free Quote implies that your quotes are just a page away, this simply isn't true. Once I clicked the button, Otto only showed me one quote from Progressive. This link redirected me to Progressive's site where I was prompted to enter all of the same information again.
Less than a minute later, I received a call from an Everquote agent claiming to work with Otto and asking if I would like a quote. A few minutes later, I received a text from The General with a link to get a quote.
Within the hour, I received four more phone calls from multiple insurance agents asking me if I wanted a quote. I continued to receive calls, texts, and emails over the next few days.
More: Car insurance quotes
More: Cheap car insurance
Compare Car Insurance Quotes Instantly
Secure. Free. Easy-to-use.
Otto Reviews: Here's what customers are saying…
Otto Insurance reviews are overwhelmingly negative. Many customers mentioned getting bombarded with phone calls, others complained about horrible service, and some even called it a scam.
The following two customer reviews are from Quora, in response to the question: "What is your review of Otto Insurance (car insurance)? Is it a scam?"

These next two reviews are from the Otto Insurance Facebook page, where Otto has a 1.1 out of 5 rating based on 31 reviews.
These reviews are understandable when Otto advertises the following graphic on its site, while the actual tool has no resemblance to this image whatsoever.
Otto vs. Insurify: The Facts
Otto is a lead generation site and does not provide users with any real quotes onsite. Insurify, on the other hand, returns up to 20 actual quotes the instant you complete your insurance profile. You also have much more control over your data with Insurify, and never have to worry about receiving spam calls and text messages from insurance agents.
Additionally, Insurify has an accuracy estimator to show users how confident it is in the quotes provided.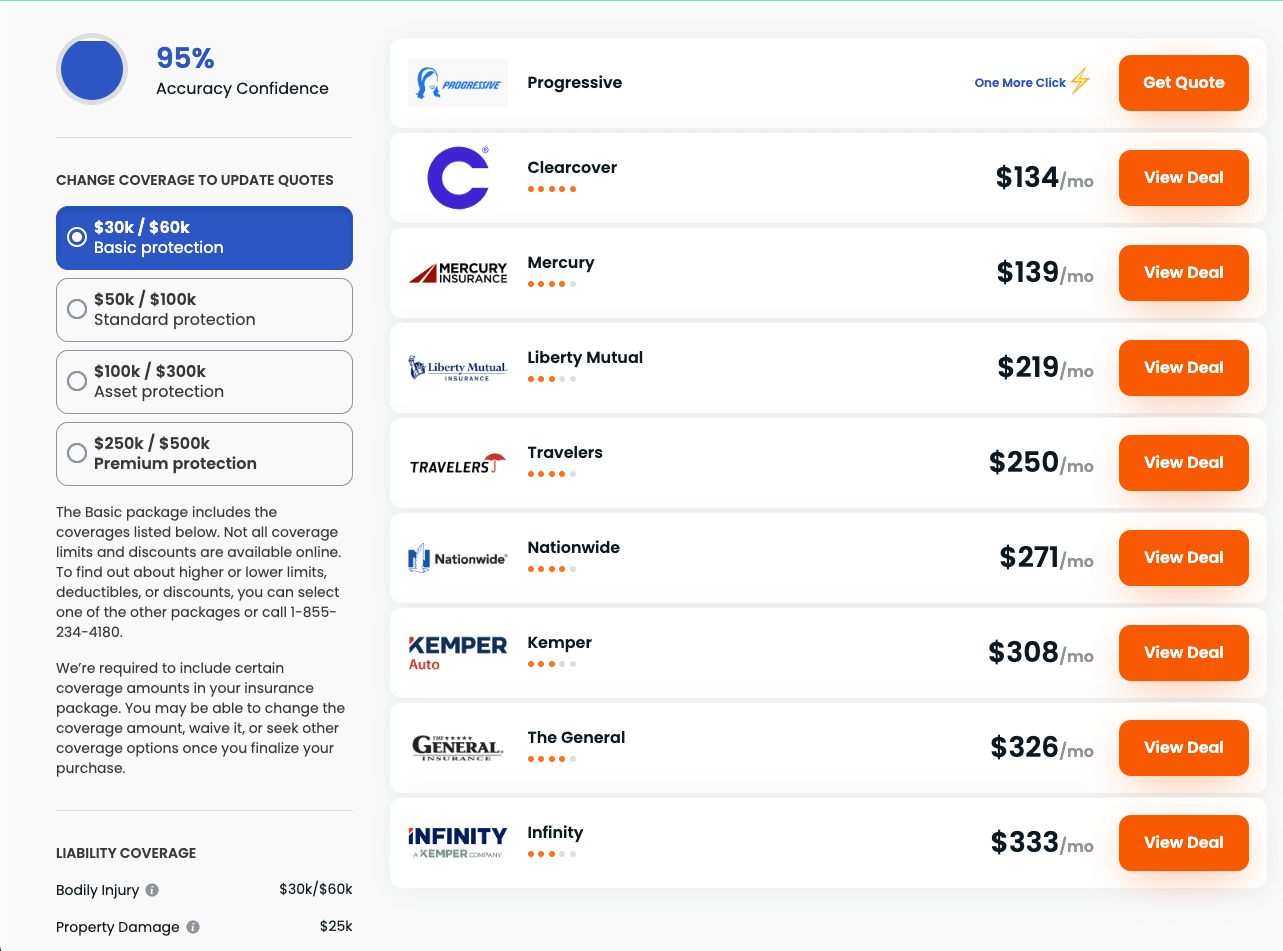 With over 3,000 user ratings and an average user score of 4.8/5, Insurify is officially the #1 highest ranked insurance comparison platform in the U.S.
Otto vs. Jerry
Otto and Jerry are similar when it comes to the question process, but the results are quite different. Jerry provides real quotes through its mobile app, whereas Otto simply redirects users to a car insurance company's website.
Jerry's app also provides vehicle management capabilities like maintenance scheduling, receipt management, and seeing any open recalls on your car.
Otto vs. QuoteWizard
Otto and QuoteWizard are quite similar, as both sites claim to offer quotes for auto and home insurance, however, neither provide any real quotes. Both are lead generation sites that sell your personal data to other insurance agencies. This is why so many users complain about getting bombarded by phone calls after using the tools.
How to Save on Car Insurance
The best way to save money on car insurance quickly is by using a true quote-comparison tool like Insurify. Just fill out your driver profile, and let Insurify deliver dozens of quotes for the coverage you select. Other ways to find better car insurance rates include:
Watch your driving. Driving mistakes wreak havoc on your insurance premiums. You may be able to take a defensive driving course to lessen the impact of prior tickets or accidents.

Bundle policies. If you have insurance coverage (life, renters, or home insurance) with separate companies, consider bundling them under the same provider for a discount.

Dig deep for discounts. Even if you've been with your insurance provider for a while, new discounts may be available. Ask your agent, or search for insurance using sites like Insurify that can capture discounts for you.

Shop around. It's easier than you might think to switch insurance providers. Review coverage and compare premiums every six months to make sure you have the best deal.
More about Otto
Otto was founded in 2006 in New York by Joshua Keller. It is currently not accredited by the Better Business Bureau. There isn't much other public information on the company, other than its address and contact information.
Contact Information
Headquarters: 429 Lenox Ave Fl 5, Miami Beach, FL 33139
Phone: 1 (888) 596-1534
Email: info@ottoinsurance.com
Frequently Asked Questions
While Otto is safe to use, it's not legitimate in the sense that it provides real quotes. There does not seem to be much risk in using the site, but there isn't much reward either. Users are left with no quotes and according to customer reviews, will likely end up receiving a lot of phone calls.

Otto Insurance claims to compare home, life, pet, and auto insurance. In reality, it does not offer the capability to compare any quotes.

Otto is a lead-generation site that sends user information to a network of over 1,000 insurance agents and affiliates. Insurify doesn't sell leads. Through its proprietary technology and relationships with insurance companies across the country, Insurify provides true auto insurance quotes comparison in under five minutes.
Compare Car Insurance Quotes Instantly
Secure. Free. Easy-to-use.
Data scientists at Insurify analyzed over 40 million auto insurance rates across the United States to compile the car insurance quotes, statistics, and data visualizations displayed on this page. The car insurance data includes coverage analysis and details on drivers' vehicles, driving records, and demographic information. With these insights, Insurify is able to offer drivers insight into how their car insurance premiums are priced by companies.