If you're looking to buy new insurance, comparing quotes is a key step in making sure you get the best rate. Rather than getting quotes from individual providers, drivers can use a quote-comparison site to compare auto insurance quotes side-by-side.
Jerry is one of many quote-comparison sites, but how does it compare to similar companies like Insurify, The Zebra, and Gabi? Let's explore the differences.
Quick Facts
To compare quotes with Jerry, you'll need to download the Jerry app.

Jerry automatically shops around for users every six months prior to each renewal period, providing the three best options it finds.

Jerry's mobile app provides tools for vehicle maintenance, receipt management, and quote comparison.
What is Jerry Insurance?
What is Jerry Insurance?
Jerry, formerly known as Jerry.ai, is a service designed to work like a personal insurance agent. It partners with car insurance companies like Progressive, Nationwide, and Geico, as well as over 50 others to find users customized car, home, and renters insurance quotes.
Through its use of artificial intelligence and machine learning, Jerry claims that it can save customers an average of $800 per year on car insurance.
How does Jerry work?
You'll start by filling out some information about your current coverage and driving history on its website. You'll need to enter your name and phone number as well, after which Jerry will send you a verification code by text. The company promises to not sell or share your contact information with any external companies or spam you with any phone calls or emails.
More: Auto and Home Insurance Quotes
You will then input how you primarily use your car and its daily mileage. Users also have the option to choose whether they use their car for rideshare or delivery, and Jerry takes these factors into consideration when calculating quotes.
Finally, Jerry prompts you to select any discounts that might apply to you. However, when the process is finished, Jerry redirects you to download its mobile app to actually see your quotes.
After downloading the Jerry app, you will be prompted to enter your phone number again to create an account, after which you will see various quotes from different insurance companies. If you click on a quote, you'll see an option labeled: 'Get final price.' Once you select this option, Jerry asks you for your license number. Only after entering that can you see your real quote.
From this point on, Jerry puts your insurance shopping on autopilot by automatically shopping for new quotes with more than 50 insurance providers before each renewal. You won't have to speak to an agent or any salespeople to set up your new policy.
More: Car insurance quotes
More: Cheap car insurance
Compare Car Insurance Quotes Instantly
Personalized quotes in 5 minutes or less
No signup required
Jerry Reviews: Here's what customers are saying
The bulk of reviews for the company is focused on the mobile app since that is where actual quotes are found. It has mostly good reviews on the Google Play Store and Apple's App Store (4.1 stars and 4.7 stars, respectively), along with video reviews from customers on its website.
Users appreciate that with Jerry, they can easily shop for insurance without any hassle. While Jerry is clearly not like some of the lead generation sites out there, it is not accredited by the Better Business Bureau, and there are some complaints about the Jerry app. Some complain that the app provides conflicting information, and others mention the app simply not working.
Jerry vs. Insurify: The Facts
Jerry and Insurify both aim to find people the best rates on car insurance, but each company achieves this goal differently. Jerry focuses on providing a quick and easy quote comparison experience on its app, while Insurify lets users compare multiple quotes all on its website.
Insurify is unique among quote-comparison sites in that it has an accuracy estimator that shows how confident Insurify is in the quotes it is showing you. You can also edit your elected insurance coverage after using the tool and see the provided quotes change right along with it.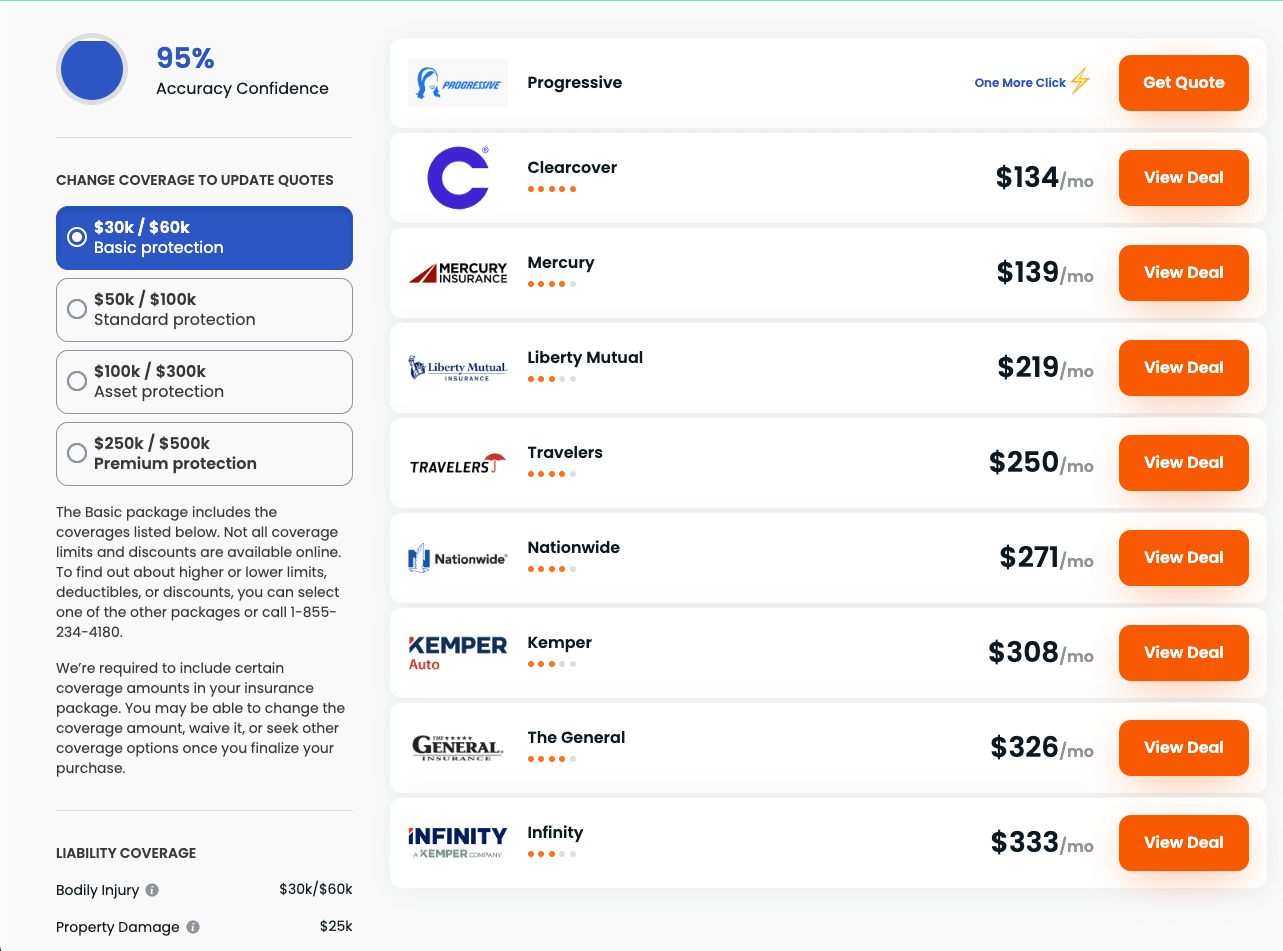 Jerry vs. Gabi
Jerry and Gabi both offer tools to compare car insurance quotes, but differ slightly in how quotes are delivered. Gabi provides quotes via email after using the tool, while Jerry shows quotes in its app. Both require an account, but Jerry only asks for your phone number rather than your email address.
Jerry's mobile app offers vehicle management tools like maintenance scheduling, receipt management, and seeing open recalls on your car. The app sets Jerry apart from others in the quote-comparison space, as most quote-comparison platforms do not have mobile apps.
Jerry vs. NerdWallet
Nerdwallet is primarily a personal finance website that focuses on topics like investing, credit cards, and student loans. Unlike Jerry, NerdWallet does not have its own quote-comparison tool and instead redirects users to insure.com to get an actual quote.
How to Save on Car Insurance
The best way to save money on your auto insurance policy is to use quote-comparison tools to compare premiums. Both Jerry and Insurify are insurance quote comparison sites that offer a convenient process by which you can easily identify the cheapest insurance quote for you.
With Insurify, you can compare car insurance rates all on its site without having to download an app. Insurify users can save up to $996 annually by switching to a policy they find on the site. The best part? Insurify is completely free to use and the process only takes about five minutes.
More about Jerry
Jerry is a financial services company based in Palo Alto, California. Jerry employs a team of engineers, designers, and insurance experts to make its product available to the public. Since the company was founded in 2017, Jerry has generated more than 25 million quotes, finding potential users a collective $15 million in savings each month.
Contact Information
Phone: 1 (833) 445-3779 (8am - 8:30pm ET, 7 days a week)

Email: hi@getjerry.com

Office: 430 Sherman Ave, Palo Alto, CA 94306
Frequently Asked Questions
Yes. Jerry uses bank-level security measures to store your encrypted data. Your customer information is never shared outside of Jerry.

With Jerry, users can compare car insurance, home insurance, and renters insurance rates in real-time using artificial intelligence technology.

With Jerry, you need to download its mobile app to see your quotes and enter personal information such as your driver's license number. And, with Jerry, users must create an account to see their quotes.

With Insurify, you can compare car insurance rates from multiple car insurance companies all without leaving the site. Insurify's interface makes it easy to control your coverage levels and deductible amounts at any point during the process. Insurify also does not require you to create an account or input your license information to see quotes.
Compare Car Insurance Quotes Instantly
Personalized quotes in 5 minutes or less
No signup required
Data scientists at Insurify analyzed over 40 million auto insurance rates across the United States to compile the car insurance quotes, statistics, and data visualizations displayed on this page. The car insurance data includes coverage analysis and details on drivers' vehicles, driving records, and demographic information. With these insights, Insurify is able to offer drivers insight into how their car insurance premiums are priced by companies.