Shopping for insurance policies online is becoming commonplace, and an increasing number of car insurance comparison platforms are flooding the space. It can be hard to know which platforms are helpful and which are a waste of time. Check out Insurify's review of insurance shopping platform Nsure to find out whether it's the real deal!
What is Nsure?
Nsure bills itself as a proprietary online insurance shopping platform. It allows users to shop for home and auto insurance discreetly from a desktop or mobile device. Comparing driver data against a database of information from over 50 top-tier insurers, Nsure matches users with agents to help them discover their best insurance options.
How does Nsure work?
Like most online insurance platforms, Nsure utilizes machine learning and marries user information with its unique algorithm to arrive at customized choices for homeowners and auto insurance. The questions asked (and just how easy it is to gain access to your quote once you answer them) are what makes or breaks the user experience for many users.
First, you'll need to decide how to start your quotes journey. You can select Home, Auto, or choose to Bundle to find your best insurance coverage.
More: Auto and Home Insurance Quotes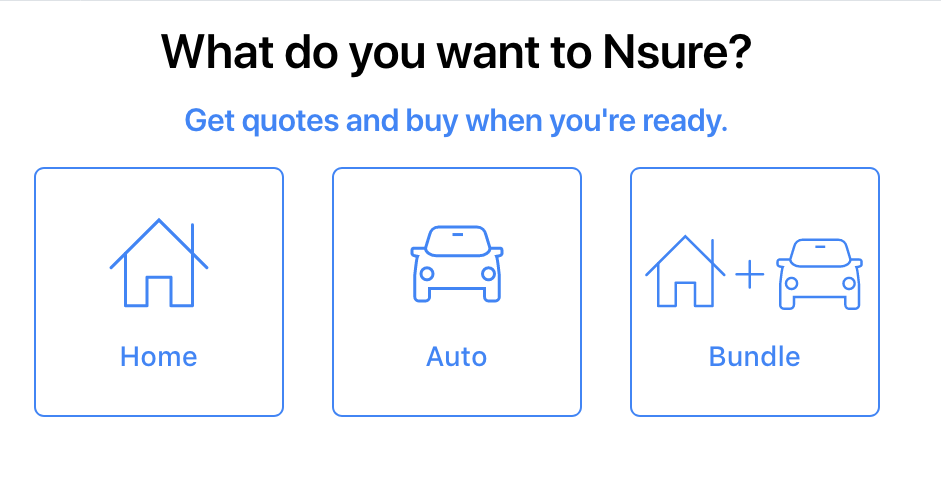 Next, you'll enter information about yourself, your vehicles, and each driver. Based on your address, the site auto-fills your vehicle and driver information. This can lead to issues where the site lists drivers and vehicles no longer at your address, starting a long and unintuitive process to change it.
The site itself is clean and does well at informing you what part of the process you are on. However, there is a large amount of personal information required before you can finally get a quote. Specifically, you'll have to enter your car's VIN number, your insurance start date, driver's license information, and birth date if you wish to continue through the quoting process.
Before you can review your quotes, you have to sign up with contact information, specifically an email and mobile number. Though the site claims to compare quotes from over 50 vendors, searches can sometimes only yield two or three results.
Overall, it feels like Nsure gets more information from you than you get from it. This site is not for people who just want to casually compare insurance quotes without committing to getting on the phone with an agent.
More: Car insurance quotes
More: Cheap car insurance
Compare Car Insurance Quotes Instantly
Secure. Free. Easy-to-use.
Nsure Reviews: Here's what customers are saying…
Though Nsure boasts many positive reviews on its website, reviews from around the internet are mixed. In general, positive reviews call out the easy experience, while more negative ones suggest that the quote you get when using the tool isn't necessarily the price you end up with.
Nsure vs. Insurify: The Facts
Similar to Insurify, Nsure offers a very clean site—a reassuring sign for those concerned about the professionalism of the sites they engage with. However, Nsure fails to provide a site experience as engaging and thorough as Insurify's, which is critical for achieving a quote you can depend on.
It's easy to lose faith in the Nsure process as you fill out screen after screen to arrive at your quote. Unlike Insurify, there's no starting over, and making changes to your quote requires that you engage with a representative. Insurify's user experience is the best in the business and uses cutting-edge practices to provide a quotes process that's as fast as it is flexible.
Nsure vs. Otto
Like Nsure, Otto has mixed reviews. Both attempt to offer an option for finding your best insurance options but make you commit to providing more and more information before allowing you to see your quote. In most cases, Otto doesn't provide a real-time quote, as it's a lead-generation site. With Insurify, you never feel misled or strung along.
Nsure vs. Jerry
Jerry is a similar tool for comparing insurance quotes online. Like Nsure, Jerry leads you through a series of steps whereby you enter your information and receive a limited number of quotes (Jerry selects three quotes for you).
While both Nsure and Jerry are legit companies, neither is for you if you aren't ready to commit to providing specific (and sometimes very personal) information. Insurify makes it easy for users to sample different coverage amounts and features quotes from up to 20 providers.
How to Save on Car Insurance
The fastest, most reliable way to save on car insurance is to leverage the speed and processing power of AI-enabled online insurance shopping platforms. The key is finding one that can get you the most reliable data quickly, without signing up for unwanted calls and texts. Insurify makes insurance shopping simple, affordable, and hassle-free.
More about Nsure
Founded in 2018 and headquartered in Boca Raton, Florida, Nsure.com is a proprietary online insurance shopping platform that allows consumers to shop for insurance digitally throughout the United States. Nsure issues quotes from over 50 insurance agencies and uses licensed agents to assist online shoppers by phone or text.
Frequently Asked Questions
Though Nsure is not Better Business Bureau (BBB) accredited, it's a legitimate company with no complaints on record. Its statement regarding security includes the fact that customers make payments directly to the insurance company they select. In terms of information privacy, only the chosen insurer has access to the information entered to obtain a policy.

Nsure compares auto insurance and home insurance and includes an option for bundling the two.

Insurify is much easier for the casual comparison shopper to use, providing you up to 20 real-time quotes in minutes, while Nsure only gives you two. And Insurify lets you experiment with different coverage amounts, while Nsure requires that you contact the company or begin the whole process over to get a new price.
Compare Car Insurance Quotes Instantly
Secure. Free. Easy-to-use.
Data scientists at Insurify analyzed more than 40 million real-time auto insurance rates from our partner providers across the United States to compile the car insurance quotes, statistics, and data visualizations displayed on this page. The car insurance data includes coverage analysis and details on drivers' vehicles, driving records, and demographic information. Quotes for Allstate, Farmers, GEICO, State Farm, and USAA are estimates based on Quadrant Information Service's database of auto insurance rates. With these insights, Insurify is able to offer drivers insight into how companies price their car insurance premiums.