Comparing auto insurance quotes online can be challenging. Which tools are legit? Are the quotes even accurate? Will I get hounded by salespeople? It's these things that can separate the average shopping tools from the great ones.
Many sites offer quote-comparison tools, but not all are created equal. How does LendingTree's tool compare to other well-known sites like NerdWallet, Insurify, and Gabi? Let's find out.
Quick Facts
LendingTree is an online marketplace that connects customers to lenders.

LendingTree also has an insurance comparison tool: QuoteWizard.

Trustworthy quote-comparison sites will never share your data or information.
What is LendingTree?
What is Lending Tree?
LendingTree is an online marketplace that allows borrowers to connect with various lenders for personal loans, home equity loans, mortgages, and more. It also offers an insurance comparison tool through QuoteWizard that claims to match you with car insurance quotes.
LendingTree has one of the largest networks of lenders in the nation. In addition to being a loan marketplace, it provides educational resources that help users understand loan terms and meet financial goals like finding a credit card, improving bad credit, understanding home equity loans, applying for business loans, and paying off student loans.
How does LendingTree work?
LendingTree offers comparison tools for multiple products and presents the options clearly on its homepage. To get to the insurance quote-comparison tool, you'll first need to navigate to the insurance section.
This review focuses on the car insurance comparison tool, so you'll select the Auto Insurance icon and LendingTree will direct you to QuoteWizard. You can click the Insurance Bundles icon to bundle auto and other insurance for a discount. If you choose not to bundle initially, QuoteWizard will ask if you want to bundle later in the process.
More: Auto and Home Insurance Quotes
You'll start by entering your zip code and age, then QuoteWizard will prompt you to answer a series of questions about your car and driving history, followed by various personal questions about your job, marital status, and education.
Finally, you will need to provide your name, address, phone number, and email address. After all this, QuoteWizard only showed me one quote, which was actually an advertisement for Progressive. When I clicked View My Rate, QuoteWizard redirected me to Progressive's site where I was prompted to enter the same information all over again.
A few minutes later, I received a call from a QuoteWizard representative, who connected me to a licensed insurance agent from Everquote. In order to receive real quotes, I had to speak with the agent and provide more personal and driving information. The site was not upfront about the fact that I would be receiving a phone call after using the tool.
Ultimately, the LendingTree/QuoteWizard experience didn't yield any real quotes. The experience gave me very little to show in exchange for my valuable personal data.
More: Car insurance quotes
More: Cheap car insurance
Compare Car Insurance Quotes Instantly
Personalized quotes in 5 minutes or less
No signup required
LendingTree Reviews: Here's what customers are saying…
LendingTree has mostly good customer reviews and holds a 4.6/5 rating on Trustpilot based on 11,013 submissions, but only has a 1.4/5 rating on Better Business Bureau based on 95 submissions. A common theme in the reviews is that many customers complain about receiving phone calls from other lenders.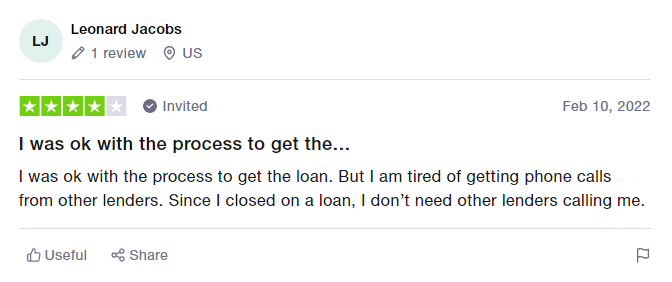 QuoteWizard, which is owned by LendingTree, has very poor reviews. It sits at just one star out of five on Better Business Bureau based on 42 reviews. There are quite a few complaints on both Trustpilot and BBB, mostly having to do with QuoteWizard contacting customers without their consent—sometimes repeatedly.
LendingTree vs. Insurify: The Facts
The main difference between Insurify and LendingTree is each company's primary focus. Insurify focuses entirely on insurance, while LendingTree concentrates primarily on loans. Its quote-comparison tool, QuoteWizard, provides no real quotes, whereas Insurify provides multiple real quotes all without leaving the site.
The reason QuoteWizard provides no real quotes is because it's a lead generation site, which means it takes your personal data and sells it to other agencies. Insurify does nothing of the sort. It provides an immersive experience, where at any point in the process, you can edit your information and see the quotes change in real-time.
LendingTree vs. Gabi
Gabi has a tool similar to LendingTree's QuoteWizard, which lets you compare auto insurance rates from top insurance companies. However, in addition to providing auto insurance quotes, Gabi has tools that help you compare homeowners, renters, landlords, and umbrella insurance to find the lowest rates.
However, outside of the quote-comparison tools, the two sites are quite different. Gabi is geared towards helping users find better insurance coverage, whereas LendingTree aims to help customers with getting better loan rates, taking out personal loans, understanding the loan application process, and navigating loan offers.
LendingTree vs. NerdWallet
NerdWallet and LendingTree are similar in that neither site's primary purpose is to compare insurance quotes. NerdWallet focuses mostly on financial services like debt consolidation, handling a refinance, and keeping good credit, while LendingTree concentrates on topics like loan options, mortgage lenders, and interest rates.
Both offer quote-comparison tools but refer you to other sites to complete the process. NerdWallet redirects users to insure.com and LendingTree takes users to QuoteWizard. Neither tool provides real quotes to users, only advertisements that lead to insurance companies' sites.
How to Save on Car Insurance
Saving on car insurance is easy if you know where to look. Insurify is the leading tool for comparing car insurance quickly and easily online. In just minutes, Insurify shows you top quotes from national and local providers without redirecting you to another site.
You can also get lower rates by bundling policies, improving your credit score, raising your deductible, or even refinancing your car loan.
More about LendingTree
LendingTree is a market lead generator that connects lenders with interested buyers, be that auto loans, reverse mortgages, or student loans. It also offers comparison-shopping services for vehicles and educational programs. Founded in 1996 and headquartered in Charlotte, North Carolina, LendingTree serves more than 65 million customers.
Based in Seattle, Washington, QuoteWizard was founded in 2006 and acquired by LendingTree in October 2018. In addition to driving users to insurance companies' websites, the company provides leads to agents and providers, as well as phone transfers of customers into provider call centers.
Contact Information
Phone: 1 (800) 555-8733

Email: customercare@lendingtree.com

Unsubscribe from calls: www.lendingtree.com/legal/do-not-call/

Address: 11115 Rushmore Drive, Charlotte, North Carolina 28277
Frequently Asked Questions
Yes, LendingTree and its insurance comparison calculator, QuoteWizard, are safe to use. However, QuoteWizard doesn't return any actual insurance quotes. When using its loan calculator, LendingTree will never ask for your bank account information but does ask you for the last four digits of your social security number and about your credit history.

LendingTree claims it offers quotes on auto, home, and life through QuoteWizard. However, the experience typically yields ads without prices, as opposed to legitimate quotes.

While LendingTree's QuoteWizard simply redirects you to insurer's websites, Insurify lets you compare insurance quotes from both large and lesser-known insurance options in minutes all without leaving the site.
Compare Car Insurance Quotes Instantly
Personalized quotes in 5 minutes or less
No signup required
Data scientists at Insurify analyzed over 40 million auto insurance rates across the United States to compile the car insurance quotes, statistics, and data visualizations displayed on this page. The car insurance data includes coverage analysis and details on drivers' vehicles, driving records, and demographic information. With these insights, Insurify is able to offer drivers insight into how their car insurance premiums are priced by companies.