Why you can trust Insurify:
As an independent agent and insurance comparison website, Insurify makes money through commissions from insurance companies. However, our expert insurance writers and editors operate independently of our insurance partners.
Learn more
.
Buying insurance isn't always simple. With hundreds of insurance providers big and small and dozens of sites that promise to make the insurance-buying process easier, it's no wonder some people get overwhelmed. How do you sort through all of this information and find a deal that works for you?
Insure.com claims you don't need to be an expert to find a good deal. It helps you compare insurance companies and insurance quotes and save money on auto insurance, home insurance, life insurance, and more. Keep in mind insure.com is a lead-generation site, which means the site doesn't provide real quotes in real time.
If you want to compare real car insurance quotes fast, you'll want to visit Insurify, a virtual insurance agency and quote comparison website. Just answer a few questions about your vehicle and driver history, and you'll have access to plenty of free quotes from a diverse range of reputable insurers and discounts and rates from the best insurance companies, like Erie, Liberty Mutual, and Metlife. And because Insurify doesn't share your data with insurance companies, you won't get spammed with marketing calls later on.
What is Insure.com?
Insure.com is a lead-generation site that simplifies the insurance-buying process and breaks down pricing to help customers get the best rates. The site sets out to help users compare insurance policies from multiple insurance companies—then supplements this information with informative, up-to-date reviews from current policyholders.
How does Insure.com work?
Insure.com saves you some trouble by letting you skip the drawn-out signup process. Instead, you can answer a few simple questions right on the homepage, then press "Start Now" to gain access to more information about insurance coverage.
More: Auto and Home Insurance Quotes
Then, it's time to answer a few more questions about your background so the site is better able to provide accurate quotes on insurance rates. For instance, Insure.com needs to know if it's your first time buying car insurance, as that may affect your rates.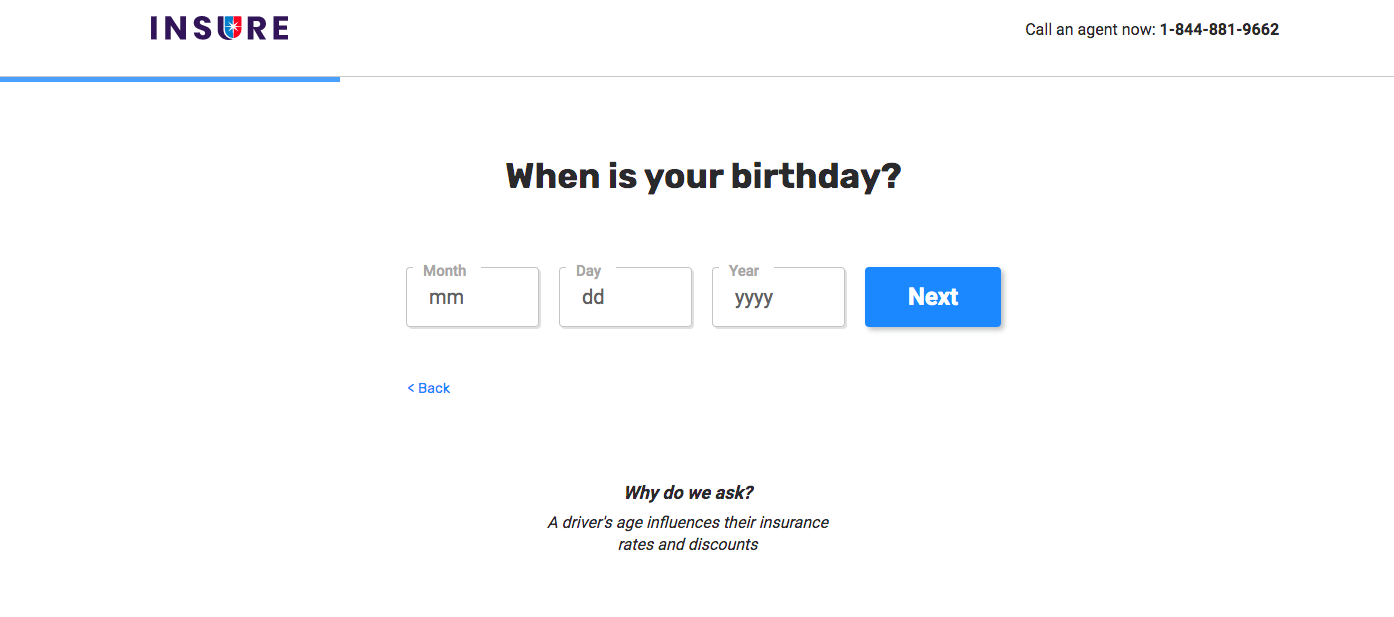 Once you've made it to the end of Insure.com's questionnaire, you'll have access to your free quotes. But keep in mind, these are not real-time quotes that were generated just for you. Instead, Insure.com will redirect you to some insurance companies' sites, where you can further explore coverage options and access pricing information.
With this information in your back pocket, the folks at Insure.com hope you're ready to reach out to an insurance agent and find a policy that works for your needs and budget.
More: Car insurance quotes
More: Cheap car insurance
Compare Car Insurance Quotes Instantly
Secure. Free. Easy-to-use.
Insure.com Reviews: Here's what customers are saying…
Does it seem like customers enjoy their experiences with Insure.com? Does it help them find the right deal? We explored some customer reviews to get answers.
On Clearsurance, a website that helps people compare different insurance websites, several Insure.com users have weighed in with their experiences. The user below had a pretty positive experience with Insure.com. They might not have found the lowest prices after using the site, but they found a good deal:
Meanwhile, the following user was disappointed with their Insure.com experience. They didn't have much luck finding a good deal, and then they were left with countless calls from car insurance companies.
This was a common criticism of Insure.com. While there isn't a disclaimer on the website that says they share your information with third parties, you should be aware that you might get a barrage of calls and emails if you enter your information on Insure.com. In general, Clearsurance's customer satisfaction ratings paint a mixed picture of the Insure.com user experience.
As for financial strength, Insure.com has an A++ grade from A.M. Best and an Aaa rating from Moody's, indicating excellent financial strength.
Insure.com vs. Insurify: The Facts
In general, Insurify and Insure.com have a similar user experience. Both skip the lengthy signup process and let you start answering their questionnaires in a matter of seconds. The questionnaires on both sites cover similar details and can be completed in a matter of minutes.
From there, things diverge. With Insurify, you'll gain access to real-time quotes personalized to your exact needs and specifications. Meanwhile, Insure.com will direct you to the websites of auto insurance companies, home insurance companies, or life insurance companies, depending on your needs. Your information will be shared with these insurance companies, while Insurify won't do that.
Insure.com vs. The Zebra
The Zebra has been a major player in the quote-comparison game for a while now. In terms of accuracy, The Zebra gets the nod over Insure.com because The Zebra's quotes are real and delivered in real time, while Insure.com simply generates leads for insurance companies.
Insure.com vs. Gabi
Gabi wants you to stop overpaying for car insurance by making it easy to compare quotes. While the site flow of Gabi is similar to Insure.com—both sites have you answer questions then deliver results—Gabi delivers real quotes in real time. This means Gabi's quotes are a bit more personalized and will probably lead to few spam calls after you use the site.
For real quotes in real time and no spam calls after the fact, you'll want to give Insurify a try. Whether you're looking to work with a major insurer like GEICO or USAA or a smaller regional chain, Insurify has the proprietary data needed to connect you with great deals.
How to Save on Car Insurance
From adjusting deductibles to outfitting your home or car with new safety features, there are many creative ways to save on insurance. But one of the proven ways to lower your rates is by comparing quotes from a wide range of providers.
Insurance customers are always looking for an easy way to save. Whether you're looking for home, auto, or life insurance, Insurify makes it easy to compare quotes. The insurance industry can be a dizzying place. But with Insurify, you're just a few clicks away from an affordable policy.
More about Insure.com
Insure.com has a simple mission: to be the best insurance consumer guide on the market and demystify the confusing insurance buying process. With over five million visitors to the site and over 85 partner insurance companies, it's clear Insure.com is delivering on its mission. The site is a part of the larger Quinstreet Inc. insurance platform, which is based in California.
Contact Information
Frequently Asked Questions
Insure.com is a lead-generation site, which means it shares your information with third parties. While the website is safe to use, it may leave you with annoying spam calls after the fact.

When it comes to the type of insurance you can compare on Insure.com, you have options. You can compare pricing on car insurance, homeowners insurance, health insurance, life insurance, and even more specialized insurance services, like motorcycle coverage.

While Insure.com can connect you with pricing information from plenty of different insurers, you won't get the real-time quotes that Insurify delivers. When it comes to accuracy and speed, few sites can keep up with Insurify. With Insurify, you're just a few clicks away from an insurance policy that meets your needs and budget.
Compare Car Insurance Quotes Instantly
Secure. Free. Easy-to-use.
Data scientists at Insurify analyzed more than 40 million real-time auto insurance rates from our partner providers across the United States to compile the car insurance quotes, statistics, and data visualizations displayed on this page. The car insurance data includes coverage analysis and details on drivers' vehicles, driving records, and demographic information. Quotes for Allstate, Farmers, GEICO, State Farm, and USAA are estimates based on Quadrant Information Service's database of auto insurance rates. With these insights, Insurify is able to offer drivers insight into how companies price their car insurance premiums.