Comparing car insurance quotes is something that every car owner should do before buying a new policy. The quoting process can be quite time-consuming when done with individual insurance providers, and that's where quote comparison sites come into play.
Gabi is one of the most recognizable names, but how does it stack up against other comparison sites like Insurify, The Zebra, and NerdWallet? Let's find out.
Quick Facts
Gabi claims to save users an average of $961 per year.

After collecting your information, Gabi will reach out to you with quotes.

Trustworthy quote-comparison sites will never sell your data or information for profit.
What is Gabi?
What is Gabi?
Gabi is an online insurance broker and licensed insurance agency that claims to save customers hundreds on their insurance premiums. Gabi promises to make insurance shopping easy by providing a free tool for customers to find better rates for several types of insurance, including life insurance, renters insurance, homeowners insurance, and auto insurance policies.
Owned by Experian, a large consumer credit reporting company that collects information on over 1 billion people and businesses, Gabi partners with several car insurance companies including Allstate, Safeco, Nationwide, and Progressive, as well as newer insurance providers such as Clearcover. Gabi also offers quote options from other insurance companies.
More: How to Compare Car Insurance
How does Gabi Work?
I used the Gabi site myself to see the full experience. Gabi starts the process by collecting some personal information like your email, phone number, birthday, marital status, and a few other things before creating an account for you. Gabi's disclaimer promises that the company does not sell or share your email address or phone number.
You are then prompted to enter more information about your current insurance policy, driving record, car mileage, etc. This process only takes a few minutes, and after about 30 seconds, Gabi shows you a quote from the top insurance provider it could find and provides policy details.
Gabi also offers the option to simply upload your current policy to its website, after which someone from Gabi's team will review your information and email you insurance quotes within 48 hours.
It also shows two offers from other insurance companies, which are actually just advertisements as opposed to real quotes. To get a specific quote, you need to click the ad, which will bring you to the insurance companies' websites, where you have to redo the whole process you just did on Gabi.
In the next hour, I received three texts from a Gabi agent asking if I wanted to finish my quote. I also received two emails: one from Gabi and one from Experian, thanking me for joining them through Gabi. I continued to receive texts in the coming days with no option to opt out.
Compare Car Insurance Quotes Instantly
Personalized quotes in 5 minutes or less
No signup required
Gabi Reviews: Here's what customers are saying…
Is Gabi really worth a try? While the site is easy enough to use and has a mobile app to go along with it, users should take the quotes provided with a grain of salt.
Many customers found that Gabi did not provide them with totally accurate information or even the best available insurance coverage options.
Gabi has a 4.8/5 rating on Google based on 4,124 reviews and has an A+ rating from the Better Business Bureau. However, the customer reviews on BBB tell a somewhat different story, with Gabi receiving an average of 1.7/5 out of 30 customer reviews.
More: Car insurance quotes
More: Cheap car insurance
Gabi vs. Insurify: The Facts
Like Gabi, Insurify is free to use, but there are some key differences that set the two apart. Insurify returns multiple real-time quotes while Gabi only returns one. Users can even purchase policies right on Insurify's site, whereas Gabi redirects you to the provider's site.
Gabi does, however, offer an option to simply upload your current policy to its website, after which someone from Gabi's team will review your information and email you insurance quotes within 48 hours.
Insurify doesn't require an account, asks for less personal information, and has an accuracy estimator that shows how confident Insurify is in the quotes provided. It also does not need to know your current coverage, so if you are uninsured, you can still compare quotes.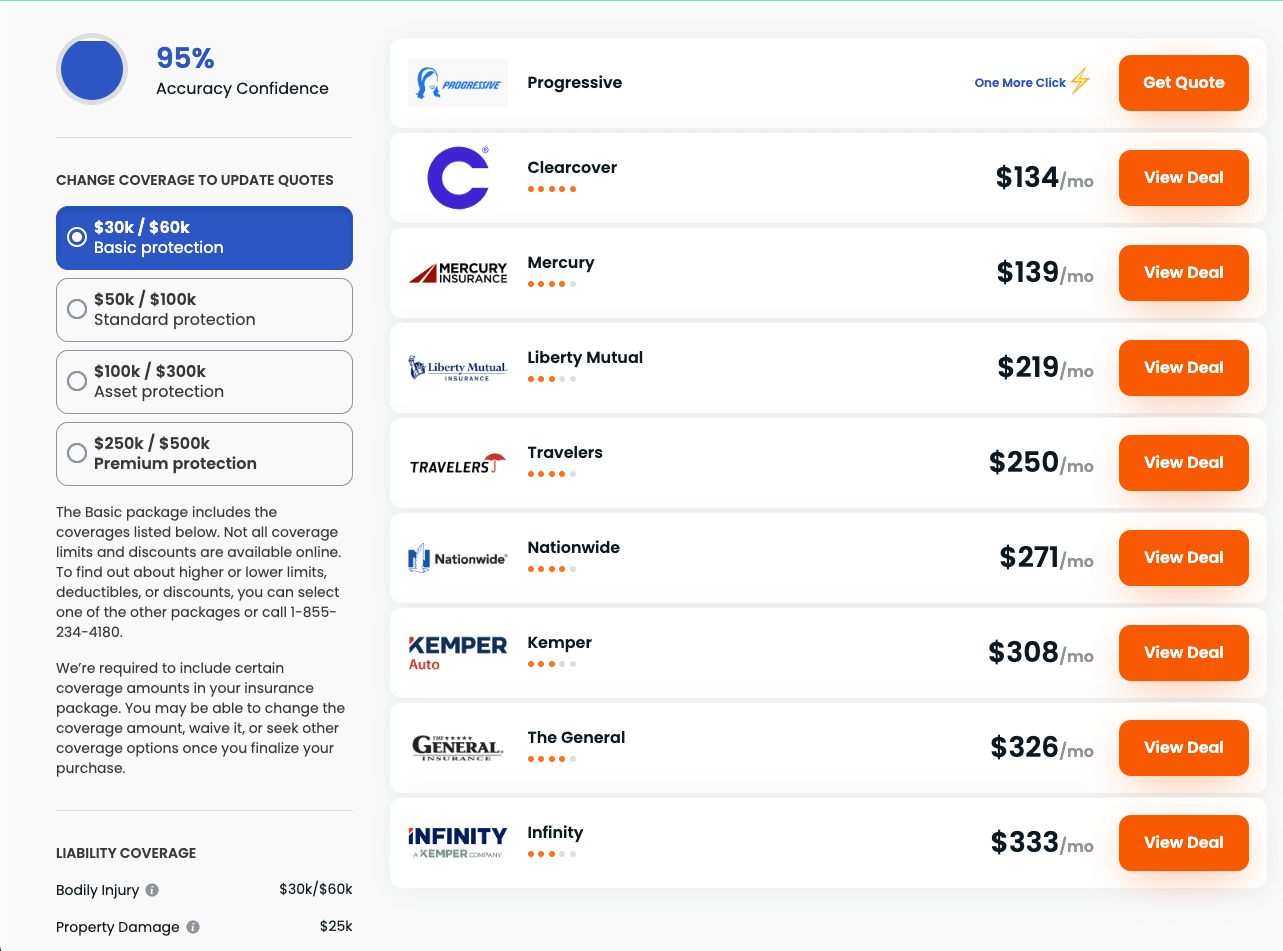 Insurify only sent me one follow-up text from an insurance agent with a link to finish my quote and an option to opt out of any further communications. Insurify has a 4.8/5 rating on Google based on over 3,000 ratings and an A+ Better Business Bureau rating similar to Gabi's. Unlike Gabi, however, the user feedback on BBB is very positive, sitting at 4.64/5 based on 47 reviews.
Gabi vs. The Zebra
Gabi and The Zebra, another popular insurance quote-comparison platform, both promise to deliver customers the best insurance comparison experience. But which company is best?
Both sites focus on helping users quickly and easily compare car insurance quotes. Gabi works by accessing a customer's current insurance policy to help find them new quotes and potentially a cheaper policy, while The Zebra emphasizes its ability to use AI to quickly deliver real quotes in real-time based on information provided by the user.
Gabi works best when it can examine a customer's current policy, so it might not be the best option if you are buying your first policy. If you're looking for the quickest possible online comparison experience or don't have an auto insurance policy, The Zebra might be the way to go.
The Zebra also offers many options to customize your policy type and determine whether you qualify for certain auto insurance discounts, making it appealing to users who want a more hands-on, customizable experience.
Currently, unlike Insurify, neither The Zebra nor Gabi offer a way to compare life insurance products.
Gabi vs. NerdWallet
NerdWallet is a bit different from Gabi, as it mainly focuses on personal finance topics like student loans, investing, credit cards, and improving your credit score.
NerdWallet can be a good resource to learn more about auto insurance, but if you actually want to compare quotes, the site will simply redirect users to insurance companies' sites where they have to provide their personal information again.
So if you want to learn more about which stock to invest your tax returns into, NerdWallet is your friend, but if you're looking to compare auto insurance quotes, you should probably look elsewhere.
More About Gabi
Founded in 2016 in California, Gabi Personal Insurance Agency, Inc. is currently led by CEO, Dr. Hanno Fichtner.
In 2017, Gabi raised $2.6 million in seed funding from SV Angel and A.Capital Ventures. In 2018, it raised a Series A round of $9.5 million, led by Canvas Ventures. In 2020, It raised another round of $27 million, led by Mubadala Capital.
In November of 2022, Gabi was purchased by Experian, a multinational consumer credit reporting company.
Contact Information
Headquarters: 106 Lincoln Blvd #106, San Francisco, CA 94129

Phone Number: +1 (415) 842-2411

Website: www.gabi.com
How to Save on Car Insurance
With the right tools, it's easy to find a car insurance rate that fits your needs and budget. That's why Insurify works to make the process simple, safe, and fast. In addition to using Insurify, you can save money by:
Searching a wide range of providers to find the best rate

Bundling multiple insurance policies, such as home insurance and auto insurance.

Changing your coverage or deductible
It's always nice to save on your auto insurance and the best way to lower your rates is to compare car insurance quotes. With Insurify, you can compare quotes from multiple insurance providers all in one place and in under five minutes.
The best part? Insurify is free to use and users can save up to $996 annually by switching to a policy they find on the site.
Frequently Asked Questions
Gabi's website ensures users that it will never sell or share their personal information with third parties but still sent me multiple texts and emails. There are no public ratings for Gabi on TrustPilot, however its parent company, Experian, currently holds a 3.6 rating on the popular open-source consumer review site.

Gabi offers tools for comparing auto, home, renters, umbrella, and landlord insurance.

Gabi's insurance comparison tools use a similar streamlined process to Insurify, but can't back it up with real quotes on its website to help you make your decision quickly. Insurify provides users with onsite car insurance quote comparison in under five minutes, while Gabi has a team of agents who scan your information and reach out to you manually.
Compare Car Insurance Quotes Instantly
Personalized quotes in 5 minutes or less
No signup required
Data scientists at Insurify analyzed over 40 million auto insurance rates across the United States to compile the car insurance quotes, statistics, and data visualizations displayed on this page. The car insurance data includes coverage analysis and details on drivers' vehicles, driving records, and demographic information. With these insights, Insurify is able to offer drivers insight into how their car insurance premiums are priced by companies.