New year, new laws.
With the proliferation of new technologies, more relaxed attitudes about cannabis taking hold, and smarter, AI-powered cars hitting the roads, state legislators adjust driving laws each year to keep drivers safe on the road. Here's an overview of some new laws states enacted this year.
All States and Territories
In order to pass through security checkpoints at American airports, traditional driver's licenses will no longer suffice. Beginning October 1, 2021, every air traveler 18 years of age and older will need to present a REAL ID-compliant driver's license, state-issued enhanced driver's license or another acceptable form of ID (like a passport) to fly within the United States.
REAL-ID Frequently Asked Questions
A congressional law passed in 2005, the REAL ID Act "sets standards for the issuance of sources of identification, such as driver's licenses". This act has set minimum standards for state-issued ID cards, meeting a federal minimum of features.

Starting on October 1, 2020, all states must be issuing REAL-ID compliant driver's licenses in order to travel on commercial airplanes through federally-controlled facilities by TSA. If a traveler does not have a REAL-ID compliant license by this date, a passport will suffice for air travel.
Compare Car Insurance Quotes Instantly
Personalized quotes in 5 minutes or less
No signup required
Alabama
As of January 2020, if a driver is pulled over and caught driving uninsured in the state of Alabama, they have thirty days to prove proof of insurance to proper authorities. If a driver cannot provide proof of insurance in that timeframe, they will face a $200 fine. Second-time offenders face a $400 fine plus a four-month license suspension.
Arizona
Starting in January 2020, the Motor Vehicle Department (MVD) offices in Arizona no longer provide vehicle registrations or license plates. Instead, these items will be sent to residents' home address.
Arkansas
During a routine traffic stops, Arkansas police officers are/will be able to utilize a new online verification system allowing them to determine whether or not a vehicle is properly insured…in real-time. This marks an improvement from the old system, which could only access month-old data at the time of a traffic stop. This change went into effect in January 2020.
California
There are a plethora of new driving laws that went into effect in California at the beginning of January 2020:
Passengers of motor vehicles are not allowed to consume cannabis products while riding any kind of transportation, public, private, or otherwise.
Californians are now prohibited from selling or auctioning off their DMV appointments.
Courts and DMVs are unable to delay an individual's driving privilege if they are convicted of a crime that does not involve a vehicle violation.
Connecticut
Motorists in Connecticut will now have two more years before their driver's license expires. What was once six years between expirations is now eight years, and the once two-year vehicle registrations will now be three years. The cost of these renewals will increase in proportion to the newly added years.
Florida
Florida Highway Patrol can now pull over drivers if they are seen texting while driving. Distracted driving has been illegal for years in Florida, but officers were not allowed to pull drivers over unless they were in violation of something else as well. As of January 1, 2020, drivers now face tickets and other penalties if caught using their cell phone while operating a vehicle.
Hawaii
In a win for non-binary and gender-nonconforming drivers, Hawaii residents can now select "X" gender on their driver's license as of January 1, 2020.
Idaho
Vehicle owners will now need to provide proof of insurance for two consecutive months or risk registration suspension. As of 2020, drivers will now receive a warning and have a month-long grace period before their registration is suspended. To reinstate an already-suspended registration, vehicle owners must provide their new proof of insurance and pay a $75 penalty.
Kansas
Starting in January 2020, Kansas drivers must undergo a vision test during their license renewal process. Minimum visual acuity of 20/40 will be required to renew a driver's license.
Ignition interlock devices (IID) will be available to all DUI offenders, not just repeat ones, to help prevent future offenses.
Maryland
Maryland drivers renting vehicles during the duration of a car repair on their main vehicle are responsible for claims made. Owners of rental or loaner cars must notify the renters of their responsibility for insurance. This applies to claims made on or after January 1, 2020.
Massachusetts
Massachusetts drivers are now banned from using electronic devices while operating vehicles. Hands-free technology, like Bluetooth or other voice-activated controls, are permitted. These rules also apply to cyclists. First-time offenders face a $100 fine, with increased fines with subsequent offenses. Police issued warnings before the law went into full effect at the end of March 2020.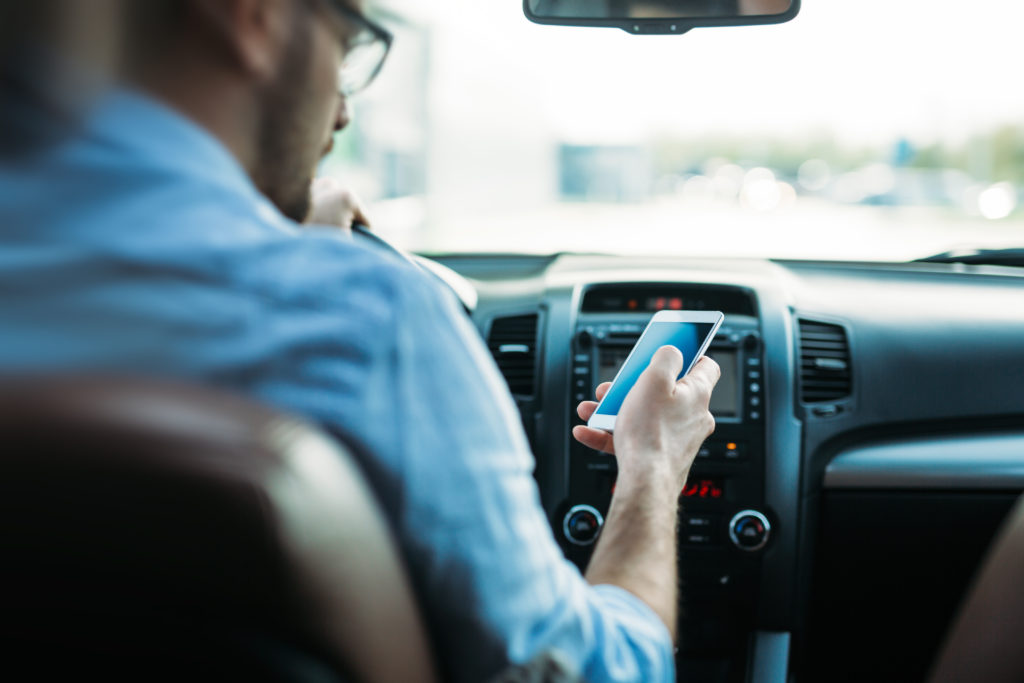 Michigan
As of July 2020, Michigan drivers can opt into medical coverage through their auto insurance policies. By choosing limited coverage, drivers will be able to save money on their insurance policies. Insurance companies will be required to provide customers updated coverage options to make sure they are aware of all available choices. As of July 2020, the Michigan Catastrophic Claims Association is reducing the cost of assessments from $220 to $100.
New Hampshire
As is the case for Hawaii drivers, New Hampshire residents can now select "X" gender on their driver's license in 2020.
North Dakota
In North Dakota, drivers will no longer be fined for leaving their car idling while during the winter months.
Also, drivers involved in motor vehicle accidents resulting in at least $4,000 of damage must report the incident to police. The previous threshold was $1,000. This went into effect on January 1, 2020.
Ohio
Drivers of hybrid and electric vehicles will be charged additional registration fees of $100 and $200 per year, respectively. This is meant to make up for a loss in gasoline tax revenue for cars, which require fewer visits to fill their tanks. Higher registration fees went into effect on January 1.
Drivers will also no longer be required to have front license plates on their cars.
Rhode Island
A new Rhode Island law increases the amount an insurance company can decline to renew a private vehicle's insurance policy from $1,500 to $3,000. This went into effect on January 1.
Utah
Visitors to Utah will now have to secure and purchase a permit to operate their ATV on public lands, for a fee of $30.
Driver's licenses will also last for eight years, instead of five, before expiration. The fee will increase proportionally from $32 to $52. These new laws went into effect on January 1.
Washington
As of January 1, 2020, parents must secure child passengers under two years old in rear-facing car seats.
Children over four years old must sit in forward-facing harness seats until they reach 4'9" tall. This may include many children in middle and high school.
No matter where you're driving in the country this new year (new decade!), make sure you're protected with a solid auto insurance policy that matches your state's minimum required coverage.
Visit Insurify today to compare cheap quotes from top companies in your area and save big on your next auto insurance policy!
Compare Car Insurance Quotes Instantly
Personalized quotes in 5 minutes or less
No signup required
Data scientists at Insurify analyzed over 40 million auto insurance rates across the United States to compile the car insurance quotes, statistics, and data visualizations displayed on this page. The car insurance data includes coverage analysis and details on drivers' vehicles, driving records, and demographic information. With these insights, Insurify is able to offer drivers insight into how their car insurance premiums are priced by companies.