Buying a new home is a big milestone—and if you're a veteran or current military member, there are ways to make it easier.
One way you can make the home-buying process easier is by doing your homework beforehand. A veteran's first mortgage doesn't have to be over-complicated—you just need to avoid making some of the common mistakes that military and veteran home buyers often run into. Here are the top mistakes veteran and military homebuyers make with their first home loan.
Insure your new investment in minutes by using Insurify, an easy-to-use tool that lets you compare quotes for home, auto, and life insurance in minutes!
One: Not Using a VA Loan
The U.S. Department of Veterans Affairs has offered home loans to veterans and current military service members since 1944. Active duty and retired military personnel can borrow money to buy homes at a favorable rate, even if they haven't had much of a chance to develop a high credit score.
There are three key reasons why using the VA home loan program is almost always the better choice.
No down payment. VA loans let you buy your new home with $0 down. Compare that to a regular home loan through most mortgage lenders, where you'd need at least a 5 percent down payment. A loan through the Federal Housing Administration ( FHA ) would require 3.5 percent. That can mean a difference of thousands of dollars on a home loan.

Easier to qualify. Many first-time homebuyers don't have strong credit histories. That can make it harder to get approved for a mortgage or get a low interest rate. VA loans are easier to qualify for because they're backed by the government.

Lower monthly payments. The lower interest rate alone will save you thousands of dollars. VA loans also don't require private mortgage insurance ( PMI ), which means one less monthly expense built into your loan. Note, though, that you will have to pay a one-time funding fee to the VA; this fee covers losses from defaulted loans and helps fund the loan program. The VA Funding Fee usually ranges from 0.5 to 3.6 percent of the loan amount and can be paid either over the term of the loan or upfront as part of the closing costs. If you have a service-related disability or have received a Purple Heart, you may be able to get the funding fee waived.
If you decide not to go with a VA loan, you can also take out a loan through the Federal Housing Finance Agency (FHFA), which includes the secondary mortgage loan lenders Fannie Mae and Freddie Mac. The USDA also offers government-funded loans that you may qualify for. All of these may save you money in comparison to a conventional home loan.
Speaking of saving money, don't forget to check your home insurance rate with Insurify. One form lets you compare rates from top companies, adjust coverage, and buy the policy best for you. Try it today!
Two: Taking the First Interest Rate You Get
It pays to shop around because not all lenders have the same loan interest rates and fees. Meet with several loan officers at banks, mortgage companies, and credit unions to see what interest rates you end up with.
For a VA home loan, it's a good idea to partner with a financial institution that has experience with VA lending because there are waivers and requirements that can change depending on your military status. When you're asking about loan rates, make sure you also ask about the institution's experience with VA loans. Some of the top VA lenders include Veterans United Home Loans, USAA, Navy Federal Credit Union, and Veterans First Mortgage (now owned by Wintrust Mortgage ), just to name a few.
Note that you'll probably have to pay extra fees through the lender. According to the VA, many lenders add a 1 percent flat fee called a loan origination fee to the VA home loan. There may also be other charges, though sometimes these are negotiable. If you don't understand a fee, just ask the loan officer.
Compare Home Insurance Quotes Instantly
Personalized quotes in 5 minutes or less
No signup required
Three: Using the Wrong Realtor
It's important that you find a realtor who has worked with a VA home loan before. The VA recommends getting recommendations for potential real estate agents online or from people you know, then meeting with several to find the right one for you.
When you find a realtor, make sure you read all agreements before you sign with them. You need to understand any charges, fees, and commissions they'll earn from working with you. The sales contract should also include something commonly called the VA escape clause or VA option clause. This allows you to void the purchase contract if the property doesn't appraise for the contract price. You can also ask the real estate agent to include other options for voiding the contract—for example, if the property fails a home inspection.
The appraisal is important because when you use a VA home loan, an appraiser approved by the VA has to appraise the house to make sure it meets minimum property requirements —in other words, basic requirements for the condition the property is in. If the appraiser doesn't believe the value of the property is high enough to get the loan you're asking for, you can:
Ask for a Reconsideration of Value. The real estate agent can provide the lender with sales data showing how much the property is worth. The lender will then ask the appraiser to reconsider their opinion based on the new information.

Negotiate the sales price again. The seller can lower the price to match the value the appraiser assigned to it.

Pay the difference between the appraisal and sales price. This will be included in your closing costs.
Four: Not Researching Benefits
One of the biggest mistakes you can make is not understanding all the benefits you're entitled to as a veteran. One example of this is the Utah Veteran First-Time Homebuyer Grant, which gifts $2,500 to recently separated veterans and active-duty military members who are buying their first home in Utah. It's restricted to people who are currently serving or have separated from the military within the last five years. If your state offers something like this, it would be a mistake to leave that money on the table. It's there to help you.
Different Types of Loans
Ready to buy your new home? The VA offers four loan types and each has its own requirements and limitations. Look at the different loan types and see which one makes the most sense for your situation.
Purchase Loan: This loan is for you if you're looking to buy a home, make energy-efficient upgrades to your existing home, or buy property to build a home on. As of 2019, there is no maximum limit that you can borrow. However, mortgage lenders might limit the amount you can borrow based on four factors: income, credit history, debt-to-income ratio, and the maximum home price in your county. This loan is for a primary residence, so you can't use it to buy a vacation home, a property to rent out to others, or a home that needs major repairs.
Interest Rate Reduction Refinance Loan: This is also sometimes called a streamlined refinance loan. You can use it for one thing: refinancing an existing VA loan. Refinancing can get you a lower interest rate, reduce the term of your loan, or change an adjustable-rate mortgage into a fixed-rate mortgage.
Cash-Out Refinance Loan: This refinancing option replaces your existing loan with a new loan that has new terms. It's used to take equity out of your home. You can also use it to refinance a non- VA loan into a VA loan, which will generally come with better terms.
Native American Direct Loan: This loan is available to any veteran who is Native American (or whose spouse is Native American). You can use it to buy, build, or improve a home on federal trust land. As of January 1, 2020, there are no limits to the amount of money you can borrow except for the limits your mortgage lender places on creditworthiness. Contact a VA regional loan center for details.
Frequently Asked Questions About Military Home Loans
First-time users of VA loans will pay a VA funding fee of 2.15 percent as of 2019, according to SmartAsset. Surviving spouses and disabled vets are exempt from the funding fee. Mortgage rates fluctuate daily, but as of this writing are currently very low—which can save you a lot a money.

It is sometimes possible to have two VA loans at once. However, it doesn't happen often. Call a VA-approved lender if you think you might need a second loan.

You need a VA Home Loan Certificate of Eligibility, which serves as proof that you meet the VA's eligibility requirements. You can get this from the VA or have your mortgage lender request one for you. You also need military service documentation, such as a DD214 if you've separated from the military and certification that you will occupy the home.

The VA doesn't have a credit score requirement. Most participating lenders require a credit score of at least 620, although some may accept a score as low as 600.
Military and Veteran Homebuyers: The Bottom Line
Buying a home can seem daunting, but there are resources available to make the process easier. Remember that lenders and realtors are there to help you, and ask questions if there's anything you don't understand. You earned your VA benefits, so don't hesitate to use them.
After you've successfully bought your new home, you'll need to insure it. Take the hassles and extra expense out of the equation by using Insurify, which lets you compare home, life, and auto quotes from multiple insurers.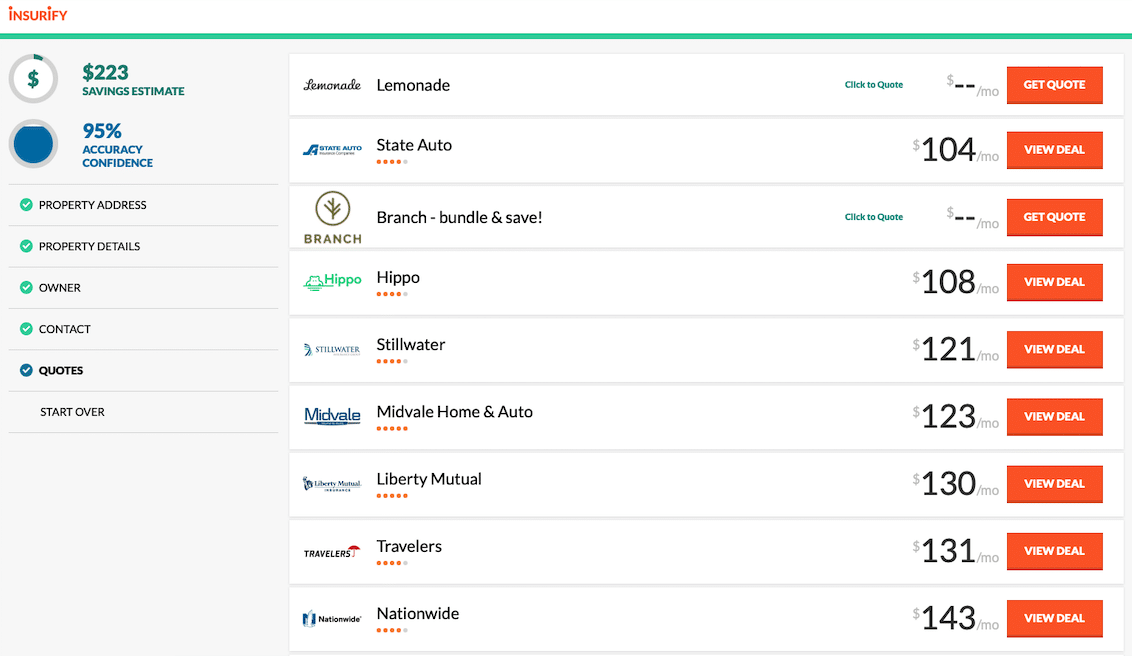 Compare Home Insurance Quotes Instantly
Personalized quotes in 5 minutes or less
No signup required
Data scientists at Insurify analyzed over 40 million auto insurance rates across the United States to compile the car insurance quotes, statistics, and data visualizations displayed on this page. The car insurance data includes coverage analysis and details on drivers' vehicles, driving records, and demographic information. With these insights, Insurify is able to offer drivers insight into how their car insurance premiums are priced by companies.