Blog
Home Insurance
Home Insurance For Veterans
Why you can trust Insurify
Edited by John Leach
Updated September 13, 2022
Reading time: 4 minutes
As a military veteran, you deserve the best—and that includes a great deal on your homeowners insurance.
Certain homeowners insurance companies specialize in coverage for veterans and other military members and are often the best choice. Not only do their policies tend to be cheaper, but they may have perks and specializations that are not commonly available.
When you look over the options, don't forget to use Insurify to compare homeowners quotes on your policies. You won't know if you've found the best homeowners insurance policy for veterans unless you compare it to others and see how the premiums and coverage options measure up.
Best Homeowners Insurance for Veterans
Veterans likely won't have trouble finding a homeowners policy from any insurer. Still, choosing an insurance provider with a special homeowners insurance program for military veterans or other former service members can result in a better policy at a lower price.
USAA
The United Services Automobile Association (USAA) is well known as the best financial institution and insurance carrier for anyone affiliated with the military, including veterans. Because USAA only works with active-duty military personnel, former military, and military families, their products and services are specifically geared for the needs of such people. What's more, USAA's premiums on auto and homeowners insurance for veterans are often lower than comparable policies from other carriers (but don't forget to compare rates, just in case).
As the carrier's name implies, USAA started as an automobile insurance company and expanded to other types of insurance products and financial services, including bank products. USAA's home insurance coverage is specialized for military and ex-military policyholders, providing some perks not available elsewhere. For example, the typical USAA home insurance policy will cover damage or loss to uniforms in your home as part of its personal property coverage.
GEICO
GEICO partners with a number of military professional organizations to offer members of those organizations up to a 15 percent discount on insurance. Covered military associations include the Association of the United States Army, the Navy League of the United States, and the Armed Forces Benefit Association.
But before you get too excited, be aware that GEICO does not directly provide homeowners insurance—rather, it will set you up with a policy through one of its partners. You'll need to confirm that the chosen insurer will honor this discount on your homeowners policy.
Armed Forces Insurance
Like USAA, Armed Forces Insurance (AFI) is a military-specific insurer. The company provides homeowners insurance, auto insurance, and a number of specialty products like flood insurance. Any active-duty, retired, or honorably discharged military members are eligible to get a policy through AFI.
While AFI is similar to USAA, it's a much smaller company. That could potentially be an issue for an insurer since the company's smaller size means it has fewer reserves to draw on in case of a major disaster. For example, if a severe hurricane or earthquake led to a lot of simultaneous claims, a smaller company like AFI might not be able to afford to cover them all. A.M. Best gives AFI a rating of B++, which is good but much lower than USAA's AA+ rating.
Common Homeowners Insurance Discounts for Veterans
Most large homeowners insurance providers offer military-related discounts, which veterans will generally qualify to claim. For example, Farmers Insurance offers a "professional discount" to customers in certain professions, including military service. Your family members may also be able to claim the military discount if they are closely related to you. Spouses and children generally qualify, but more distantly related family members likely will not.
Military discounts for veterans are generally based on how long you served in the military and the type of discharge you received (most require an honorable discharge). Most carriers will extend military discounts to those who served in the National Guard or reserves. You'll need to check with individual insurers to see what their requirements are for receiving military discounts and how much of a discount the company will offer you.
You'll likely qualify for more than the military discount. One of the best available at most insurance companies is the multi-policy discount, especially for customers who get car insurance and homeowners insurance from the same carrier. Other common discounts for veterans include:
Claim-free discounts

Retiree discounts

Loyalty discounts
Compare Home Insurance Quotes Instantly
Personalized quotes in 5 minutes or less
No signup required
Veteran Home Insurance FAQ
There is no one best insurance policy or insurer for veterans or anyone else. That's because each individual's situation is unique and will include a unique set of factors. Different insurers use different factors to set their premiums and weigh those factors differently. So the insurance company that gave one veteran a terrific price on insurance may overcharge another. The only way to find out which policy is best for you is to compare insurance quotes through a service like Insurify.

Most major insurers have military discounts on their policies. Veterans will typically qualify for such discounts, which extend to both active and former military members in nearly all cases. Military-specific insurers like USAA don't have military discounts, but the usual rate is very competitive.

In addition to military discounts, some insurers may have discounts or other special programs for disabled customers. As a disabled veteran, you may well qualify to claim both types of discounts. When comparing policies, be sure to check if the insurers offer these discounts, as claiming both may make a significant difference in your cost. Insurify will help you check for any available discounts and compare policies from different insurers.
Military Family Homeowners Insurance: The Bottom Line
Now that you know how your status as a veteran can affect your homeowners insurance rates, you can start looking around for the right policy for you. Remember, qualifying for tons of discounts won't help unless you actually find and claim those discounts! That's why it's crucial to use a tool like Insurify to compare policies and quotes from a number of different insurance providers.
Finding the best deal on homeowners insurance for military veterans is a great start, but don't think you'll never have to shop for insurance again! Over time, insurers change how they price their policies and new companies and products may enter the market. The only way to be sure you're getting the best deal is to compare policies at least once a year. For most people, the best time to compare is a month or two before your existing policy will expire. That will give you plenty of time to shop around and (if necessary) switch policies before your existing policy gives up the ghost.
One thing you definitely don't want is to have a gap in coverage; should something happen to your house during that period, you'd be stuck paying all the costs yourself. And having a coverage gap can affect your ability to get homeowners insurance in the future or at least raise your rates.
If this all sounds like a lot of work, don't worry— Insurify makes it fast and is the best way to compare home insurance. Why don't you hop on the quoting tool right now and start looking? In just a few minutes you'll have a set of policies to compare and you can quickly and easily see which one is the best deal for you.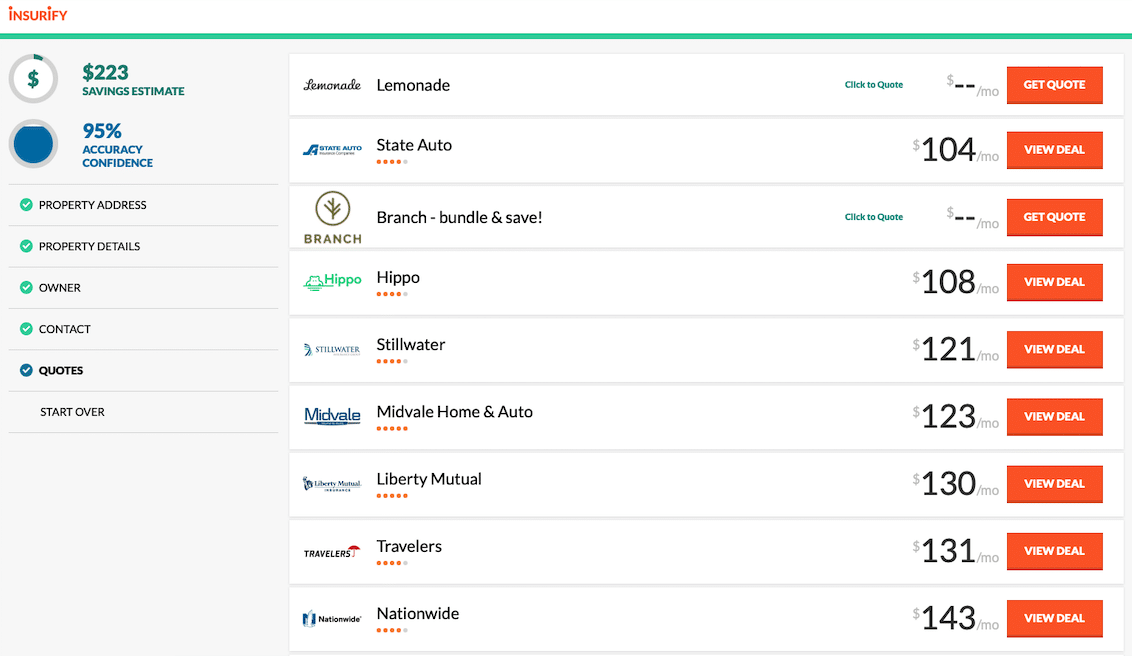 Compare Home Insurance Quotes Instantly
Personalized quotes in 5 minutes or less
No signup required
Data scientists at Insurify analyzed over 40 million auto insurance rates across the United States to compile the car insurance quotes, statistics, and data visualizations displayed on this page. The car insurance data includes coverage analysis and details on drivers' vehicles, driving records, and demographic information. With these insights, Insurify is able to offer drivers insight into how their car insurance premiums are priced by companies.