Why you can trust Insurify:
As an independent agent and insurance comparison website, Insurify makes money through commissions from insurance companies. However, our expert insurance writers and editors operate independently of our insurance partners.
Learn more
.
American Family auto insurance is a good option for many drivers, but as a policyholder, there may come a time when you'd like to cancel it. Whether you found a lower premium elsewhere or you're no longer satisfied with the customer service, canceling an American Family car insurance policy is a fairly simple process.
If you do decide to cancel, you'll need to find a new car insurance company that better suits your needs. The best way to do that is by comparing car insurance rates from multiple insurance companies with Insurify. Once you fill out a short form, you'll receive personalized car insurance quotes in minutes. Rest assured that there are no fees or sign-ups.
Quick Facts
Canceling an American Family car insurance plan is easy.

There is no cancellation fee with American Family.

You can cancel your policy through your American Family agent or via the customer support line at 1 (800) 692-6326.
American Family Cancellation Policy
How do I cancel my American Family insurance policy?
You can cancel your American Family insurance policy over the phone via the American Family customer support line at 1 (800) 692-6326 or through your personal American Family insurance agent.
Just like any auto insurance company, American Family insurance hopes that policyholders will stay for as long as possible. However, it knows that new circumstances may cause you to look for a different provider.
While American Family insurance doesn't disclose whether it charges a cancellation fee on its website, former insurance customers state that they did not have to pay a fee when they terminated their plans. Also, if you've paid your premium up front via autopay, you may be refunded for the portion you haven't used.
Compare Car Insurance Quotes Instantly
Secure. Free. Easy-to-use.
Step 1: Look Up the Renewal Date
Before you jump ship from American Family insurance, you'll need to find the answer to one very important question: When does your policy renew? To do so, you can log in to your online account on the American Family website or ask your agent. Be prepared to share your policy number. Once you know your renewal date, do your best to cancel as close to it as possible.
This is particularly important if you want a refund on any insurance premiums you've already paid. It will also allow for an easier transition to your new insurance plan with a different provider. Plus, you'll be able to avoid a gap in coverage and rest easy knowing you're insured when you're behind the wheel.
See More: Cheap Car Insurance
Step 2: Compare Car Insurance Quotes
Since you'll need to enroll in a new car insurance policy before you cancel, it's a good idea to start your search as soon as possible. When you shop around and compare car insurance companies, make sure to consider coverage options, deductibles, rates, discounts, and customer service. Also, be sure to read reviews from current policyholders.
With Insurify, you can compare auto insurance quotes with ease. This powerful tool will eliminate the hassle of having to visit the individual sites of GEICO, Progressive, State Farm, and other car insurance companies. It will provide you with all the information you need to make an informed decision in one place. Best of all, you don't have to sign up or pay a fee.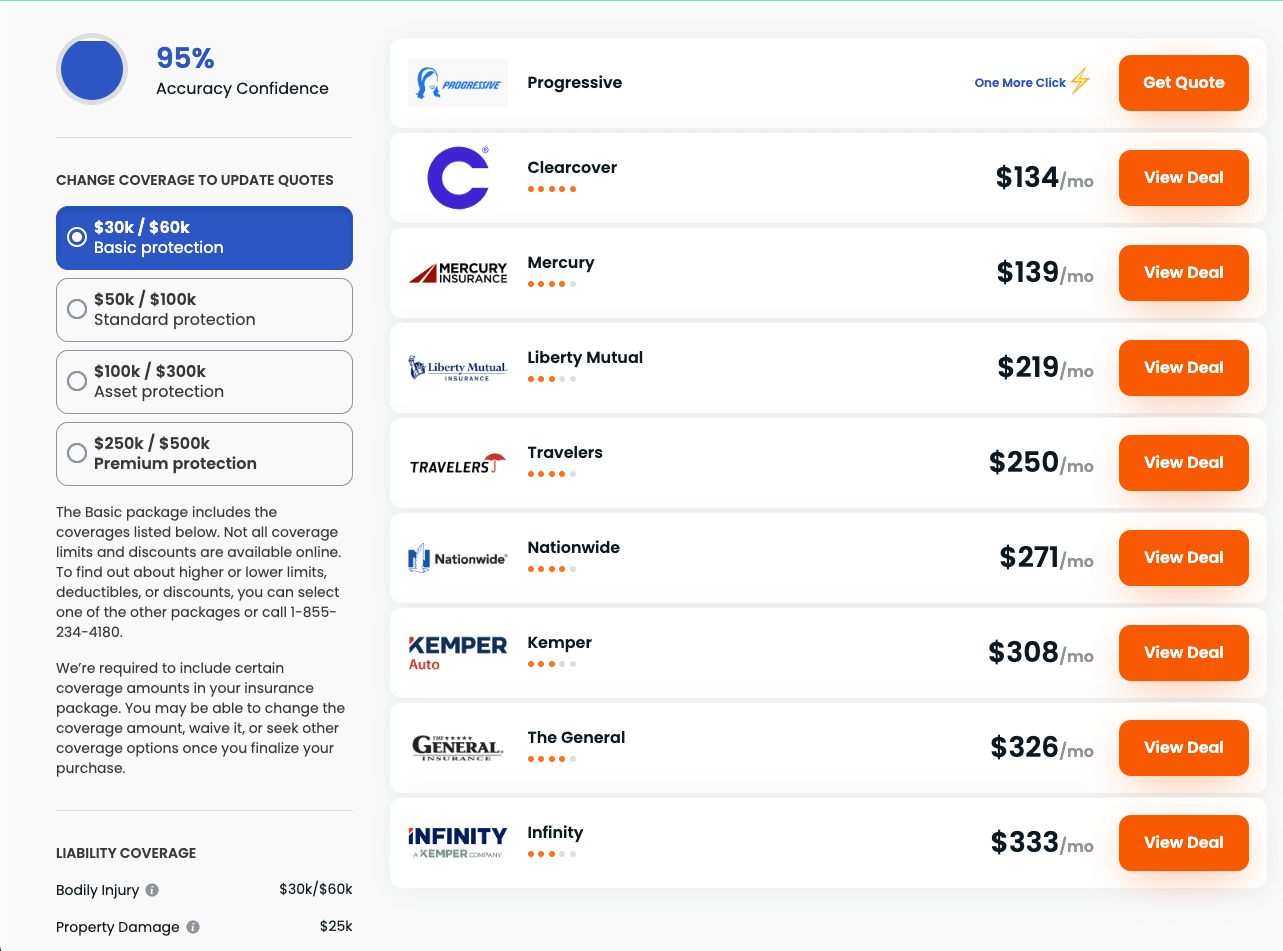 American Family Quotes vs. Competitors
Disclaimer: Table data sourced from real-time quotes from Insurify's 50-plus partner insurance providers. Actual quotes may vary based on the policy buyer's unique driver profile.
Step 3: Think about Why You're Leaving American Family
You don't have to inform American Family Insurance of why you'd like to terminate your auto policy, but you should understand your own reasoning for doing so. Maybe you wish to bundle your car insurance with your life insurance, renters insurance, or home insurance provider.
Perhaps, you don't drive as much as you used to and prefer a pay-per-mile plan. You may also find that another car insurance company offers more discounts that apply to you or has rental car reimbursement or a robust roadside assistance program that meets your needs as an avid driver. In addition, you may be moving to a state that American Family Insurance doesn't serve.
After all, the company's auto insurance products are only available in select states. These states include Arizona, Colorado, Georgia, Idaho, Illinois, Indiana, Iowa, Kansas, Minnesota, Missouri, Nebraska, Nevada, North Dakota, Ohio, Oregon, South Dakota, Utah, Washington, and Wisconsin. You'll be forced to change companies if you're moving somewhere else.
See More: Best Car Insurance Companies
Step 4: Secure a New Policy
Once you've found a car insurance company with coverage options and rates that work well for your budget and needs, it's time to sign up for this new policy. While it may feel strange to enroll before you cancel your American Family plan, doing so is a smart move. It can help you avoid a gap in coverage, which can lead to serious legal trouble.
If a police officer pulls you over or you're involved in an accident, you'll face hefty fines and other penalties for driving uninsured. To be proactive and prevent all problems, reach out to your new car insurance company to enroll as soon as you can. When you do, make sure you have information like your VIN, desired effective date, and credit card or other payment info on hand.
Step 5: Cancel Your American Family Policy
To cancel your American Family Insurance plan, you'll need your name and policy number. You may also have to show proof of the new insurance you found through Insurify to show you won't be driving uninsured. If you'll be selling your vehicle and no longer driving, you may need evidence like a bill of sale. To cancel your American Family Insurance policy, contact your agent.
You can find your agent's contact details on your insurance card or on the American Family website (amfam.com) via the Agent Locator tool. Once you get a hold of your agent, they'll walk you through the cancellation process. If you don't want to work with your agent, there are alternative options.
You may call the American Family customer service department's phone number at 1 (800) 692-6326. You can also send a letter to 6000 American Parkway, Madison, WI, 53783. Just keep in mind that it will likely be faster and easier to go through the termination process with your agent. Once you cancel, you should receive a confirmation in a few days.
See More: Compare Car Insurance
Step 6: Follow Up on Your Refund
If you cancel your car insurance policy with American Family Insurance, the company might owe you a refund. If you haven't received your refund after a few weeks, you should reach out to American Family and ask for it.
Keep in mind that you're not guaranteed a refund. Whether or not you get one will depend on how you paid for your policy and when you cancel. If you cancel during the free-look period, you'll receive a full refund. Your insurance agent can inform you if you're owed a reimbursement and how much you can expect to get back.
Canceling Your American Family Policy
Fortunately, American Family makes the cancellation process easy. When you reach out to your agent to cancel your policy, don't be surprised if they try to keep your business. They might entice you with a new plan or a discount for being a good student or safe driver.
Make sure to compare insurance quotes so you know the best rates you can get elsewhere, and remember, you're not obligated to stay with American Family. If you decide that another provider is still a better fit for you, move forward with the cancellation process. The bottom line is that you have every right to switch to an insurance company that better fits your needs.
Frequently Asked Questions
Is there a fee to cancel an American Family insurance plan?

Just like most car insurance companies, American Family doesn't charge a cancellation fee, so you can terminate your policy without guilt. You may even receive a refund for your unused premiums.

How do I avoid a lapse in coverage when I cancel an American Family policy?

If you cancel your American Family policy before you find a new plan, you may have a lapse in insurance coverage. Driving without insurance is not only illegal in most states, but it can also lead to financial consequences in the event of an accident. Make sure to enroll in a new plan before you cancel to avoid this issue.

How can I confirm my cancellation with American Family Insurance?

American Family Insurance should email or mail you a cancellation notification within two to three weeks from the date you cancel. If you don't receive one, contact your agent for a status update. Don't assume you've canceled until the company sends you a confirmation.

When will I receive my refund?

If you paid for your American Family car insurance plan in full when you first enrolled in it, you can expect a refund a few weeks after you cancel. Check with your agent for more information about your refund.
Compare Car Insurance Quotes Instantly
Secure. Free. Easy-to-use.
Methodology
Data scientists at Insurify analyzed more than 40 million real-time auto insurance rates from our partner providers across the United States to compile the car insurance quotes, statistics, and data visualizations displayed on this page. The car insurance data includes coverage analysis and details on drivers' vehicles, driving records, and demographic information. Quotes for Allstate, Farmers, GEICO, State Farm, and USAA are estimates based on Quadrant Information Service's database of auto insurance rates. With these insights, Insurify is able to offer drivers insight into how companies price their car insurance premiums.