Why you can trust Insurify
How Much Does Car Insurance Cost In Colorado?
On average, car insurance rates for drivers in Colorado are $253 per month, and $3040 per year. The average rates make Colorado the 17th most expensive state in the country for car insurance rates and 12% more expensive than the national average.
Keep in mind that average auto insurance costs are determined by factors other than location. Based on your driving history, credit score, age and marital status you should be able to find insurance quotes and discounts so that your monthly payment is less than the averages cited here.
Insurify's comparison tool will help you make sure you're getting the best possible quote based on your needs and location. You can have peace of mind you're not paying any more than the average price in your state, and customers save $48 per month on average.
Best Colorado Auto Insurance Rates
Insurify analyzed car insurance rates in the twenty most populous cities in Colorado and has selected the following providers and quotes as the best rates for drivers in Colorado.
Colorado Car Insurance Rates by City
For drivers in Colorado, it's important that you evaluate all of your potential insurance options to ensure you are finding the best rate. Based on internal Insurify data, here are the average cost of car insurance rates for drivers in the top 10 cities in Colorado.
| City | Avg. Monthly Rate |
| --- | --- |
| Arvada | $232 |
| Aurora | $285 |
| Boulder | $179 |
| Colorado Springs | $253 |
| Denver | $252 |
| Englewood | $229 |
| Fort Collins | $188 |
| Littleton | $238 |
| Longmont | $195 |
| Pueblo | $242 |
What Is the Average Cost of Car Insurance in Colorado by Age?
Even the most enterprising teenagers will have trouble coming up with $434 without some help from mom and dad. That's the average monthly cost of car insurance for teenagers in Colorado. Twentysomethings do a little better, seeing a $150 drop once they add more driving experience.
Coloradans in their 30s, 40s, and 50s get a deal that sneaks below the state average. Zoom past retirement to the folks in their 70s for the best rates. Seven decades earns you a price that's less than half of what the teenagers pay. Past 80, the rate pops back up, though it's still much lower on average than the rate for teens.
| Age | Avg. Monthly Rate |
| --- | --- |
| Teens | $434 |
| 20s | $281 |
| 30s | $223 |
| 40s | $224 |
| 50s | $210 |
| 60s | $196 |
| 70s | $190 |
| >80s | $218 |
Compare Car Insurance Quotes Instantly
Personalized quotes in 5 minutes or less
No signup required
What Is the Average Cost of Car Insurance in Colorado by Gender?
Men pay seven percent more than women in the Centennial State. This discrepancy is due to the fact that women drive more safely than men do. Men also tend to buy bigger, more expensive vehicles, which increases their average rates.
| Gender | Avg. Monthly Rate |
| --- | --- |
| Male | $263 |
| Female | $245 |
Does Marital Status Influence the Average Cost of Car Insurance in Colorado?
Maybe $180 a year is enough of a reason for you to flip from single to married (but probably not!). That's the discrepancy between the average monthly car insurance rate for single and married drivers in Colorado.
The economists and financial experts argue that married folks have a higher average net worth and greater stability. That's a practical reason to fall in love, but the romance will probably come from somewhere other than your car insurance bill.
| Marital Status | Avg. Monthly Rate |
| --- | --- |
| Married | $243 |
| Single | $258 |
What Are the Minimum Car Insurance Requirements in Colorado?
Colorado law requires liability insurance to cover injuries and property damage caused to others. You must have $25,000 in bodily injury liability per person and $50,000 per accident, and $15,000 in property damage liability per accident. To cover your car, pick up comprehensive and collision coverage.
How Does Credit History Affect Colorado Car Insurance Rates?
Does your credit have anything to do with the way you drive? Maybe not, but your credit score does impact the cost of your car insurance in Colorado.
If you look at the data, you'll see that drivers with good credit pay more than those with average credit, and those with average credit pay more than those with poor credit. What's going on? Drivers with better credit can finance more expensive cars and afford higher levels of coverage, which increases their average insurance costs. But even with that fact, getting your credit score above 800 will save you $27 per month over the state average. That's "excellent."
| Credit History | Avg. Monthly Rate |
| --- | --- |
| Poor | $243 |
| Average | $248 |
| Good | $259 |
| Excellent | $226 |
What Is the Average Cost of Car Insurance in Colorado for High-Risk Drivers?
"Safety first" is not just a mantra that saves lives. It also saves money. Common sense tells us that the safest drivers will pay the least, and safe drivers qualify for "good driver" and "accident-free" discounts. But what if your record is less than perfect?
Drivers with a speeding ticket in Colorado will pay $30 more per month on average—plus fines. Drivers with an at-fault accident on their insurance record should expect to see monthly rates increase by around $26. Accidents happen, but driving safely and keeping a clean record are the best ways to avoid rate hikes. Remember, violations and accidents will stay on your insurance history for years to come. Still, you can still take a defensive driver course to reduce your monthly payment.
| Driving History | Avg. Monthly Rate |
| --- | --- |
| No Violation | $242 |
| At-Fault Accident | $268 |
| Speeding | $272 |
Tips for Researching Colorado Car Insurance Rates
The Centennial State's prices and premiums differ by location, company, and vehicle. Colorado was in the top 10 for population growth over the last decade as of 2019, and the people keep coming. Will insurance prices also rise? Coloradans hope not.
If you desire the best deal, try Insurify 's comparison tool. You'll generate 10+ real quotes and unlock savings and discounts. In less than two minutes, you can find the coverage you deserve at a price you can afford.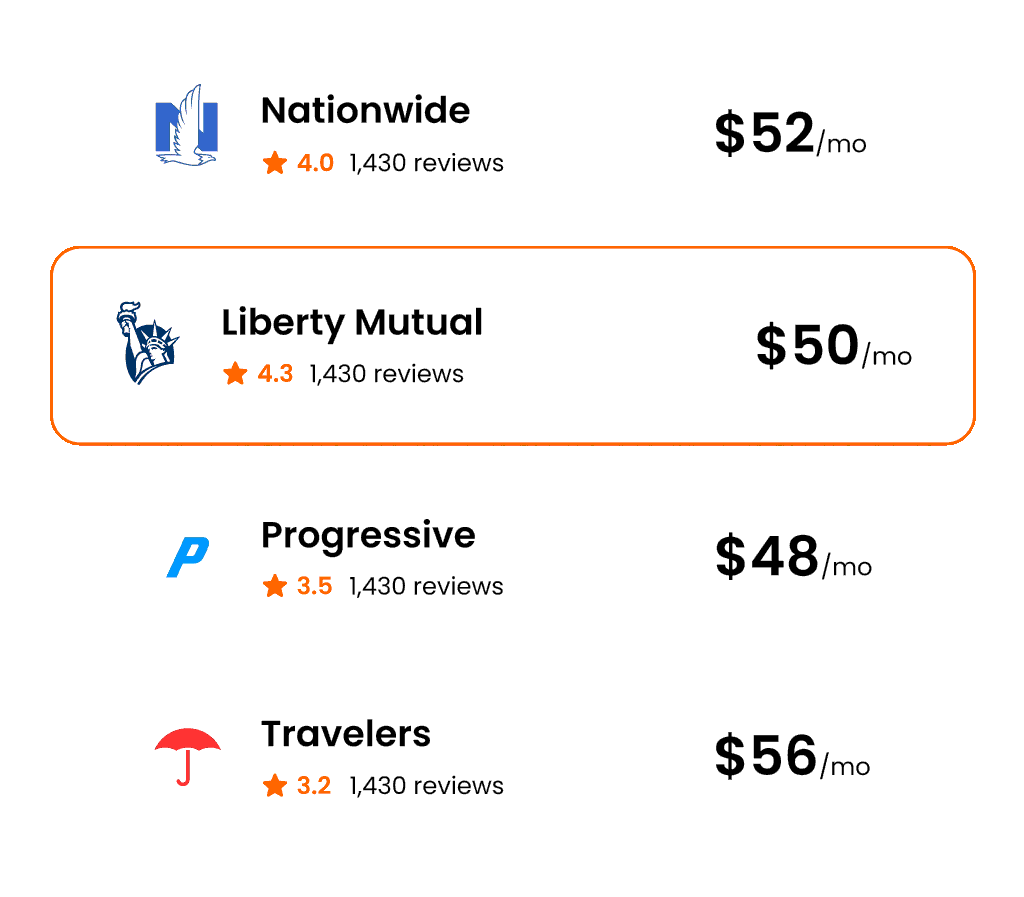 Compare Top Auto Insurance Companies
Use Insurify for all of your car insurance comparison needs! Compare and connect directly with the top insurance companies to find the best rates as well as the most personalized discounts and coverage options. Insurify's network includes over 200 insurance companies throughout the U.S. who can work with you to get you the right auto insurance policy at the cheapest price. See All Auto Insurance Companies
FAQs - Colorado Car Insurance
There are many different factors that go into the how expensive your car insurance is. That said, some of the reasons why you could be paying so much for your insurance include: living in a state with high minimum insurance requirements, being a young or new driver, committing past traffic offenses like at-fault accidents or DUIs, and having a low credit score.

Auto insurance costs will vary between locations and insurance carriers, depending on the county Colorado. Insurify analyzed the latest data for the five most populous cities in Colorado to find you the cheapest quotes in each of these metropolitan areas.

The way to find the carrier with the best auto insurance ratings in Colorado and save on your insurance premiums is to compare quotes from all companies in your area. Use a car insurance quotes comparison site like Insurify to compare up to 10+ real quotes for your specific driver profile and unlock savings and discounts. Rates can fluctuate greatly based on whether you're a safe driver or a high risk one, but you should never overpay. Insurify provides the cheapest car insurance quotes and companies in your area in just a few seconds.

During the past three years in the United States, national premium costs have risen an average of 4.5 percent annually. In states where quotes have risen, this figure has been 7.8 percent; and in those where rates have fallen, prices have decreased by approximately 6.0 percent. Individual rates by state will of course vary depending on the driver's history and a multitude of factors.
Compare Car Insurance Quotes Instantly
Personalized quotes in 5 minutes or less
No signup required
Methodology
The car insurance quotes displayed are based on an analysis of Insurify's database of over 40 million quotes from 500 ZIP codes nationwide. To obtain representative rates, Insurify's data science team performs frequent comprehensive analyses of the factors car insurance providers weigh to calculate rates including driver demographics, driving record, credit score, desired coverage level, and more.
Insurify's analysis also incorporates the Insurify Composite Score (ICS) assigned to each insurance provider. The ICS is a proprietary rating that weighs multiple factors reflecting the quality, reliability, and health of an insurance company. Ratings used to calculate the ICS include Financial Strength Ratings from A.M. Best, Standard & Poor's, Moody's, and Fitch; J.D. Power ratings; Consumer Reports customer satisfaction surveys and customer complaints; mobile app reviews; and user-generated company reviews.
With the above insights and ranking methods, Insurify is able to offer car insurance shoppers insight into how various insurance providers compare to one another in terms of both cost and quality. Note, actual quotes will vary based on unique attributes including the policyholder's driver history and their garaging address.