How Much Does Car Insurance Cost In New Hampshire?
On average, car insurance rates for drivers in New Hampshire are $134 per month, and $1606 per year. The average rates make New Hampshire the 49th most expensive state in the country for car insurance rates and 67% less expensive than the national average.
Keep in mind that average auto insurance costs are determined by factors other than location. Based on your driving history, credit score, age and marital status you should be able to find insurance quotes and discounts so that your monthly payment is less than the averages cited here.
Insurify's comparison tool will help you make sure you're getting the best possible quote based on your needs and location. You can have peace of mind you're not paying any more than the average price in your state, and customers save $48 per month on average.
Best New Hampshire Auto Insurance Rates
Insurify analyzed car insurance rates in the twenty most populous cities in New Hampshire and has selected the following providers and quotes as the best rates for drivers in New Hampshire.
New Hampshire Car Insurance Rates by City
For drivers in New Hampshire, it's important that you evaluate all of your potential insurance options to ensure you are finding the best rate. Based on internal Insurify data, here are the average cost of car insurance rates for drivers in the top 10 cities in New Hampshire.
| City | Avg. Monthly Rate |
| --- | --- |
| Concord | $105 |
| Derry | $135 |
| Dover | $132 |
| Exeter | $119 |
| Manchester | $156 |
| Merrimack | $132 |
| Nashua | $132 |
| Portsmouth | $105 |
| Rochester | $126 |
| Salem | $140 |
What Is the Average Cost of Car Insurance in New Hampshire by Age?
If you're a teenager in New Hampshire who just got their license, you'll likely have to pay almost double the state average for car insurance. Young adults in their 20s see their average rates go down dramatically to $158, just $24 above the state average.
If you're in your 30s or 40s, chances are you'll pay right around the state average. From there, your insurance rates will continue to go down. Average prices hit their lowest for drivers in their 70s, who pay only $89 per month for car insurance.
| Age | Avg. Monthly Rate |
| --- | --- |
| Teens | $270 |
| 20s | $158 |
| 30s | $128 |
| 40s | $134 |
| 50s | $109 |
| 60s | $90 |
| 70s | $89 |
| >80s | $107 |
Compare Car Insurance Quotes Instantly
Personalized quotes in 5 minutes or less
No signup required
What Is the Average Cost of Car Insurance in New Hampshire by Gender?
In New Hampshire, the difference that gender makes on your car insurance rate is minor. Men pay an average of $137 per month, while women pay a reasonable $132 per month.
| Gender | Avg. Monthly Rate |
| --- | --- |
| Male | $137 |
| Female | $132 |
Does Marital Status Influence the Average Cost of Car Insurance in New Hampshire?
New Hampshire drivers are already lucky enough to pay affordable car insurance rates. But for those who've gotten hitched, car insurance rates are even lower. On average, married drivers in New Hampshire pay $123 per month, which is $11 below the state average. Meanwhile, single drivers pay $139 per month, just a few dollars above the state average.
| Marital Status | Avg. Monthly Rate |
| --- | --- |
| Married | $123 |
| Single | $139 |
Minimum Car Insurance Requirements in New Hampshire
In the state of New Hampshire, liability insurance is not mandatory. The state requires drivers to pay for any injury or property damage arising from their vehicles. To avoid legal repercussions of an unexpected accident, it is recommended that New Hampshire drivers purchase insurance just in case.
If New Hampshire[1] residents do decide to purchase car insurance, the minimum limits are:
$25,000 per person for bodily injury
$50,000 per accident for bodily injury
As a major part of your liability insurance, bodily injury coverage covers medical bills for people other than the policyholder who are injured during an accident. New Hampshire is an at-fault state, meaning the driver who is responsible for the collision is also responsible for paying for any resulting expenses, either through their car insurance provider or out of pocket.
$25,000 per accident for property damage
If it's determined that an insured driver is at fault for an accident, this coverage pays for repairs to the property of the other involved parties. Additionally, property damage coverage can cover legal costs if the insured driver is involved in a lawsuit following the accident.
$1,000 per accident for Medical Payments Coverage
Similar to PIP coverage, Medical Payments Coverage will cover the policyholder for medical payments they incur in the event of an accident..
$25,000 per accident for uninsured/underinsured motorists
Uninsured and underinsured motorist coverage pays for costs caused by a driver with little or no insurance after a car accident. In New Hampshire, your uninsured and underinsured coverage must match your current liability coverage.
How Does Credit History Affect New Hampshire Car Insurance Rates?
New Hampshire allows car insurance companies to consider your credit score when determining your car insurance rates. So as you can imagine, drivers with an excellent credit history pay much less on car insurance ($109 per month) than those with a poor credit history ($165 per month). Those drivers with a good credit history pay the same as those with an excellent credit history as well.
| Credit History | Avg. Monthly Rate |
| --- | --- |
| Poor | $165 |
| Average | $148 |
| Good | $109 |
| Excellent | $109 |
What Is the Average Cost of Car Insurance in New Hampshire for High-Risk Drivers?
"Safety first" is not just a mantra that saves lives. It also saves money. Common sense tells us that the safest drivers will pay the least, and safe drivers qualify for "good driver" and "accident-free" discounts. But what if your record is less than perfect?
Drivers with a speeding ticket in New Hampshire will pay $32 more per month on average—plus fines. Drivers with an at-fault accident on their insurance record should expect to see monthly rates increase by around $23. Accidents happen, but driving safely and keeping a clean record are the best ways to avoid rate hikes. Remember, violations and accidents will stay on your insurance history for years to come. Still, you can still take a defensive driver course to reduce your monthly payment.
| Driving History | Avg. Monthly Rate |
| --- | --- |
| No Violation | $126 |
| At-Fault Accident | $149 |
| Speeding | $158 |
Tips for Researching New Hampshire Car Insurance Rates
When it comes to car insurance rates, you never quite know what you're going to get. Prices fluctuate wildly between companies, based on a whole host of factors. With many trusted carriers offering their services in New Hampshire, drivers in the Granite State will want to make sure they're comparing rates so that they can find the right policy for their budget.
Insurify is all about making it easy to compare quotes so that drivers can find cheap car insurance rates. With Insurify, dozens of free car insurance quotes are just a few clicks away, setting you up to find the right policy at the right price.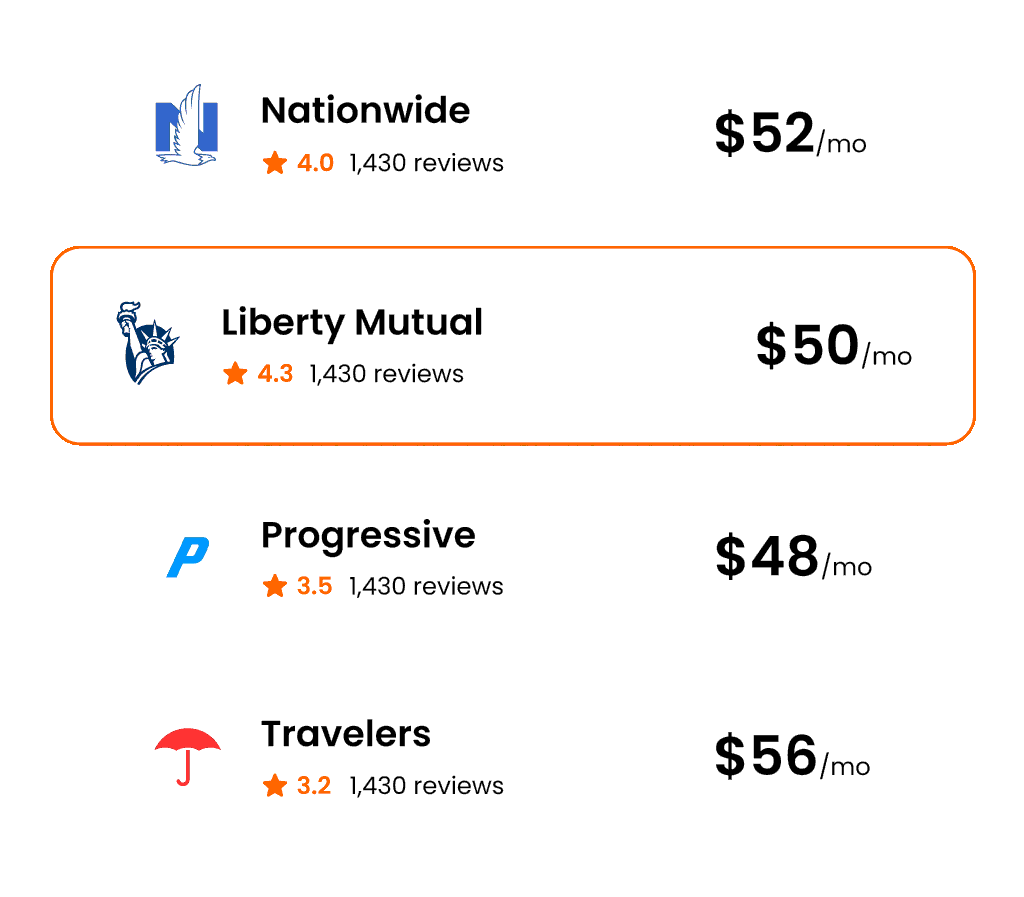 Compare Top Auto Insurance Companies
Use Insurify for all of your car insurance comparison needs! Compare and connect directly with the top insurance companies to find the best rates as well as the most personalized discounts and coverage options. Insurify's network includes over 200 insurance companies throughout the U.S. who can work with you to get you the right auto insurance policy at the cheapest price. See All Auto Insurance Companies
FAQs - New Hampshire Car Insurance
There are many different factors that go into the how expensive your car insurance is. That said, some of the reasons why you could be paying so much for your insurance include: living in a state with high minimum insurance requirements, being a young or new driver, committing past traffic offenses like at-fault accidents or DUIs, and having a low credit score.

Auto insurance costs will vary between locations and insurance carriers, depending on the county New Hampshire. Insurify analyzed the latest data for the five most populous cities in New Hampshire to find you the cheapest quotes in each of these metropolitan areas.

The way to find the carrier with the best auto insurance ratings in New Hampshire and save on your insurance premiums is to compare quotes from all companies in your area. Use a car insurance quotes comparison site like Insurify to compare up to 10+ real quotes for your specific driver profile and unlock savings and discounts. Rates can fluctuate greatly based on whether you're a safe driver or a high risk one, but you should never overpay. Insurify provides the cheapest car insurance quotes and companies in your area in just a few seconds.

During the past three years in the United States, national premium costs have risen an average of 4.5 percent annually. In states where quotes have risen, this figure has been 7.8 percent; and in those where rates have fallen, prices have decreased by approximately 6.0 percent. Individual rates by state will of course vary depending on the driver's history and a multitude of factors.
Compare Car Insurance Quotes Instantly
Personalized quotes in 5 minutes or less
No signup required
Methodology
The car insurance quotes displayed are based on an analysis of Insurify's database of over 40 million quotes from 500 ZIP codes nationwide. To obtain representative rates, Insurify's data science team performs frequent comprehensive analyses of the factors car insurance providers weigh to calculate rates including driver demographics, driving record, credit score, desired coverage level, and more.
Insurify's analysis also incorporates the Insurify Composite Score (ICS) assigned to each insurance provider. The ICS is a proprietary rating that weighs multiple factors reflecting the quality, reliability, and health of an insurance company. Ratings used to calculate the ICS include Financial Strength Ratings from A.M. Best, Standard & Poor's, Moody's, and Fitch; J.D. Power ratings; Consumer Reports customer satisfaction surveys and customer complaints; mobile app reviews; and user-generated company reviews.
With the above insights and ranking methods, Insurify is able to offer car insurance shoppers insight into how various insurance providers compare to one another in terms of both cost and quality. Note, actual quotes will vary based on unique attributes including the policyholder's driver history and their garaging address.
Sources