Why you can trust Insurify:
As an independent agent and insurance comparison website, Insurify makes money through commissions from insurance companies. However, our expert insurance writers and editors operate independently of our insurance partners.
Learn more
.
Formerly known as GMAC Insurance, National General Insurance Company (NGIC) was founded by General Motors. If you have a National General auto insurance policy, you're not tied down to it forever. You may cancel it at any time if your circumstances change and you prefer a different car insurance provider for lower insurance rates or better service, for example.
With our car insurance quote comparison, you can easily shop around for auto insurance plans from the leading providers like State Farm, Allstate, Progressive, and Liberty Mutual. You don't have to sign up or pay a dime. Within minutes, you can receive personalized quotes and find the ideal option for your unique budget and needs.
Quick Facts
You can cancel your National General auto coverage via email, by phone, via fax, or in person.

National General does charge a cancellation fee between $10 and $50.

Make sure you enroll in a new plan before you terminate with National General.
National General Cancellation Policy
How do I cancel my National General car insurance?
To cancel a policy with National General, you should first check your renewal date. You can then cancel over the phone, by fax, via email, or with a local agent. You should make sure you have another policy lined up before canceling with National General so you don't go uninsured.
Canceling your auto insurance coverage with National General is easy. You can do so via email, by phone, or in person at a nearby location. When you do so, make sure you have your policy number on hand. No matter which option you choose, an agent will walk you through the process.
Depending on when you cancel, you may also have to pay a cancellation fee. This can be anywhere from $10 to $50. If you're owed a refund, they'll deduct the fee from that.
Compare Car Insurance Quotes Instantly
Secure. Free. Easy-to-use.
Step 1: Look Up the Renewal Date
Ideally, you'd cancel as close to your renewal date as possible. This way, you'll avoid a coverage gap, which may be a serious issue if you get pulled over or are involved in a car accident. To check your renewal date, you can look at your National General insurance ID card. You may also reach out to the company directly.
Of course, you have the freedom to terminate at any time. Just know that doing so within weeks of your renewal date will likely streamline the process of getting a new car insurance plan. It can also reduce the risk of penalties that stem from a lapse in coverage.
See More: Cheap Car Insurance
Step 2: Compare Car Insurance Quotes
Since there are countless car insurance companies on the market, it's in your best interest to shop around and compare coverage options and deductibles. While it may be tempting to only look at big-name companies like USAA and Travelers, it's also worth exploring smaller providers, such as Mile Auto and Metromile.
With Insurify, the process couldn't be any faster or easier. Once you answer a few questions about your vehicle and driving history, you'll receive personalized quotes that are ideal for your specific situation. If an offer piques your interest, Insurify will direct you to the auto insurance company's website so you can complete the process.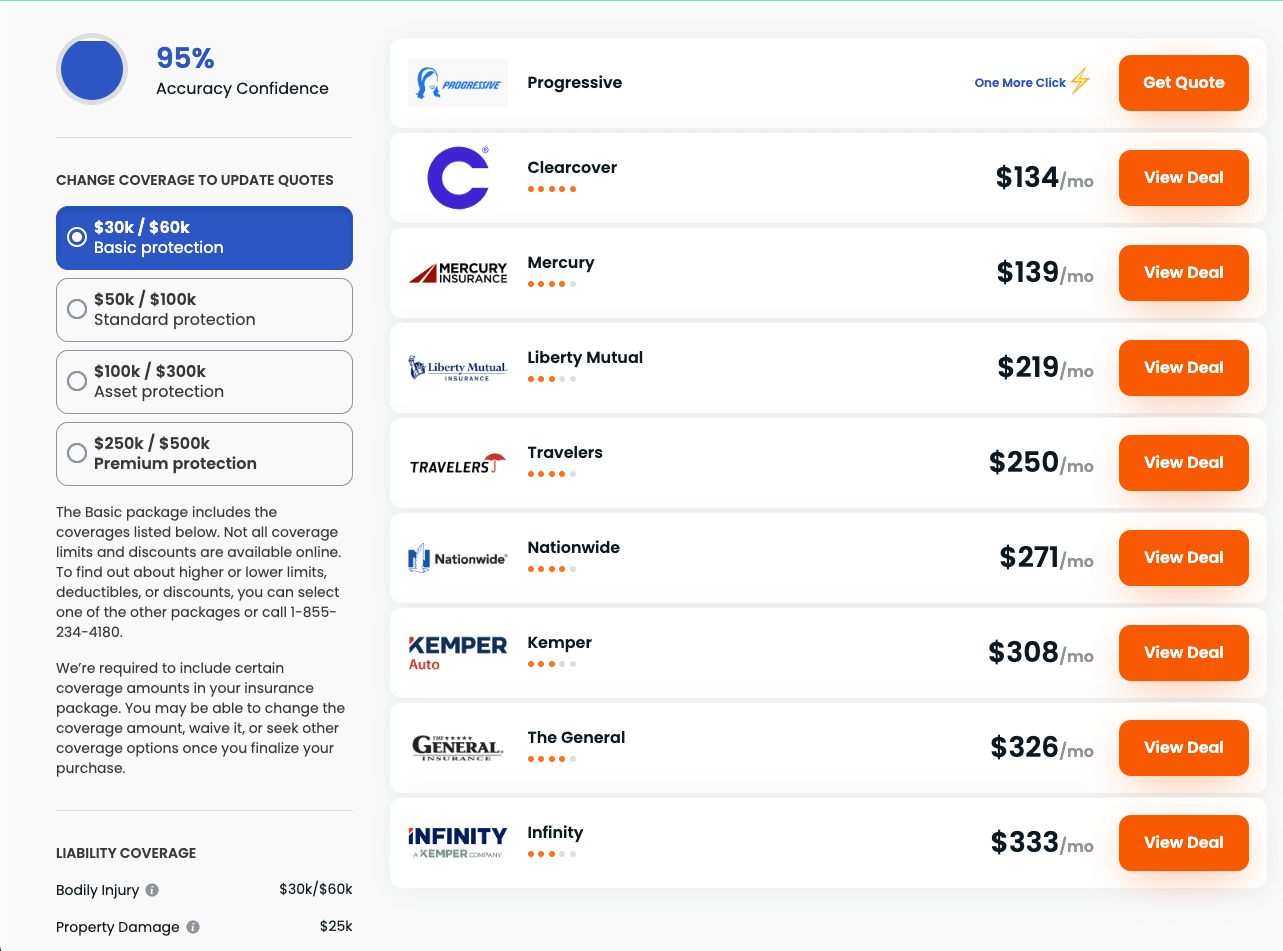 National General Quotes vs. Competitors
Disclaimer: Table data sourced from real-time quotes from Insurify's 50-plus partner insurance providers. Actual quotes may vary based on the policy buyer's unique driver profile.
Step 3: Think about Why You're Leaving National General
There are a variety of reasons you might want to cancel your National General car insurance policy. You may be disappointed with a slow claims process. Or perhaps your budget is tighter than usual, and you need to save money with lower insurance premiums.
In addition, you may want to switch to the company you use for your homeowners insurance, renters insurance, life insurance, RV insurance, or health insurance so you can lock in a good discount. While you don't have to share your reasoning with National General, you should understand it yourself.
This will make it easier for you to find a new policy because you'll have a clear idea of what you're looking for. It will also give you the peace of mind of knowing you're making a smart decision for your specific budget and needs.
See More: Best Car Insurance Companies
Step 4: Secure a New Policy
Before canceling your National General auto policy, make sure you lock in a new one using Insurify's handy tool. When you do your research, compare apples to apples. For example, if you'd like basic liability coverage, look at liability insurance across the board. It doesn't make sense to compare Progressive's liability plan with GEICO's comprehensive coverage.
With a new car insurance policy in place, you can ensure you're driving legally, as auto insurance is required in every state except for New Hampshire. You'll also be able to avoid a lapse in coverage, which can lead to a significant financial burden if you get involved in a car accident. You might also qualify for continuous insurance discounts and save some money.
Step 5: Cancel Your National General Policy
Once you find a new car insurance policy with Insurify, it's time to terminate your current plan. While National General doesn't let you cancel on its website, you can email a cancellation notice to memberservices@nhicadmin.com. Another option is to fax your written cancellation to 1 (888) 344-3232.
You may also call National General's customer service directly at 1 (888) 293-5108 or go through the process in person with your insurance agent. In addition, National General accepts cancellations via mail. If you prefer this option, mail your notice to National General Accident & Health, PO Box 1070, Winston-Salem, NC, 27102-1070.
When you write your cancellation notice, be sure to include the following information:
Your first and last name

Your policy number

The phrase "request to cancel" in the subject

Information about your new car insurance plan and its effective date

Your signature
See More: Compare Car Insurance
Step 6: Follow Up on Your Refund
Unless you cancel your National General auto insurance on your renewal date, you'll likely be owed a refund. If you paid for your plan via credit card, you may receive a credit to your account as soon as the same day you cancel. If you used your checking or saving account, it will arrive via check in two weeks.
When you terminate your policy, don't hesitate to speak to National General customer service or an agent to confirm your refund. National General Insurance reviews state some policyholders had to wait a while to receive it. If you're eligible for a refund but don't see it within a few weeks, reach back out to the company for a status update.
Canceling Your National General Policy
Even if National General has served you well in the past, all good things must come to an end. If you need to terminate your policy for any reason, don't feel bad about doing so. Just make sure you've secured a new plan. With our car insurance quote comparison, you can connect to the best auto insurance for your new circumstances. There are no sign-ups or fees involved.
Frequently Asked Questions
If you don't cancel your National General policy before your renewal date, you can expect to pay a policy cancellation fee, which will be between $10 and $50. The auto insurance provider will deduct the fee from your prorated refund. Consult customer service or your agent for more details on the cancellation fee.

Once you decide that it makes sense to leave National General, you can visit the websites of other car insurance companies to compare auto insurance products. If you want to make the process as fast and easy as possible, however, use Insurify. The tool will generate personalized auto insurance quotes in minutes for free, no matter if you're a safe driver or have a DUI.

While you can't terminate your plan on National General's website (www.nationalgeneral.com), you may email a cancellation notice to memberservices@nhicadmin.com. Other acceptable cancellation methods include fax, phone, or in person with some help from an agent. No matter which option you choose, you'll need to know your policy number and driver's license.

If you sign up for a new car insurance plan before you cancel with National General, you'll ensure you're complying with state laws and driving legally. Plus, you'll be able to prevent a lapse in coverage, which can result in serious consequences, like financial stress in the event of an accident or higher premiums down the road.
Compare Car Insurance Quotes Instantly
Secure. Free. Easy-to-use.
Data scientists at Insurify analyzed more than 40 million real-time auto insurance rates from our partner providers across the United States to compile the car insurance quotes, statistics, and data visualizations displayed on this page. The car insurance data includes coverage analysis and details on drivers' vehicles, driving records, and demographic information. Quotes for Allstate, Farmers, GEICO, State Farm, and USAA are estimates based on Quadrant Information Service's database of auto insurance rates. With these insights, Insurify is able to offer drivers insight into how companies price their car insurance premiums.