Best DUI Insurance Companies in Georgia (2022)
For drivers with a DUI or DWI offense in Georgia, it's important that you evaluate all of your potential insurance options to ensure you are finding the best rate. Comparing the right insurance companies after this incident will allow you to get the best possible insurance rate after a DUI.
To simplify comparing companies, Insurify has analyzed rates from top insurance providers in Georgia. The following are the best insurance rates from carriers that offer car insurance for drivers with a DUI in Georgia.
DUI Car Insurance Costs in Georgia
In Georgia, a DUI or DWI offense will on average have drivers paying $530 per month and $6,360 per year for their car insurance rates.
Compared to drivers with a clean driving record, that is on average an 72% increase on car insurance rates for drivers with a DUI. So in order, to find an affordable monthly rate after a DUI, comparison tools like Insurify become essential to finding the best rate.
Avg. Monthly Cost - No Violation
$309
Avg. Monthly Cost - After DUI
$530
Monthly Impact of DUI on Rates
Percent Bad DUI Impact Rates
Insurify's comparison tool will help you make sure you're getting the best possible quote even after a DUI. You can have peace of mind that you're reviewing all of your available insurance options and can confidently choose the one that is best for your situation.
How Much Does a DUI Impact Car Insurance Rates in Georgia?
What do DUIs really cost? The answer is different for every person, but it's also the same: more than you want to pay. That adage definitely applies to the car insurance bill.
The state average is $354, and people with a clean driving record skate below that, at $309. That extra drink kicks the premium up by an astounding 71 percent, to $530. Compared to a clean record, it adds $221 per month, or over $2,600 per year. That's a nice chunk of change and plenty of reason to hand a friend the keys or hop in a Lyft.
| No Violation - Avg. Monthly Rate | After DUI - Avg. Monthly Rate | Average Percent Increase After DUI |
| --- | --- | --- |
| $309 | $530 | 71.52% |
What Are the Average Car Insurance Prices After a DUI in Georgia?
Everyone understands that no two drivers are exactly alike, but we look at averages to paint a helpful picture. In the Peach State, DUI drivers pay $530 per month to stay on the road. That high number means Georgia ranks 11th in the nation for most expensive DUI car insurance.
For the sake of perspective, Michigan residents with the same conviction shell out more than double, at $1,200 per month. At that price, Georgians will keep the humidity and let those up north have the cold. While you're warming up to your premium, think about quoting your car at the state minimum, and watch the changing cost as you add coverage.
| Georgia After DUI Avg. Monthly Rate | Most Expensive State for DUI (1-50) |
| --- | --- |
| $530 | 11st |
Compare Car Insurance Quotes Instantly
Personalized quotes in 5 minutes or less
No signup required
How Long Is the Lookback Period for a DUI in Georgia?
Georgia has two lookback periods. The courts go back 10 years when deciding if you're a repeat offender or not, but the Georgia Department of Driver Services (DDS) only goes back five years when determining how a conviction will change your license status. Five years is the longest period insurance companies check, but the majority limit it to three.
If you're looking at three years before seeing your price change, how can you lower rates today? Compare multiple quotes, avoid adding any other accidents or violations to your record, and get quotes again every six months.
Georgia DUI Penalties
In Georgia, the number of offenses, officer evasion, and causing severe injury or death all increase the punishment level. If this is your first DUI, you can expect jail time of 10 days to 12 months, a fine between $300 and $1,000, community service for 40 hours, and a license suspension of 12 months.
Drivers under the age of 21 face similar penalties, except it's jail time for 24 hours to 12 months, community service for 20 hours, and a license suspension of six months. Everyone who gets a DUI will be required to attend the DUI Alcohol or Drug Use Risk Reduction Program.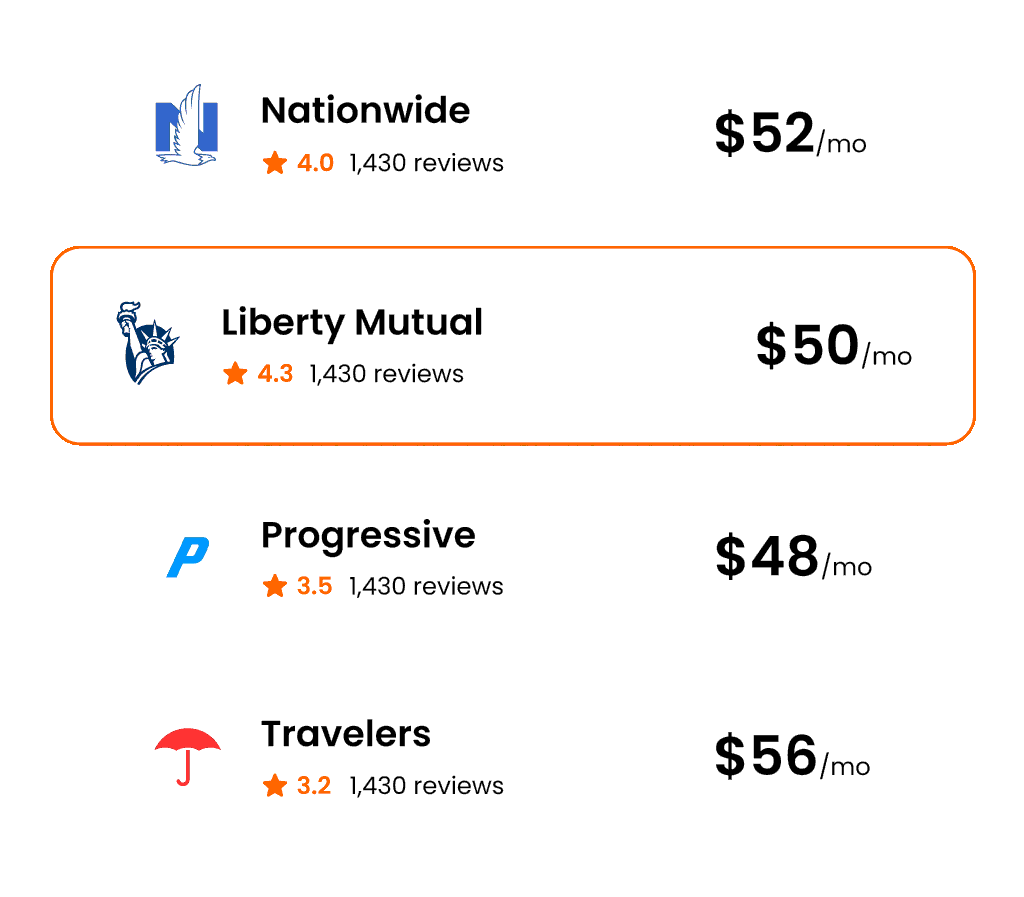 Compare Top Auto Insurance Companies
Use Insurify for all of your car insurance comparison needs! Compare and connect directly with the top insurance companies to find the best rates as well as the most personalized discounts and coverage options. Insurify's network includes over 200 insurance companies throughout the U.S. who can work with you to get you the right auto insurance policy at the cheapest price. See All Auto Insurance Companies
FAQs - Georgia Car Insurance
There are many different factors that go into the how expensive your car insurance is. That said, some of the reasons why you could be paying so much for your insurance include: living in a state with high minimum insurance requirements, being a young or new driver, committing past traffic offenses like at-fault accidents or DUIs, and having a low credit score.

Auto insurance costs will vary between locations and insurance carriers, depending on the county Georgia. Insurify analyzed the latest data for the five most populous cities in Georgia to find you the cheapest quotes in each of these metropolitan areas.

The way to find the carrier with the best auto insurance ratings in Georgia and save on your insurance premiums is to compare quotes from all companies in your area. Use a car insurance quotes comparison site like Insurify to compare up to 10+ real quotes for your specific driver profile and unlock savings and discounts. Rates can fluctuate greatly based on whether you're a safe driver or a high risk one, but you should never overpay. Insurify provides the cheapest car insurance quotes and companies in your area in just a few seconds.

During the past three years in the United States, national premium costs have risen an average of 4.5 percent annually. In states where quotes have risen, this figure has been 7.8 percent; and in those where rates have fallen, prices have decreased by approximately 6.0 percent. Individual rates by state will of course vary depending on the driver's history and a multitude of factors.
Compare Car Insurance Quotes Instantly
Personalized quotes in 5 minutes or less
No signup required
Data scientists at Insurify analyzed over 40 million auto insurance rates across the United States to compile the car insurance quotes, statistics, and data visualizations displayed on this page. The car insurance data includes coverage analysis and details on drivers' vehicles, driving records, and demographic information. With these insights, Insurify is able to offer drivers insight into how their car insurance premiums are priced by companies.