Car Insurance
Nevada
Gap Insurance
Why you can trust Insurify
Insurify is America's highest-rated insurance comparison platform. We partner with the nation's top insurance companies and are licensed as an agent in all 50 states. However, the insurance experts writing our content operate independently of our partners, and you can learn more about how we make money by viewing our
advertising disclosures
. Also check out reviews from over 3,000 satisfied customers, our data methodology, and our editorial standards.
Updated November 28, 2022
Quick Facts
The cheapest insurer we found for gap insurance in Nevada is Travelers, with average monthly premiums of $222.

Drivers in Nevada who lease their cars are usually required to have gap insurance.

Drivers who pay off their loans on their car early may be reimbursed for gap insurance.
If you just totaled your car, gap insurance can be totally awesome.
You've done all your research, the test-drive was great, and now you're ready to put pen to paper.
Do you have to get the gap insurance from the dealership, or can you find a better deal elsewhere? When you factor in your down payment, terms, and depreciation, you may not be fully covered when you inch out the dealer's lot, even with full coverage. In just a few minutes, Insurify can help you find gap coverage that won't leave you hanging.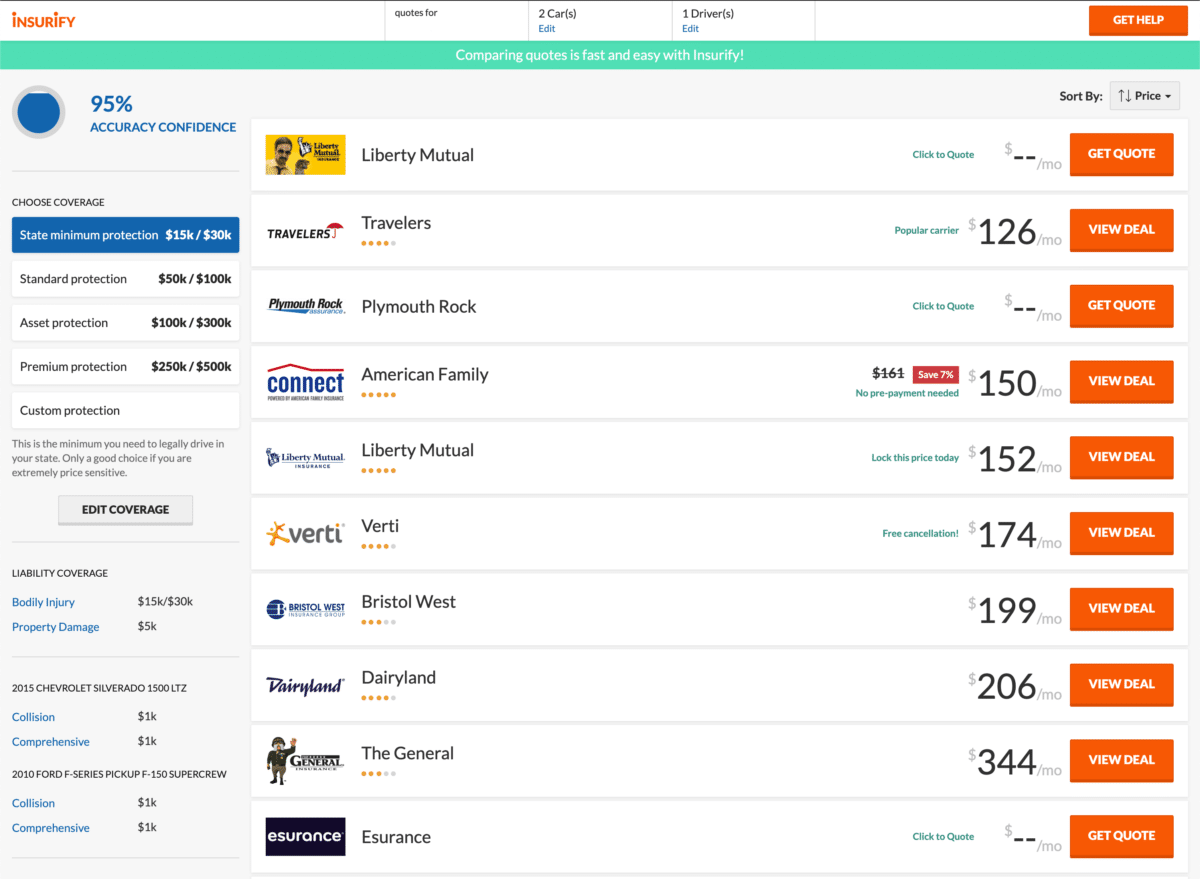 Best Companies for Gap Insurance in Nevada
After comparing over 25 million quotes nationwide and a fair number in Nevada, Insurify compiled a list of the best companies for gap insurance, based on the average monthly premiums for leased car drivers, who often own gap insurance. Although not on our list, Allstate may deserve a quote because it's one of the few companies that pay deductibles. Note that State Farm only offers gap insurance if you finance with its bank. Travelers leads the pack at $222 per month on average.
| Car Insurance Company | Average Monthly Premium |
| --- | --- |
| Travelers | $222 |
| Safeco | $247 |
| Midvale | $281 |
| TSC | $289 |
| Kemper | $292 |
| Mercury | $320 |
| Dairyland | $417 |
| Liberty Mutual | $475 |
| Bristol West | $492 |
Since every driver is different, the best way to find the cheapest insurance quotes is through a car insurance quote comparison website like Insurify. Try Insurify today to compare dozens of car insurance quotes for free and save up to $996 yearly.
Compare Car Insurance Quotes Instantly
Secure. Free. Easy-to-use.
What is gap insurance?
"GAP" is an acronym for "guaranteed asset protection"; rarely, it's called a GAP warranty. The protection fills the gap between what you owe on your car loan and the vehicle's actual cash value if it was stolen or a total loss. Unlike car insurance, gap coverage is an optional add-on unless the lender requires it as part of your car loan.
Typically, gap insurance is sold as a finance product from lenders on new and leased cars. You can get gap insurance on a used car, but it's uncommon because the vehicle has already depreciated. Insurers sometimes label gap insurance as "loan/lease payoff coverage" and cover both new and late-model cars. Fortunately, gap insurance pays out regardless of fault.
How Gap Insurance Works in Nevada
Let's say you got a brand-new car for $30,000. After a year, your car will lose about 20 percent of its value, according to the Insurance Information Institute (III). For easy math, suppose you got in an accident at the year mark and still owed $27,000 on the loan balance, but the vehicle's only worth $24,000. Your gap insurance would fill the $3,000 gap between what you owed and your vehicle's worth after paying your deductible.
Here, if you had a $500 deductible, your collision coverage would take care of the $24,000, and your gap insurance would cover the remaining $2,500. Rarely, you'll find gap insurance companies that also pay your deductible. Here's more depth on what's covered:
Gap insurance covers:
Negative equity: When you're "upside down," you owe more than what the car's worth.

Theft: You're covered if the vehicle is stolen, which is good since thefts rose 21 percent in the last year in Las Vegas, NV, alone, according to the Las Vegas Review-Journal .

Total loss: You're protected in an accident that causes the vehicle to be totaled.
Gap insurance does not cover:
Bodily injury: Injuries to others are covered by your liability coverage, and you and your passengers are covered by your medical payments coverage.

Repairable damage: If your vehicle isn't totaled, your comprehensive coverage and collision coverage pays to fix it.

Engine failure: Gap insurance doesn't pay for repairs or routine maintenance.

Other exclusions: Check your auto insurance policy for a full overview.
Who should buy gap insurance in Nevada?
As soon as you navigate out of the parking lot, your new vehicle depreciates by 10 percent, and after five years, your car will be worth 40 percent of its purchase price on average, according to CARFAX. In the early years, skipping gap insurance could more than sting your back pocket. Gap insurance may be a wise choice if you have:
A down payment less than 20 percent, including no down payment

A high-value or luxury vehicle because they can depreciate faster than average

A leased vehicle

A loan that requires it

A loan with high interest

A loan with negative equity rolled in from a previous car

A new or late-model used car where you owe more than it's worth

A term of 60 months or longer for your car loan payment
Fortunately, you can drop gap insurance coverage when you owe less than the vehicle's worth.
Nevada Gap Insurance Laws
Gap is optional coverage in Nevada. However, the law divides up gap coverage into two types: gap insurance and gap waivers, although people use them interchangeably. Gap insurance is an insurance product, and gap waivers are technically finance products, not insurance. Although the Department of Insurance regulates gap insurance and not gap waivers, both protect the consumer and give almost identical coverage.
How much gap insurance do I need in Nevada?
Gap insurance is a one-size-fits-all product, so you need not worry about how much. While more expensive vehicles may receive a little higher insurance cost, it's not like liability insurance limits, where you set the amounts. Gap insurance covers the difference between what you owe and the actual cash value of the vehicle.
How Much Gap Insurance Costs in Nevada
Is gap insurance worth the added cost? It depends on how much you owe the bank and your vehicle's current value. Many people are pleasantly surprised at the prices they get from insurance companies for gap insurance. The monthly price could be as low as $60 a year, or $5 a month, on top of your car insurance bill.
Compare that with the $500 to $700 average dealerships charge, according to Fox Business. Consumers often save the most when they pick up gap insurance from their car insurance company. If you've already put your signature down and paid at the dealer, it's not too late to make a switch. Simply buy your gap insurance with a car insurer and cancel the policy once your new coverage is active.
Click here to learn more about the specifics that go into Nevada auto insurance rates.
How to Buy Gap Insurance in Nevada
In the past, car buyers were at the mercy of the finance department or insurance agents, but now you can find additional coverage options for gap insurance online. It's easier than ever to find the best price on gap and car insurance in Nevada, and you can even get a multi-policy discount when you bundle with homeowners or life insurance.
A quote-comparison tool like Insurify will help you find the best gap insurance for your vehicle, location, and unique driver profile. Just enter some quick info to get up to 20 customized quotes from top insurers in a few minutes.
Frequently Asked Questions
Nevada law does not require gap insurance, but your lender may require you to purchase gap insurance as part of your auto loan.

Yes, if you've prepaid for gap insurance with your finance company, you may be eligible for a refund on unused coverage or premium. If you buy gap insurance from an insurer, you can simply drop it when the value of your car exceeds what you owe.

You can get the best deal when you get your gap insurance and car insurance from the same place. Try a quote-comparison tool that collects the best rates from the auto insurance companies in your area. Use Insurify to find up to 20 of the cheapest car insurance quotes from local companies in just a few minutes.
Compare Car Insurance Quotes Instantly
Secure. Free. Easy-to-use.
Data scientists at Insurify analyzed over 40 million auto insurance rates across the United States to compile the car insurance quotes, statistics, and data visualizations displayed on this page. The car insurance data includes coverage analysis and details on drivers' vehicles, driving records, and demographic information. With these insights, Insurify is able to offer drivers insight into how their car insurance premiums are priced by companies.