Do I need RV insurance?
If your RV has a motor, and especially if you live in your recreational vehicle, you should secure RV insurance. It will protect you from theft, vandalism, fire, and anything else that may damage your RV.
RVs used to be thought of primarily as retirees' vacation vehicles, but in recent years interest in recreational vehicles has spread across all age groups.
Today there are roughly 9 million RVs in the United States, which are home to about 1 million American RVers.
If you're going to use an RV, let alone live in one, you'll definitely want to make sure you have the right recreational vehicle insurance coverage to protect you in case something goes wrong. Here's what RV owners should know in order to make informed decisions about their insurance coverage.
Insurify lets you compare car insurance quotes from top national and regional insurance providers. Now, it allows you to compare homeowners insurance quotes, too! Just take two minutes to fill out your information and unlock discounts today.
Is RV insurance required?
An RV is a significant investment, so it's wise to protect it with sufficient insurance coverage. That being said, RV insurance is not always a requirement, however, it's a surefire way to protect you financially after any physical damage to your recreational vehicle, as well as personal liability you may find yourself in after an incident. The best RV insurance products are those that are tailor-made for your exact personal needs, so let's decide what kind of basic options and additional coverage suit you and your family.
Recreational vehicles generally come in one of two different forms: towable vehicles like travel trailers, which don't have a motor and are pulled behind a car or truck, and motorized vehicles, which you can drive directly. Most states don't require towable vehicles to have their own coverage (but check what the rules are in your specific area). However, motorized vehicles generally fall under the same insurance requirements as cars and trucks do.
There are different types of motorized vehicles that will be insured differently, depending on their cost, size, and quality:
Class A motorhomes are typically 21 to 40 feet long and sleep up to eight people. They're known for higher quality interiors and amenities.

Class B motorhomes, or "camper vans," range from 16 to 21 feet long and are built for up to four people.

Class C motorhomes, or "mini motorhomes," are often roughly 20 to 33 feet long, holding up to six people.
If you got a loan to purchase your RV, the lender will probably require you to get RV insurance coverage—regardless of what type of RV it is. Many lenders also have certain requirements about the type of policy you get, such as a minimum amount of coverage or a maximum deductible. Keep in mind that overall, motorhome insurance will be more expensive than travel trailer insurance; just like car insurance, vehicle type and quality will impact your RV insurance quotes.
Finally, when you rent an RV, check with your auto insurance company to see if your policy extends to a rented recreational vehicle. If not, you can get coverage from the RV rental company. Ask if insurance is included in the rental price automatically or if you need to buy a separate short-term policy from the rental company.
What Makes RV Insurance Different
Recreational vehicles are both vehicles and homes. That means just getting auto insurance to cover your RV won't cut it. An auto insurance policy might protect the vehicle itself, but wouldn't extend to your personal possessions—and probably wouldn't help much with repairs to things like bathrooms and kitchens, either. That's why getting an insurance policy specifically designed for RVs is a smart financial move.
Because RVs are used in such a wide variety of ways, RV insurance comes in multiple forms and coverage options. Before you pick an RV insurance policy, first decide just how you're going to be using your recreational vehicle. Are you a "full-timer," or going to be living in it full-time? Using it a couple of weeks a year to go on vacation? Somehow in between?
Compare Car Insurance Quotes Instantly
Personalized quotes in 5 minutes or less
No signup required
Types of RV Insurance Policies
RV insurance comes in two basic forms: full-time coverage and part-time or recreational coverage.
Full-time coverage, not surprisingly, is for RV owners who live in their recreational vehicles most or all of the time. These policies provide the same general type of coverage that homeowners insurance does, combined with the sort of coverage you'd get from an auto insurance policy.
Recreational coverage is for owners who use their RVs only occasionally and covers the vehicle while you're traveling or at your vacation site.
Regardless of whether you get a full-time or recreational RV policy, you'll have a number of different options for the types of coverage you get. Certain coverage types are built into nearly every RV insurance policy, while others are generally considered extras. RV insurance coverages may differ based on the type of recreational vehicle you are insuring. For instance, the rate you're quoted for a new RV with a pop-up trailer may be different than a similarly-sized truck camper or fifth wheel.
Standard RV Coverage
The coverage types that are likely to come bundled with any RV insurance policy include:
Collision – Not surprisingly, collision coverage protects you if your RV runs into something or if another vehicle runs into it. Collision coverage will apply no matter who's at fault in the accident.

Comprehensive – This coverage protects against just about any type of damage that's not a collision. Comprehensive coverage includes things like fire and floods, as well as theft of your RV. Most insurance policies include a list of the types of issues that are included under your comprehensive coverage; anything not on this list is not covered.

Liability – This coverage kicks in if you're at fault in an accident, and covers the cost of damage or bodily injuries to other parties. Liability insurance generally only applies to motorized RVs, not towed ones.

Medical – Medical payment coverage pays for healthcare for you and any of your passengers who are injured in an accident, whether or not you're at fault. Like liability coverage, medical payments generally don't apply to towed RVs.

Uninsured motorist – if your RV is in an accident with someone else who doesn't have sufficient insurance coverage, uninsured motorist coverage will help cover the costs of property damages, injuries, and even lost wages from not being able to work due to the accident.

Personal property – While the other types of coverage on this list are common to auto insurance policies, personal property coverage is not. This coverage kicks in if the personal effects in your RV are damaged, stolen, or destroyed. When deciding on the coverage limit for personal property insurance, remember that if you have a homeowners insurance policy on your house it may extend to the possessions in your RV as well. Speak with your homeowners insurance agent to find out whether or not this is the case.
Optional RV Coverage
In addition to the standard RV insurance coverage options, you may want to get one or more of the specialized coverage options. Here are the few of the more common optional coverage types.
Personal attachments coverage – While personal property coverage protects the items inside your RV, personal attachments coverage protects any personal effects attached to the outside of the vehicle, such as a satellite dish.

Residential liability – The standard liability coverage protects you if you're at fault in an accident, but what about if a visitor trips on the RV steps and breaks his leg? In that case, residential liability would pay for the medical expenses and protect you from any resulting lawsuits. This coverage generally comes in either full-time or recreational form (the latter is only active while you're using the RV, such as during a vacation).

Full replacement cost – Should your RV be stolen or in the event of a total loss, full replacement cost coverage will cover 100% of the cost of replacing your RV. Total loss replacement coverage will generally (but not always) pay whatever it takes to get you an equivalent replacement even if that's more than the value of your old RV.

Storage – Recreational RV users can get this coverage to protect their RVs when they're not in use. It's an economical option since it's generally far cheaper than RV insurance for a vehicle that's actively being used.

Roadside assistance – Getting an RV towed can be considerably more involved than towing a traditional automobile, so RV roadside assistance can be invaluable in a breakdown. Most roadside assistance coverage will also provide help in less extreme circumstances, such as if your RV gets a flat or if you're locked out of the vehicle.

Pet injury – Many RV owners take Spot and Fluffy along on their adventures, but what if there's an accident and your pet is injured? Pet injury coverage can help pay for those expenses if you don't have a comprehensive pet insurance policy in place.

Emergency expense – If your RV breaks down when you're far from home, emergency expense coverage helps pay for the costs of hotels, meals, and similar expenses.
RV Insurance - Frequently Asked Questions
How much does RV insurance usually cost?
The cost of RV insurance policies can vary based on your predetermined deductible amounts and coverage limits, as well as any other supplemental add ons you may choose. On average, Americans generally pay between $1,000 and $2,000 annually.
Can I bundle my auto and RV insurance?
Yes, depending on your insurance company, you can bundle your RV insurance policy with other coverages, including your home, auto, and even boat insurance. Getting creative with bundling insurance policies can save you a lot of money in the long run. Insurance companies value your loyalty and will reward you for it by cutting your costs.
Is RV insurance required?
Since RVs are motor vehicles insuring them is required across the United States. Besides being protected from liability and uninsured motorists, your RV insurance policy will financially protect you if anything goes wrong with your recreational vehicle. RVs are expensive - it's not worth risking your investment by driving them uninsured.
RV Insurance Costs
A number of different factors go into determining the insurance rates for your RV policy. Some of those factors are under your control, while others are not.
Factors you can control include your coverage limits, your deductible, how often you use the RV, and which additional types of coverage you decide to get on the policy. Other factors that will affect the cost of your RV insurance include the age and value of the RV, your driving history, your credit history, and even things like your age, gender, and marital status.
If you want to get a good deal on RV insurance, it's important to compare insurance quotes from several different companies. That's because insurance companies tend to prioritize the aforementioned factors differently. For example, one provider might put a lot of weight on your credit history, while another might consider driving history a more crucial factor. If you have poor credit but an excellent driving history, then the latter provider will likely give you a much better rate on your RV insurance policy.
Once you've picked out the right policy, don't forget to reevaluate it at least once a year. For one thing, you'll want to get a fresh set of quotes from other providers or insurance agencies to make sure that the policy is still the best deal around. For another, you may need to tweak your coverage limits and deductible based on lifestyle changes during the past year. For example, if you've bought a brand new and very expensive TV to install in your RV, you'll probably want to increase your personal property coverage limits to match.
An RV insurance policy doesn't just protect you in case of disaster. It also gives you peace of mind during good times, since you know that you've got coverage should the worst happen.
You've let Insurify help you start your car insurance quotes comparison journey. Now, you can compare home insurance quotes too!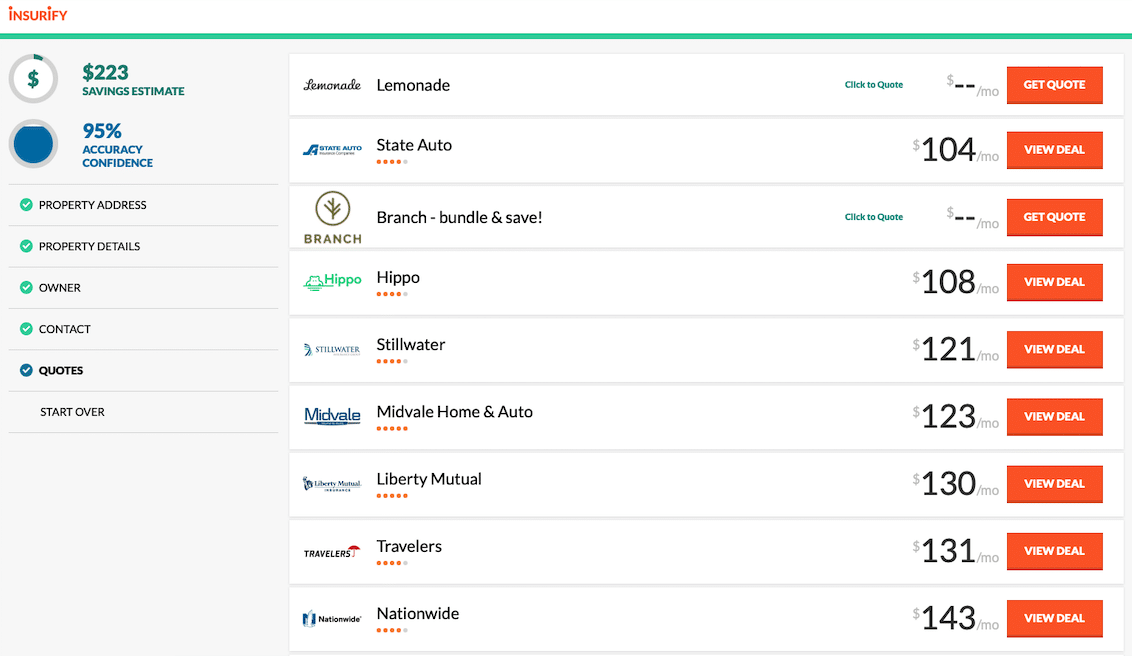 Compare Car Insurance Quotes Instantly
Personalized quotes in 5 minutes or less
No signup required
Data scientists at Insurify analyzed over 40 million auto insurance rates across the United States to compile the car insurance quotes, statistics, and data visualizations displayed on this page. The car insurance data includes coverage analysis and details on drivers' vehicles, driving records, and demographic information. With these insights, Insurify is able to offer drivers insight into how their car insurance premiums are priced by companies.