How many options are enough to know you've got the best price on insurance?
Compare.com is an auto insurance comparison website that helps customers find insurance coverage from auto insurance companies. Founded in 2013, the site claims to make finding the best deal on car insurance a breeze, and the company partners with several well-known insurers like Geico, MetLife, and USAA. (Though some of the biggest car insurance companies, including Progressive and State Farm, don't partner with the company.)
While headquartered in Virginia, Compare.com has a parent company, Admiral Group, hailing from the United Kingdom. A sister site, Confused.com, has been doing similar work in the U.K. for the past 17 years.
But is Compare.com safe to use? Does it protect users' personal data? And are customers satisfied with their overall experience with the site? Read on to find out.
How does Compare.com work?
When it comes to car insurance, Compare.com gathers expected personal information about you, your driving history, marital status, and your vehicle. You will also be asked about your current insurance provider and coverage. I began my shopping experience on Compare.com's homepage, which prompts you to enter your zipcode and begin filling out an intake form.
While there are more questions on the intake form than many other comparison sites, the form is easy to navigate, and offered the option to add a second vehicle to my plan for a 20% discount. Because I indicated that I rent an apartment, the site also asked if I would like to bundle a renters and auto insurance policy together.
After filling out the form, the site took just a few seconds to process the data that I inputted. Afterward, a list of 3 different quotes from 3 insurance companies appeared. Two––GEICO and Liberty Mutual––were traditional insurance companies, while the third, The Zebra, was yet another insurance comparison site.
When I clicked on The Zebra option, I was redirected to yet another insurance comparison experience. When I clicked on the Liberty Mutual option, I was prompted to input several more screens of more information before seeing my rate. The same occurred with GEICO, leading me to wonder why I inputted my personal information into Compare.com in the first place.
While the quotes I received were reasonable and competitive with my current insurer, receiving just two actual quotes seemed quite limited to me–– particularly when I can access up to twenty auto insurance quotes and compare them side by side at Insurify.
There were also limited customization options on the Compare.com website. I wasn't able to select between different types of insurance policy categories, choose a deductible, or compare pricing between car insurance options on the website. I couldn't even see my actual quote. To see any of those things, I had to funnel through the three sites that Compare.com recommended for me.
Compare.com Reviews: Here's what customers are saying…
Compare.com has gotten many good customer reviews over the last six years. On eKomi, it received an average of 4.5 out of 5 stars, with 181 total reviews. While the reviews were short, many noted that the site was "easy," "fast," and helped people find inexpensive coverage. Negative reviews tended to emphasize the site's confusing structure, as well as ultimately being charged more for a quote than the original price quoted by Compare.com.
The Better Business Bureau and Trustpilot tell a similar story. At BBB, Compare.com gets an A+ rating and is listed as an accredited business; however, there are no listed customer reviews. While there are only 5 customer reviews for Compare.com on Trustpilot, all 5 customer reviews are one star reviews. Customer Matt S. was frustrated by a lack of communication from Compare.com employees, while Robert expressed irritation with the site's confusing structure and lack of accurate quote options.
Overall, it seems that customers are getting a small handful of car insurance policies to choose from. For some, this is enough to feel satisfied with their purchase. For others who know that more options exist, it isn't quite enough to feel sure that the best rate was uncovered.
This table shows Compare.com's official Insurify Composite Rating, based on a combination of reviews from aggregator sites:
| Site | Customer Rating | Number of Reviews |
| --- | --- | --- |
| Clearsurance | 3.95 / 5 | 1203 |
| eKomi | 4.5 / 5 | 181 |
| SiteJabber | 5 / 5 | 6 |
| Yelp | 3.5 / 5 | 3 |
| TrustPilot | 1 / 5 | 5 |
| Total Score | 4.04 / 5 | 1390 |
Compare.com is rated 4.03 out of 5 based on 1390 reviews.
Your car insurance comparison shopping journey doesn't have to end with Compare.com. Insurify offers an incredible insurance comparison shopping experience for both car owners and homeowners.
With an average customer satisfaction rating of 4.75/5 from 3000+ reviews, Insurify is the #1 highest-ranked insurance comparison platform in America. In a matter of minutes, you can receive up to dozens of accurate, bindable quotes for insurance rates from top national and regional insurance carriers like Liberty Mutual and Nationwide. You can toggle between coverage options and unlock discounts for which you didn't even know you qualified.
On average, Insurify customers save $585 per year on car insurance. And unlike other quote comparison websites, Insurify never sells customer data to scammers or sends unwanted calls or texts––which means you can check out car insurance quotes or home insurance quotes without fear.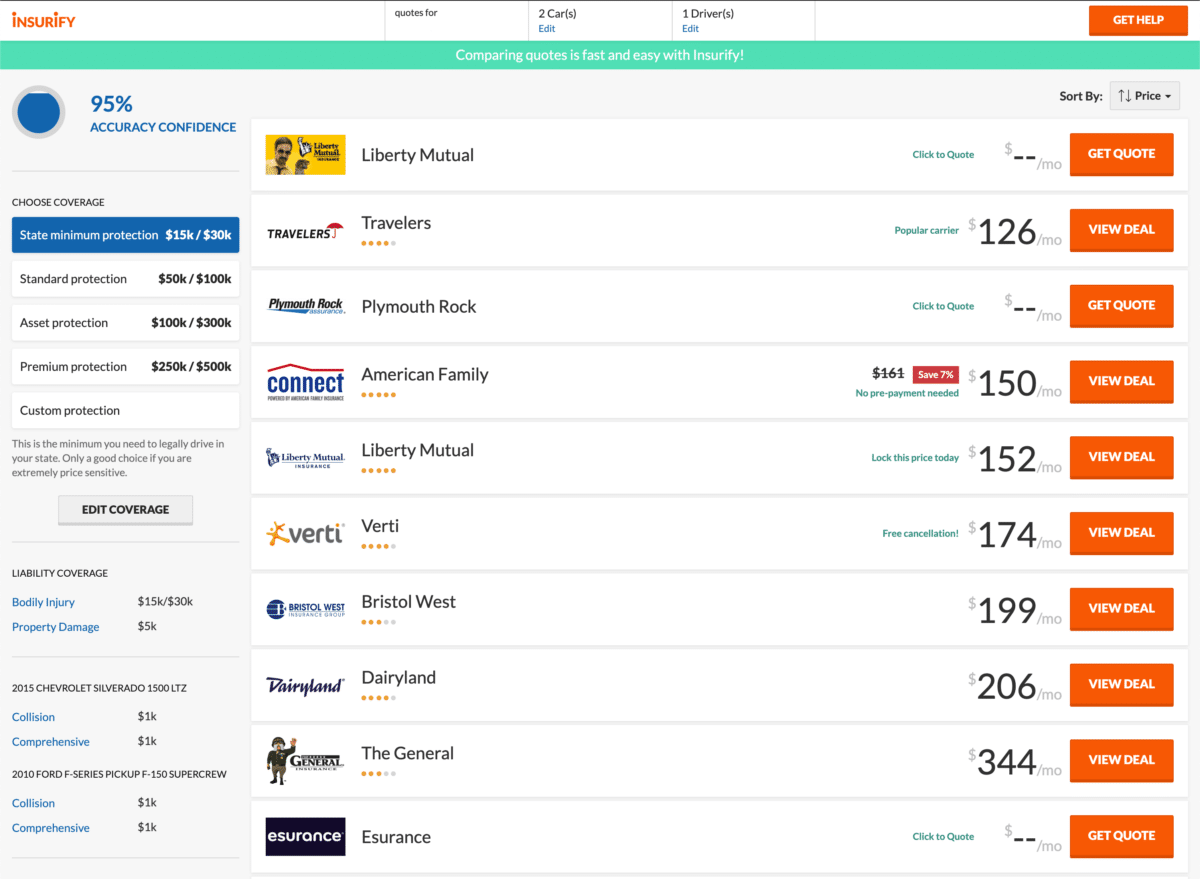 Comparison shopping is all about options. Take a few minutes for a free, no-obligation, full list of quotes from Insurify, and see how much you can be saving on your auto policy…whether it's a few bucks or hundreds!
Compare Car Insurance Quotes Instantly
Personalized quotes in 5 minutes or less
No signup required
More about Compare.com
Compare.com was founded by Andrew Rose and has received financial backing from Admiral Group, MAPFRE, and White Mountains Insurance Group, the company that formerly owned Esurance.
Articles about Compare.com have been published online in the Insurance Journal, The Fiscal Times, and Bloomberg Businessweek.
Contact Information
| | |
| --- | --- |
| Headquarters | 140 East Shore Drive Ste 300 Glen Allen, VA 23059 |
| Phone number | 1 (804) 887-5720 |
| Website | www.compare.com |
Compare.com Review: FAQ
Compare.com is an insurance comparison site that purports to help customers compare quotes from different car insurance companies. Other quote comparison websites include Insurify and The Zebra.

Compare.com is an accredited company with an A+ rating from the Better Business Bureau. However, some Compare.com customers on Trustpilot and other review websites have complained about

Compare.com has an overall Insurify Composite Score of 4.03/5, based on thousands of aggregated customer reviews for the site. While many customers seem satisfied with the car insurance quotes they received from the site, others complained about a lack of staff responsiveness, a frustrating and confusing site structure, and the relatively small number of insurance options.
Compare Car Insurance Quotes Instantly
Personalized quotes in 5 minutes or less
No signup required
Data scientists at Insurify analyzed over 40 million auto insurance rates across the United States to compile the car insurance quotes, statistics, and data visualizations displayed on this page. The car insurance data includes coverage analysis and details on drivers' vehicles, driving records, and demographic information. With these insights, Insurify is able to offer drivers insight into how their car insurance premiums are priced by companies.