Blog
Car Insurance
Buy Cheap Auto Insurance Online
Why you can trust Insurify
Edited by John Leach
Updated April 29, 2021
Reading time: 5 minutes
Yes, it's possible. No bait and switch. No seedy sales calls.
So, you're in the market for more affordable car insurance. Maybe you're a brand new driver and need an auto insurance policy for the first time. Maybe your old policy is up, and you're ready to switch. Maybe you simply suspect better insurance rates are out there…somewhere.
In any case, you're probably wondering if cheap auto insurance is really out there, whether it can get you the coverage you need, and if it will come from an insurance provider who offers the level of service you desire.
And how much time it would take. And how many pushy sales agents you would need to speak with. And how many telemarketers would get your contact information when you're through. And, finally, how much money you'd actually save in the process.
Because when it comes down to it, sometimes saving money wastes so much time, it ceases to save you money. In other words: it's not worth it.
But, what if there was a way that would take less time than watching yet another episode of "The Office" (before it leaves Netflix at the end of the year)? Where your information would be secure and the process made transparent? Where you'd know within minutes whether you could save today on the cost of car insurance coverage?
There is, friend. And it's a click away to get started.
This one form gives you 10+ free quotes—in just two minutes
Back in the day, comparison shopping car insurance rates was a frustratingly long process. You had to contact an agent, fill out forms, and wait for a quote. Then you had to do the same thing with the next company and so on until you either exhausted the list of companies (you knew about) or gave up.
Today, you can use Insurify to do the same thing in a micro-fraction of the time.
Insurify's form is straightforward and easy to complete. There are only three sections:
Cars

Drivers

Discounts
The "Cars" section just requires the make and model of your vehicle, plus any added features. This can include airbags and anti-theft devices.
The "Drivers" section is all about you and whoever you're adding to your policy. You don't need to provide your driver's license number. Instead, you'll be asked about your driving record, as well as other personal information like the category of your credit score (Good, Average, Poor, etc.) that can affect your costs.
The "Discounts" section is to help you take advantage of common car insurance policy discounts for which you might qualify.
Once you complete the form, hit continue, wait a few seconds, and…bam! You're brought anywhere from 6 to 20 results of personalized auto insurance quotes.
Quotes as reliable as they are quick
A major concern about using an auto insurance quotes comparison site is that hidden fees or other factors that make your auto policy more expensive than the initial quote. We get it, and that's why we make our quotes as transparent as possible.
First, easy-to-spot in that left-hand corner is Insurify's Accuracy Confidence Meter:
Does it get any easier than that?
This meter indicates the accuracy of your quotes. Why the meter? Insurify estimates your car insurance quotes based on the average cost that drivers in your area with a similar profile are paying, thereby protecting your personal information while providing real prices from insurance companies.
As Insurify's Chief Product Officer puts it, "As long as you are truthful in your answers, what you see is what you get."
Second, if you click the "VIEW DEAL" button next to your quotes,
a small window pops up detailing the length of your policy, the downpayment cost, and the month-to-month cost. Plus, a box shows you how much you'll pay if you purchase today.
Other comparison sites wrangle estimated quotes based on third-party information. If the information isn't up-to-date or just plain wrong, the quotes are going to be wrong too. And you're either spending more time verifying the numbers or paying more just to get it over with.
But Insurify has direct integration with a majority of insurance companies in the Property and Casualty (protects your stuff and your liability) space. Fancy talk aside, this means the information comes straight from the source. In other words: real quotes from real companies.
Compare Car Insurance Quotes Instantly
Personalized quotes in 5 minutes or less
No signup required
Purchasing made simple
You may have noticed a few other tidbits in that popup window. Each company will look a little different, but you should take note of the following. (Samples of what you might see in these sections are included here!)
The Buy Online button. If the potential car insurance company allows its customers to buy online, a big orange button will tell you so. By clicking on it, you will leave the Insurify site and be brought to the website belonging to the car insurance provider. There you can complete your purchase—which, for most insurance companies, typically takes only about 15 minutes. In most cases, you'll get digital (and printable) proof of insurance immediately.
The Free Cancellation Checkmark, a powerful indicator that signifies you can switch car insurance companies in the middle of your policy without incurring a cancellation fee. And that also means you'll receive a refund for any part of the policy you didn't use.
The Tailored Features area. Depending on the company, this may outline tailored features and discounts available with your policy, but not yet taken into account in the pricing.
The "Call An Agent" button in case you wish to speak to a live human being.
The Reviews Tab, which provides ratings collected from independent consumer surveys. (No dirty, backroom dealing going on here.)
Pro tips on buying cheap auto insurance with Insurify
With Insurify, your private, personal information remains private. That's because we don't share or sell your information to third parties. Even if you don't use Insurify, be sure to check out any user agreement before you fill out your forms.
The "tailored features" section can help you decide. If you see something you'll use, like:
Car seat & stroller replacement

Rental car match

Paperless discount

Online purchase discount
make a note of it. Company A might be a few bucks cheaper initially, but that three-percent paperless discount coupled with a juicy perk could make Company B the best choice.
You can set up alerts and get notified when your rates drop. Remember that Free Cancellation situation? Let's say three months into your annual policy you get an email letting you know you can save $40.75 a month on your insurance premium by switching to another carrier. Pretty useful, right? $366.75 worth of useful, to be exact.
And that's not uncommon. The average Insurify user saves $489 a year, which equates to $40.75 every month.
Where could an extra $489 a year take you?
Plus, there's the awesome sidebar just left of the rates on your results page.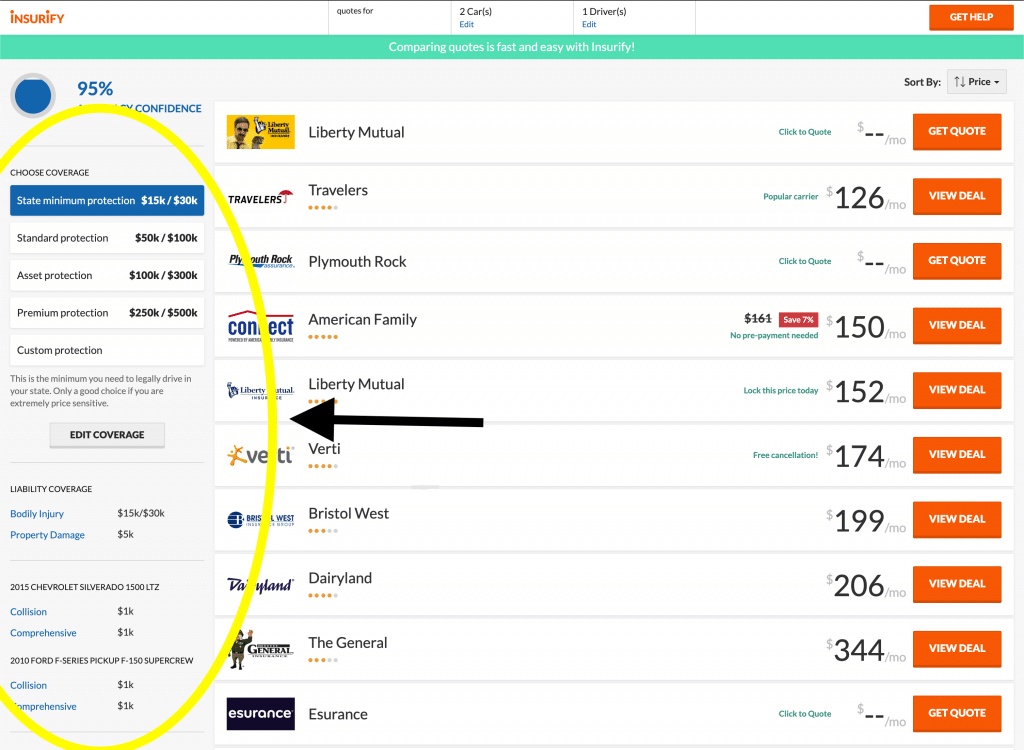 If you're curious about the cost difference between coverage limits or how much you'd save with a higher deductible, you can easily adjust coverage options and see new results instantly. No back button required. In fact, you can adjust several options, like:
Just click "Edit Coverage" and adjust accordingly using the drop-down menu.
Bottom Line
The cheap car insurance of yesteryear meant sketchy offices, days of research, and a lot of paperwork. Today, other villains abound from sketchy websites to hidden sales tactics to the harvesting of your personal information.
It's difficult to know who or what to trust.
But with Insurify, you can quickly, safely, and easily discover if a better rate is out there—without flinging your personal information to the wolves. And you can set up alerts for price drops, even if you don't find a better deal today.
To try Insurify and compare free car insurance quotes today, click here. \<\<\<
Compare Car Insurance Quotes Instantly
Personalized quotes in 5 minutes or less
No signup required
Data scientists at Insurify analyzed over 40 million auto insurance rates across the United States to compile the car insurance quotes, statistics, and data visualizations displayed on this page. The car insurance data includes coverage analysis and details on drivers' vehicles, driving records, and demographic information. With these insights, Insurify is able to offer drivers insight into how their car insurance premiums are priced by companies.