What feels better than getting behind the wheel of a new car or truck for the first time? Snagging a low interest rate on an auto loan for said vehicle. That's because a low APR can save you hundreds or even thousands of dollars over the life of your car loan. That means more money in your pocket, which you can use to reach your financial goals (or deck out your car with some pretty cool upgrades).
Keep in mind, if you're taking out an auto loan to purchase your vehicle, your lender will require you to have full insurance coverage. That means you'll need to pick a policy with liability coverage, collision coverage, and comprehensive coverage. But insuring your financed car doesn't have to cost an arm and a leg, nor does it require much time or effort. You can use Insurify to easily find cheap car insurance that meets your needs. Rather than getting quotes from individual insurers, you'll be able to answer a few questions and compare rates side by side. It's the easiest way to ensure you're getting the best deal on car insurance, and it's totally free to use.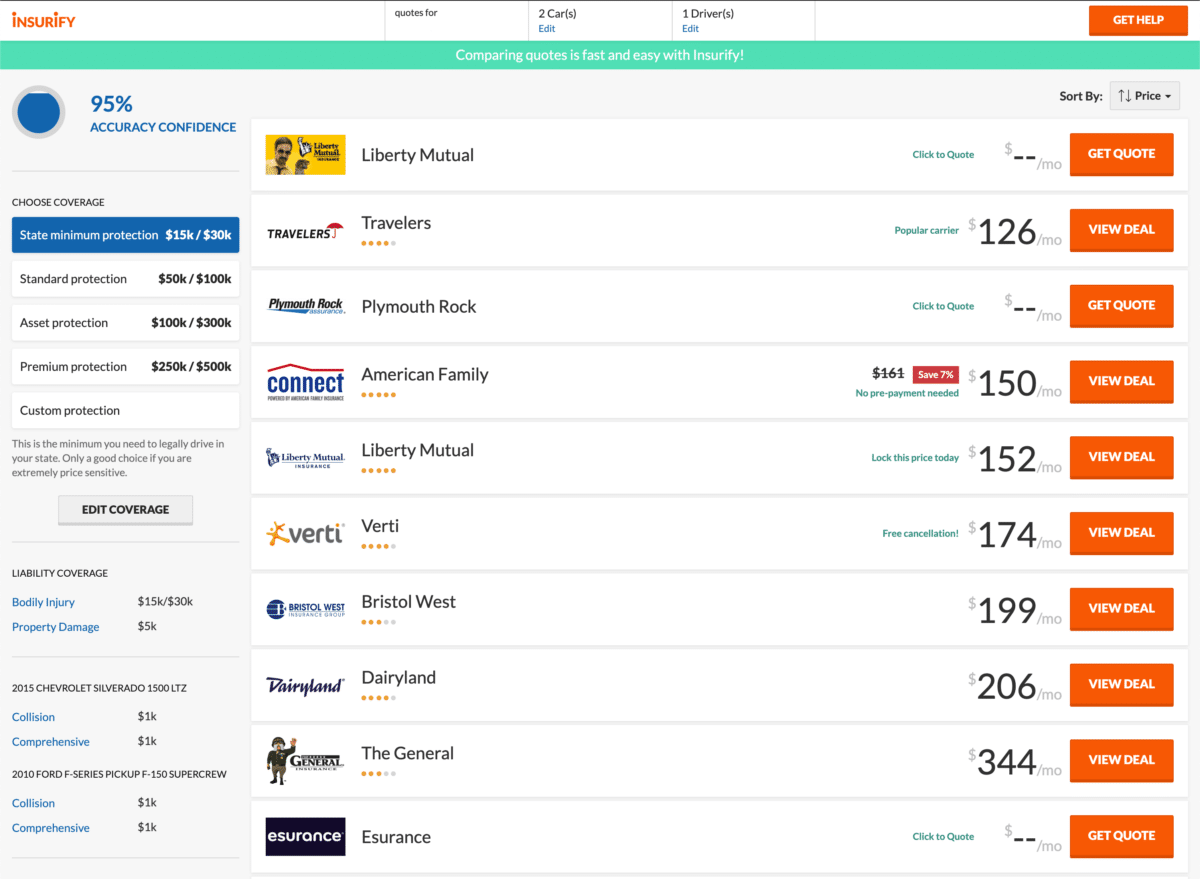 What are auto loans?
When you take out an auto loan, you're borrowing a lump sum of money that's secured by your vehicle, which you'll repay in fixed monthly payments––either automatic payments or manual ones. As with a credit card payment, auto loans accrue interest over time. In the course of your repayment you'll end up paying more than what you borrowed due to interest and fees. Your annual percentage rate (APR) represents the total cost of borrowing, and it's usually fewer percentage points for a new vehicle as opposed to a used car. Your car payment will depend on the loan amount, APR, and loan term, which is typically two to seven years. A longer term will result in a lower monthly payment but a higher cost overall due to interest.
Refinancing an auto loan
Refinancing involves replacing your current loan with a new one to get a lower interest rate or monthly payment. You might choose to do this if your credit score has increased since you first qualified, or if car loan rates are down in general. This can help you save money over the life of the loan. You might also decide to refinance if you can no longer afford your monthly payment and want to lengthen the term of the loan. Many banks offer online applications for drivers to refinance their loans.
Selling a car with an auto loan
If you're trading in your car, chances are the dealership will take care of the process. But if you're selling your car privately, you and the buyer will need to visit your bank (or your online lender 's bank partner) to complete the transfer of ownership. Your loan must be paid completely before the lender will release the title to the new owner. So if you owe more on your loan than you're getting in the sale, you'll have to come up with your own funds to pay the difference.
How do I get an auto loan?
You can get an auto loan from a financial institution, like a bank, credit union, or online lender, or you can get financing through the dealership. It's important to compare APRs from multiple lenders before choosing the best one for you. You can prequalify without hurting your credit, but rather than a range of APRs, you'll get an exact quote. Once you've narrowed down your options, you can apply to be preapproved, which requires a hard credit pull. If you're risk-averse and want an unsecured loan, it's also possible to finance a vehicle with a personal loan.
Tips you should know before you apply
Check for errors on your credit report and do what you can to improve your score before you apply.

Use an auto loan calculator to figure out how much you can afford.

Some lenders have restrictions on where you can purchase your vehicle, so if you're buying from a private owner, make sure the lender allows it.

Place a down payment and choose a shorter term to save money in the long run.

Once you get preapproval, apply to lenders within 14 days to minimize the negative credit impact.
Getting an auto loan with bad credit
Most lenders will check your credit history before providing you with a loan offer. The average interest rate for borrowers with excellent credit is just 3.65 percent for new cars and 4.29 percent for used cars, according to Experian. But borrowers with a credit score of 579 or below can expect to pay an average of 14.39 percent on a new car and 20.45 percent on a used vehicle. For a seven-year term, that difference can nearly double the cost of financing a car for people with bad credit. If you have poor credit, consider making a down payment and choosing a shorter term, and make sure you can afford the monthly payments so your credit doesn't get any worse. Also, since every lender will weigh your information differently, be sure to compare rates from different lenders. If you're having trouble finding a low rate or getting approved in general, consider getting a cosigner.
Getting an auto loan from a car dealership
Some creditworthy customers may be able to take advantage of 0% APR offers on new cars by getting a loan from the dealership. However, it's also possible that the dealer will charge you a higher interest rate than what you would get directly from the lender and keep the difference. It's important to compare financing options and choose the auto lender that will save you the most money.
Compare Car Insurance Quotes Instantly
Personalized quotes in 5 minutes or less
No signup required
Best companies for affordable auto loan rates in 2021
| Lender /Marketplace | Minimum Credit Score | Starting APR | Loan Amount | Term Length |
| --- | --- | --- | --- | --- |
| AutoPay | 600 | 1.99% | $2,500–$100,000 | 24–84 months |
| Bank of America | Not specified | 2.89% | $7,500+ | 48–72 months |
| Boro | None | 6% | $5,000+ | 12–60 months |
| Capital One | None | 2.99% | $4,000–$50,000 | 24–84 months |
| Consumers Credit Union | 620 | 2.69% | $5,000–$150,000 | 6–84 months |
| Carvana | Not specified | 3.9% | $1,000+ | 36–72 months |
| LightStream | 660 | 2.49% with autopay | $5,000–$100,000 | 24–84 months |
| MyAutoLoan | 575 | 2.24% | $8,000+ | 24–72 months |
| Navy Federal | None | 1.79% | $250+ | Custom |
| PenFed | 610 | 1.39% | Up to $100,000 | 36–84 months |
Top 10 Auto Loan Companies by Starting APR
AutoPay: Best for Refinancing
AutoPay is an online loan comparison tool, rather than a lender, that can help you get low APRs for refinancing your auto loan. You'll need a minimum credit score of 600 and a minimum monthly income of $2,000 to qualify. You also won't be able to get a loan for a car older than 11 years or with more than 125,000 miles on it. Loans are available in amounts ranging from $2,500 to $100,000, with 24- to 84-month terms and APRs ranging from 1.99 to 17.99 percent. Keep in mind the lowest rates are reserved for customers with a 720 credit score or above. You can get prequalification from AutoPay without hurting your credit score.
Bank of America: Best for Used Car Loans
Getting a loan from Bank of America gives you the option to apply in person or online. It offers very competitive rates on used car loans, as low as 2.89 percent with a 60-month term. Preferred reward members can also get a rate discount. New car loans start at 2.59 percent APR, and it also offers lease buyouts and private party loans. There's no prepayment penalty on any of the loan products. However, there are some vehicle restrictions, and the minimum loan amount is $7,500. A down payment may be required for some borrowers.
Boro: Best for College Students
If you're enrolled in a U.S. college or university or graduated in the last three years, Boro could be your best option for auto financing. That's especially true if you have poor credit or no credit history since Boro doesn't consider your credit score, nor does it require a cosigner. There are minimum GPA eligibility requirements, however. There's an easy online loan application, and you don't need to have selected your vehicle before applying. You'll need to borrow at least $5,000 with no upper limit, and there are restrictions on older vehicles. Boro also isn't offered in all states. If you have good credit, you may want to look elsewhere since APRs start at 6 percent on Boro auto loans and the average rate is just above 10 percent. Read our Boro review for more details.
Capital One: Best for Finding a Car
Capital One auto loans are only available at participating dealerships, so it doesn't have loan options for private party purchases. But with over 12,000 dealers to choose from, you'll likely be able to find the vehicle you're looking for, especially since Capital One 's Auto Navigator helps you search for cars that fit your budget and save your choices to take with you to the dealership. From there, you can get customized prequalification offers for each car you're interested in. There's no minimum credit score, and APRs start at 2.99 percent, with loan amounts ranging from $4,000 to $50,000 and terms ranging from 24 to 84 months.
Consumers Credit Union: Best for No Down Payment
Qualified buyers have the option of financing 100 percent of the purchase price when getting a loan from Consumers Credit Union, and there are no vehicle restrictions. However, you must become a member to get a loan. You'll also need a minimum credit score of 620 and a minimum monthly income of $2,000. APRs start at 2.69 percent, loan amounts range from $5,000 to $150,000, and loan terms range from 6 to 84 months.
Carvana: Best for Online Car Buying Experience
If you're buying a used car from Carvana, you might find that getting financing through them will be your simplest option. You can search through its inventory of more than 20,000 used cars, choose your loan terms, and complete the paperwork from the comfort of your couch. There's no minimum credit score for Carvana, either. However, you should be aware that the starting APR (3.9 percent) is higher than at some other lenders. So if you have good credit, you might be able to get a lower rate elsewhere. Loan amounts start at $1,000.
LightStream: Best for Private Party Auto Loans
If you're buying a car from an individual and have excellent credit, consider a loan from LightStream. It offers competitive interest rates on private party auto loans starting at 3.49 percent when you enroll in autopay, and the upper ceiling APR is just 10.49 percent. New car loans start at 2.49 percent with autopay. There are also no restrictions on the age or mileage of the vehicle you purchase. Loan amounts range from $5,000 to $100,000, with terms from 24 to 84 months, and LightStream issues loans in all 50 states. However, you'll need a minimum credit score of 660 to apply, and there's no way to prequalify with a soft credit pull.
MyAutoLoan: Best for Fair Credit
MyAutoLoan is another loan comparison marketplace that's a great option for people with fair credit who want to compare rates across lenders. The minimum credit score is just 575, and APRs start at 2.24 percent. However, the lowest interest rates are reserved for the most creditworthy customers. You can get a loan for an amount ranging from $5,000 to $99,000 for a term of 24–84 months. There are some vehicle restrictions, depending on the lender you choose, and loans aren't available in Alaska or Hawaii.
Navy Federal Credit Union: Best for Military Members
You'll need to be a member with a savings account at Navy Federal in order to take out an auto loan. To become a member, you need to be a servicemember, veteran, or immediate family member of a military member. Once you're a member, it's easy to apply for a loan online, by phone, or in person. Both new and used vehicles start at just 1.79 percent APR. You can save if you use direct deposit, and there's an auto buying program with exclusive discounts at participating dealers. There's no minimum credit score required, but you'll need excellent credit to qualify for the lowest rates. The minimum loan amount is only $250, making Navy Federal a great option for small loans on used cars.
PenFed Credit Union: Best for Low Starting Rates
PenFed's APRs start at just 1.39 percent for new cars (yes, you read that right), and it offers discounted vehicle pricing when you purchase through its car buying service. Anyone with a credit score of 610 or above can apply, but you'll need to be a member to get the funds. And if you want a preapproval for a specific vehicle, you'll need to be a member for at least 90 days. Membership is open to anyone, though, as long as you have a valid Social Security number or tax identification number and can maintain a savings account with a balance of at least $5.
Finding the Best Auto Loan Rate for You
Prequalify with as many lenders as you want, as long as a soft credit pull is used.

Pick a handful of lenders offering the lowest rates and get preapproved.

Select the preapproval offer with the best rate and apply for the loan.
10 Companies with the Best Auto Loan Rates of 2021: FAQ
While PenFed Credit Union has the lowest starting rates of the lenders on our list, the best rate for any individual will depend on several factors, such as your credit score, debt-to-income ratio, the size of the loan, and the term you choose. That's why it's best to compare rates across lenders.

Not only will 72-month auto loan rates be higher, but more interest will accrue over the life of the loan, driving up the cost of borrowing. They're also only typically available with larger loans. We don't recommend taking out a loan with a term greater than 60 months, but if you must, consider becoming a member of a credit union. We found that credit unions offer much lower rates on longer-term loans.

PenFed offers the lowest starting rates of the credit unions we compared, but keep in mind that you may not qualify for the lowest rate unless you have excellent credit.

The best way to compare insurance quotes is to use Insurify to check premiums at up to 20 different providers at once. It's quick and painless to enter your information, and the best deal for you will be your first result. You can even toggle between coverage amounts to find a policy that fits your budget.
Conclusion: How to get the best and cheapest car insurance
Before you take out a loan for that new or used car, you'll need to purchase an insurance policy. If you don't want to waste valuable time getting quotes from different providers, check out Insurify. It's the fastest way to compare car insurance quotes and ensure you're getting the best deal. It just takes a few minutes to answer some questions about your vehicle and driving history, and our artificial intelligence technology will get to work finding you the cheapest premium for the type of coverage you need.
Compare Car Insurance Quotes Instantly
Personalized quotes in 5 minutes or less
No signup required
Data scientists at Insurify analyzed over 40 million auto insurance rates across the United States to compile the car insurance quotes, statistics, and data visualizations displayed on this page. The car insurance data includes coverage analysis and details on drivers' vehicles, driving records, and demographic information. With these insights, Insurify is able to offer drivers insight into how their car insurance premiums are priced by companies.