Why you can trust Insurify
Cheapest Companies for Temporary Car Insurance Michigan (2022)
For drivers looking for temporary insurance in Michigan, it's important that you evaluate all of your potential insurance options to ensure you are finding the best rate. Comparing the right insurance companies will allow you to get the best possible insurance rate for drivers looking for a 6-month policy.
To simplify comparing companies, Insurify has analyzed rates from top insurance providers in Michigan. The following are the best insurance rates from carriers that offer temporary car insurance for drivers in Michigan.
What Is Temporary Car Insurance and How to Get It in Michigan?
In Michigan, temporary car insurance policies typically have a six-month period and are often more affordable than long-term 12-month policies. You can search websites advertising daily, weekly, or monthly policies, but these are almost always ploys to trick you into a standard six-month policy. In the U.S., car insurance companies only offer six- or 12-month policies. If you need one for a shorter period, you might look into getting a six-month policy and canceling early.
Often, people are stuck with a policy that they don't like for a variety of reasons. Short-term car insurance lets you move on because you'll never wait more than six months to see a better deal. It's one way you can avoid overpaying and lock in affordable car insurance in Michigan. Try Insurify to find up to 20 short-term car insurance quotes from top companies within minutes!
Compare Car Insurance Quotes Instantly
Personalized quotes in 5 minutes or less
No signup required
What Are the Average Short-Term Car Insurance Rates in Michigan?
With information from 25 million quotes, the Insurify database reveals the total cost of a six-month policy in Michigan is $2,640 on average. A bit of quick math, and that breaks down to $440 per month, a rate that makes Michigan the costliest for short-term car insurance in the country.
| Length of Short-Term Insurance Policy | Avg. Monthly Rate, Short-Term Policy | Total Cost of 6 Month, Short-Term Policy |
| --- | --- | --- |
| 6 months | $440 | $2,640 |
What Are the Benefits of Choosing a Six-Month Auto Insurance Policy in Michigan?
Michigan had a major auto insurance bill pass in 2019, but many folks still struggle to find a low price. One of the biggest benefits of a six-month policy is that you can shop around if your company decides you're a greater risk. Insurance companies change the way they assess risk as more data becomes available, and that means that half a year from now, your renewal rate could be significantly higher than what you're paying now. When you look for a new company every six months, you're constantly getting the best premium that the market offers.
Another benefit is flexibility. Say you have a negative experience with an insurance agent. With short-term car insurance, you're within a few months of moving to a company that you may like more. While you're transitioning, use Insurify to compare quotes from up to 20 companies in just a few minutes.
Find Cheap Short-Term Car Insurance in Minutes
You could find cheap short term car insurance options in Michigan within minutes using Insurify. All you've got to do is fill in some basic information about yourself and your car, and you'll be presented with a list of up to 20 short-term car insurance policy options within minutes. These quotes are customized, real-time, and accurate. Insurify also allows you the option to toggle between the rates for a six-month policy and a 12-month policy—that way you can see for yourself which option is best for you.
Compare quotes fast, free, and online with Insurify's car insurance quote comparison tool.
Best Short-Term Car Insurance Plans in Michigan
Insurance prices and policies can vary significantly between companies, and a state like Michigan draws a wide variety of choices when drivers are evaluating temporary car insurance plans.
Insurify's rate comparison tool will help you make sure you're getting the best possible quote based on your needs and location. You can have peace of mind you're not paying any more than you need to, and customers save $585 per year on average.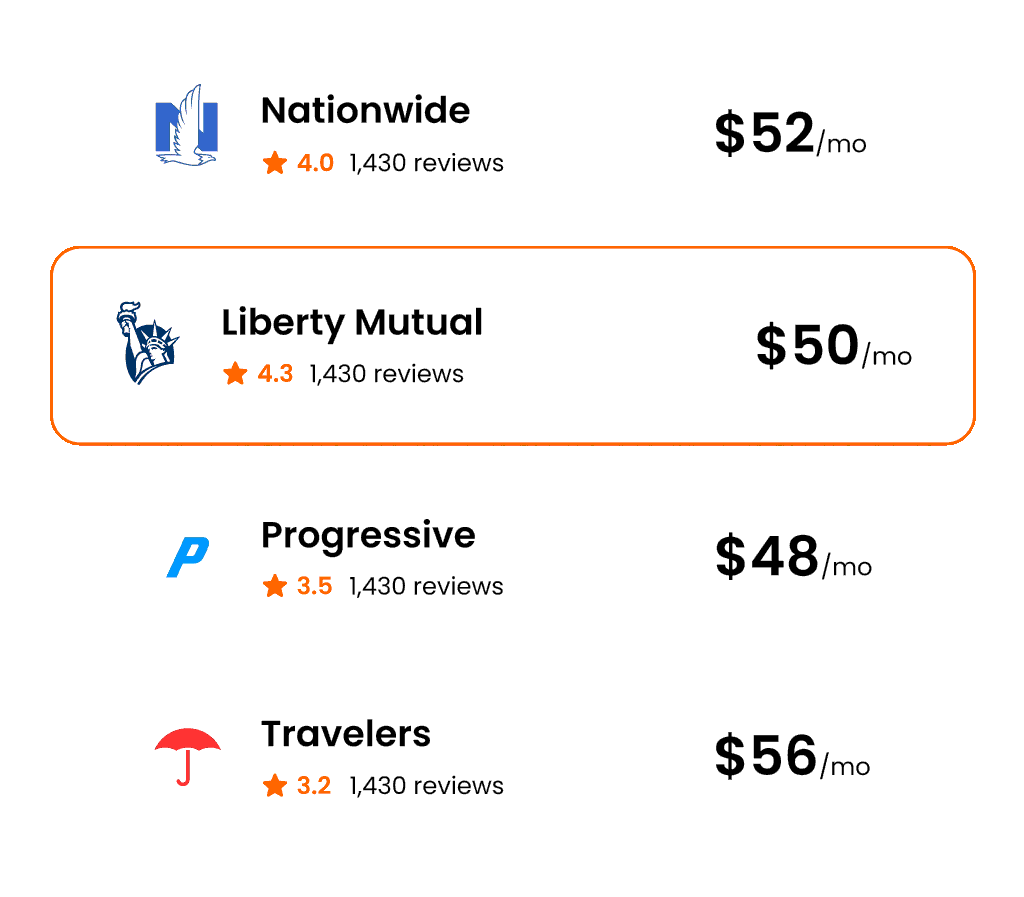 Compare Top Auto Insurance Companies
Use Insurify for all of your car insurance comparison needs! Compare and connect directly with the top insurance companies to find the best rates as well as the most personalized discounts and coverage options. Insurify's network includes over 200 insurance companies throughout the U.S. who can work with you to get you the right auto insurance policy at the cheapest price. See All Auto Insurance Companies
FAQs - Michigan Car Insurance
There are many different factors that go into the how expensive your car insurance is. That said, some of the reasons why you could be paying so much for your insurance include: living in a state with high minimum insurance requirements, being a young or new driver, committing past traffic offenses like at-fault accidents or DUIs, and having a low credit score.

Auto insurance costs will vary between locations and insurance carriers, depending on the county Michigan. Insurify analyzed the latest data for the five most populous cities in Michigan to find you the cheapest quotes in each of these metropolitan areas.

The way to find the carrier with the best auto insurance ratings in Michigan and save on your insurance premiums is to compare quotes from all companies in your area. Use a car insurance quotes comparison site like Insurify to compare up to 10+ real quotes for your specific driver profile and unlock savings and discounts. Rates can fluctuate greatly based on whether you're a safe driver or a high risk one, but you should never overpay. Insurify provides the cheapest car insurance quotes and companies in your area in just a few seconds.

During the past three years in the United States, national premium costs have risen an average of 4.5 percent annually. In states where quotes have risen, this figure has been 7.8 percent; and in those where rates have fallen, prices have decreased by approximately 6.0 percent. Individual rates by state will of course vary depending on the driver's history and a multitude of factors.
Compare Car Insurance Quotes Instantly
Personalized quotes in 5 minutes or less
No signup required
Methodology
The car insurance quotes displayed are based on an analysis of Insurify's database of over 40 million quotes from 500 ZIP codes nationwide. To obtain representative rates, Insurify's data science team performs frequent comprehensive analyses of the factors car insurance providers weigh to calculate rates including driver demographics, driving record, credit score, desired coverage level, and more.
Insurify's analysis also incorporates the Insurify Composite Score (ICS) assigned to each insurance provider. The ICS is a proprietary rating that weighs multiple factors reflecting the quality, reliability, and health of an insurance company. Ratings used to calculate the ICS include Financial Strength Ratings from A.M. Best, Standard & Poor's, Moody's, and Fitch; J.D. Power ratings; Consumer Reports customer satisfaction surveys and customer complaints; mobile app reviews; and user-generated company reviews.
With the above insights and ranking methods, Insurify is able to offer car insurance shoppers insight into how various insurance providers compare to one another in terms of both cost and quality. Note, actual quotes will vary based on unique attributes including the policyholder's driver history and their garaging address.