Car Insurance
Knowledge: Car Insurance
Car Insurance Estimator
Why you can trust Insurify
Insurify is America's highest-rated insurance comparison platform. We partner with the nation's top insurance companies and are licensed as an agent in all 50 states. However, the insurance experts writing our content operate independently of our partners, and you can learn more about how we make money by viewing our
advertising disclosures
. Also check out reviews from over 3,000 satisfied customers, our data methodology, and our editorial standards.
Updated January 13, 2022
Reading time: 5 minutes
Insurify makes car insurance cost estimation and quotes comparison painless with the Car Insurance Coverage Calculator. Get a quick estimate, then try to beat it by comparing car insurance quotes from top companies for free!
Use the car insurance calculator below for a free car insurance estimate, tailor-made to your personal profile and history.
And if you're looking to compare the most accurate, real-time quotes from the nation's top insurance companies and unlock major discounts based on your driving profile, take two minutes to go through Insurify. After using the Car Insurance Coverage Calculator, click on a rate to:
Add your car

Add details about your driving profile to unlock discounts

Get personalized, free quotes from the best car insurance companies and compare them side by side!
How to shop for car insurance in the 21st century
Car insurance isn't a one-and-done deal. It's an ever-changing, dynamic negotiation between the insurance provider and all the factors that make up your driver profile. Between the features of the car you drive and the personal information that could affect your car insurance premiums, no one car insurance policy will resemble another. And hundreds or even thousands of dollars could make up the difference.
That's why American drivers need to do a little comparison shopping—at least once every six months or year—when it comes to their car insurance policy. But how to choose between several quotes, products, and coverage options?
Enter Insurify, an insurance comparison site . In just two minutes, you can find and compare car insurance quotes from up to 10+ companies. Buying a new car or homeowners insurance policy? The purchase can be made 100% online if you want, and in as little as five minutes. From Massachusetts to Florida to Hawaii, Insurify is available in all fifty states.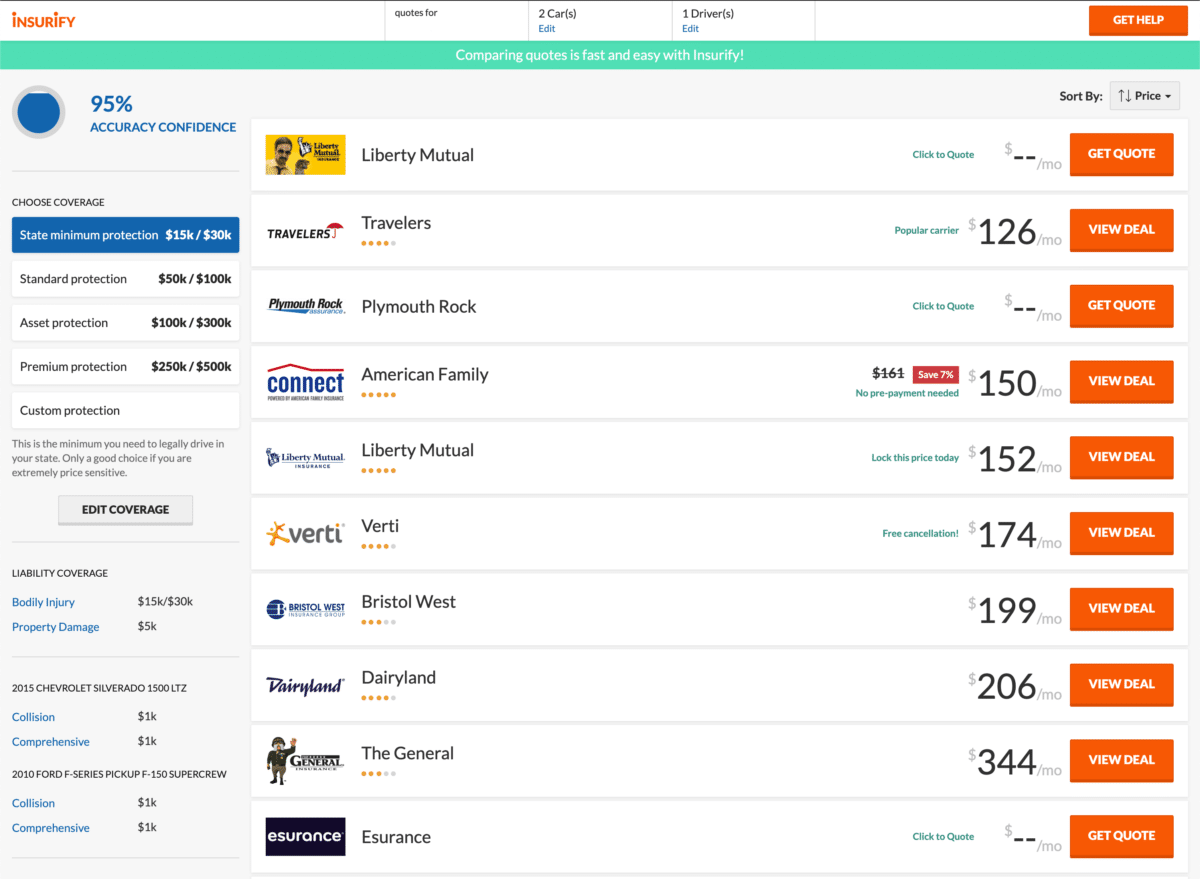 Insurify's easy-to-use application allows you to quickly and easily compare quotes. Insurify will rank each company by price, highlighting the cheapest car insurance quotes options that still fit your needs and driver profile. Who knows, maybe you'll unlock a rate that's even cheaper than the car insurance estimate you found on the Coverage Calculator.
With both Insurify's Coverage Calculator and its intuitive comparison shopping platform, it's easier than ever to compare and decide between your options and determine just how much auto insurance coverage you need.
Read on for a more in-depth exploration of the factors that might affect your car insurance quotes.
How does my car type affect my auto insurance rates?
Not all car models are created equal. If you're a suburban California driver in the market for a Tesla, for instance, insurance companies won't treat you like they would if you were the rurally-based buyer of a pre-owned Honda Civic.
For one thing, with more expensive vehicles come pricier auto insurance policies. Insurers may assess risk differently, but higher-end cars are more susceptible to theft and damage. Insurance companies will often seek to cover the entire retail cost of a vehicle should it be stolen or irrevocably damaged in a collision.
Owning a car with better safety ratings, or one that might be more reliably protective of drivers and passengers, will help lower the cost of car insurance. Drivers of "riskier" vehicles may otherwise be in jeopardy, as increased risk of injury will likely lead to higher premiums.
Do you know what your car is made o f? You should—some models are manufactured with special (and expensive) materials that are difficult to repair. Insurers might raise your car insurance rates if you own this type of vehicle of this type, as they'll anticipate the higher cost of insurance claims.
What other factors will impact my insurance rates?
If you're shopping around for a new policy, it's especially important to know all the variables that make up your driver profile. Each insurer assesses risk differently, so these aspects might be weighed differently as well. Regardless, the following groups of factors should be taken into consideration as you explore different car insurance options.
Type of insurance needed. Every state in the U.S. requires that you buy at least state minimum liability coverage, but each state varies in the specific insurance coverage amounts they require. There are higher-threshold (and more expensive) options available, including a) more extensive coverage with higher liability limits for at-fault claims and b) collision and comprehensive insurance, with liability insurance also included. Your deductible is also not set in stone for collision and comprehensive insurance—the higher deductible you pay, the more you'll end up saving.

Personal life. Your gender, age, geographic location, whether you're a renter or a homeowner, and your marital status, as well as the number of licensed drivers in your household, will all impact your insurance premiums. Sure, most of that can't be helped. But it's especially important to reevaluate your car insurance needs after a significant life event—a marriage, birth, or location change—because your premiums could drastically change as a result. At the end of the day, a Minnesota teen driver faces different challenges from a middle-aged motorist in New York City. That's just a fact!

Vehicle features and use. We've seen how the type of vehicle you drive might impact your insurance rates. But the amount you drive, and for what purpose you drive, also affect your premium. Commercial drivers, long-distance commuters, and perpetual twilight travelers beware: you might see higher rates come your way. If you use your personal vehicle as an Uber or Lyft, however, most major auto insurance companies have expanded their rideshare insurance options.

Financial and driving history. Many variables related to your financial history and driving record impact your insurance profile. A driver with a clean driving record, for instance usually has a lower average cost for car insurance than a driver with several recent speeding tickets and a DUI. Your credit score, driving record, and claims history (for both at-fault and comprehensive) are all important factors that insurance providers like GEICO and Progressive will analyze when insuring you to determine your rates. Additionally, a high frequency of claims will lead insurers to believe that you are a high-risk driver, potentially raising your premiums for a couple of years. Lapses in car insurance coverage will also lead to higher rates, so make sure that you're insured at all times—you could have been breaking the law by driving without insurance in the past.
Glossary of some relevant insurance terms
How much car insurance do you really need? Here's our quick rundown of the coverage types for which you'll have to set limits when you get your free, customized quote list on Insurify.
Bodily injury liability: Required by law in most states. If you are responsible for a car accident that causes someone else to get injured, this coverage pays for their medical bills or lost income.

Collision coverage: Required if your car is leased or financed. Optional coverage in the form of a deductible. This coverage pays to repair or replace your vehicle if it's damaged in an accident with another vehicle or object (a tree, a fence, a house).

Comprehensive coverage: Required if your car is leased or financed. Optional coverage in the form of a deductible. This coverage pays to repair or replace your vehicle if it's damaged as a result of an act of nature (fire, flooding, wind) or non-accidents (theft, vandalism, hitting an animal).

Full coverage: Full coverage insurance, sometimes also called "complete" or "umbrella" insurance, varies from provider to provider. However, full coverage insurance plans usually consist of a combination of the three main insurance types: liability coverage, collision coverage, and comprehensive coverage.

Personal injury protection (PIP): Pays for m edical payments and lost wages if you're in a car accident that leaves you injured or incapacitated – regardless of who is at fault. PIP is either an optional piece of coverage or a required add-on, depending on the state in which you live.

Property damage liability: Required by law in most states. If you are responsible for a car accident that causes damage to someone else's vehicle or property, this coverage pays for repair costs.

Uninsured motorist coverage: Available for both property damage coverage and bodily injury coverage. Covers payments in the event you get in an accident caused by a driver who doesn't have adequate (or any) auto insurance.
FAQs
That depends. In most states, you are required by law to have liability insurance. Collision and comprehensive insurance are other coverages you can add to your policy to pay for damages to you or your property. Other coverages are out there, too. But every driver must have at least state minimum car insurance for their vehicle.

Several factors contribute to your insurance risk profile—that's why your car insurance rates are so high . Using Insurify's Quick Quote Calculator will give you a general idea of how much or how little you could be paying today on your car insurance.

Using Insurify's Quick Quote Calculator will give you a general idea of how much or how little you could be paying today on your car insurance. Then, use an auto insurance quotes comparison site to pick the quote that works for you, and buy online or over the phone today.
Compare Car Insurance Quotes Instantly
Secure. Free. Easy-to-use.
Data scientists at Insurify analyzed over 40 million auto insurance rates across the United States to compile the car insurance quotes, statistics, and data visualizations displayed on this page. The car insurance data includes coverage analysis and details on drivers' vehicles, driving records, and demographic information. With these insights, Insurify is able to offer drivers insight into how their car insurance premiums are priced by companies.