Getting ready for a road trip may look different this year.
The road trip season is in full swing as antsy Americans aren't taking the looming health crisis sitting still—turning last year's staycation into this year's last-minute road trip extravaganza.
But before fueling up their minivans and SUVs, they're checking their insurance options with one-stop shopping sites like Insurify to find the cheap, custom car insurance that saves them more than just a little change for the souvenir shop.
Road Trip Insurance: How to maximize coverage and save money
Here are a few things road trippers should know before they go, regarding their coverage:
Make sure your insurance plan covers anyone who is taking the wheel. This includes rental cars. Just a little extra in coverage will give you the peace of mind that you need should anything happen. Weather changes, trees fall, and fender benders abound (even at the Old Faithful parking lot). An uncovered additional driver could mean the loss of all your hard-earned cash back home.
Know your coverage inside and out. How much liability insurance do you have? How about collision and comprehensive damages? Remember that any accident costs that exceed your coverage limits are going to be your burden to pay.
You should have at least the following:
Suppose someone gets hurt, and you have hefty assets to protect (like your home). In that case, 100/300 limits of bodily injury liability are recommended (meaning $100,000 for one person in an accident and $300,000 for all people injured in one accident). On the other hand, if you're not on a family policy or covered by your parents' insurance, only your state minimum may be necessary, since there are no true assets to speak of.

Depending on the age of your car and whether you lease or own, collision and comprehensive are also coverages to consider to protect your vehicle should it hit something or should something hit it. You can read more about these coverages here and use Insurify to compare up to 20 quotes side by side while you continue mapping out your once-in-a-lifetime road trip.
Assume your trip will go sideways. What kind of roadside assistance do you have should you encounter a flat tire or find yourself locked out of your car in Yosemite? What hands-free apps do you have on your phone to make sure you can get back on the road in unexpected road conditions? Or to find the nearest bathroom or the next tank of gas?
Consider renting. More and more activity is being seen at rental car company sites away from airports this year. This means people are renting not because they have to commute home from a flight, but because they want to see the road from a different perspective. A few good reasons for renting include the ability to test drive a car that you've been eyeing and getting something more rugged than your daily driver for a backroads camping trip. Some renters from places like NYC may not even own a car. Your personal insurance can cover your rental in the same way it does your own vehicle. Another hint is to leverage your credit card for rental insurance costs.
(See Chase Bank's Auto Rental Collision Damage Waiver for an example of how your own credit card can cover you in the event of an accident or damage while on the road in a rental.)
See more: Insurance Comparison Sites
Road Trip Car Rental Best Practices
Make sure that cleanliness is a high priority. Make sure that the car rental company you use has contactless pickup and rental, and ask them about their cleaning protocols. For example, Audi's Silvercar vehicles are put through a 19-step cleaning process. Dr. Gupta has given several best practices talks for traveling during the pandemic, including this one on keeping your car germ-free while moving from state to state.
Ask the right questions and uncover hidden costs ahead of time. What taxes and fees are you being charged? How are toll payments managed? If you choose to rent a device for toll roads (PlatePass, for example), what is the charge for that? Are car seats included (remember car seat restrictions vary from state to state)? Are there mileage restrictions? Does the rental rate differ between round trip rentals and one-way rentals? Does the rental agency offer a free ride home from the drop-off site?
Find someone who is flexible. As exciting as a long road trip seems right now, we all know that things happen. Say someone gets sick, and you have to cancel your reservations. Perhaps you realize that as long as you've driven this far, you might as well extend your travel. Most companies should have a COVID-19 response (for cleanliness and flexibility) on their website.
Compare Car Insurance Quotes Instantly
Personalized quotes in 5 minutes or less
No signup required
Top Tips for Long Trips
Traveling during COVID-19 is a reality all its own. What's open, where, safety protocols at each stop—it's enough to make some of us consider staying home. But for the fearless traveler, here are some top tips:
Stay up-to-date on state considerations while traveling by plugging into the Centers for Disease and Control (CDC) Considerations for Travelers—Coronavirus in the US. The site also includes cleanliness protocols for traveling by car and RV.

If you take pets with you, make sure you've scheduled pet-friendly stops, including play care, when necessary so that you can enjoy your vacation, too. Be sure to have the proper paperwork on hand, including shot records for distemper, Bordetella, and rabies.

Keeping kids happy is probably all about the electronics. Still, you can supplement your peace of mind and their education by downloading or creating educational material that goes along with the state or site you are visiting.
Road Trip Car Insurance FAQ
There's nothing wrong with a road trip rental if you know why you are renting and if all the scenarios make financial sense. Maybe you are saving financial wear and tear on your car, or perhaps you're test driving a truck that you are considering buying anyway. Then again, you may want to rent a car with better fuel efficiency/gas mileage (MPG) than your own. There may be some financial extras, but rental agencies are keen on keeping customers happy and safe.

Getting out on the open road means that you'll be making different insurance considerations than the daily drivers you left in your dust. Make sure you are working with an insurance company that is customized enough to cut the fat where you don't need it and offer ample protection.

Need new car insurance before your next road trip? You can compare personalized car insurance quotes in one place—quick, easy, and free—with an auto insurance quotes comparison site like Insurify.
Conclusion: How to get the best and cheapest car insurance
If you're a seasoned road tripper, you know that stuffing your car with things you don't need is only going to drag you down.
With Insurify, you can compare customized quotes from local and national providers side by side. Take two minutes to make sure your car insurance policy fits your needs…and your budget!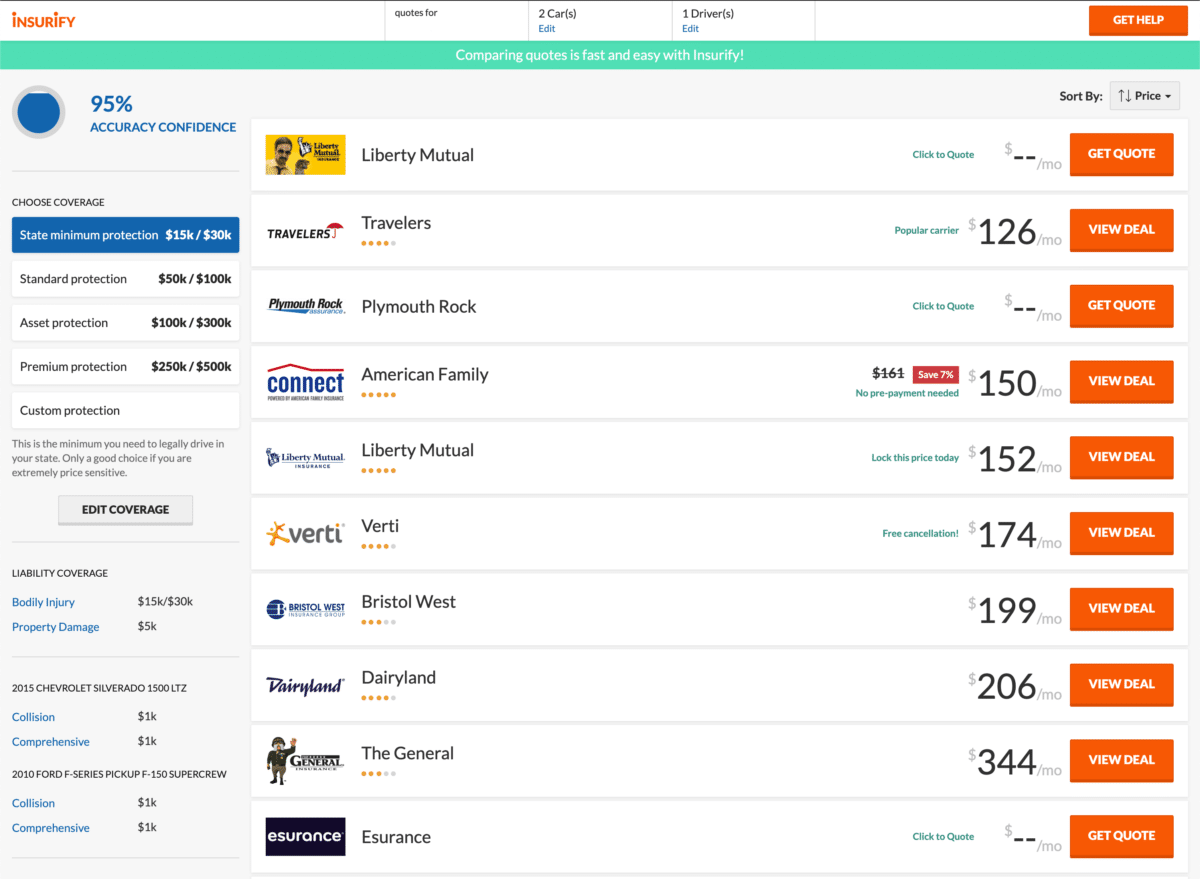 Happy trails, and stay safe out there.
Compare Car Insurance Quotes Instantly
Personalized quotes in 5 minutes or less
No signup required
Data scientists at Insurify analyzed over 40 million auto insurance rates across the United States to compile the car insurance quotes, statistics, and data visualizations displayed on this page. The car insurance data includes coverage analysis and details on drivers' vehicles, driving records, and demographic information. With these insights, Insurify is able to offer drivers insight into how their car insurance premiums are priced by companies.