Car Insurance
Utah
Gap Insurance
Why you can trust Insurify
Insurify is America's highest-rated insurance comparison platform. We partner with the nation's top insurance companies and are licensed as an agent in all 50 states. However, the insurance experts writing our content operate independently of our partners, and you can learn more about how we make money by viewing our
advertising disclosures
. Also check out reviews from over 3,000 satisfied customers, our data methodology, and our editorial standards.
Updated November 28, 2022
Quick Facts
The cheapest insurer we found for gap insurance in Utah is Sun Coast, with average monthly premiums of $114.

Drivers in Utah who lease their cars are usually required to have gap insurance.

Drivers who pay off their loans on their car early may be reimbursed for gap insurance.
Before you hit the road in Utah, you'll want to make sure you're covered in the event of an accident. And if you got a loan for or lease your car, you'll maybe want to consider adding gap insurance for an additional layer of protection.
With Insurify, finding the right car insurance is only a few clicks away.
Best Companies for Gap Insurance in Utah
So you've decided you need gap insurance in Utah. But where should you buy such a policy? On average, Utah drivers who are leasing a vehicle pay $199 per month for car insurance, according to Insurify. Below are a few car insurance companies in the state with car insurance rates typically around or below that average.
The rates below were generated from the proprietary Insurify database of millions of unique car insurance quotes, and refer to the average monthly cost of car insurance for drivers of leased cars, who often have gap insurance coverage.
| Insurance Company | Average Rate |
| --- | --- |
| Sun Coast | $114 |
| Travelers | $117 |
| Clearcover | $120 |
| Nationwide | $142 |
| Kemper | $177 |
| Gainsco | $190 |
| Liberty Mutual | $240 |
| Dairyland | $248 |
| The General | $274 |
| Bristol West | $270 |
Several other large insurance carriers offer affordable gap insurance policies, which you can learn more about in this comprehensive guide to gap insurance coverage. Progressive, Allstate, and Liberty Mutual are just a few of the industry heavyweights that help drivers with gap coverage.
Before deciding which insurer you want to work with, be sure to compare insurance quotes from a wide range of companies––for free and in minutes––on Insurify.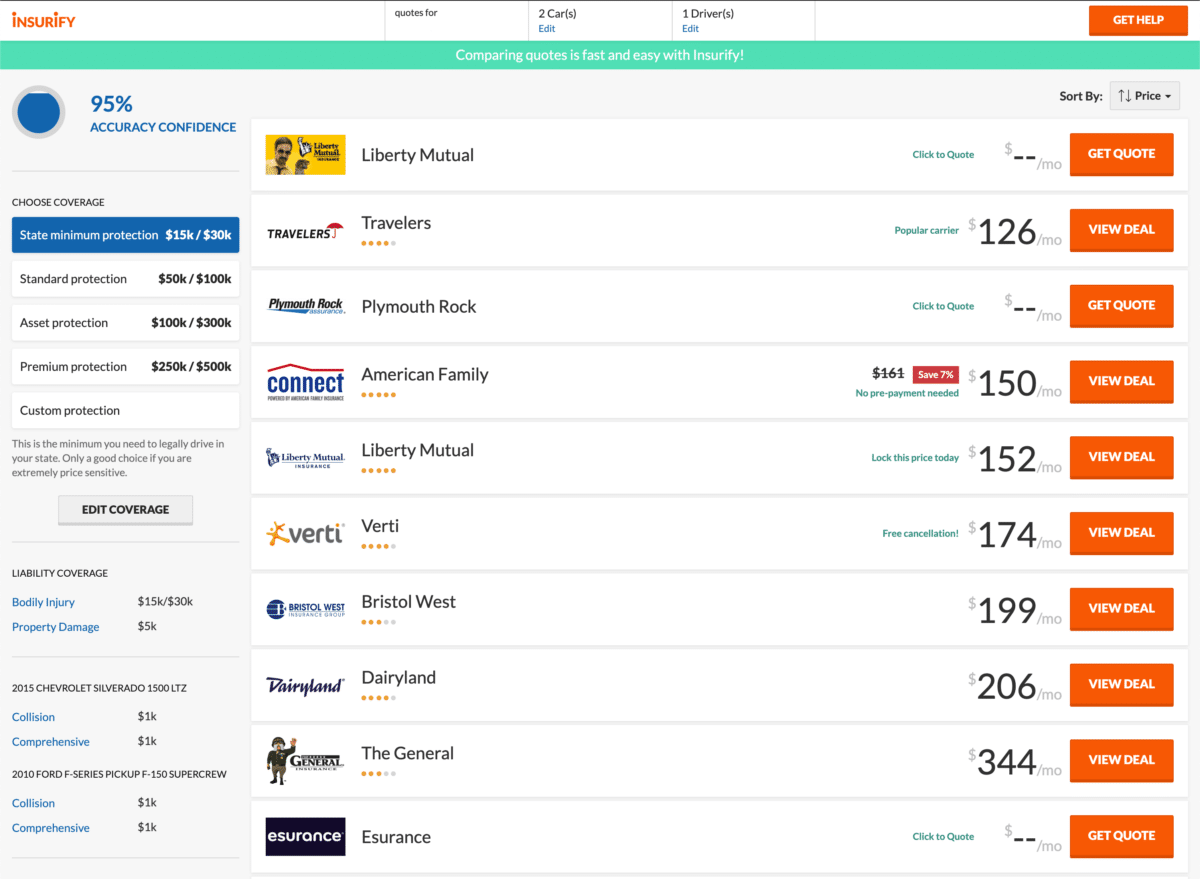 Compare Car Insurance Quotes Instantly
Secure. Free. Easy-to-use.
What is gap insurance?
Right as you drive your new car off the lot, it becomes "used," which means its actual cash value has already gone down. Gap insurance refers to the "gap" between the actual cash value of your car and what you owe on your car loan. If your car is totaled or stolen, gap insurance covers the gap between what your insurance covers and what you still owe the bank.
Your lender may require gap insurance in your finance agreement as an additional layer of car insurance coverage. It's particularly useful for new vehicles that could be described by one of the four Ls: leased, loaned, luxury, or long-distance. The add-on coverage can be bought from your insurance broker or through a waiver agreement with a finance company.
Who should buy gap insurance in Utah?
There are a few circumstances where Utah drivers should opt for gap insurance. Most obviously, you should buy it if you're working with a lender who requires it. You should also consider buying gap insurance if your lease term is long (over 60 months) or you made a low down payment (under 20 percent).
The structure of your loan and your loan balance aren't the only factors—the type of driver you are also matters. If you're a long-distance driver, always heading out to Zion National Park or Bryce Canyon on the weekends, you'll want to consider gap insurance. The same could be said if you drive a luxury vehicle; they tend to undergo depreciation at a faster rate.
Utah Gap Insurance Laws
Gap insurance is considered a form of optional coverage in Utah and may be referred to in the state as "loan/lease payoff" coverage. It's an encouraged add-on for drivers who might owe more than their car is actually worth.
In Utah, car insurance limits are $25,000 in bodily injury coverage per person, $65,000 in bodily injury coverage per accident, and $15,000 in property damage per accident. These are roughly standard, though it might be a good idea to carry more than these limits in the event of an accident. Additionally, adding gap insurance on top of these requirements might be needed.
How much gap insurance do I need in Utah?
How much gap insurance you need depends on the vehicle you drive and the nature of your lease agreement. If the actual cash value of your car is low but your outstanding loan amount is high, you'll want a robust gap insurance policy. You can then cancel this policy once you've paid off your loan or the amount owed is close to the car's value. This could take a couple of years.
How Gap Insurance Works in Utah
Gap insurance is considered an add-on to your auto insurance policy in Utah. It can take the form of a GAP ( guaranteed asset protection ) waiver, which is a contract that agrees to waive the driver's outstanding loan in the event the car is a total loss or stolen. These can be bought from a dealership that has been licensed to sell such waivers or from your insurance company.
The Utah Insurance Department encourages drivers to carefully read and understand the terms of a GAP waiver before purchase and ask for a copy of your signed contract. For more questions about gap insurance in Utah, contact the Property and Casualty Division of the Utah Insurance Department.
How Much Gap Insurance Costs in Utah
Buying gap insurance through your insurance company tends to be cheaper than buying through a car dealership. Through an insurance company, the gap insurance will usually cost about $5 per month. Meanwhile, a dealership will charge closer to $50 per month—a fairly significant difference.
There are also some third-party companies that offer stand-alone gap insurance policies, though these are similarly expensive. In general, it's a good idea to buy gap insurance from the same company you buy your main car insurance policy from.
How to Buy Gap Insurance in Utah
If you're a driver in Utah who doesn't want to pay too much for your car insurance policy, you should use Insurify to compare quotes. With Insurify, you can research just the policy you need—and find how much you'll have to pay if you're adding gap insurance to your policy. The site's accessible interface makes it easy to find just the right policy at just the right price.
Frequently Asked Questions
In Utah, gap coverage is considered an optional form of coverage. But some lenders may require you to get gap coverage as part of your lease agreement. You can add it to your existing policy, which might already include liability insurance, collision coverage, and comprehensive coverage.

If you pay off your auto loan before the end of your gap insurance policy term, you can cancel your policy, and most companies will refund you for the remaining gap insurance coverage. Contact the insurance agent that sold you your gap insurance to get started, and they'll likely issue your refund in the form of a check in a few weeks.

Plenty of car insurance companies in Utah offer affordable rates on gap insurance, with many running you just a few additional dollars a month on your car insurance policy. To find the car insurance company in Utah that meets your needs and budget, get started browsing Insurify today.
Compare Car Insurance Quotes Instantly
Secure. Free. Easy-to-use.
Data scientists at Insurify analyzed over 40 million auto insurance rates across the United States to compile the car insurance quotes, statistics, and data visualizations displayed on this page. The car insurance data includes coverage analysis and details on drivers' vehicles, driving records, and demographic information. With these insights, Insurify is able to offer drivers insight into how their car insurance premiums are priced by companies.