Car Insurance
Companies
Safeauto
Cancel Safeauto
Why you can trust Insurify
Insurify is America's highest-rated insurance comparison platform. We partner with the nation's top insurance companies and are licensed as an agent in all 50 states. However, the insurance experts writing our content operate independently of our partners, and you can learn more about how we make money by viewing our
advertising disclosures
. Also check out reviews from over 3,000 satisfied customers, our data methodology, and our editorial standards.
Ready to cancel your SafeAuto Insurance? Here's how. And just so you have the bad news up front: there's a $25 cancellation fee. But if you're motivated to cancel your coverage ASAP, it's probably worth it.
Before you cancel your SafeAuto insurance policy, get your new insurance ready to go. It can take hours to find all the insurance companies in your area and ask them for quotes on separate websites. So make sure you take advantage of Insurify's free, highly rated car insurance quote comparison tool to get a personalized list of policies to click and buy in mere minutes.
Quick Facts
SafeAuto charges a $25 cancellation fee.

Cancel your auto insurance by calling 1 (800) SAFEAUTO or sending them a letter.

Before you cancel, compare quotes to find your new policy.
SafeAuto Cancellation Policy
How do you cancel car insurance with SafeAuto?
To cancel an auto insurance policy with SafeAuto, you will have to call 1 (800) SAFEAUTO and speak with an agent. Note that you may have to pay a cancellation fee if you choose to cancel before your renewal date.
SafeAuto doesn't make it as easy as other car insurance companies to cancel your auto insurance policy, but you won't be put through the wringer. First, look up your renewal date; if it's not too long to wait, you can avoid a $25 cancellation fee, and your cancellation will be as simple as a phone call.
If you want to end your policy early, call 1 (800) SAFEAUTO to get things sorted out. You may have to write a letter to SafeAuto to cancel, and SafeAuto might charge you a $25 cancellation fee. If you're canceling your policy particularly early, you might pay additional penalties. But generally, you'll be refunded for your unused policy term.
Compare Car Insurance Quotes Instantly
Secure. Free. Easy-to-use.
Step 1: Look Up the Renewal Date
Go to SafeAuto's mobile app, access your online account on the SafeAuto website (safeauto.com), or call SafeAuto's customer service number to find out the renewal date on your current policy. If you're looking to cancel your insurance policy and the renewal date isn't too far off, it might be best to wait until you reach your renewal date to cancel.
Note this date along with your policy number and the date you want to cancel your insurance coverage for the remainder of the process.
See More: Cheap Car Insurance
Step 2: Compare Car Insurance Quotes
Canceling a policy and moving to a new insurance company is normal and a good thing to do. But there's one important way that it can go wrong: if you mix up the dates and find yourself without insurance for even a day, you'll get dinged for a gap in coverage, and this can jack up your premiums.
So start shopping for your new car insurance policy before you cancel your old one. And for that, Insurify is the best companion you can hope for. It scours the auto insurance industry for the best quotes, personalized to you. It's the best car insurance comparison website out there, and it's free.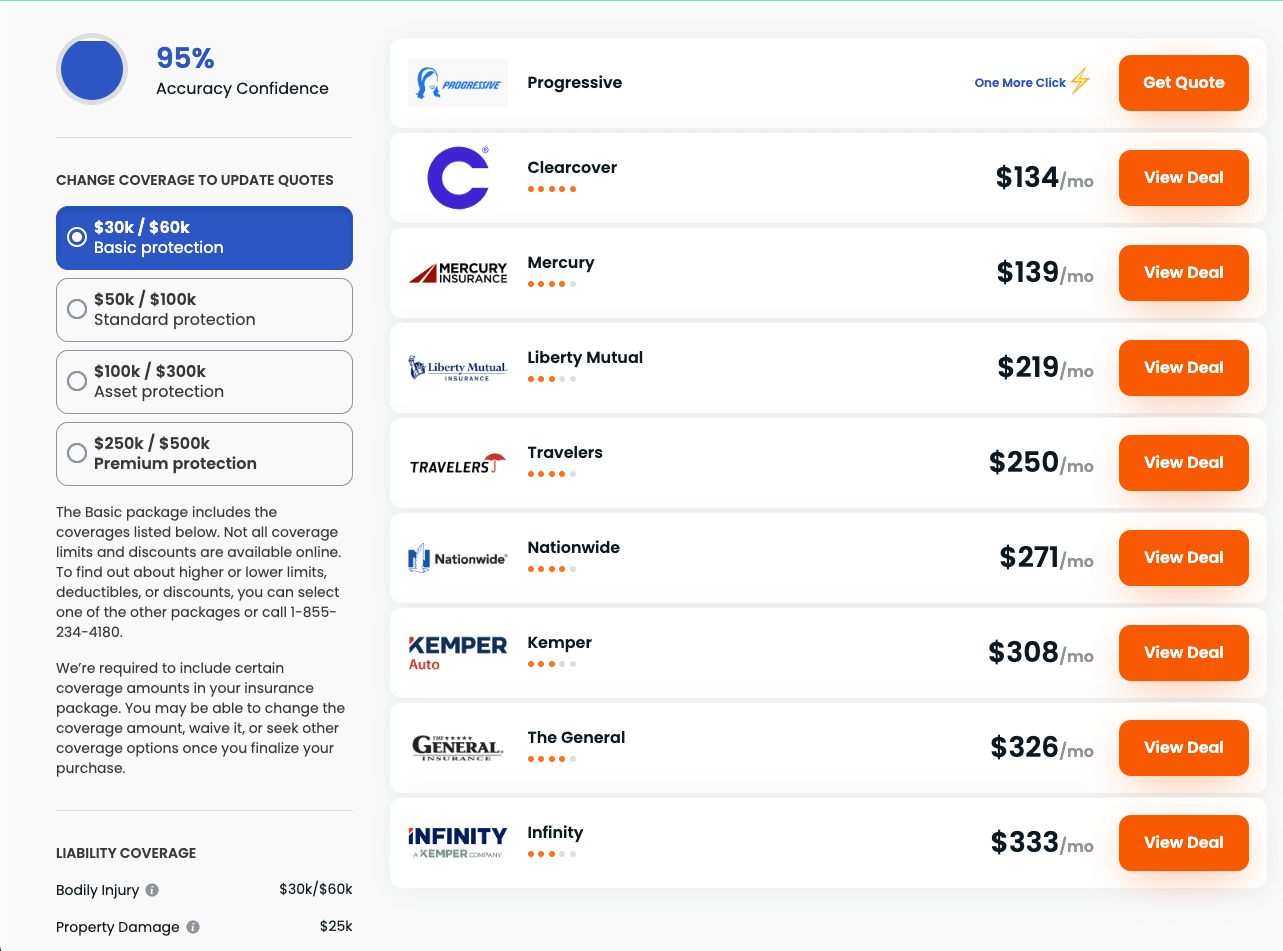 SafeAuto Quotes vs. Competitors
Disclaimer: actual quotes may vary based on the policyholder's unique driver profile.
Step 3: Think about Why You're Leaving SafeAuto
Before you buy a new insurance policy, it's helpful to reflect on why you're looking for a new car insurance company. Our review of SafeAuto Insurance company found that SafeAuto policyholders tend to complain about customer service, and that might be you. Perhaps you had a negative experience with the claims process or roadside assistance.
Lots of drivers pick up a SafeAuto policy because they have a DUI or another ding on their driving record that makes them a high-risk driver. If a major violation just got wiped from your driving history, a lot more car insurance companies will offer lower premiums. An improved credit score will help, too, and SafeAuto customers with bad credit tend to be charged for it.
See More: Best Car Insurance Companies
Step 4: Secure a New Policy
On to new horizons! Remember what you're looking for in your new insurance provider. It could be great insurance agents, super-low premiums, insurance discounts for students (or seniors), quality roadside assistance and towing, or bundling with home insurance, renters insurance, life insurance, or some other insurance product. But where to start looking?
Don't do your car insurance comparisons by yourself. It's too time-consuming, and the usual suspects—GEICO, Allstate, Progressive, State Farm—might not be your best option. Insurify's car insurance quote comparison tool will help you find that needle in the haystack: the perfect insurance policy for your needs and budget.
Step 5: Cancel Your SafeAuto Policy
With your new policy signed and dated, you're ready to cancel your SafeAuto insurance policy. Just check your dates carefully, and make sure you have continuous car insurance coverage. A gap of even one day could hurt you badly. Call 1 (800) SAFEAUTO to learn about the details of your cancellation process. You may need to write a letter and pay a $25 cancellation fee.
If you're doing these steps a bit out of order, it's never too late to save money on your new insurance. Insurify will help you look at quotes on car insurance personalized to you. You can toggle between full coverage and liability insurance and change your bodily injury limits and deductibles with updated insurance rates. It's the best car insurance comparison out there.
See More: Compare Car Insurance
Step 6: Follow Up on Your Refund
As you cancel your insurance policy, make careful note of when to expect your refund. If your insurance agent isn't specific about when you'll get it and the payment options available, call back and find out. Even if you're charged a short-rate penalty or cancellation fee, you'll probably still have a refund due.
According to SafeAuto's FAQ section online, normally, the payment method you used to pay your bills will be the same method SafeAuto Insurance uses to provide your refund. If you're penalized for nonpayment, budget for that to be subtracted from your refund.
Canceling Your SafeAuto Policy
It's a relief to cancel an auto insurance policy that wasn't working and get started on something new. If you're still looking for that perfect insurance company, make sure you've tried Insurify's car insurance comparison tool, the best on the web. You'll save money on your premiums and a lot of time you'd usually spend looking for quotes by yourself. Don't miss out!
Frequently Asked Questions
To cancel your SafeAuto insurance policy, start by calling SafeAuto customer service. They'll let you know your renewal date and go through your cancellation options. You might have to write a letter to cancel your auto insurance policy. If you're canceling months before your current policy expires, you might be charged a short-rate penalty or cancellation fee.

You can cancel your policy with SafeAuto insurance anytime you want, though if it's early in your policy term, there's a chance you'll have to pay a fee. In the grand scheme of most insurance premiums, those fees aren't likely to make a big difference. But to avoid them, simply wait until your renewal date to start your new policy.

SafeAuto usually charges a cancellation fee, but you can call SafeAuto's customer service line to see if it applies to you. They can probably help you find a date to avoid the fee.

You don't need new insurance to cancel your policy—but we highly recommend it. Make sure you don't go a day without car insurance coverage. It'll be deemed a coverage lapse on your driving record, and you'll be labeled a high-risk driver. This leads to very high premiums! That's why it's smart to secure new auto insurance and have your dates set before you cancel your policy.
Compare Car Insurance Quotes Instantly
Secure. Free. Easy-to-use.
Data scientists at Insurify analyzed over 40 million auto insurance rates across the United States to compile the car insurance quotes, statistics, and data visualizations displayed on this page. The car insurance data includes coverage analysis and details on drivers' vehicles, driving records, and demographic information. With these insights, Insurify is able to offer drivers insight into how their car insurance premiums are priced by companies.