There's one person in every friend group who gets most of their information about the world from Reddit. Maybe that's you! Reddit is one of the internet's largest and friendliest discussion boards, and many users reach out with questions about their car insurance—often when they're in a tricky situation or looking for ways to save money.
These Reddit posts are so helpful because they let you read about someone else's insurance issue before it happens to you. Then, you learn the lesson without the headache. We pulled out some of the most helpful ones in this article. But here's the best advice for cheap car insurance: use Insurify to compare car insurance quotes from all the top providers, all for free.
Quick Facts
It's always smart and never a bad time to shop around for car insurance.
When in doubt, you'll be better off with additional coverage.
Understanding your coverage will help you act in an emergency.
State Minimum Insurance is Almost Never Enough
State minimum liability insurance is tempting because it's cheap. But most people don't know that state minimum liability coverage leaves you exposed to major financial costs that you can potentially be sued for if you get in a grisly at-fault accident. Most bodily injury liability minimum coverage limits don't break $50,000, and a bad accident can cost $1 million.
The poster in the above comment thread recommends liability coverage limits over $100,000 for bodily injury and $50,000 for property damage. That's good advice because even if your insurance premium for minimum liability coverage is cheap, it's a waste of money if it's not enough to even begin to pay the costs of an accident.
Some states require you to cover your own medical bills regardless of fault with personal injury protection (PIP). Uninsured motorist coverage is often required as additional coverage, and if it's not, you'll still want it. Unless your car is very old, comprehensive coverage and collision coverage are a wise idea, even though they raise your insurance cost.
See More: Best Car Insurance Companies
Compare Car Insurance Quotes Instantly
Personalized quotes in 5 minutes or less
No signup required
Make Your Deductible Reasonable
How do I set my car insurance deductible?
Before setting a deductible, ensure it's an amount you'd be able to shell out in case of an emergency. Meaning, make sure you have that much cash laying around to use after a car accident.
It's really nice when professionals from the insurance industry chime in on Reddit. This user is smart to point out that if you can't pay a deductible, you won't be able to respond to the insurance process in a timely manner and get your car fixed. If your car is totaled and you are approved to get $15,000 back for your car, don't let a $1,000 deductible payment get in the way.
When you're buying an auto insurance policy, you can talk to your insurance agent about what deductibles they have available. Taking a higher deductible will lower your premium, but often not enough to make it worth it, even if you can pay it easily.
See More: Car Insurance Quotes
Always Shop Around
This poster is wisely keeping their finger on the economic winds. And now that inflation and fuel costs are in flux, keeping your everyday costs under control and finding ways to save money are more urgent than ever. And one super-simple way to reduce your car insurance rate is to just look elsewhere to see if you can get a better deal!
What's one easy way to compare auto insurance quotes from all the important companies? Insurify. Spend only a few minutes entering your information, and you'll receive a free and comprehensive list of car insurance quotes personalized to you. If you've moved recently, there are even better odds you'll save money when you shop around.
See More: Cheap Car Insurance
Be Wary of Gap Insurance
Spend a little time on Reddit looking for harrowing car insurance stories, and you'll see this one is more common than you might expect: drivers buy a new or leased car, and before they can make it home, they immediately find themselves in an accident. Luckily, the driver in this post had gap insurance, which stands for "guaranteed asset protection."
If your car gets totaled and you have comprehensive coverage and/or collision coverage, your full coverage will reimburse the car's cash value. The problem is, the moment you drive the car off the lot, it depreciates quickly, so you might owe more on the car than the car is worth. Gap insurance protects the difference.
Use Insurance, Even After a Fender Bender
Fender benders are incredibly common, and because they often leave subtle damage and both drivers can drive away from the scene, people try to broker an arrangement without insurance companies. This is rarely, if ever, a good idea. In the example above, the driver's car didn't show obvious damage, but then the body shop hit them with a big bill. Young drivers, be careful!
When you find yourself in a fender bender, get all the documentation you can of the incident, and try to get the police to come file a report. Don't trust a spontaneous idea from a creative stranger and make a split-second decision you might regret. Instead, gather information meticulously and let car insurance companies take care of the work for you.
Negotiate
With a full-coverage auto insurance policy, you'll get your car replaced by the insurance company if it gets totaled. But this is a very critical time to know your rights as a policyholder. The insurance company will send you an offer of how much they want to reimburse you.
But because the value of a car is fluid and in some ways arbitrary, that number is up for negotiation, and you should do your research to know if it's fair.
Reddit users often comment that Kelley Blue Book (referenced as KBB in the post featured) is not a very accurate starting point for your car's value. To find the going rate of cars like yours in your area, check for local listings that match your car's attributes, and ask your car insurance company to match it if they're offering something lower.
Consider Switching Plans After an Accident
It's very much the case that drivers with a history of accidents and frequent claims will receive higher auto insurance rates. But how high is a matter of where you get your auto insurance. If you get in an accident and your auto insurance provider pumps up your rates to an absurd level, it's a better time than ever to look around for a lower quote.
More likely than not, you'll still pay higher rates than you did before you got in your accident. But if you take the time to get quotes from a number of auto insurance companies to see if some are more forgiving than others, you'll have a better chance of a lower cost if you switch companies. By the way, Insurify does this for you, all for free.
Understand Your Coverage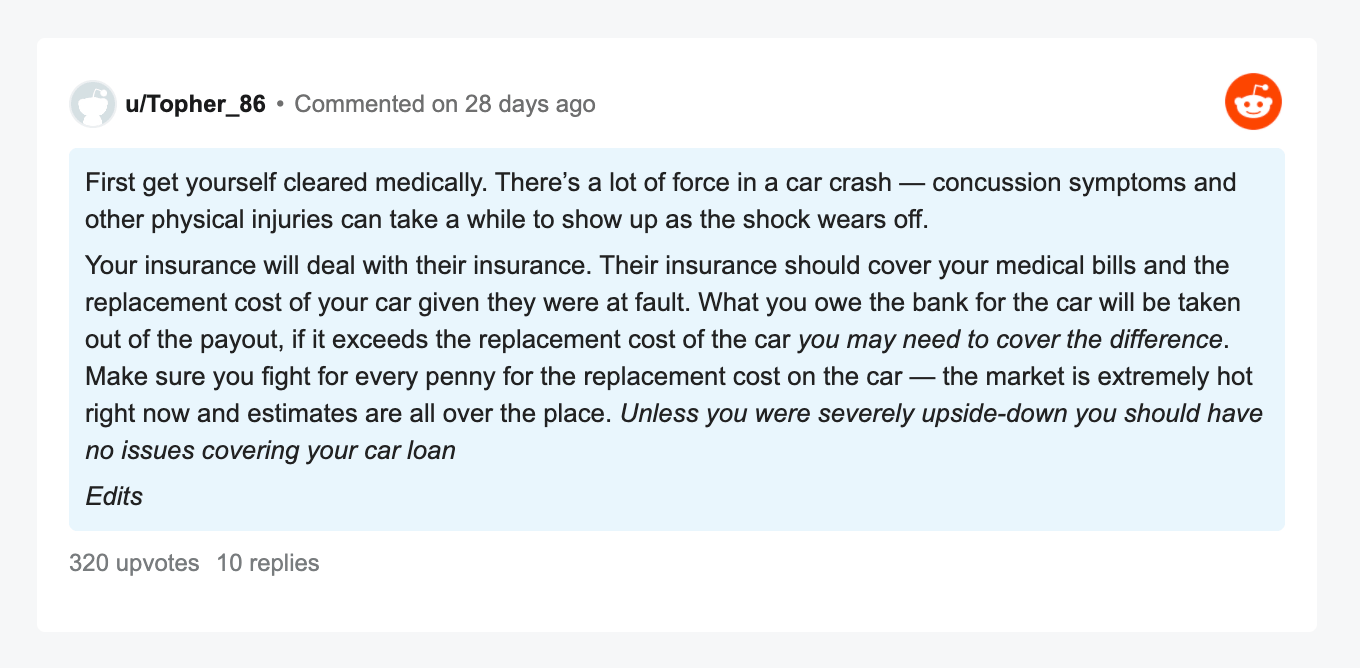 Thinking about getting in a car accident is scary. It's one of the most traumatic experiences in many people's lives. So the last thing you want to be confused about in the wake of a wreck is insurance logistics. When you're in a crash, make sure you are physically safe and that proper medical help is on the way.
When people get seriously hurt, the medical costs can pile into the tens and sometimes hundreds of thousands. You'll never be more grateful you got proper coverage than in the moments you really need it. With a full-coverage car insurance policy, you won't go bankrupt from the results of a car crash, no matter who is at fault.
Consider Rental Reimbursement Coverage
If your car needed to be in the shop for an extended period of time, would you need to borrow a car on a daily basis to get to work, rent a car from a rental company, or hail a rideshare twice a day or more? If you know that you can't go through daily life without a car, you'll want to make sure that your auto insurance company will help.
With supply chain issues slowing car repairs, rental cars experiencing a shortage, and rideshare prices higher than ever, you'd be smart to find a car insurance policy that picks up the tab for your loss of use while your car is in the shop for a covered loss. Nationwide, Liberty Mutual, GEICO, State Farm, Progressive, and many other providers offer this coverage.
Never Let Coverage Lapse
Take it from this devastated driver: make sure you pay all your bills on time and that your policy is always active. Mix-ups can occur, so don't hesitate to check in. Letting your insurance lapse can earn you high-risk status, and that will disrupt your auto insurance premiums in a big way. This Redditor saw their insurance premium triple from a lapse in coverage. Yikes!
Once you're in the high-risk insurance category, you can probably say goodbye to low rates, even with bundling, good credit, a clean driving record, and all the other insurance discounts under the sun.
What Reddit Can Teach Us about Car Insurance
The insurance stories that Reddit users share emphasize a crucial lesson about car insurance: accidents happen, and having the right insurance can make a huge difference. Thinking through these situations in advance puts you in a great position to avoid major emotional and financial hardship if the unthinkable should occur. And reading these posts will tell you that it does.
Frequently Asked Questions
Yes! With an account on Reddit, you can post on discussion boards organized by category called subreddits. Your insurance questions will be most appropriate on the subreddits titled "personal finance" and "insurance." There's also lots of chatter about renters insurance, life insurance, health insurance, home insurance, and anything else you're curious about.

Average rates for drivers with accidents on their driving records are quite high. A DUI will hit you harder than other incidents. But even though safe drivers get lower rates in general, you can find a suitable insurance premium by hunting for as many insurance quotes from all the car insurance companies you can contact. And Insurify will help.

In most states, a bad credit score will get you higher rates from car insurance companies, even if you're a good driver. Homeowners tend to receive an insurance discount, and plenty of auto insurance companies offer decent car insurance premiums to drivers with poor credit scores. You just have to shop around and get all the auto insurance quotes you can.

The best car insurance quotes don't always come from GEICO, Progressive, USAA, Allstate, State Farm, and the other insurance giants. To get the cheapest car insurance you can find, you have to get quotes from as many providers as you can. Insurify gives you free quotes from the best car insurance companies in your area, and not just from the ones you've heard of. Try it out!
Compare Car Insurance Quotes Instantly
Personalized quotes in 5 minutes or less
No signup required
The car insurance quotes displayed are based on an analysis of Insurify's database of over 40 million quotes from 500 ZIP codes nationwide. To obtain representative rates, Insurify's data science team performs frequent comprehensive analyses of the factors car insurance providers weigh to calculate rates including driver demographics, driving record, credit score, desired coverage level, and more.

Insurify's analysis also incorporates the Insurify Composite Score (ICS) assigned to each insurance provider. The ICS is a proprietary rating that weighs multiple factors reflecting the quality, reliability, and health of an insurance company. Ratings used to calculate the ICS include Financial Strength Ratings from A.M. Best, Standard & Poor's, Moody's, and Fitch; J.D. Power ratings; Consumer Reports customer satisfaction surveys and customer complaints; mobile app reviews; and user-generated company reviews.

With the above insights and ranking methods, Insurify is able to offer car insurance shoppers insight into how various insurance providers compare to one another in terms of both cost and quality. Note, actual quotes will vary based on unique attributes including the policyholder's driver history and their garaging address.