Car Insurance
Companies
Nationwide
Cancel Nationwide
Why you can trust Insurify
Insurify is America's highest-rated insurance comparison platform. We partner with the nation's top insurance companies and are licensed as an agent in all 50 states. However, the insurance experts writing our content operate independently of our partners, and you can learn more about how we make money by viewing our
advertising disclosures
. Also check out reviews from over 3,000 satisfied customers, our data methodology, and our editorial standards.
Nationwide Mutual Insurance Company is one of the largest auto insurance companies. Despite the fact that it's been around for almost 100 years and offers plenty of coverage options, you may decide to cancel your policy at some point in time. This might be because you want a better car insurance rate. Or your driving habits have changed and you prefer a pay-per-mile plan.
No matter your reasoning for wanting to terminate, it's essential that you shop around and explore auto insurance plans so you can find the ideal new policy for you. Our car insurance comparison tool makes this process a breeze. Once you fill out a short form, you'll receive personalized auto insurance quotes in minutes. There are no sign-ups or fees involved.
Quick Facts
You can cancel your Nationwide car insurance via phone or mail.

Nationwide won't charge you a cancellation fee.

Before you terminate, be sure to lock in new insurance coverage.
Nationwide Cancellation Policy
How do you cancel Nationwide car insurance?
To cancel a policy with Nationwide, you can call or visit a local agent or call Nationwide's customer support line. Make sure you have a policy lined up before canceling your current one to avoid a lapse in coverage.
Canceling your car insurance policy with Nationwide couldn't be any easier or more straightforward. If you visit the FAQ page on the company's website, you'll find details on how to terminate. The cancellation policy states you can reach out to your agent directly to go through the process. If you don't have an agent, don't worry.
You may call customer service at 1 (877) 669-6877 for assistance. While Nationwide lets you manage your auto insurance policy online, you can't cancel online. The good news is an agent or someone with Nationwide customer service will help you terminate quickly and without the hassle.
Compare Car Insurance Quotes Instantly
Secure. Free. Easy-to-use.
Step 1: Look Up the Renewal Date
Once you decide that it's in your best interest to cancel your Nationwide car insurance, find out your renewal date. This date will inform you of when to begin your new coverage so you can avoid a lapse in coverage, which can be problematic if a police officer pulls you over or you get into an accident.
So where can you find your renewal date? Take a look at your printed or digital insurance ID card on the Nationwide mobile app. If you can't access it for any reason, don't hesitate to log into your online account or contact customer service.
See More: Cheap Car Insurance
Step 2: Compare Car Insurance Quotes
Car insurance companies are not created equal. In fact, if you do your research, you'll notice differences among providers. That's why it's important to shop around and compare car insurance quotes from leading auto insurance providers, like GEICO, State Farm, Progressive, Liberty Mutual, and Allstate. You might also want to explore smaller companies like Metromile.
Fortunately, you don't have to visit countless websites and reach out to multiple agents to get car insurance rates. Insurify will do this on your behalf at absolutely no cost. Simply fill out a short online form and receive personalized auto insurance quotes in minutes. You won't have to sign up or make any long-term commitments.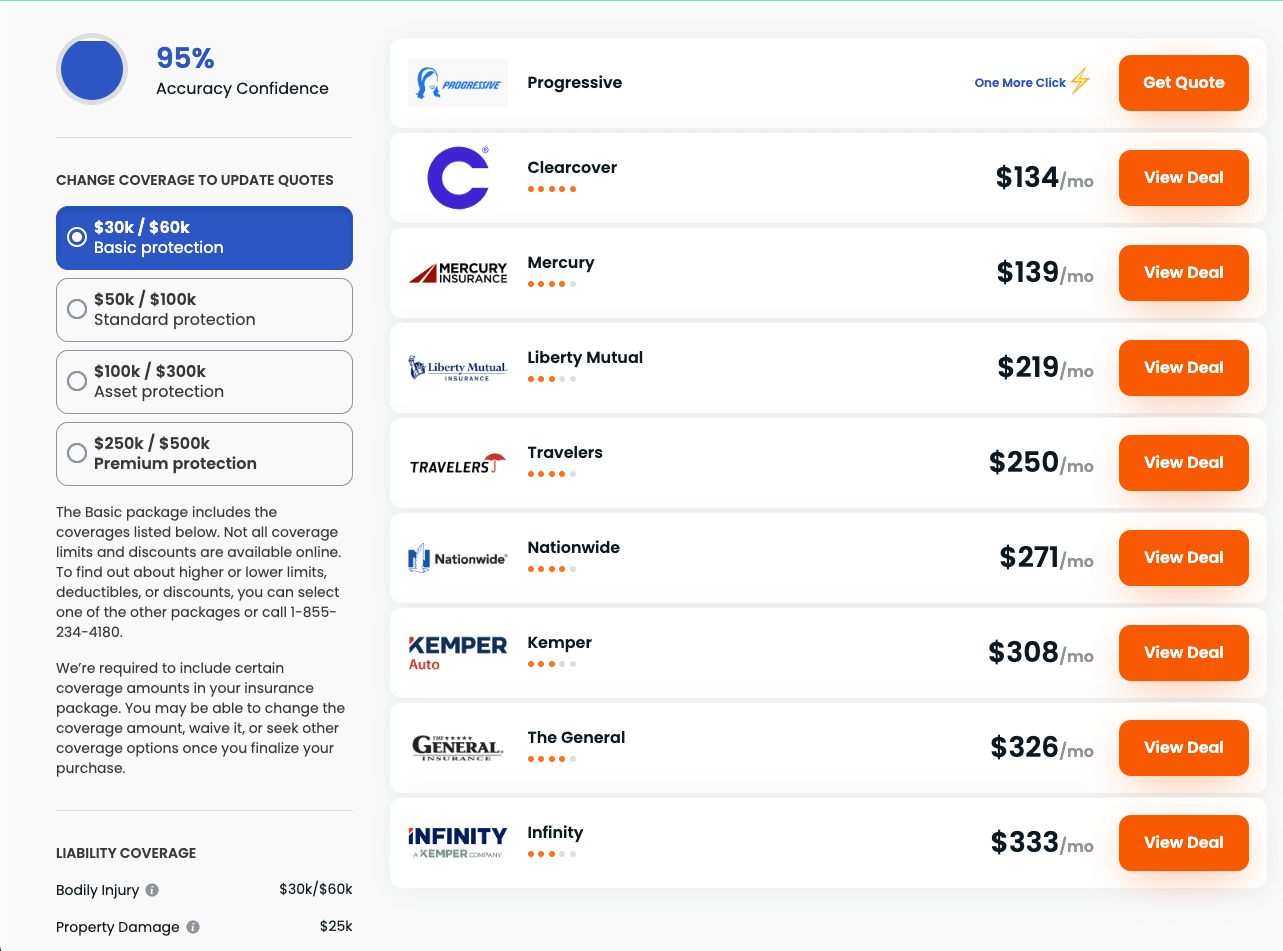 Nationwide Quotes vs. Competitors
=
Disclaimer: actual quotes may vary based on the policyholder's unique driver profile.
Step 3: Think about Why You're Leaving Nationwide
When you invest in a car insurance policy, you have no obligation to stay with it. Eventually, your circumstances may change and motivate you to look for auto insurance elsewhere. Before you terminate with Nationwide, think about why you're doing so. You might be seeking cheaper car insurance to free up your cash flow. Or you may be on the lookout for faster insurance claims.
Another reason to cancel your car insurance may be to lock in a bundling discount with your life insurance, renters insurance, homeowners insurance, or pet insurance company, for example. While you don't have to tell Nationwide your reason for a policy cancellation if you don't want to, you do have to clarify it with yourself.
This can guide you in your search for a new car insurance plan because you'll know exactly what to look for. It may also reassure you that terminating is the best choice for your unique situation.
See More: Best Car Insurance Companies
Step 4: Secure a New Policy
If you lead a busy lifestyle and don't have hours upon hours to shop for a new car insurance plan, don't worry. Insurify has you covered. It's powered by artificial intelligence and will do the heavy lifting for you without charging a dime. Once you answer a few questions about your vehicle and driving history, you'll receive several quotes to review.
If you get a quote that piques your interest and you wish to move forward with a certain car insurance company, Insurify will take you to their website directly so you can begin the process. While some providers will require you to call in or consult an insurance agent, others have an online enrollment process.
Step 5: Cancel Your Nationwide Policy
To leave your Nationwide auto insurance plan after you've locked in a new policy with some help from Insurify, you'll want to contact your local Nationwide agent. You can find their phone number and email address online or in your policy documents. When you reach out to an agent to cancel, they will describe the process, which will likely include mailing a written notice.
Depending on the state you live in, you may also need to inform your local DMV of your cancellation or car insurance change. If you're more traditional and prefer to cancel in person, you can do so. There are local agents in more than 30,000 offices across the U.S. The Nationwide website will let you plug in your ZIP code so you can find branches in your area.
If you don't have a dedicated agent, feel free to call customer support at 1 (877) 669-6877. To skip the phone call, mail your written notice to One Nationwide Plaza, 1 West Nationwide Boulevard, Columbus, OH, 43215. Just note that it may take some time for Nationwide to officially terminate your plan if you go this route.
See More: Compare Car Insurance
Step 6: Follow Up on Your Refund
Nationwide prorates its car insurance premiums. This means the company will owe you a refund on any prepaid coverage you won't use after you terminate. If you paid for your policy via credit card, you'll likely receive your refund within 3 to 5 business days. Allow 7 to 10 business days if you paid by checking or ACH.
Keep in mind that Nationwide, just like all companies, is in business to make money. Therefore, issuing your refund might not be their priority. If you haven't received it a few weeks after canceling, don't be afraid to consult your agent for an update.
Canceling Your Nationwide Policy
Whether you've had your Nationwide insurance policy for a year or 10 years, you shouldn't feel bad about canceling or switching your car insurance. It's your right as a consumer, and there's no reason to stay with an auto insurance company that no longer meets your budget or needs.
Thanks to our car insurance quote comparison tool, you can find a new policy quickly and conveniently from the comfort of your own home or office. There's no better way to shop for auto insurance and hone in on the perfect plan.
Frequently Asked Questions
You may be surprised and delighted to learn that you won't be on the hook for a cancellation fee if you leave Nationwide car insurance. Depending on how you paid for your plan and when you cancel, the company might even owe you a refund for the unused portion.

While you can perform a Google search for "car insurance" and visit the websites of several auto insurance providers, using Insurify is your best bet. This intuitive tool will connect you to personalized car insurance rates within minutes, completely simplifying the auto insurance shopping and comparison process.

Calling your local Nationwide agent to cancel your Nationwide auto plan is the quickest option. If you'd like, you can visit a nearby office and terminate in person or simply send a written letter by mail. At this time, Nationwide does not offer an online cancellation process.

If Nationwide's premiums are too high or you're displeased with the company's service, you may want to pursue an insurance cancellation. On the flip side, if you're still satisfied with the provider but prefer a different plan to meet your new needs, it might be easier to stay with Nationwide and change your coverage. Visit the Nationwide website to learn about your options.
Compare Car Insurance Quotes Instantly
Secure. Free. Easy-to-use.
Data scientists at Insurify analyzed over 40 million auto insurance rates across the United States to compile the car insurance quotes, statistics, and data visualizations displayed on this page. The car insurance data includes coverage analysis and details on drivers' vehicles, driving records, and demographic information. With these insights, Insurify is able to offer drivers insight into how their car insurance premiums are priced by companies.