On a quest for car insurance quotes? Don't look now, but EverQuote's got your back.
EverQuote.com is an online insurance marketplace that offers users auto insurance quotes from multiple car insurance companies across the United States.
It is one among a spate of insurance startups (among them Insurify and The Zebra ) that are primed to disrupt the insurance industry and deliver a new kind of insurance shopping experience for drivers from California to Connecticut. But does EverQuote succeed for the Average Joe or Joanne? Read on.
How does EverQuote work?
Partnered with insurance companies like Nationwide , Progressive, Allstate , and Liberty Mutual , EverQuote offers customers quotes from insurance providers, with the site acting like an online insurance agency. But does this Cambridge, Massachusetts-based startup actually provide online quotes for car insurance policies, or is the company a scam?
In theory, EverQuote is great for anyone who's searching for savings or a new deal on their car insurance rates. But a crucial distinction to make when assessing different online car insurance quote comparison experiences is just where your data is going.
EverQuote claims to provide personalized car insurance quotes that fit both "your needs and budget." EverQuote is also a l ead generation site, meaning that it can sell your information to insurance companies and independent agents. What does that mean for you? Everquote acts as a middle-man, connecting customers with insurance companies. Your customer information will be sent to one or more insurance providers, which may contact you in order to provide a quote.
Unlike real-time insurance comparison sites like Insurify or The Zebra, EverQuote provides estimated, not real, quotes. The quotes you'll receive are calculated based on actual rates of drivers with similar profiles to your own. So you'll still have to talk to an agent or deal directly with an insurance company to get a more accurate sense of what your rates could look like.
EverQuote in action
EverQuote's online form is pretty intuitive. The site's homepage first asks for your policy type, offering the choice between auto, home, life, health, commercial, and renters insurance. I selected the auto insurance option. Then came entering my zip code and answering a series of routine questions.
The rest of the flow is a mostly logical form that asks for personal information, vehicle information, and driver history. If you're already insured, you have the option to fill out your current monthly premium on a sliding scale from $0 to $300+. I was given the option to review my matches online, via email, or through licensed insurance agents who would reach out with a phone call. I chose online.
The site offered results from various companies but ultimately came up short for me. I received just two paid advertising placements for Liberty Mutual and GEICO, with no quotes. Although I entered pretty generic information (a single driver in New York opting for average coverage), my quotes list left something to be desired, with zero real-time quotes provided. I was also frustrated by the lack of specificity in the questions; there were no options for the customer to select specific coverage levels or discounts.
Compare Car Insurance Quotes Instantly
Personalized quotes in 5 minutes or less
No signup required
EverQuote Reviews: Here's what customers are saying…
How are customers responding to EverQuote's comparison product and customer service?
Many of EverQuote's Better Business Bureau reviews (EverQuote has an overall BBB rating of "B", and an average review score of 2.04/5) are not exactly glowing, though EverQuote has responded to some of the customer complaints.
Sitejabber is also home to some less than ideal reviews. Overall, many users object to EverQuote's lead generation business model and the impact that this might have on their insurance shopping process.
A more recent Google review––the company is rated 1.7/5 stars on Google––highlights what that user considers to be EverQuote's sub-par customer service:
Not all reviews are negative, however. Some customers appreciate Everquote's smooth user experience and ability to customize coverage options. Customer and Local Guide Ju Li left a positive review for the company on Google in 2021:
This table shows EverQuote's official Insurify Composite Rating, based on a combination of reviews from aggregator sites:
| Site | Customer Rating | Number of Reviews |
| --- | --- | --- |
| Clearsurance | 3.7 / 5 | 584 |
| SiteJabber | 1.1 / 5 | 43 |
| Google | 1.7 / 5 | 43 |
| Better Business Bureau | 2.0/5 | 134 |
| Total Score | 3.8 / 5 | 672 |
EverQuote is rated 3.8 out of 5 based on 672 reviews.
Your car insurance savings journey doesn't have to end with EverQuote.
Insurify lets you compare auto insurance quotes all on a straightforward platform. After taking just two minutes to enter your information, you'll get a quotes page featuring an average of five to seven bindable, actual quotes from top insurance companies.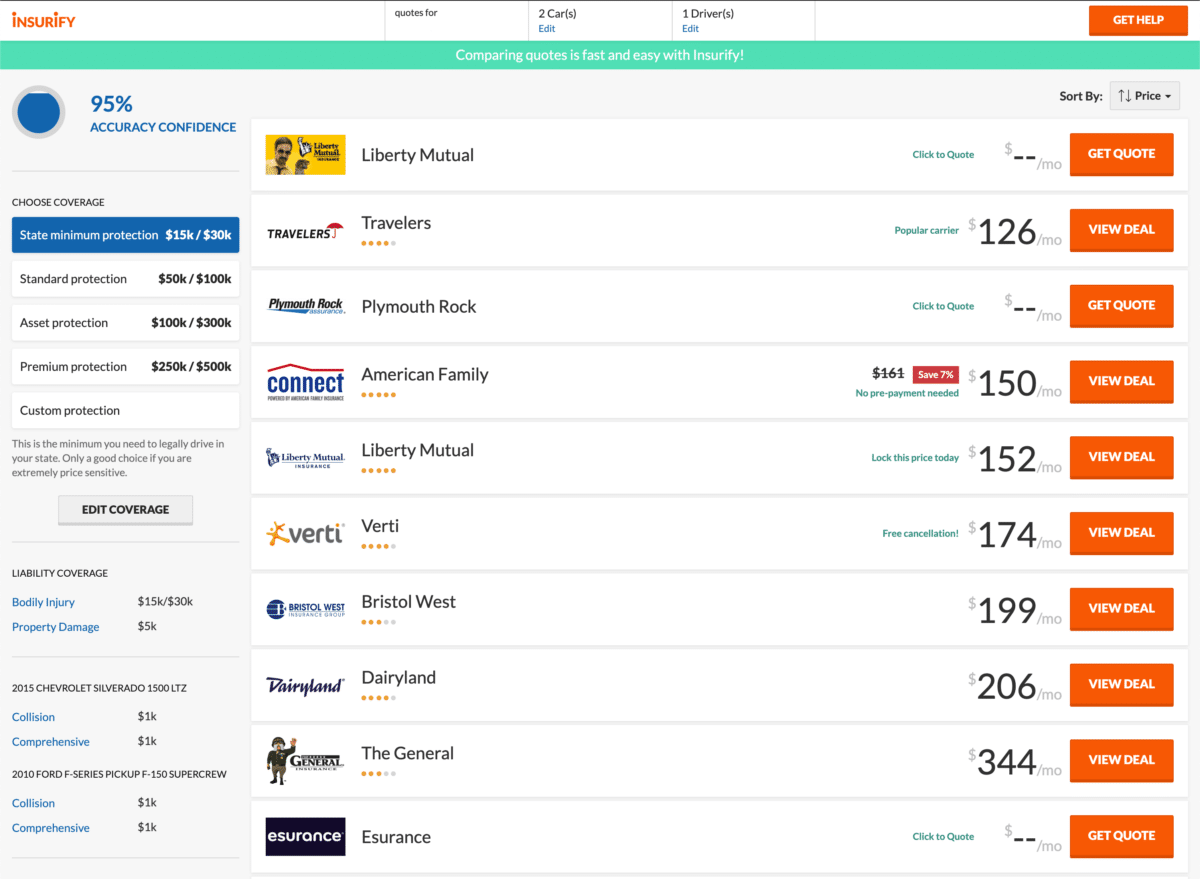 Unlock discounts, secure savings, and discover an insurance carrier and premium that works for your budget.
To date, Insurify has saved an average of $670 a year for customers from Berkeley to Birmingham to Boston!
More about EverQuote
Founded in 2011 by Seth Birnbaum and Tomas Revesz, EverQuote is currently based in the greater Boston area.
Contact Information
| | |
| --- | --- |
| Headquarters | 210 Broadway #302 Cambridge, MA 02139 |
| Phone number | 1 (855) 522-3444 |
| Website | www.everquote.com |
EverQuote: Quick Questions
It depends upon what that word means to you. EverQuote is an accredited business by the Better Business Bureau, so you don't need to worry about viruses, hacking, or being scammed out of your money when using EverQuote. That said, lead-generation sites like EverQuote often do not provide customers with the cheapest or most accurate car insurance quotes. If you want a wider selection of accurate quotes with no annoying spam calls, you would be would be better off with a quote-comparison site like Insurify.

EverQuote is an insurance lead-generation site that provides leads for car insurance, homeowners insurance, life insurance, health insurance, renters insurance, and commercial insurance. EverQuote was founded in Cambridge, Massachusetts in 2011.

While some customers on Google and Clearsurance have praised EverQuote for helping them find a good deal on their insurance, the company has a low 1.7/5 customer rating on Google and a 1.1/5 rating on SiteJabber.
Compare Car Insurance Quotes Instantly
Personalized quotes in 5 minutes or less
No signup required
Data scientists at Insurify analyzed over 40 million auto insurance rates across the United States to compile the car insurance quotes, statistics, and data visualizations displayed on this page. The car insurance data includes coverage analysis and details on drivers' vehicles, driving records, and demographic information. With these insights, Insurify is able to offer drivers insight into how their car insurance premiums are priced by companies.