Why you can trust Insurify:
As an independent agent and insurance comparison website, Insurify makes money through commissions from insurance companies. However, our expert insurance writers and editors operate independently of our insurance partners.
Learn more
.
If you're unhappy with your Farmers auto insurance policy, don't worry — it's a breeze to cancel and switch car insurance companies. You may even get a partial refund, depending on your policy term. But a word of caution: Make sure you buy a new policy before canceling Farmers. Otherwise, you could incur additional fees the next time you purchase auto insurance.
Switching car insurance may seem daunting, but it doesn't have to be. Insurify streamlines the car insurance shopping process so you can compare car insurance quotes from multiple companies at the same time. It is fast and easy, and it has something for every budget.
Quick Facts
Farmers may refund unused premiums if you cancel before renewal.

Buy a new car insurance policy before canceling your Farmers policy.

Cancel Farmers Insurance by calling 888-327-6335.
Farmers Cancellation Policy
How do you cancel Farmers car insurance?
To cancel your Farmers auto insurance policy, you can call their customer support line and speak to a representative. Make sure you have another policy lined up before canceling to avoid a gap in coverage.
The process to cancel Farmers auto insurance is pretty straightforward. When you call the Farmers customer service phone number at 888-327-3335, you can connect with a representative to request your policy cancellation. You can also contact your Farmers insurance agent. Either way, they'll likely try to sell you on staying with Farmers. Simply repeat your request, and they'll cancel your coverage.
The Farmers' website isn't clear about possible cancellation penalties. You may be charged a fee. Ask the Farmers agent before you commit to your cancellation request to find out for sure. That way, you can ask questions about the cancellation fee and if you qualify for a refund of unused premiums.
Compare Car Insurance Quotes Instantly
Secure. Free. Easy-to-use.
Step One: Look Up Renewal Date
Your first step to canceling your Farmers car insurance policy is to determine your renewal date—that's the date your current policy ends. Pull out your most recent policy documents and look at the cover page. It will list the coverage dates, and the end date is your renewal date.
Typically, insurers do not charge a penalty fee if you cancel before the renewal date. Also, ask if you will receive a refund for the unused premiums if you cancel coverage before the end of your policy term.
See More: Cheap Car Insurance
Step Two: Compare Car Insurance Quotes
With your old policy in hand, shop around for car insurance rates that include similar coverage. Car insurance comparison shopping is a great time to assess whether your insurance coverage still fits your needs. The auto insurance industry is very competitive — you could save money by switching companies.
For example, suppose you live in California and have been with the same auto insurance company for eight years. You've decided to shop around for a policy, but you realize you no longer need full coverage on one of your vehicles. In that case, you can compare quotes without full coverage to see how much more you could save by switching companies.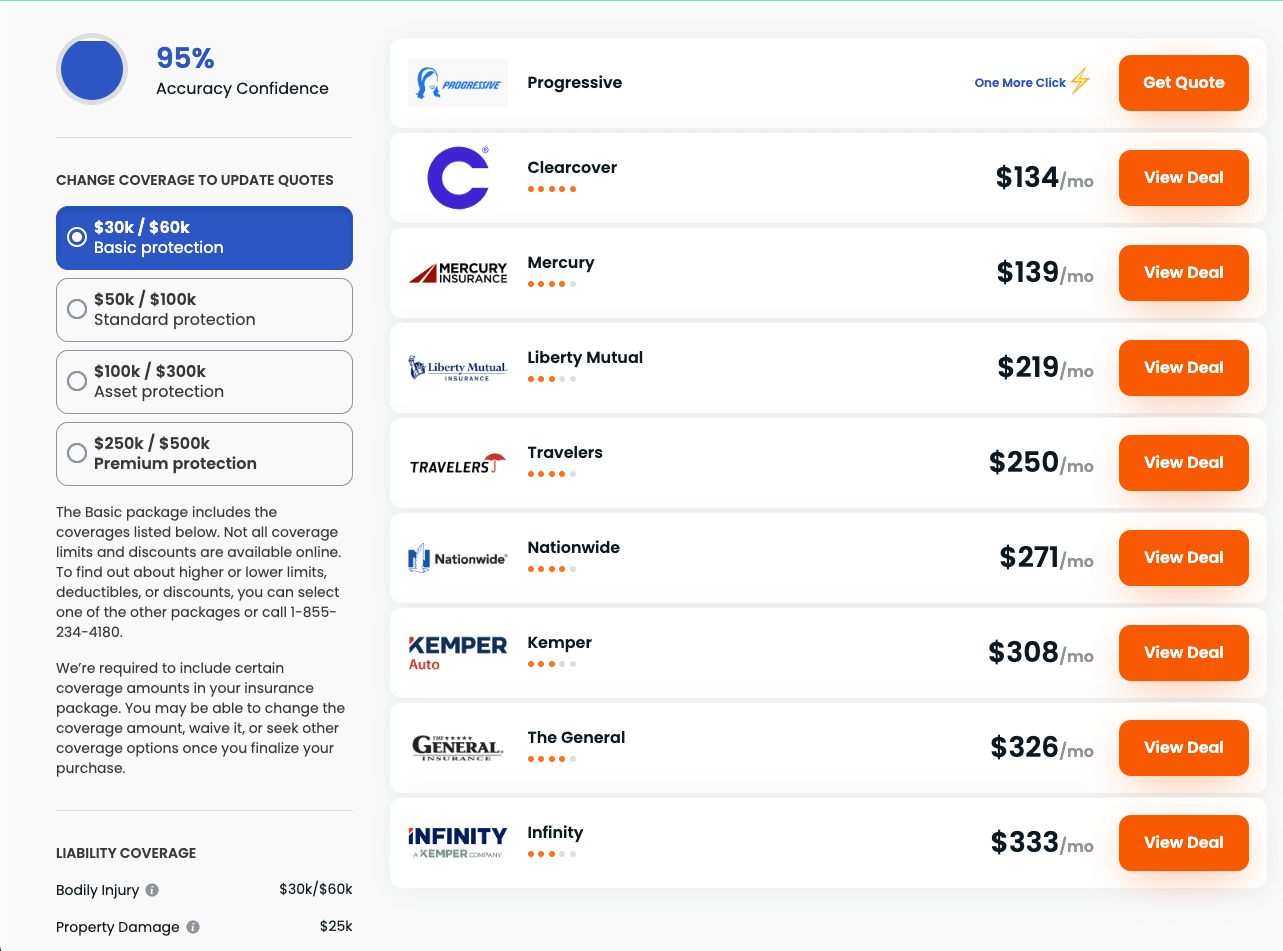 Farmers Quotes vs. Competitors
Using your policy information, compare what you pay for Farmers car insurance with what other people typically pay with other companies. Be sure to ask about bundling discounts. You can often pay lower premiums when you get your homeowners or renter's insurance from the same company.
Disclaimer: Table data sourced from real-time quotes from Insurify's 50-plus partner insurance providers. Actual quotes may vary based on the policy buyer's unique driver profile.
Keep in mind these are average quotes. They're not specific to your exact coverage, and you may pay higher premiums. Want to know what it will cost you? Insurify tells you how much other companies would charge you. You can easily compare customized car insurance quotes from dozens of companies simultaneously for free.
Step Three: Think About Why You're Leaving Farmers
Overall, Farmers reviews show relatively high levels of insurance customer satisfaction for service and claims. But if you want to switch, you must have a reason to leave Farmers behind. Your reason for canceling matters, whether it is price, wanting an insurance product they don't offer, deductible options or your experience with their customer service.
Knowing why you're canceling Farmers helps you understand the company's shortcomings and what to avoid when shopping for a new car insurance company. If you are experiencing life changes, your policy may need updating (and not a complete insurance cancellation).
See More: Best Car Insurance Companies
Step Four: Secure a New Policy
Wait! Don't cancel your Farmers policy just yet; that's the next step. Before you do, make sure you get a new policy with a new insurer in place. Car insurance companies often give discounts for automatic payments but may penalize gaps in coverage. Owning a new policy before canceling the old prevents potential fees for a lapse in coverage.
Now that you know what you want (and don't), review the insurance rate quotes you received from other insurers to find the best plan. If you got your car insurance comparison quotes through Insurify, you have already entered most required information. Just give permission to set up the policy and provide payment information.
Step Five: Cancel Your Farmers Policy
Finally, you are ready to cancel your Farmers car insurance policy. It helps to have your policy number handy before you call. Don't let this step give you anxiety because there are many ways to cancel. Whichever method you use, ask if you'll get a refund for unused premiums if you cancel before your policy's renewal date.
The Farmers' site doesn't specifically lay out how to cancel. So, first, check your online Farmers account at farmers.com or the mobile app to see if you can cancel it yourself or via chat with a representative. Otherwise, you can cancel Farmers Insurance by calling 888-327-6335 and speaking to a local agent or by visiting a Farmers Insurance office in your area.
Step Six: Follow Up On Your Refund
If you're entitled to a refund of premiums, you should receive it within a few weeks. Typically, insurance companies mail you a check for the total amount owed, but some may credit your bank account or credit card. If you haven't, it's time to follow up.
Call Farmers at 888-327-6335 and ask for an update if it's been two or three weeks and your refund has not yet arrived.
Canceling Your Farmers Policy
Canceling your Farmers car insurance policy is not complicated. But it may require a bit of diligence. The most crucial step is to set up another policy before breaking up with Farmers. Remember: Other insurers could penalize you or deny you a policy if you have a coverage gap.
Fortunately, car insurance quote comparison is easy with Insurify. Start by entering information about your vehicle, driving history and desired coverage levels. Then, Insurify checks multiple companies for quotes that you can compare side-by-side. It is that simple.
Frequently Asked Questions
The Farmers' website isn't clear about how to cancel your policy. It may require a bit of work on your part. Start by calling your local Farmers agent. You can also call the Farmers customer service at 888-327-6335 to request a policy cancellation.

You must do two things before stopping your car insurance coverage with Farmers. First, check your renewal date on the policy to determine when your policy ends. Second, make sure you purchase new car insurance and have coverage in place.

Farmers' doesn't specifically state they charge policyholders an insurance cancellation fee. You'll need to ask when beginning the process. If so, you might decide to wait out the policy coverage to avoid paying the charge. Alternatively, there may be no fee, and you may even get a refund if you cancel before the end of your policy term.

Checking prices with other insurance companies is the best way to save money. Insurify saves you hours in the comparison process. First, answer a few questions about your driving history and vehicle. Then, Insurify helps you compare car insurance quotes from the nation's top insurance companies, like State Farm, Allstate, Geico and more.
Compare Car Insurance Quotes Instantly
Secure. Free. Easy-to-use.
Data scientists at Insurify analyzed more than 40 million real-time auto insurance rates from our partner providers across the United States to compile the car insurance quotes, statistics, and data visualizations displayed on this page. The car insurance data includes coverage analysis and details on drivers' vehicles, driving records, and demographic information. Quotes for Allstate, Farmers, GEICO, State Farm, and USAA are estimates based on Quadrant Information Service's database of auto insurance rates. With these insights, Insurify is able to offer drivers insight into how companies price their car insurance premiums.