How does homeowners insurance work?
For a yearly premium, homeowners insurance gives your home and belongings coverage against perils listed in your policy.
To those getting their first place on their own and even to long-time homeowners, trying to understand how homeowners and renters insurance works may seem intimidating. There is a lot to know! But it's not impossible to learn the ins and outs of how it works.
Once it's broken down into bits and pieces, it's easier to understand how the different types of homeowners insurance compare, how insurance rates are determined, and how to make a claim. We've broken it down and created this guide on how homeowners insurance works so that you can feel confident when you're ready to get your next policy. Plus, we'll tell show you how to compare policies on Insurify.
What Is Homeowners Insurance and How Does It Work?
Homeowners insurance coverage gives you financial protection for the structure of your home, your personal belongings, and detached structures such as a garage when they are damaged by perils like fire, smoke, theft, vandalism, rain, or hailstorms.
Your policy also includes liability protection when someone is hurt on your property and medical bills coverage. This coverage applies to you and your family when you're away from home, too. Additional living expenses for staying in a hotel when your home is uninhabitable are part of your policy as well.
With a homeowners insurance policy, you pay a monthly premium, usually as a part of your mortgage payment. Then, your bank handles paying the homeowners insurance company through your escrow account when the insurance premiums are due.
When something happens to cause you to make a claim, you're responsible for paying the deductible, usually in the range of $500 to $2,000. After that, your insurance company will cover the rest of the covered damages. Additional coverage, such as flood insurance, requires a separate deductible for claims.
Homeowners insurance isn't required by law, but mortgage lenders require it. This is because until the home is paid off, they hold the lien on it, and it's their asset. They want to know that you can build a new home and continue paying your mortgage payments or sell it and pay off the loan balance in the event of a total loss of the structure.
Once you're mortgage-free, you can drop your insurance coverage. This isn't without risk, though. Sure, you'll save about $1,000 a year or more, but can you afford to rebuild your house? Unless you're a multi-millionaire, the answer is probably "no."
How Much Homeowners Insurance Do You Need?
The amount of homeowners insurance you need will be roughly based on the value of your home and the contents inside.
Personal property coverage provides coverage for the contents of your home, including your clothing, furniture, and small appliances. Items like collectibles, sporting equipment, hobby supplies, and musical instruments are also covered.
So you're going to need enough insurance that it will cover a total rebuild of your house and replacing all of your possessions. You need to reassess your coverage limits each year because house prices increase over time, as do the cost of goods, materials, and labor to repair them.
How Is Homeowners Insurance Priced?
Your insurance premiums are based on several things, including the size of your home, its age, and its location. The larger the house, the more materials required to repair or replace it. The age of the home is essential to know because a five-year-old home will have fewer issues than an older home.
Also, location matters because of weather events and crime rates. Coastal areas experience severe rainstorms and hurricanes, which make premiums higher in Florida than in Arizona. Likewise, a home in an area with a high crime rate will be more expensive to insure than in a place where it's low.
Of course, your premiums will go up with each claim. One way to keep from filing small claims is to have a higher deductible. If your deductible is $2,000 versus $500, there's no point in filing a claim that's below $2,000 because you're going to pay the entire amount.
When you have a higher deductible, you need to be sure that you have that money easily accessible. Say you choose a $1,000 deductible; then you need to have that amount in an emergency fund or a savings account.
You can also ask your insurance company if you qualify for any discounts. Some standard discounts for homeowners insurance include:
Being a long-term policyholder with the same home insurance company

Bundling your homeowners and auto insurance policies together

Adding security features to your home

Being claim-free for a certain length of time

Your credit score
What Is Covered by Homeowners Insurance?
Standard homeowners insurance covers several things in four main areas:
The structure of your home and outbuildings

The contents of your home

Additional living expenses

Personal liability coverage
Your home's structure is protected by dwelling coverage, including from perils like fire, hail, vandalism, theft, rainstorms, and lightning. But not every type of natural disaster is included. For catastrophic natural disasters like hurricanes, tornadoes, and flooding, you will need your insurance agent to add a rider that covers each specific type.
Personal property coverage covers the belongings in your home, mobile home, or condominium. The amount of coverage you have is roughly 50 to 75 percent of the coverage of your structure. Make a home inventory so that you can determine whether this is enough. You may need to consider an umbrella insurance policy for extra coverage.
Additional living expense coverage is when you need to stay at a hotel while your home is being fixed due to a covered event, such as severe water damage or destruction from a fire. Or if you suffer lost rental income because your home is damaged and your tenants cannot stay in the house.
This loss of use coverage offers reimbursement for the costs of staying in a hotel while you wait to return to your home. It also covers some living expenses like food.
Personal liability insurance protects you if a guest gets injured or hurt on your property and sues you for damages and medical payments. It also covers you and your family away from home if one of your family members accidentally injures somebody else or damages another person's property.
Your coverage does not cover damage done to someone in your family or their medical bills. If your child jumps off the swing set and breaks their arm, your homeowners insurance will not cover this, but if it's your neighbor's child, they will. And if the neighbor sues you over this, your liability insurance picks up the legal fees and any court-ordered compensation.
Understanding the Home Insurance Policy Coverage Options
There are three types of coverage that your policy covers: actual cash value (ACV), replacement cost, and guaranteed cost. Here's a breakdown of how these compare.
Actual cash value coverage accounts for depreciation and inflation when adjusting the payout amount, so this type of policy is cheaper. You will get less money for your items when you make a claim.
Replacement value coverage will give you enough money for the covered loss to replace the item with a comparable one. It does not take depreciation into account, so it has a higher premium than ACV.
Guaranteed coverage means that the insurance provider guarantees they will pay the costs to get your house back to its original condition, even if that number exceeds the policy limit. This is good to have if you have a lot of customization in your home, like ornate tiling, woodwork, or granite countertops.
Let's say that you had a refrigerator that cost $1,500 brand new. Two years later, it was damaged when a tree fell in your kitchen. The actual cash value is going to account for the depreciation of your refrigerator over the past years, as well as inflation. So getting a check for $1,000 or less would not be unreasonable.
But if you have replacement cost coverage, you're going to get a check that will buy you a comparable item. If that refrigerator is still on the market and now costs $1,550, your insurance company will pay out $1,550 to buy it.
Replacement cost insurance is more expensive than actual cash value because it pays out more per claim since depreciation isn't included. You need to remember that over time, the cost to repair property damage goes up. You could not rebuild your home for what it cost when it was built 20 years ago.
Remember, your homeowners insurance policy doesn't cover ordinary wear and tear or accidents. When your kids accidentally toss a toy through the picture window, that repair cost is on you. Nor can you make a claim on a roof that's 25 years old just because it needs new shingles.
Insurance Riders
For collectible items and valuables, you need to get a rider, which is additional insurance that's attached to your home insurance policy. This gives you specific compensation for your jewelry, artwork collection, or whatever it is you need extra coverage on. You don't need a rider for the $30 department store earrings, but you do for the $3,000 diamond ones from the jeweler.
Compare Car Insurance Quotes Instantly
Personalized quotes in 5 minutes or less
No signup required
How to File a Claim on Your Homeowners Insurance
Filing a homeowners insurance claim isn't something that you do every day. Many people go years between filing claims, so let's look at what you need to do when something happens. Let's say that a rainstorm causes a tree to fall onto the roof over your kitchen during the night.
The first thing you need to do is ensure that everybody is safe. Look for broken wires and avoid them. Call your power company if the power is out or wires down so they come fix it as soon as possible. Also, put down towels or buckets to collect any water that may be coming in if it's still raining. You want to avoid additional damage as much as you can.
Next, you need to contact your insurance company to find out the requirements of filing a claim. Each insurance provider will be slightly different in what they want you to send into them before they send out an adjuster.
Gather the info they want and send it in so they can start processing your claim. If anything requires immediate repair, such as the hole in your roof that water is pouring through, let them know so they can tell you how they want it temporarily fixed.
Once you've submitted everything for your claim, wait for the insurance company to send out an insurance adjuster to evaluate the situation. To make the process faster and easier, prepare an itemized list of all the things that need repairing or replacing, as well as the cost for any personal property.
After the claims adjuster submits their assessment, the insurance company will authorize the repairs to be made. There are two common ways this is handled: the insurance company cuts you a check and lets you find a contractor to do the work, or the insurance company arranges it and pays the contractor directly.
Finally, an inspector may come back out to evaluate the quality of the work to ensure everything is good to go. They may send you an updated copy of your policy coverage to account for the repairs made.
Frequently Asked Questions
Homeowners insurance is not required by law, but lenders require homebuyers to have it to protect the lender's position on the loan.

No, you most likely don't. The caveat here is that you need to determine if it's a wise decision to drop your policy. Take this test to help you decide: If a weather event destroyed your house, would you be able to rebuild without a second thought? For most people, the answer is no, so keep the policy.

There are many things you can do to reduce your homeowners insurance premiums. Start with easy upgrades, like installing better locks and a security system. Add storm shutters if you're in an area prone to windstorms. Also, bundle your auto and home insurance with the same insurer.
Conclusion: Compare Homeowners Insurance Quotes to Save Time and Money
Now that you're well-versed in the world of homeowners insurance, it's time to save money on yours. Even if you already have a policy, it's a great idea to comparison shop rates once a year to see if you can get lower premiums from another provider.
When you use the Insurify comparison tool, just answer a few questions about your location and your home to get started. You'll get several quotes that you can review and compare. Once you've found one that fits your needs, complete the application online and start saving on your insurance today.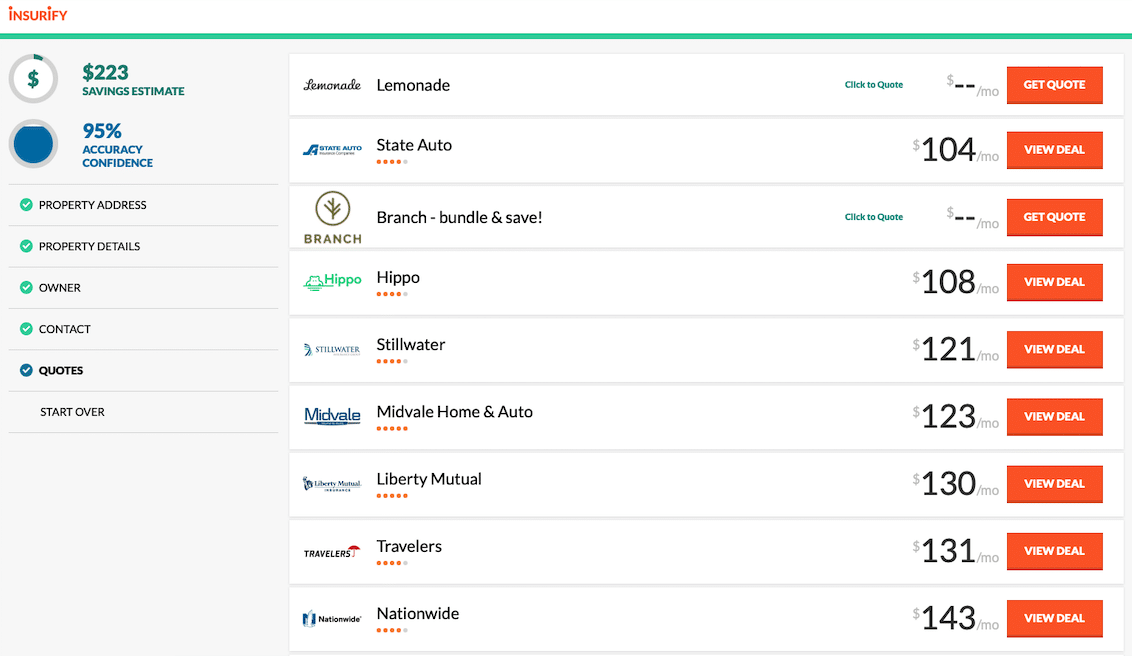 Compare Car Insurance Quotes Instantly
Personalized quotes in 5 minutes or less
No signup required
Data scientists at Insurify analyzed over 40 million auto insurance rates across the United States to compile the car insurance quotes, statistics, and data visualizations displayed on this page. The car insurance data includes coverage analysis and details on drivers' vehicles, driving records, and demographic information. With these insights, Insurify is able to offer drivers insight into how their car insurance premiums are priced by companies.