How much does home insurance cost?
There are many factors that help insurance companies quote you on your home insurance rates. Before committing to one company, you can compare homeowners insurance quotes.
Homeowners insurance is a complex topic for first-time homebuyers and real estate moguls alike. Choosing the right type of insurance coverage for your property will depend on many different variables. Which insurance company? What level of personal liability coverage? What coverage limit?
So many questions—plus, home insurance costs may be a prohibitive element to many homeowners. Prior to committing to the first insurance premium, you're offered by an insurance agent, use Insurify 's Home Insurance Comparison tool to get an estimate on how much you should expect to shell out annually for your homeowners policy. Average homeowners insurance rates vary based on many things. One thing that doesn't vary, though, is Insurify's reliability.
How Insurify's Home Insurance Calculator Estimates Your Home Insurance Cost
Several elements contribute to the cost of your home insurance premiums. Everything from ZIP code to property value may have an impact on what you pay each month to protect your investment. Additionally, where you set your coverage limits makes a difference too.
Your home insurance policy is made up of several parts. Each part contributes to the total cost of your policy. These parts are:
Property insurance: includes dwelling coverage plus other structures such as a garage or fence.

Personal property insurance: covers your personal belongings, aka what's in your house.

Liability insurance: includes coverage for medical payments during to an injury on your property.

Loss of use insurance: covers living expenses when your home is temporarily uninhabitable.
With all of these variables, how can you find accurate home insurance quotes?  Homeowners insurance covers lots of things, but certain factors may impact your rates greatly. Homeowners insurance rates can fluctuate based on the following list of factors. Here are some things that may increase or decrease what you end up paying for your insurance policy:
Replacement Costs
Never underinsure the value of your home. Without enough protection to adequately cover the value of your property and belongings, replacement costs after an accident will not be met. Estimated replacement cost is the amount of money it would take to rebuild a home to its pre-emergency status. This is different from market value, which takes other elements like land value into account. If you have lots of high-value personal belongings, like fine art or precious jewelry, you. may want to explore additional supplementary coverage for their protection.
Compare Car Insurance Quotes Instantly
Personalized quotes in 5 minutes or less
No signup required
Chosen Deductibles
A home insurance deductible, like that for medical or auto insurance coverage, is the amount an individual must pay to recover damages prior to their insurance company's coverage kicking in. The higher the deductible, the more you'll have to pay before assistance from your insurance company becomes available. With lower deductibles, your rates will decrease, but ideally, your deductible should reflect what you would be able to pay in the case of an emergency. Predecided policy limits will also determine your covered losses and the cost of your homeowner insurance premiums each month or annually.
Pets
Pets: they're loyal, fun…and expensive. You already have to worry about medical care, pet insurance, food, and toys for your furry friend, but did you know your dog's breed may impact what you pay for homeowners insurance? That's right, liability coverage on your homeowners insurance will protect you if your dog attacks a visitor, neighbor, or mailman. Certainly, more contentious dog breeds like pit bulls or Rottweilers may cause an increase in your dwelling coverage. They consider certain dog breeds to be more of a risky undertaking, thus increasing home insurance policy costs.
Energy
Sure, certain design elements such as a wood-burning stove may make your home cozy and warm during the winter months and even cut costs on your energy bill. However, these may also increase your home insurance premiums. That's because of the risk that a wood-burning stove poses to a building, and the extra protection insurance companies must reserve for your personal property coverage to protect against this risk.
Here's an interesting one. Do you work remotely from your home or run a business out of your house? If so, you may get a discount on your home insurance. That's because insurance companies consider the risk of home invasion and burglary lower if someone is home all day. Also, if you work from home, your homeowners insurance may offer limited coverage to business losses and other ongoing expenses for your out-of-home work experience.
Remodels
Increasing your home's value through construction or remodeling projects will also likely increase your home insurance premiums. Premiums directly reflect the value of your home. If something is costly to construct or update, it's probably expensive to cover, too. Keep that in mind when saving up for your next kitchen remodel—those granite countertops might cost you more than you think! Plus, with more square footage comes more to insure, so consider that too before adding onto your home.
Liability Limits
Personal liability limits should adequately reflect the amount of coverage your home needs in order to be protected. Higher assets warrant higher liability limits. Pinching pennies when protecting your property investment is a tempting but foolish thing to do. A vital step in protecting your home from property damage through sufficient coverage amounts is setting reasonable liability limits. There are different categories of liability. First, there's bodily injury. Bodily Injury liability limits will set the payout maximums in the case of someone being hurt on your property. The same goes for property damage liability limits, which will set the maximum for how much financial compensation you may claim to repair or replace property after damage occurs.
Unique Situations
Certain dwelling types demand different coverage needs than others. For example, it's recommended that a beachside home has sufficient flood insurance to protect it in case of rising waters or storm surges. The same goes for mobile or manufactured homes, which may require special forms of coverage to protect their unique needs.
As wildfires have grown more instense in recent years, homeowners with properties in wooded areas should also expect to pay more for homeowners insurance coverage. For example, in California, many homeowners have seen their property insurance rates rise quickly in the last decade.
Insurance Score
Insurance score, similar to your credit score, reflects your history with credit usage and claim filings. This score is determined by debt and other financial aspects. If you keep your credit cards paid off and keep your bankruptcy filings to a minimum, you shouldn't have to worry about your score. It does, however, even affect your ability to secure a premium. Keep those scores high!
Marital Status
Similar to your car insurance premiums, marital status may help you when looking to save on your home insurance cost. Historically, married couples file fewer home insurance claims, lowering the risk for the home insurance company. That being said, married couples can save on their home insurance coverage by filing together. Insurance companies consider married couples a lower risk because historically, they file fewer claims, and thus are seen as a lower risk.
Age and Construction of Home
The age of your home may affect the amount you pay in insurance coverage. There is actually a special home insurance category specifically for older homes, and the unique issues and risks they pose. Roofing and construction elements may cause increases in your premiums. Leaky roofs and shoddy construction pose higher risks for insurance companies, which will be reflected in your monthly premium costs.
Proximity to Emergency Services
Live next door to the fire station? Those annoying loud sirens could actually pay off. Living closer to emergency services will decrease your cost of insurance. This discount also applies if your home is within close proximity to a fire hydrant. This is easy in cities and suburbia, but what about more rural properties? Fire protection in less urban areas may be more sparse, thus increasing home insurance premiums. Your area can have a big impact on your homeowners insurance premiums, and ZIP codes can tell insurance companies a lot (crime rates, frequency of extreme weather, etc.)
Proximity to Ocean or Water
That ocean breeze and coastline vista is nice to wake up to each morning, but did you know proximity to bodies of water may affect how much you pay for your homeowner's insurance policy? That's right—when an insurance company insures a waterfront home, it has to consider the increased risk of natural disasters and flooding. That prime real estate will cost you long-term, even after the mortgage is paid off.
So if you live in a state like Florida, homeowners near the beach should expect their cost of homeowners insurance to be more expensive than what they'd pay for an inland property. The same goes for all Atlantic, Pacific, and Gulf states, including Hawaii.
Entertainment
We all had that lucky friend growing up with the sprawling backyard complete with a trampoline, pool, and diving board. Well, their parents were paying a pretty high insurance policy thanks to those fun activities. Due to the number of accidents that happen in and around things like pools, diving boards, and trampolines, insurers take on increased risk when they insure homes with these fun toys. Expect to pay more in your home insurance rates if you have these things in your backyard.
Bundling Opportunities
You may be able to save on your monthly insurance policies by bundling. With home and auto insurance bundle quotes, you may be able to save with bundling discounts if you choose to stick with one insurance company. Average costs decrease when you choose to combine. Plus, you may even be able to get some medical expenses and other personal possessions covered through these bundles. Some of the best home insurance companies have bundling options.
Homeowners Insurance Calculator: - Frequently Asked Questions
Even if you're not ready to fully commit to a new home insurance policy, there are tools online that allow you to estimate how much you should expect to shell out each month to protect your home with homeowners insurance. Insurify.com is a free tool that allows you to compare customized quotes prior to committing to a single home insurance company.

Home insurance companies take a handful of factors into account prior to quoting you a monthly rate. These factors include your home's age, exact location, demographics, and history as a policyholder.

Comparing quotes on online homeowners insurance comparison site is the easiest way to compare quotes and safe on your homeowners insurance. But with so many options on the internet, what's a finance-savvy homeowner to do? Enter, Insurify. Insurify helps users through the entire insurance shopping experience. That way, homeowners know they're getting the best and cheapest home insurance available to them.
The Best Way to Save on Home Insurance: The Bottom Line
As you now know, it's not simply ZIP code or property value that impacts how much you pay in homeowners insurance each month. There are numerous elements that may increase or decrease the amount you pay to protect your investment. The best trick to finding the cheapest home insurance is by comparing rates from different companies side-by-side. There are many tools available to insurance shop, but make sure you choose the best comparison tool. Lenders require home insurance prior to signing off on loans, so even if you're still playing with the idea of purchasing a home, Insurify makes it easy to get price estimates.
Be sure to compare homeowners insurance companies and other insurance products before committing to the first policy you see. Finding cheap home insurance has never been easier– use Insurify to find the best home insurance option for you. Insurify 's homeowners insurance calculator has your back – let's find you the best rate available. Renters can save big on renters insurance too, check out or guides.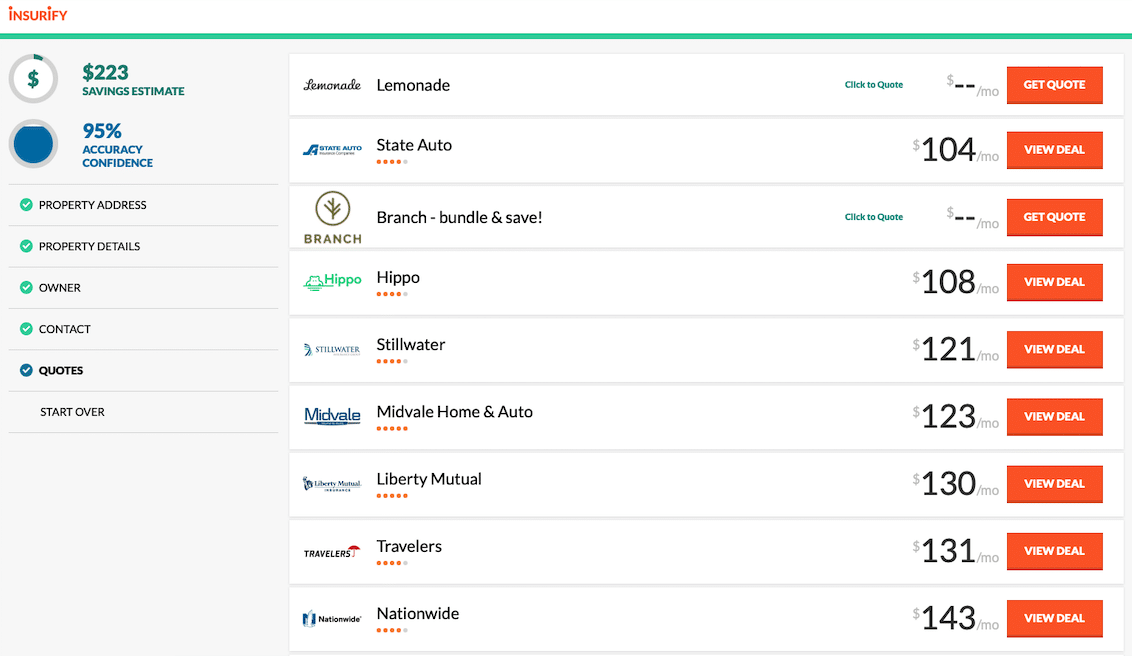 Compare Car Insurance Quotes Instantly
Personalized quotes in 5 minutes or less
No signup required
Data scientists at Insurify analyzed over 40 million auto insurance rates across the United States to compile the car insurance quotes, statistics, and data visualizations displayed on this page. The car insurance data includes coverage analysis and details on drivers' vehicles, driving records, and demographic information. With these insights, Insurify is able to offer drivers insight into how their car insurance premiums are priced by companies.