Hippo homeowners insurance could be your future home insurance company.
Every homeowner has unique needs when it comes to their insurance policy. Insurify can help you decide if this is the right insurance company for you.
Hippo Insurance says it's taking a fresh approach to home insurance. Just how fresh is it?
As more and more tech companies enter the insurance industry, it's hard to know who's doing it right. Hippo Insurance spent two years laying the groundwork for a revolutionary home insurance experience, and its customers (so far) seem to be loving it. The modern website makes purchasing easy, and customer service is available by phone every hour of every weekday.
For customers looking for a more traditional experience, Hippo probably isn't the best company. It doesn't have in-person agents, and there won't be an office nearby. But for tech-savvy customers looking to save some time and likely some money, Hippo is a good option.
How Hippo Insurance Works
Officially launched in spring 2017, Hippo Insurance was founded to disrupt the home insurance market. The ideas, though ambitious, were pretty simple:
Reduce costs to the customer

Make the quote and buying process faster than ever before

Get customers fully covered for everything they need
How Hippo accomplishes (or attempts to accomplish) this herculean task is multi-pronged.
For starters, Hippo is a tech company. As such, the developers there aim to stay on the cutting edge, whether this means gathering aerial photography or property history from a myriad of sources or using feedback to improve customer experience. Customer service lines are open 24 hours Monday through Friday, and they're available by email and Facebook Messenger.
Another key to the Hippo puzzle is its partnerships with insurance providers. Policies with Hippo are underwritten by Spinnaker Insurance Company and TOPA insurance. Additionally, the world's largest reinsurer Swiss Re provides further support.
What is a reinsurer? A reinsurer acts as a financial safety net for homeowners insurance companies that carry more risks than it can handle. To be able to reasonably live up to the policies it's already written while taking on new business, an insurance company transfers some of its risk to a reinsurer.
In addition to the network of partnerships, Hippo offers some bells and whistles not usually seen. The perk that stands out the most is complimentary home monitoring by the "Smart Home Sensor Kit" provided by the company. Customers who sign up to receive one also get a discount on their insurance policy.
Hippo Smart Home
One very cool benefit you can get by working with Hippo is access to their Smart Home Monitoring System. Through this program, you will be equipped with smart home devices
To access Hippo Smart Home, you must sign up for a policy that includes it. There are two packages. The first is a self-monitoring system. Alerts are monitored via an app on your phone. The device can detect smoke, carbon monoxide, motion, and water leaks. You get a 10 percent discount on your policy for enrolling.
The second package offers professional monitoring with a 13 percent discount on your policy. You'll get multiple devices including a camera, smoke detector, and sensors that detect water and entry. Burglars beware!
How much can you save with a smart home discount? According to hippo.com, the average user saves $64 a year with the self-monitoring system and $91 a year with the pro-monitoring kit. Not to mention, a whole lot of extra peace of mind.
Hippo Claims Process
Hippo offers a dedicated "Claims Concierge" team. Team members there walk you through the claims process so that you feel empowered about how things work. They also connect you with adjusters and service providers. They will even help you coordinate remediation.
Hippo states that their goal is to treat your claim like their own. And from several customer reviews, we can see that this philosophy holds true in practice is many cases.
The Cost of a Hippo Policy
Based on 25,766 quotes generate on Insurify, we found that the average monthly cost for a Hippo insurance policy was $214 a month. However, in some states, home insurance costs are much higher than the national average. Excluding the two highest states —Alabama and Missippi—the average monthly cost for Hippo home insurance is $180.
See the chart below for the average in your state.
Where Hippo is Available
Hippo Insurance is currently licensed in 35 states. These are:
Hippo Insurance does not currently have any brick and mortar offices, with no plans as of this writing to build local offices.
Compare Car Insurance Quotes Instantly
Personalized quotes in 5 minutes or less
No signup required
Hippo's Online Experience
Three questions and 60 seconds to a home insurance quote is no small feat, yet this is what Hippo both promises and delivers. In addition to using the website, customers can also receive a quote over the phone or via Facebook Messenger.
I decided to try the online form, so I opened the Hippo homepage and started my stopwatch. With an admittedly poor internet connection, I received a three-tiered quote in 82 seconds. The information was relatively easy to understand, though I wasn't entirely sure about what was included versus what wasn't included.
Each coverage component is given a dollar amount below it, or it says either "included" or "not included." When the dollar amount stands alone, it isn't entirely clear if that makes it "included" or "not included." Furthermore, these coverages fall under a heading title, "Hippo exclusive enhanced coverage," making it hard to tell if these coverages are enhanced add-ons or enhanced standard offerings exclusive to Hippo.
Even so, it didn't take long to discover that all the coverage components are included unless otherwise noted. It was also easy to compare how much coverage was being purchased within each category, making it simple to find what was actually needed.
Hippo Insurance Coverages
Hippo offers homeowners insurance and condo insurance. Hippo home insurance policies cover the dwelling and other structures on the property, as well as the usual suspects:
Personal liability coverage

Medical payments

Loss of Use

Water backup
And a few unusual standard coverages:
Home office equipment coverage designed to go beyond the usual coverage of personal property

Domestic worker's coverage for people employed to work in your home

Equipment breakdown coverage for home appliances
Other riders can be added to policies for an additional charge depending on homeowner needs. Many can be very advantageous to policyholders, such as replacement cost coverage. Coverage options can also be adjusted easily after purchase.
And remember that your claims will always only be covered up to the coverage limit, after your deductible. Coverage limits affect pricing. The higher the limit, the higher the price. So be sure you have enough to cover what you need, but not more than you can reasonably expect to use.
Other Insurance Products from Hippo
More than home and condo insurance, Hippo offers policies and extra riders to help customers get fully insured. These include:
Earthquake coverage, underwritten by partner Palomar

Flood coverage, underwritten by Neptune Flood and the National Flood Insurance program

Investment properties, aka Landlord insurance

Vacation homes
While no announcements for specific insurance lines have been made, the customer service line "just tell us what you're looking for" suggests that Hippo Insurance is researching, planning, and developing for future lines.
Coverages Not Offered by Hippo
At this time, Hippo Insurance does not write policies for:
Pet insurance

Health insurance
Available Discounts
Offering insurance discounts to customers is a common practice among the largest insurance companies. Lower rates are available to people with high credit scores, which is relatively standard. In addition to possible local discounts, policyholders can receive the following rate cuts:
Purchasing a policy more than seven days before the beginning of the policy term

Soon-to-be new or new homeowners discount (for policyholders either in the process of their buying their first home, or who purchased their new home in the last three years)

HOA discount for homeowners who are members of a homeowners association

Mortgage-free discount for homeowners who have paid off their mortgages

Installing sprinklers or having conveniently located fire extinguishers
Hippo Home Insurance Reviews: Customer Satisfaction
The customer service at Hippo tends toward high marks, especially during the buying process.
Ramtim N. from San Jose, California had an execellent experience. "I purchased a home in SF a few months back and finding an insurance policy was a nightmare. I called the usual suspects and it was never clear to me what my policy entailed, and what speficially I was paying for. One of my friends turned me on to Hippo and the process could not be more transparent or simple. I found my policy in no time and undstood all my coverage and what I was entitled to in what scenarios. I highly recommend their product."
Customers even write positive reviews for the claims process—quite a feat for an insurance company, as across the board, the industry gets very low marks during insurance claims.
Heather B. gave Hippo a 5-star rating. "I could not be more impressed. I switched to Hippo about a year ago and got more and better coverage for less money. During Chicago's crazy weather, a window blew open into my condo while I was out of town. Building maintenance defrosted pipes but didn't think of the airconditioning unit which broke and flooded by place. I was afraid Hippo would treat this like the airlines when weather cancels a flight, an Act of God with no help to offer. Hippo couldn't have ben more wonderful. THey compeltey paid for all repairs without a hitch. I recently got my renewal notice and not only did my rate not go up – it went down $9.00 for being a Comcast customer. I highly recommend!"
And even when policy terms go awry, customers site that customer service members seem dedicated to making things right.
Azfar A. gave Hippo a 4-star review. "I went with Hippo last year and their rates were good. I did get a NOTION and it is good to have. Sometimes when we
Two complaints top the charts for negative reviews of Hippo Insurance. One source of confusion and frustration by customers is the lack of clarity concerning underwriting partners. Several negative reviews suggest that customers were not aware of the underwriting process at Hippo.
Abbas T. of San Juan Capistrano, California expressed his concerns along with a 1-star rating. "The technology and ease-of-use is light years ahead of the competition. Truly admirable and give them an A+ for that. I just feel like they're very deceptive in communicating who your home is actually insured with. For most people home are their most valuable assets and its important to make sure its insured with a company you're at least familiar with. Hippo is the agent, broker, or sales person in this case. They don't pay out or handle claims. What good will all the technology in the world do if you're insured with a no-name carrier with no claims support? You really have to dig dig dig to find out who the actual insurance company is and for that reason I give them a one-star rating. It shouldn't be a mystery who my home is insured with, and I don't feel good about insuring it with a cmoanpy like Topa, who I, and most people have never heard of."
Another source of confusion is one of the features that sets Hippo apart: the Smart Home Sensor Kit. Customers who purchase a policy receive a kit and a discount on their policy. However, they must also activate it to continue receiving the discount. This has sometimes caused confusion:
Edd gave Hippo a 1-star rating. "Very dishonest and decideving company. I just bought a house and decide to use Hippo, rates were reasonable and paid for the full year. Next thing I know I get a package that needs to be installed and hooked up to the internet. I review my quotes and final documentation from Hippo and nowhere on these documents does it state that I need to have this smart home device connected to the internet to keep my rate that I already agreed to and paid. I tried emailing Hippo, but was ignored when I asked for proof of when I agreed to this device. Then I called and received a very rehearsed answer. After reading reviews, this seems to be a common issue. They clearly are not looking for long-term customers. I would suggest you AVOID HIPPO."
The Best Way to Save on Home Insurance
Want to know if Hippo has the best rate for you? Check out Insurify 's rate comparison tool and get quotes from Hippo (if available in your state) and other top homeowners insurers today! Save money and find the best coverage, all in a few clicks.
Hippo Insurance FAQs
Hippo Insurance is a home insurer and tech company that strives to reduce policyholder costs, make the quote buying process more efficient, and optimize customer coverage. It was officially launched in 2017 and offers home insurance policies in 21 states.

Hippo Insurance was founded in 2015 by co-founders Eyal Navon and Assaf Wand. Policies with Hippo are underwritten by Spinnaker and TOPA Insurance. Additionally, the world's largest reinsurer Swiss Re provides further support.

Instead of going from website to website, use a home insurance quotes comparison site like Insurify to compare multiple quotes at once. Compare top companies in your area in mere minutes. You can even choose to buy a cheap home insurance policy fully online.
More About Hippo Insurance
Hippo Insurance Services (Hippo) was launched in 2015 by co-founders Eyal Navon and Assaf Wand. It has received investments from GGV Capital, Horizons Ventures, Comcast Ventures, Iconiq Capitaland FinTech CEOs/investors Pete Flint (Trulia) and Matt Humphrey (LendingHome), among others. Hippo has some of the best ratings in the industry and has a history of ranking highly when it comes to financial strength rankings including an A- from AM Best and 3.76/5 form BBB.
The insurtech startup is based in Palo Alto, California. In 2018, the Hippo opened a customer support center in Austin, Texas.
Hippo Insurance Contact Information
Customer portal
Click here
Headquarters address
191 Castro St.
Mountain View, CA 94041
Website
www.myhippo.com
Customer support phone number
1 (800) 585-0705 Monday-Friday 24 hours a day
Email address
support@myhippo.com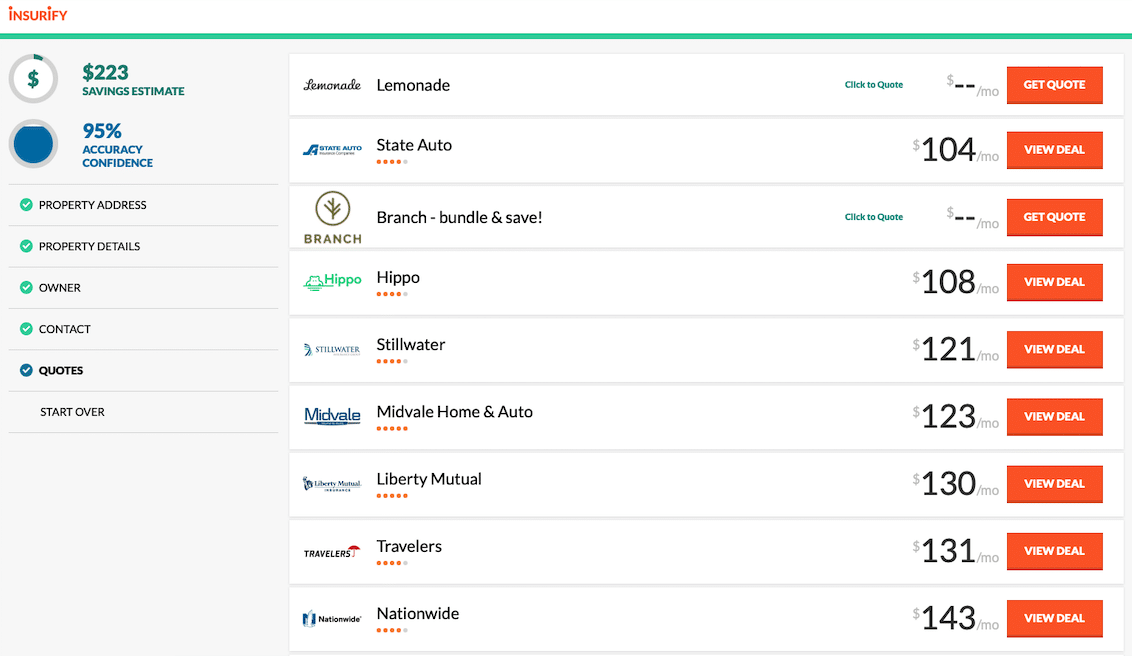 Compare Car Insurance Quotes Instantly
Personalized quotes in 5 minutes or less
No signup required
Data scientists at Insurify analyzed over 40 million auto insurance rates across the United States to compile the car insurance quotes, statistics, and data visualizations displayed on this page. The car insurance data includes coverage analysis and details on drivers' vehicles, driving records, and demographic information. With these insights, Insurify is able to offer drivers insight into how their car insurance premiums are priced by companies.