None
When shopping for a house, you spend a significant amount of time dreaming about the colors you'll paint the walls, how you'll arrange the bedrooms, and the many nights you'll spend there with your family.
But have you thought about how you'll protect your home, belongings, and all of those precious memories? That's where homeowners insurance comes in.
Erie Insurance has been around for more than 90 years. With over 13,000 independent agents, the company offers several coverage options to customize your policy and discounts to save you money.
Whether you're shopping for home insurance for a new home or looking to update your existing policy, Insurify can help. Use our custom quote-comparison tool to see insurance rates and policy options side by side quickly.
Erie Home Insurance Coverages
Homeowners insurance is the same, no matter where you buy it, right? Not so fast. Coverage options and exclusions vary among insurers. Make sure the company you choose can do what it's supposed to and protect your most important investment—your home.
According to its website, Erie offers property insurance across various dwelling situations. The company can cover your insurance needs if you:
Own a Home
They say home is where the heart is. A homeowners insurance policy can offer coverage for your house and belongings, as well as personal liability coverage if someone is hurt in your home.
However, Erie goes above and beyond by offering home insurance policies with guaranteed replacement cost coverage. Many homeowners don't know the difference between actual cash value and replacement cost insurance. With guaranteed replacement cost, you won't have any surprises when filing a claim, even if you need to rebuild your entire home.
Rent Your Space
Why do you need renters insurance? Your landlord's policy doesn't cover your personal belongings. Erie's renters insurance comes with many different features that make it simple to protect your items. Renters insurance can provide coverage if you have personal things stolen, damaged, or destroyed.
Plus, your policy includes liability protection. If someone is injured while on your property or slips and falls in your home, a renter s policy can help pay for their medical bills, lost wages, and more.
Own a Condo
Condo owners have needs that are very different from a typical homeowner. Your condo master policy may cover the walls and flooring inside your unit. But your personal belongings? You need individual condo insurance, called an HO-6 policy, to protect your possessions.
Calculate how much condo insurance you need, then contact an Erie agent for a custom insurance quote.
Own a Mobile or Manufactured Home
The coverage you get from the best mobile home insurance companies is similar to a standard homeowners policy. Erie Insurance gives you custom coverage to protect your mobile, manufactured, or modular home.
Need Flood Coverage
Flooding is the most common natural disaster in the U.S. According to the Insurance Information Institute, the damage can be substantial—the average flood insurance claim in 2018 was $42,580. If you live in a flood-prone area or want the protection flood insurance can offer, Erie's flood insurance coverage can help.
Use Airbnb or Home-Sharing
Airbnb and other home-share sites are growing in popularity. But what about Airbnb insurance?
It's a serious question. Standard homeowners insurance may not cover damage from a guest if you rent your entire home or even just part of it. Erie's home-sharing insurance protects against property damage, theft, and liability claims.
Collect or Buy Expensive Belongings
Erie Insurance offers personal valuables insurance to protect collectibles and expensive items you own. For example, the cost to replace jewelry, artwork, musical instruments, bicycles, or stamp collections may exceed your policy limit.
Rather than get caught off guard when disaster strikes, get coverage for your valuable items from Erie.
Components of an Erie Home Insurance Policy
Now that you know the types of insurance products you can get with Erie, let's dive into the protection a policy typically includes.
Homeowners insurance is a collection of policies and includes four essential coverages:
1. Dwelling Coverage
Dwelling coverage protects the structure of your home—the walls, roof, foundation, and staircases. Most policies also include coverage for "other structures," such as a garage, tool shed, or gazebo.
Standard coverage can include damage from fire, hurricanes, hail, lightning, or other perils your policy lists.
The key to dwelling coverage is to make sure it's enough to rebuild your home if a hazard destroys it. You may need to update your Erie policy yearly to keep up with inflation and fluctuation in market prices.
2. Personal Possessions
Your policy can cover your furniture, clothes, sports equipment, and other personal property. According to the Insurance Information Institute, the best way to make sure you have enough coverage is to create a home inventory.
A home inventory should include personal items stored in and away from your home. However, policies usually have a cap on how much they'll pay to repair or replace expensive items like jewelry, furs, and collectibles. Erie's personal valuables insurance can make sure you have enough coverage.
3. Liability Protection
While you'd rather not have someone injure themselves in your home, accidents happen. The liability protection in your policy covers you against lawsuits for bodily injury and property damage.
Each policy varies slightly, so check with your Erie Insurance agent for specifics on the amount of personal liability and medical payments coverage available.
4. Loss of Use
If a fire, hurricane, or other hazard destroys your home to the point that it's uninhabitable, you'll need a place to stay while repairs are being made.
Luckily, Erie's policy includes loss of use. Sometimes called additional living expenses (ALE) coverage, loss of use pays additional costs of living away from home due to damage from a covered disaster.
Compare Car Insurance Quotes Instantly
Personalized quotes in 5 minutes or less
No signup required
Optional Coverages for Your Erie Home Insurance Policy
No two homes or homeowners are alike. That's why Erie offers policyholders additional coverages to personalize their home insurance protection. When you talk to an Erie representative, ask about these optional add-ons for your policy:
Water backup and sump overflow

Personal liability

Identity theft recovery

Service line protection
Optional coverages can increase your insurance rate. However, they are an excellent way to cover perils a standard policy doesn't cover and expand your current coverage level, according to the National Association of Insurance Commissioners ( NAIC ).
Available Discounts
Keeping your insurance costs in check is an essential part of setting up your coverage. Homeowners insurance is a competitive industry, and companies can offer policy discounts to help you save money on your policy. Discuss these options with your local Erie agent:
Discount for installing a smoke, fire, or burglary alarm or an automatic sprinkler system

Discount for getting a home insurance quote seven to 60 days before your existing policy renews

Discount for combining Erie auto insurance with home insurance, including rate lock and accident forgiveness
A multi-policy discount of around 20 percent is available for motorists when combining homeowners or renters insurance with their auto coverage.
Erie Home Insurance Reviews: Customer Satisfaction
Erie gets good marks when it comes to insurance reviews. U.S. News ranks the company in third place for Best Homeowners Insurance Companies of 2021.
Consumer Affairs rates the company 3.8 out of 5 stars. Erie customers generally express positive reviews about the local agents and claims satisfaction.
On Trustpilot, the company earned 3.4 out of 5 stars. Of the three reviews on the site, two are positive, and one is negative. The customer complaint is about how the claims process was handled. Other reviewers express happiness with the price and service Erie provided.
Erie earns high marks in customer service and financial standing. Fortune ranks the company 347 on the 2021 Fortune 500 list. The insurer has reliable reviews and rankings from J.D. Power, A.M. Best, and the Better Business Bureau.
J.D. Power Customer Satisfaction Rating: 891

A.M. Best Rating: A+ (Superior)

Moody's Financial Strength Rating:

Better Business Bureau Rating: A+
Frequently Asked Questions
Yes. Erie Insurance was founded in 1925 and has issued more than six million policies for auto, home, and business insurance. As a car insurance company, Erie provides roadside assistance, auto glass repair, and full coverage. The company also offers life insurance, long-term care insurance, and identity theft recovery coverage.

Erie isn't available in all states. You can get a home or auto policy from Erie if you live in Illinois, Indiana, Kentucky, Maryland, New York, North Carolina, Ohio, Pennsylvania, Tennessee, Virginia, West Virginia, Wisconsin, or the District of Columbia.

Yes. Erie Insurance customers can access policy information, pay premiums, view billing activity, and check claim status on the go by downloading the mobile app. It's available for iOS and Android devices.

A multi-policy discount is available when you combine Erie car insurance and homeowners insurance. You could also qualify for reduced pricing for installing smoke or fire alarms. Increasing your deductible is another way to save money on insurance. Higher deductibles transfer more of the financial risk to you, and insurers reward you with lower premiums.
The Best Way to Save on Home Insurance
Want to know how low your policy can go? Get a real quote or two, or several, with Insurify today.
Erie Insurance Overview
We hope this Erie Insurance review was helpful in your search for homeowners coverage. After all, buying home insurance isn't a task you should take lightly—your home is where your memories are made and your prized possessions are kept.
Fortunately, Erie makes the process straightforward. The company has over 13,000 local agents in 12 states and the District of Columbia. Policyholders can download the mobile app for easy access to policy documents, claim status, and billing information.
Erie Home Insurance Contact Information
| Department | Contact |
| --- | --- |
| Customer Service | 1 (800) 458-0811 |
| Claims Services | 1 (800) 367-3743 |
| Website | www.erieinsurance.com |
Use Insurify to compare homeowners insurance premiums for your property in your area.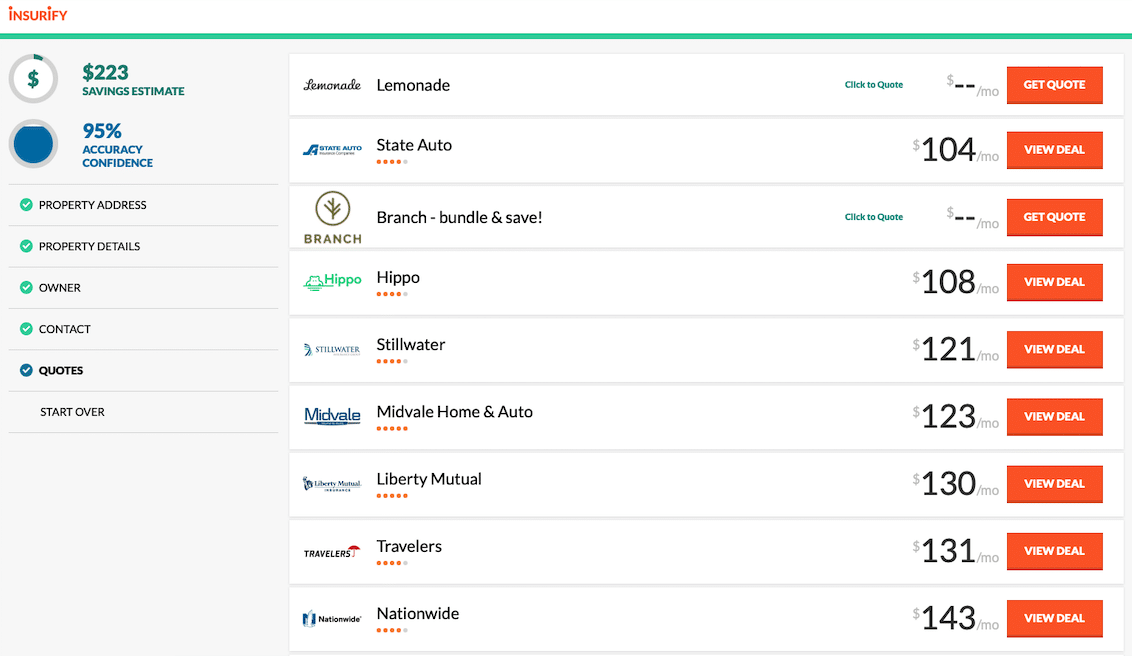 Compare Car Insurance Quotes Instantly
Personalized quotes in 5 minutes or less
No signup required
Data scientists at Insurify analyzed over 40 million auto insurance rates across the United States to compile the car insurance quotes, statistics, and data visualizations displayed on this page. The car insurance data includes coverage analysis and details on drivers' vehicles, driving records, and demographic information. With these insights, Insurify is able to offer drivers insight into how their car insurance premiums are priced by companies.