I'm a first-time homeowner, what do I need to know about insurance?
Home insurance is critical to protect your residence and personal belongings and is required by virtually all mortgage lenders. It also provides you with liability protection.
A home is probably one of the most expensive purchases you'll ever make, so you should protect it. Homeowners insurance will help pay to repair or rebuild your house, replace your belongings, or cover personal liability if someone's injured on the premises. You'll have a few coverage levels to choose from, and you should always compare prices before buying a policy. But you don't want to skimp on this insurance, because your home and finances are on the line.
Did you know? Insurify makes it super simple to check rates on homeowners insurance coverage from top-rated companies like Allstate, State Farm, and Farmers. Just answer a few questions about your home, like the address, the age of the house, and the amount of coverage you need. Submit the info and get home insurance quotes in less than two minutes. It's that easy. Try it today!
How Home Insurance Works
As with other types of insurance, you give the company regular payments (called insurance premiums ) in exchange for their commitment to pay for damage if it occurs. Homeowners policies also cover your liability if someone gets hurt in your home or if you/your family/your pet unintentionally harm someone else or their property. Costs in property damage or liability can be exorbitant, and without insurance, you'd have to pay out of pocket and up front.
With home insurance, though, you file a claim and your insurer will assess damages to determine your compensation.
Beyond your premiums, you'll also have a deductible —the amount you're required to pay before your insurance kicks in. The deductible will either be a flat amount or a percentage of the insured home's value. You might be tempted to choose a low-premium plan with a higher deductible, but keep in mind that you'll be responsible for more of the cost should damage or loss occur. With higher-premium plans, the insurance company will pick up more of the tab.
What's Covered with Standard Home Insurance
A standard homeowners insurance policy covers:
The structure of your home

Additional structures like fences or sheds

Your personal property, up to your policy limit. Most plans offer this kind of coverage for the equivalent of 50 to 70 percent of the value of your home. Be sure to make a home inventory of your belongings in advance of any potential damage.

Additional living expenses while your home is being repaired or rebuilt

Liability coverage for bodily injury or property damage caused by you, your family, or pet, either unintentionally or through neglect. This also covers legal fees if you get sued over any of those damages. Liability limits can range from $100,000 to $300,000, though the higher end is recommended. You can get extra liability insurance through an umbrella policy, which might be wise if you have considerable assets and/or are at higher risk of lawsuits (e.g., if you're a landlord, coach sports, or in the business of reviewing products). Umbrella coverage is comparatively inexpensive for the amount of coverage you get. An extra few hundred dollars of insurance can potentially give you $1 million in additional liability coverage.
Your plan will have a list of " covered perils. " The most common type of home insurance plan, called an HO-3, covers you in the event of:
Fire and lightning

Damage from wind and hail (though if you live in a hurricane-prone area, you will likely need windstorm insurance as well)

Explosion

Riot and civil commotion

Damage caused by vehicles and aircraft

Smoke damage

Vandalism (or "malicious mischief," as insurance companies sometimes call it)

Theft

Volcanic eruption

Falling objects

Weight of ice, snow, and sleet

Water damage from accidental overflow of a household appliance or plumbing, heating, air conditioning, or automatic fire sprinkler systems

Sudden freezing or accidental tearing, cracking, burning, or bulging of those systems

Damage from a power surge
What's Not Covered with Standard Home Insurance
Standard home insurance coverage does not include:
Flooding due to weather or sewer backup (you can, however, buy separate policies for flood insurance and sewer backup insurance)

Earthquakes (you'll need earthquake insurance for that)

Landslides and sinkholes

Infestations by birds, vermin, fungus, or mold

Wear and tear

Damage caused by your neglect

Nuclear hazards

Government actions, including war

Power failure
This probably goes without saying, but home insurance plans will not cover damage you intentionally cause just to get the insurance payout. That's called insurance fraud! It's illegal, and we advise against it.
Levels of Home Insurance
There are a few different levels of coverage you can choose from:
Actual Cash Value: This pays to replace your home and/or possessions minus a deduction for depreciation.

Replacement Value : This pays to replace your home and/or possessions without a deduction for depreciation.

Guaranteed/Extended Replacement Cost: This pays to repair or rebuild your home even if the cost exceeds the policy limit. This is useful because construction costs can increase over time or spike after a natural disaster. Guaranteed plans pay the full cost to repair/rebuild, no matter how high, while extended plans will pay a percentage (usually 20 to 25 percent) over your coverage limit.
Note, though, that these policies do not cover the cost of upgrades required for compliance with current building codes. You can get additional coverage for this through an ordinance/law policy.
Cost of Home Insurance
In 2020, average home insurance rates for standard policies were around $1,600 a year. The cost can vary greatly based on where you live, your credit score, and how much coverage you buy.
Insurance companies also consider:
The age, condition, and materials of your home

How much it would cost to rebuild

Distance to the nearest hydrant

Your city's fire protection rating

Your insurance claims history, including frequency and severity

The claims history of your home and neighborhood; if you're buying a home, ask the current owners for a CLUE report

Home additions with a high risk for injury, like pools or trampolines, can increase your price by 10 percent or more
How to Save Money on Home Insurance
While you don't want to skimp on your home insurance, there are a few ways to lower the cost.
Shop around! Get insurance quotes from several companies. Speak to actual insurance agents, especially once you narrow in on a plan or two.

Install a security system for your home.

If you're planning renovations, consider the materials you build with. For example, wood is more expensive to insure than cement or steel because it's more easily damaged.

See if you can bundle your home and car insurance plans.

Install smoke detectors if there aren't any.

Ask your insurer if installing carbon monoxide detectors, a sprinkler system, dead bolt locks, or weatherproofing would lower your premium.

You can raise your deductible in exchange for a lower premium, but remember that it comes with the risk of more financial burden in the event of damage or harm.
FAQ: Home Insurance 101
Insurance companies can generally cancel a policy within the first 60 days for any reason. Beyond that, they must cite a specific reason and give you at least 10 to 30 days' notice. Companies can also decide not to renew policies when they expire, and they must also give you ample notice for this.

If you live in your home, no. If you rent out your home or have a home office, a portion of your home insurance might be deductible. Talk to your tax advisor.

Get renters insurance! Some landlords even require it. As always, shop around, compare prices, and make a photo inventory of your belongings in advance of any damage.
Conclusion: Homeowners Insurance Protects Your Residence, Belongings, and Finances
Shop around for the best price, but make sure you are fully covered—damage and liability costs can be sky-high. Should you ever need it, home insurance is well worth the cost. And Insurify makes it easy to find the best price on your policy fast.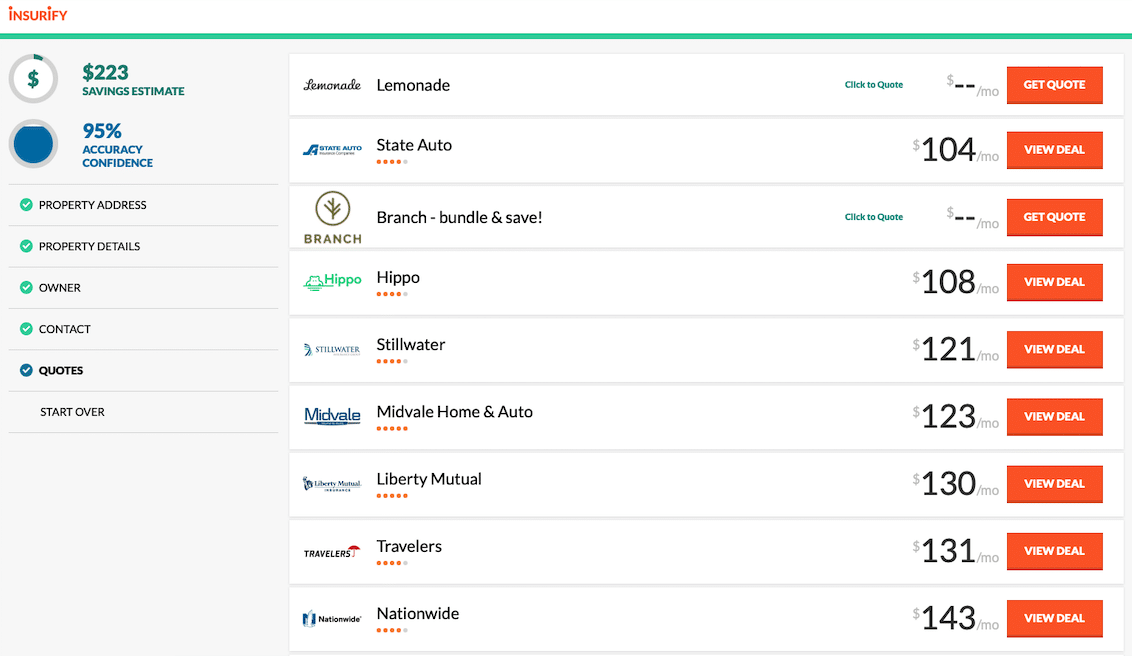 Compare Home Insurance Quotes Instantly
Personalized quotes in 5 minutes or less
No signup required