These days, families everywhere are grappling with hard decisions, including where an elderly parent should reside. Between nursing homes, retirement villages, and senior care facilities, it's often a daunting task to relocate aging loved ones. So how do you answer the age-old problem while keeping the grandparents close to home? Granny pods are a modern solution.
Insurify is here to make home insurance easier. Use us to compare homeowners quotes and save so you and your entire family can live happily in your home.
What Is a Granny Pod?
With the costs of medical care on the rise, full-service nursing homes are expensive. In addition to that, family members can be racked with guilt over leaving an aging parent alone. The solution many families end up turning to is having aging parents move in with them. But what if your space is just too small? What if you want to give you and your kids more privacy and keep the same lifestyle? The best option is a "granny pod."
Granny pods are essentially tiny houses on your property that your parents or in-laws live out their golden years in. Granny pods are also known as ADUs or "accessory dwelling units." Think of a granny pod as a guest house, casita, or detached in-law suite where your loved ones live close by yet still hold on to a portion of their independence.
Follow along in our guide to granny pods as you learn more about them, find ideas on how to make these tiny homes unique, and see how granny pods can work for you.
How Do Granny Pods Work?
Granny pods are little houses, separate from your main home. They work differently from a guest house because they are designed with safety and accessibility. For instance, floors may be slip-resistant, doorways are wider to accommodate wheelchairs, and countertops may be rounded or designed to resist bumps that often trigger falls.
Installing a granny pod is easier than ever before. These days, you can purchase a cabin kit or prefabricated MEDCottage from Amazon. If you're not familiar, a MEDCottage is a small cottage with medical options made to be installed in the backyard behind the main dwelling space. It's almost like an extensive home hospital room. Some people even lease out MEDCottages (zoning permitted, of course).
How Granny Pods Are Different from Mother-in-Law Suites
Mother-in-law suites are generally attached to the home as a separate room in a basement, in an attic, or above a garage. A granny pod is more like a cottage or bungalow, usually freestanding or with its own separate entrance.
Inside, they're like a tiny house or a hotel suite, with over 280 square feet for living space. They usually include a kitchenette, a bed, and a bathroom. They might consist of safety features like first aid supplies, lit-up floorboards, hand railings, defibrillators, soft floors, and accessible showers. Wide double doors or french doors can be added to accommodate wheelchairs, while still looking as elegant as a typical single-family home.
There are all kinds of floor plans and styles available at affordable prices. To put one together, you may want to hire a professional to install a kit, or you could do it yourself.
Family Members and Aging Family Members Together
Granny pods are essential in allowing families to get to know their aging family members and create memories they'll carry forever. With an assisted living facility, your family may feel uncomfortable to visit, as most facilities are cold and depressing. Granny pods bring family members together with their parents or grandparents. They live close enough to see them nearly every day yet keep enough distance to give each party independence. Plus, your aging family member or members will feel at home, not like they're in a cold hospital.
Surprising Granny Pod Ideas
You may be wondering where you can put a granny pod. The easy answer is that, with enough space, a granny pod can go right in your backyard. If you do not have space in your backyard, plans are available for garage attachments. Of course, where the granny pod goes also depends on your aging parents' abilities. You wouldn't want to build a granny pod on top of an attic if they cannot get up and downstairs. Keep this in mind when finding the space on your property for the granny pod to go.
You'd be surprised how many ideas you can find on Google or Pinterest. One search brings up hundreds of granny pod plans. Southern Living and Country Living also offer tiny house plans that you can make.
Small Home/Granny Pod Ideas for the Backyard
With so many ideas for granny pods on the internet, the options can be overwhelming. It would help if you thought of the essentials to accommodate your aging parents, such as square footage, a full bath, living space, kitchenette, HVAC, and other utilities. Thankfully, most of the water, sewer, and electrical can be hooked up with your main home. Here are the most popular designs ideas for granny pods:
Granny Pod DIY
Buying a granny pod unit can be costly. Bare-bones units start at $30,000, and prefab units can range anywhere from $100,000 to $250,000. You could save tens of thousands of dollars by converting an existing garage or shed on your property into an in-law cottage.
Of course, you will have to know a thing or two about insulating, framing, and roofing along with foundation, electrical, and plumbing. It's possible to recruit sub-contractors so that you stay compliant with zoning and best practices standards. Remember, though it sounds like a fairytale, a granny pod is still a real home your family members will need to function inside, so meeting local codes is of the utmost importance if you are going this route.
Craftsman Style Home Design
Craftsman homes are a dream house design pick. With low-pitched and gable roofing and a wide overhang with exposed rafters, the granny pod space will feel larger and airier in its living space. Wide porches and tapered columns are indicative of the Craftsman style and allow for a more "homey" feel inside and out. Decorate the exterior with flower boxes, and it will look more like a single-family home, rather than an attachment.
Prefab Log Cabins
For a more rustic style, nothing beats an old-fashioned log cabin. Prefab log cabins are the cheaper option for a unique granny pod design. Prefab log cabins come with a detailed plan of the structure and are pretty easy to build in just a few days, assuming you have the right tools.
Backyard Cottage or Tiny Cottage House
In Texas, there is a new trend—the granny pod backyard cottage. Create a bungalow with a tiny porch and attach the back patio to the main house, making the granny pod more convenient. Siding gives these cottages charm, and you can even have it painted any color for added style. This style makes any granny pod look like it's out of a fairy tale and gives an excellent comforting feeling of being at home.
Small Space Ideas and House Designs for Small Houses
Granny pods and MEDCottages shouldn't just look like four walls and a roof. With such small spaces, you need to work with what you have to make your elderly family members feel at home. Here are some tips for better granny pod house designs.
Work with the Square Feet
Most granny pods have less than 800 square feet of inside living space. Playing with the home design is even more critical when working with such a small amount of space. You want it to appear roomy, not cluttered or messy.
Look for Floor Plans & Home Plans
House plans are all over the internet. Finding a floor plan that matches the lifestyle of your family member is key. Print out a few floor plan options and ask them what they like best. They may like an open floor plan better than a conventional floor plan. Also, keep any medical devices or needs in mind while picking out the necessary home plan.
French Doors for Natural Light
Natural light makes any small space look larger. Even better, lots of light shining through the home can be a mood booster, primarily if the main house blocks most sunlight. Big and open windows and french doors solve this problem.
Living Room
Living areas should speak for your loved ones, so have them find the right home decor to match their style. Online shopping can solve any mobility issue: they can point at what they like, and you can help design the living area around that.
Kitchenette
A kitchenette is needed in every home. If your loved one cannot cook for themselves, having the basics is still enough. Many home plans come with a kitchenette design. Rounded countertops save space and prevent your family member from bumping into things, especially if they get around with a wheelchair or walker.
Master Suite with Full Bath
The master bedroom should be comforting. Find linens that are not only stylish but also feel good to the touch. For added storage, add a smaller-scale walk-in closet. An attached full bath should be accessible. If need be, look for accessible-friendly bathroom fixtures, such as walk-in tubs, handrails, and accessible toilets with handlebars.
Create a Comforting Living Space
A granny pod should have nothing short of all the comforts of home. Leave room for comfortable chairs and a couch to feel at home. Throw pillows and accent pillows add design flair. And hang pictures on the walls, including family photos.
The Grandkids Will Be Happy and So Will Your Aging Parents
Being around to take good care of aging family members isn't the only upside to having a granny pod. It's a treat for children to have grandparents around to give them extra love and attention. As an adult child, it's a relief to know that your parents are safe and that your children have a close connection with their grandparents. Living nearby but not too close gives you the bonus of seeing your parents (and your children seeing their grandparents) whenever you want. Plus, you get privacy while your parents or older family members are in their respective granny pods.
Zoning and Accessory Dwelling Units
While these small units are easy to install, you may need to obtain permits following your local zoning laws. Approvals may take time, but with granny pods becoming more popular, many towns are allowing them. Speak with your homeowners association (HOA) or local city hall to see if you need to obtain a permit for a granny pod.
Insuring a Tiny Home
No need to sweat if you're wondering whether your granny cottage will be covered under home insurance. Because your granny pod is an accessory dwelling unit attached to your property, the granny pod will be covered by your home insurance policy under "other structures." It's common for policies to cover other structures up to 10 percent of your primary coverage amount. So, if your home's main structure is insured at $500,000, the coverage amount on your tiny house will be $50,000.
Whether you plan to install a granny pod or not, Insurify is the best way to compare home insurance so you can save by easily comparing home insurance quotes from the best insurance companies all in one place. Try it out now!
Frequently Asked Questions
Whether you are in New York or any other state, building codes vary depending on the town or city in which your main property lies. It's best to check with your local municipality if you think about building a granny pod in your backyard.

A granny flat is a different name for a granny pod or granny cottage. It's an attached or detached accessory dwelling unit to your main home.

Granny pods are much better than nursing homes for a variety of reasons. Some of the top reasons include not having to travel to see your family member and ensuring your aging loved one is getting the right kind of care.

You can expect to pay a minimum of $30,000 for a bare-bones granny pod kit. But for prefab and custom granny pods, you can expect to pay anywhere from $100,000 to $250,000. This price may seem like a lot, but when it comes to plumbing, electrical wiring, and HVAC, it's a small price to pay to have your loved ones closer to you. If you use the granny pod for several years, the cost ends up being significantly lower than nursing homes and assisted living homes. Plus, your property value could improve with an additional dwelling unit attached to your property.
Protecting Your Tiny Home: The Bottom Line
If you have aging loved ones, a granny pod may be the right choice for your family. Granny pods are not only a modern trend in society, but a way to bring your family closer together while still respecting privacy for everyone. Thankfully, you can get great homeowners insurance coverage, even if you have an additional dwelling unit on your property.
To get the best prices in home insurance, use Insurify to help you compare quotes instantly.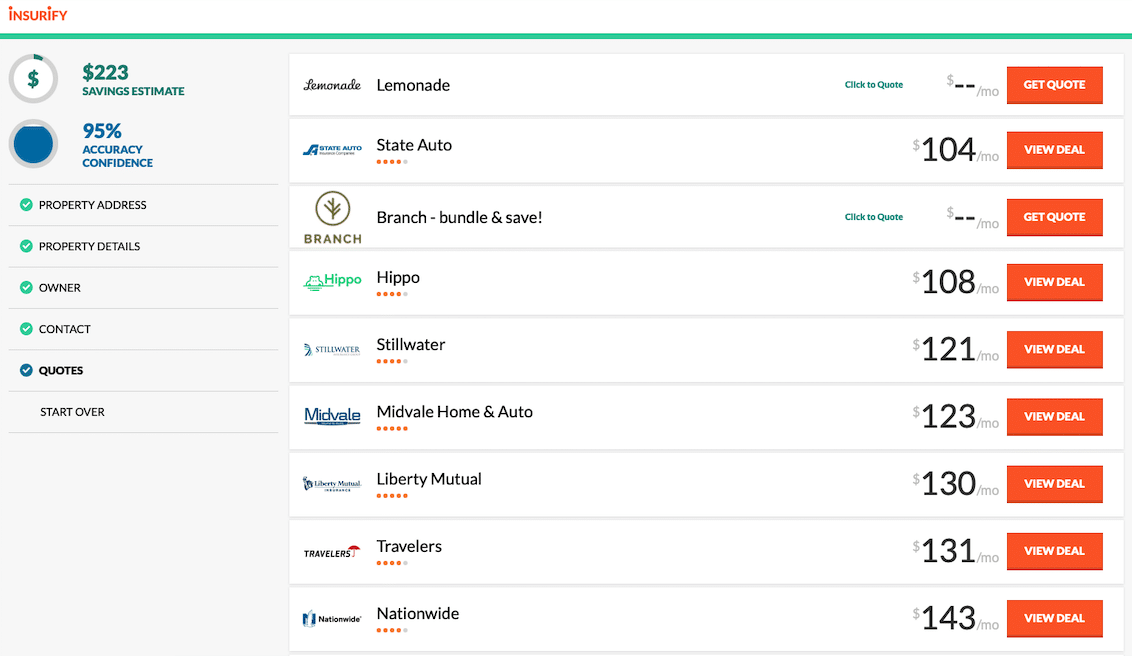 Compare Home Insurance Quotes Instantly
Personalized quotes in 5 minutes or less
No signup required