Liberty Mutual Insurance Company, or LiMu, is one of the largest car insurance companies. Therefore, it's no surprise it's earned high customer satisfaction ratings and numerous awards for its reliability. However, this doesn't mean you have to stay with your car insurance policy from Liberty Mutual forever. You might find better coverage or auto insurance rates elsewhere.
Before you cancel, use our handy car insurance quote comparison tool to find another auto insurance plan. All you have to do to receive personalized quotes is fill out a short online form. Rest assured you won't have to sign up or pay any fees. It couldn't be any easier to switch policies.
Quick Facts
Liberty Mutual lets you cancel your auto insurance coverage via phone.

You may have to pay an insurance cancellation fee, depending on where you live.

Don't forget to enroll in a new auto policy before you terminate with Liberty Mutual.
Liberty Mutual Cancellation Policy
How do you cancel Liberty Mutual car insurance?
To cancel your policy with Liberty Mutual, you can call an agent or visit a local Liberty Mutual agent in person. Be sure to secure another policy before canceling your existing one to avoid a gap in coverage.
Fortunately, it's fairly easy to cancel a car insurance plan from Liberty Mutual. All you have to do is call customer service at 1 (800) 658-9857 so an agent can guide you through the cancellation process. Be prepared to share your policy number and details related to your new plan. Also, find out whether you'll owe a cancellation fee.
Speaking of cancellation fees, Liberty Mutual might charge you one if you live in a certain state. It all depends on your state laws. Since the auto insurance company offers 12-month policies, you may be subject to a cancellation fee if you terminate before your 12-month policy comes to an end.
Compare Car Insurance Quotes Instantly
Secure. Free. Easy-to-use.
Step 1: Look Up the Renewal Date
While you can cancel your Liberty Mutual car insurance at any time, you should consider going through the process right before your renewal date, which will be at the end of your 12-month policy term. This can help you avoid a lapse in coverage and make it easier for you to sign up with a new car insurance company.
It may also save you on any cancellation fees you might owe and increase your chances of a faster refund. To find your renewal date, take a look at your print or digital car insurance ID card. You can also log into your online account or speak to an insurance agent.
See More: Cheap Car Insurance
Step 2: Compare Car Insurance Quotes
The reality is that shopping for a new car insurance plan is overwhelming. After all, it takes a lot of time and effort to obtain individual auto insurance quotes from Nationwide, GEICO, Allstate, and other reputable auto insurance companies. That's where Insurify comes in.
With Insurify, you'll receive personalized quotes all in one place. You'll be able to compare insurance products, insurance premiums, deductibles, and discounts with ease. Best of all, this tool is a breeze to use and absolutely free. It can truly take the guesswork out of comparing car insurance quotes.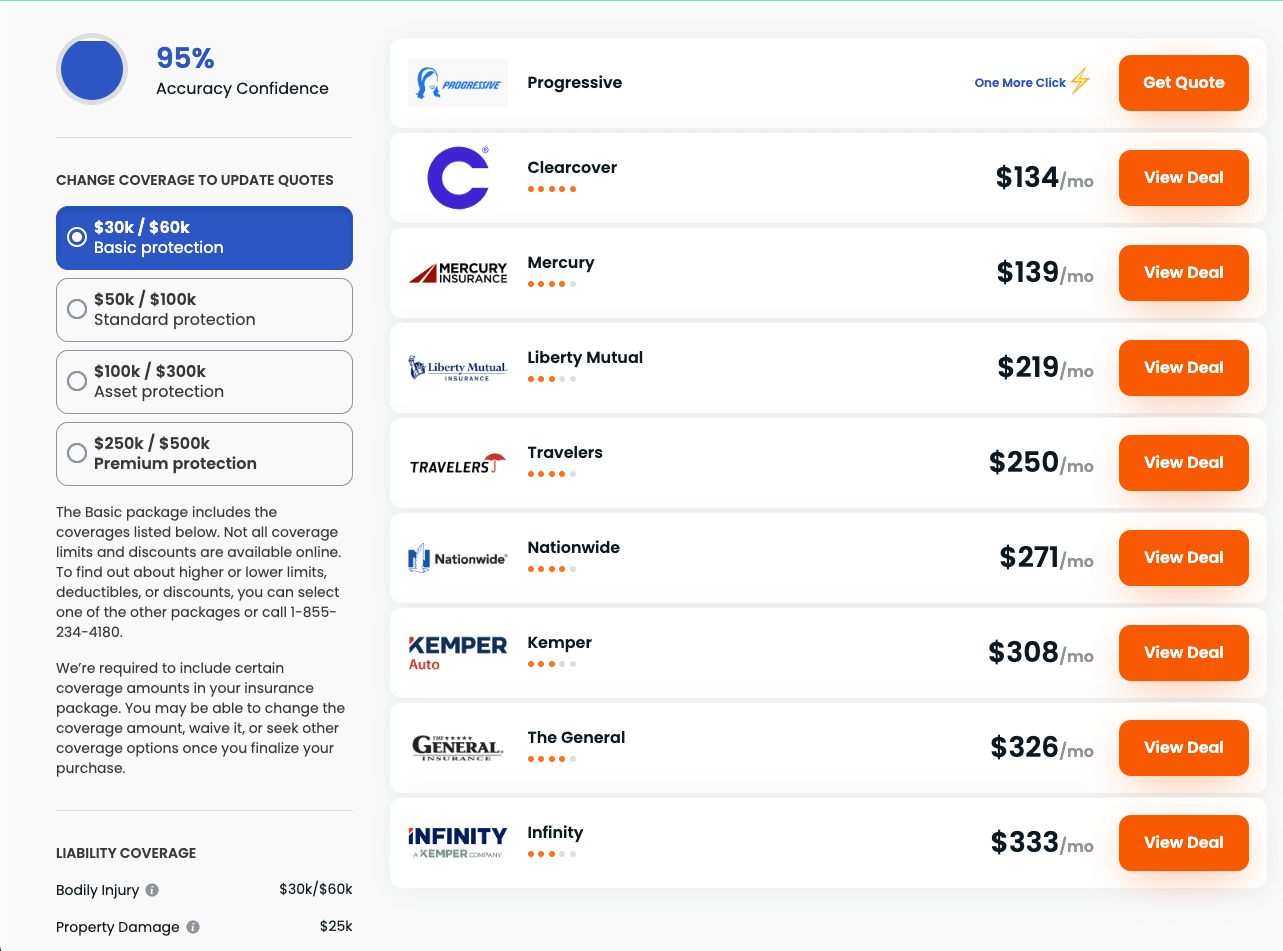 Liberty Mutual Quotes vs. Competitors
Disclaimer: Table data sourced from real-time quotes from Insurify's 50-plus partner insurance providers. Actual quotes may vary based on the policy buyer's unique driver profile.
Step 3: Think about Why You're Leaving Liberty Mutual
There are a number of reasons you may want to terminate your Liberty Mutual car insurance. Before you take the plunge and cancel, however, be sure to clarify them with yourself. Maybe your goal is to take advantage of a bundling discount with your homeowners insurance, renters insurance, life insurance, or health insurance company.
Or perhaps your driving habits have changed, and you no longer drive as much as you used to because you landed a remote job or became a stay-at-home parent. Once you figure out your exact motives for leaving, you'll find it much easier to shop around for new coverage. You'll know exactly what you're looking for in a policy.
See More: Best Car Insurance Companies
Step 4: Secure a New Policy
As soon as you find the perfect car insurance plan with some help from Insurify, enroll in it. While some auto insurance companies allow you to go through the process online, others require that you call customer support or reach out to a local agent.
In most cases, you'll need to provide basic personal, vehicle, and financial details, like your credit card number to pay your premium. Once the new car insurance company confirms you've officially enrolled, take note of your new policy number and effective date, as Liberty Mutual might ask for this information when you decide to cancel.
Step 5: Cancel Your Liberty Mutual Policy
Once you've used Insurify and enrolled in a new plan, it's time to cancel your Liberty Mutual insurance policy. While many car insurance companies offer multiple termination methods, Liberty Mutual prefers that you call 1 (800) 658-9857 and connect to an insurance agent. You can expect the agent to ask for your policy number and new car insurance coverage.
Also, don't be surprised if they try to keep your business with various Liberty Mutual offers. After all, it's in their best interest to retain their policyholders for as long as possible. If they give you a lower rate or an unbeatable discount, you might consider staying, but don't feel obligated to do so if you know you'd be better off with a different insurance provider.
See More: Compare Car Insurance
Step 6: Follow Up on Your Refund
Depending on how you paid for your auto insurance plan and where you live, Liberty Mutual may owe you a refund. This refund will be for any unused portions of your premium. While the company should send you the funds a few weeks after you officially cancel, you may have to wait a bit longer.
Remember that car insurance companies like Liberty Mutual focus on their current policyholders. Therefore, your refund might not be on their priority list, even though you may be entitled to it. Feel free to follow up with an agent if you haven't received your refund three weeks after terminating.
Canceling Your Liberty Mutual Policy
As your life circumstances change, your auto insurance needs may change as well. Therefore, don't feel bad about canceling your Liberty Mutual plan. With our car insurance comparison, you can discover the best new policy for your budget, driving habits, and preferences. Since it's free to use and you don't have to sign up, you have absolutely nothing to lose.
Frequently Asked Questions
You can manage your Liberty Mutual car insurance plan at www.libertymutual.com. However, the car insurance company will not let you cancel it online. Instead, you'll have to call customer support at 1 (800) 658-9857 to go through the process with a Liberty Mutual agent.

When you terminate your Liberty Mutual auto insurance plan, the state you live in will dictate whether you'll be on the hook for a cancellation fee. Consult a Liberty Mutual insurance agent for more information.

If you lead a busy life, you may wonder if a family member or friend can cancel your Liberty Mutual car insurance. Unfortunately, this is not an option. The only exception to this rule is if you have a power of attorney. Your power of attorney may be able to terminate on your behalf as long as they show proof of their status.

Whether you choose different auto insurance coverage and stay with Liberty Mutual or cancel and turn to another provider is your personal choice. If you're displeased with Liberty Mutual or find an incredible deal on car insurance elsewhere, it's likely in your best interest to terminate your plan, especially if it's getting close to your renewal date.
Compare Car Insurance Quotes Instantly
Secure. Free. Easy-to-use.
Data scientists at Insurify analyzed more than 40 million real-time auto insurance rates from our partner providers across the United States to compile the car insurance quotes, statistics, and data visualizations displayed on this page. The car insurance data includes coverage analysis and details on drivers' vehicles, driving records, and demographic information. Quotes for Allstate, Farmers, GEICO, State Farm, and USAA are estimates based on Quadrant Information Service's database of auto insurance rates. With these insights, Insurify is able to offer drivers insight into how companies price their car insurance premiums.