Why you can trust Insurify:
As an independent agent and insurance comparison website, Insurify makes money through commissions from insurance companies. However, our expert insurance writers and editors operate independently of our insurance partners.
Learn more
.
Switching your car insurance company may not sound fun, but in this article, we will show you six simple steps to canceling your GEICO car insurance policy. Follow these steps, and you will be able to find the best replacement for your current policy, set up your new policy the right way, and cancel your GEICO policy so that you have continuous car insurance coverage.
But if you have the process down already, you can head over to our free car insurance comparison tool to quickly find the best policy for you. View real quotes without sharing your information, and save your profile to make comparing policies faster in the future. Plus, you can turn on notifications to get an email anytime there's a rate drop. It's so easy to switch and save!
Quick Facts
If you want to cancel your entire GEICO policy, you need to speak with a customer service representative.

There is no fee to cancel a GEICO insurance policy. If you paid your policy in full, you will receive a refund of any unused portion of your premiums.

Be sure you have your next policy set to start the day before your GEICO policy is canceled (or earlier). This ensures you have continuous car insurance.
GEICO Cancellation Policy
How do you cancel a policy with GEICO?
GEICO makes canceling a car insurance easy and hassle free. To cancel, simply call GEICO's customer support line.
GEICO's customer support line can be reached at 1 (800) 841-1587. Using the interactive voice response (IVR), say "cancel insurance policy" and then "auto." You'll then be prompted to give your policy number. There is no fee to cancel a GEICO insurance policy, and you can cancel at any time.
It's important to know that you must cancel your policy even though it comes with an expiry date (the day the current term ends). Car insurance policies renew automatically at the end of the term, so long as neither the insurance provider nor the policyholder cancels the policy. Canceling your policy ensures you don't pay any longer than you have to.
Compare Car Insurance Quotes Instantly
Secure. Free. Easy-to-use.
Step 1: Look Up the Renewal Date
It's easier to cancel at the end of a policy, so begin by finding your renewal date. It's good to know how long is left on your current policy, especially if you pay your premiums in full, as you'll be entitled to a refund.
There are several places to find your renewal date, also known as the expiry date, with a GEICO policy:
Your insurance card

Your policy documents

Your account via the GEICO mobile app

Your account via GEICO.com
See More: Cheap Car Insurance
Step 2: Compare Car Insurance Quotes
Before you start comparing, be sure you understand what's in your current policy. First, you want to know the types of car insurance coverage (comprehensive, collision, etc.) and their coverage limits. Next, you should note any discounts you currently receive, the value of those discounts, and any additional perks and benefits included as a GEICO customer.
Using a tool like Insurify makes comparing auto insurance easy. You can enter your information into our confidential form to view real quotes without sharing your information. Adjust coverage options to match your exact policy needs, compare options side by side, and choose the best one. It's that easy.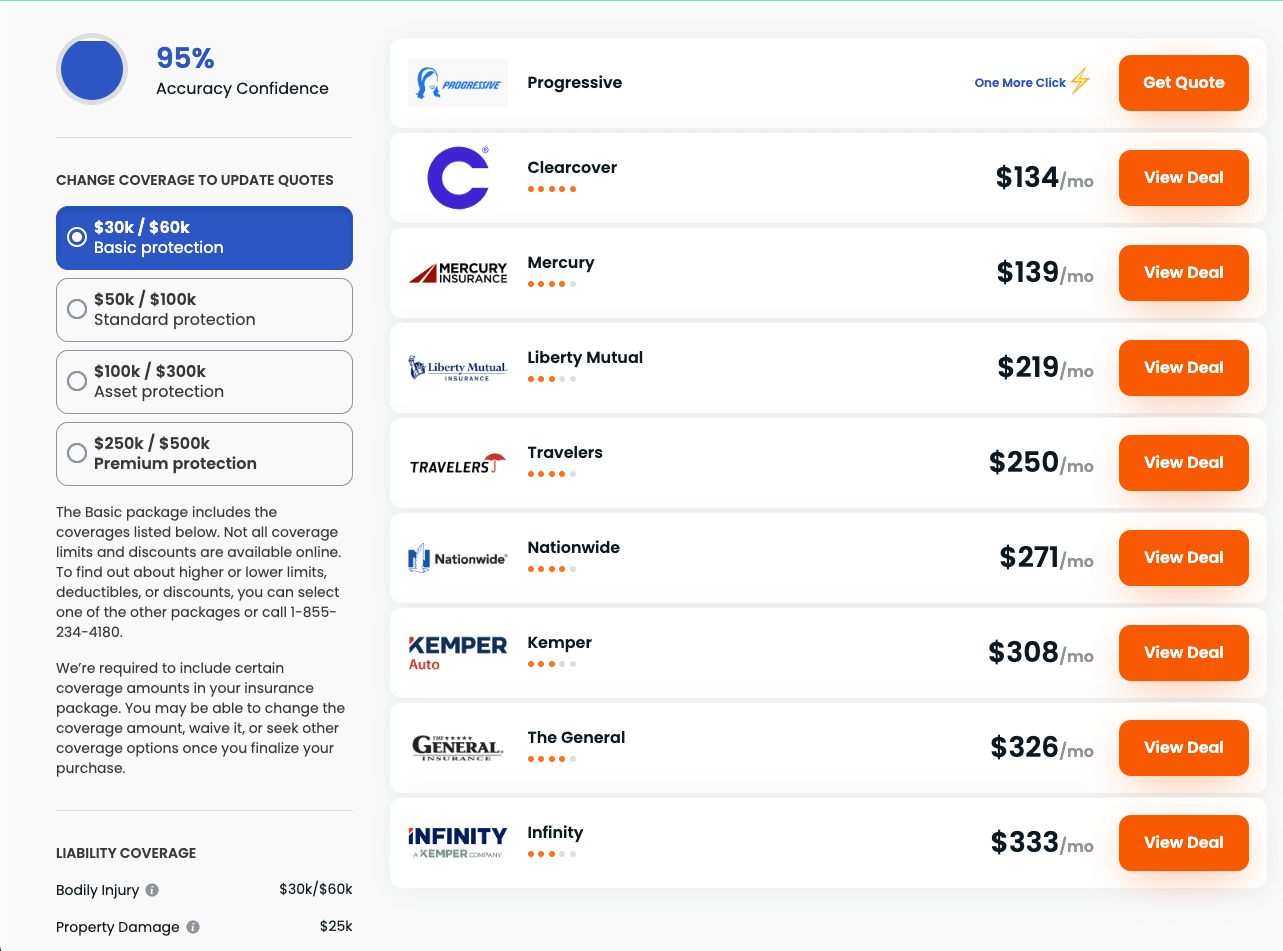 GEICO Quotes vs. Competitors
GEICO is known for offering competitive auto insurance rates, but it's not the only one. Below are average quotes from GEICO's top competitors. We calculated these costs using thousands of real quotes generated on Insurify.
Disclaimer: Table data sourced from real-time quotes from Insurify's 50-plus partner insurance providers. Actual quotes may vary based on the policy buyer's unique driver profile.
Step 3: Think about Why You're Leaving GEICO
There are two main reasons most people cite for leaving their current auto insurance company: an issue with the cost and an issue with the insurer. When it comes to cost, GEICO is hard to beat. If you do find a better rate, it's worth talking to a GEICO insurance agent before switching. They can ensure you're taking advantage of all the valuable discounts the company offers.
Completing a quick agent review often results in you getting a lower rate without needing to switch your policy. But if your issue is bigger than price, you can also look at quotes from GEICO's top alternatives. Though some companies may offer slightly higher rates, you can still find a great deal (or a better deal) while getting more of what you want from your insurer.
See More: Best Car Insurance Companies
Step 4: Secure a New Policy
You now have a clear picture of what you want from your new insurance policy, whether that's a better price or a better experience. You also know exactly what your policy should cover. You've compared car insurance quotes and reviews from at least five companies in your ZIP code. And you've chosen the very best option based on your needs and preferences.
It's time to buy your new policy. Using Insurify, you can buy quickly online by following the "buy now" link on your quote. But, if you have questions and want to speak to someone who can help, you can call one of our independent agents at 1 (866) 656-8440. They can answer questions, secure your policy, and ensure it starts on the right date and covers what you need.
Step 5: Cancel Your GEICO Policy
Now that you've bought your new policy with Insurify, it's time to cancel your GEICO policy. You'll need to contact customer service at this phone number: 1 (800) 841-1587. Your GEICO agent will help cancel your policy. You'll want to have your GEICO policy number on hand. Be aware that the agent will try to talk you into staying with the company. That's a standard practice.
A few things to keep in mind when you cancel your GEICO policy:
Set the cancellation date for the day after the start date on your new policy.

You may want to have your new policy's documents, especially the declarations page, handy. This will have your policy dates plus your coverage types and limits.

If you paid in full, you're entitled to a refund, so be sure to ask about the procedure to receive your refund in a timely manner.

If you bundle with homeowners, renters, or life insurance, you will need to decide if you're switching those policies as well.
See More: Compare Car Insurance
Step 6: Follow Up on Your Refund
Paying in full is a great way to save a little extra money on your car insurance premiums. Though it may seem like a hassle to change policies when you've paid in full, GEICO makes things easy. Most of the time, you'll receive a credit through an ACH deposit straight to your bank account. You might also receive a check in the mail. It depends on your payment method.
Just ask the customer service representative when you should get your refund, and set a reminder on your calendar. You also want to ensure you receive documentation that verifies your cancellation and the end date of your policy. If you haven't received your refund by the time you're supposed to, make a call to customer service and follow up and have your receipts ready.
Canceling Your GEICO Policy
If you're ready to make a car insurance change, the good news is that canceling your GEICO insurance policy is easy and free. Following the steps laid out here will ensure that you make the change to a better policy and complete the changeover without hiccups. Here's a quick recap of those steps:
Review your current policy's expiration date.

Compare car insurance quotes.

Get clear on why you're leaving GEICO.

Buy your new car insurance policy, and set an appropriate start date.

Cancel your GEICO policy, and set the end date for the day after your new policy's start date.

Follow up on your refund if you paid your policy in full.
Frequently Asked Questions
You can remove a vehicle from your GEICO policy on both the app and through your online portal, but you can't cancel the whole policy. To remove a vehicle, go to "manage my policy" and select the car(s) you'd like to remove. To cancel the whole policy, call a customer service agent at 1 (800) 841-1587 to request cancellation. You should also have your policy number on hand.

Yes. As with most car insurance policies, you can cancel a GEICO policy at any time. Because you can cancel over the phone, you can even get same-day cancellation. But be sure that your new policy is in effect when you cancel your old policy, or else you'll have a gap in coverage. That's why we recommend setting your cancellation date after the start date of your new policy.

GEICO does not charge a cancellation fee when you decide to cancel your policy early. If you paid your policy in full, you will receive a refund for any unused portion of your policy. That means if you have two months left in your prepaid policy and your premiums are $100 a month, you'll get a $200 refund. Refunds can be sent via mail with a paper check or via ACH transfer.

When you cancel your GEICO policy over the phone, the cancellation can go into effect as early as the next business day. Calling into the customer service line is quick. Most people finish the cancellation process in less than 10 minutes. If you're concerned about cancellation due to nonpayment, know that GEICO gives customers a nine-day grace period to make a payment.
Compare Car Insurance Quotes Instantly
Secure. Free. Easy-to-use.
Data scientists at Insurify analyzed more than 40 million real-time auto insurance rates from our partner providers across the United States to compile the car insurance quotes, statistics, and data visualizations displayed on this page. The car insurance data includes coverage analysis and details on drivers' vehicles, driving records, and demographic information. Quotes for Allstate, Farmers, GEICO, State Farm, and USAA are estimates based on Quadrant Information Service's database of auto insurance rates. With these insights, Insurify is able to offer drivers insight into how companies price their car insurance premiums.