Why you can trust Insurify:
As an independent agent and insurance comparison website, Insurify makes money through commissions from insurance companies. However, our expert insurance writers and editors operate independently of our insurance partners.
Learn more
.
Based in Erie, Pennsylvania, Erie offers auto insurance to drivers in 12 states and Washington, D.C. According to the insurance provider, more than 90 percent of its customers stay with them year after year. If you have an Erie car insurance policy that no longer meets your needs, don't feel bad about canceling and switching car insurance companies.
With this handy car insurance quote comparison tool, you can compare coverage options and auto insurance rates from the top-rated car insurance companies. It can help you find a plan that works better for your new circumstances. Rest assured that there are no sign-ups, fees, or credit checks.
Quick Facts
Erie Insurance lets you cancel your auto coverage via phone, via mail, or in person.

You won't have to pay a cancellation fee to terminate your coverage.

It's important to find a new plan and enroll in it before you cancel Erie insurance.
Erie Cancellation Policy
How do you cancel a car insurance policy with Erie?
You can cancel car insurance with Erie by calling an agent or their customer support line, via
While Erie hopes to retain its policyholders, the company honors all cancellation requests. To cancel your car insurance with Erie, you'll need to reach out to a local Erie agent via phone, via mail, or in person. You can ask for your cancellation to take effect immediately or at a later date to avoid a lapse in coverage.
When you get a hold of an agent, be prepared to share your name, policy number, and desired date of termination. Fortunately, you won't have to pay a cancellation fee when you do so. Also, if you paid for your policy up front, you may be eligible for a prorated refund in which Erie will refund any unused portions.
Compare Car Insurance Quotes Instantly
Secure. Free. Easy-to-use.
Step 1: Look Up the Renewal Date
If you have it in your head that you want to cancel your Erie auto insurance policy, you may be tempted to do so right away. However, if you cancel your current plan as close to your renewal date as possible, you can avoid a gap in coverage, which can be a serious issue if a police officer pulls you over or you get into a car accident.
Canceling near your renewal date may also make it easier to switch car insurance companies and enroll in new coverage. To find your renewal date, log in to your online account at erieinsurance.com. You can also look at your auto insurance identification card, which may be printed out and kept in your vehicle's glove box or downloaded from the Erie website.
See More: Cheap Car Insurance
Step 2: Compare Car Insurance Quotes
Before you terminate your Erie auto insurance plan, it's in your best interest to shop around and find the ideal coverage for your particular budget and needs. If you lead a busy life and don't have time to browse countless websites and compare car insurance options, don't worry.
That's where Insurify comes in. You can use this intuitive tool to explore various auto insurance quotes from a variety of car insurance companies, like State Farm, Progressive, GEICO, Allstate, and many other large and small providers. Once you find an offer you like, Insurify will direct you to the company's website so you can enroll.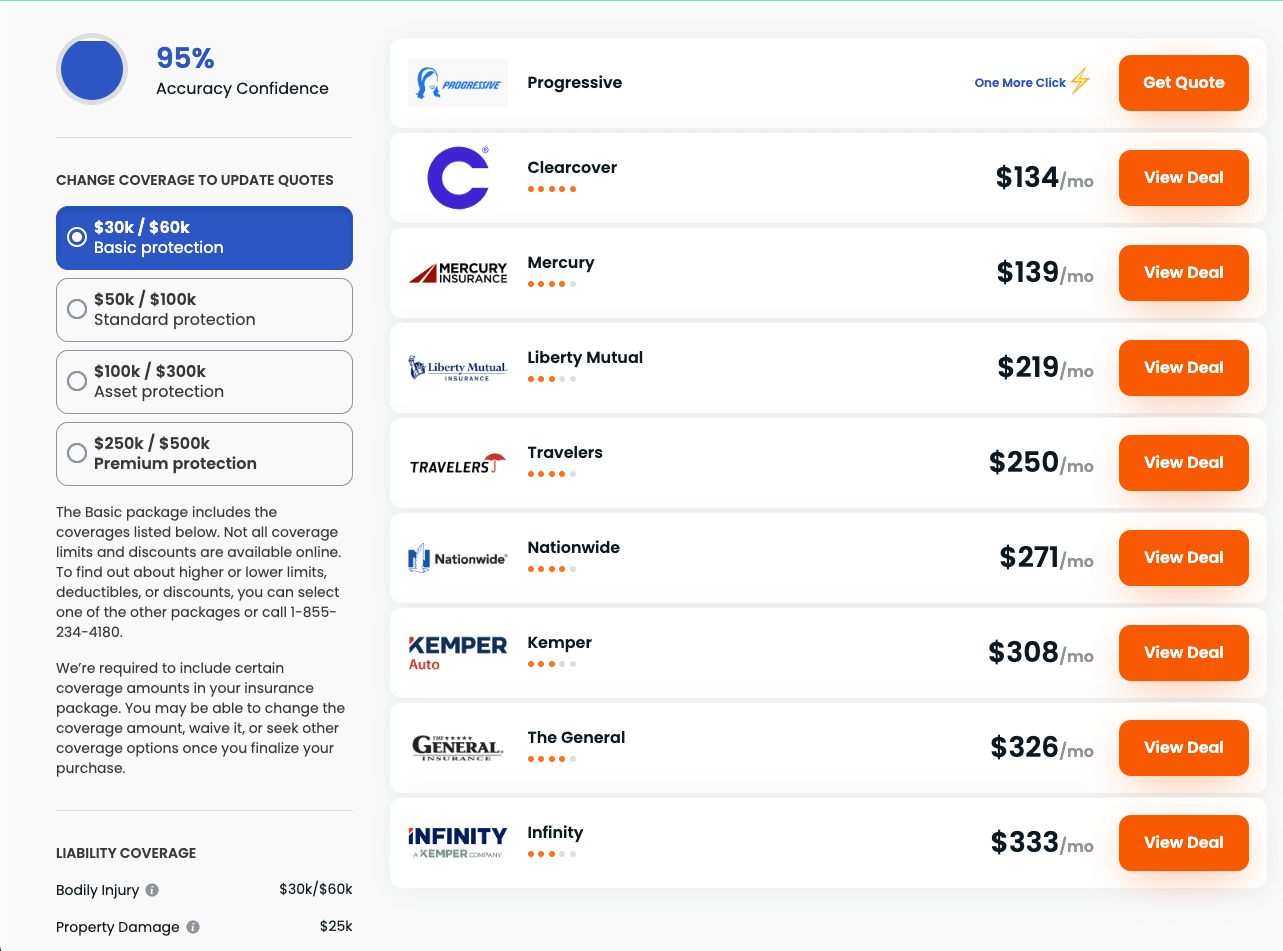 Erie Quotes vs. Competitors
Disclaimer: Table data sourced from real-time quotes from Insurify's 50-plus partner insurance providers. Actual quotes may vary based on the policy buyer's unique driver profile.
Step 3: Think about Why You're Leaving Erie
In a perfect world, your car insurance plan would work for you indefinitely, not just for one year or three years. The reality, however, is that your needs and priorities are bound to change over time and warrant a new policy. Before you leave Erie auto insurance, take the time to think about your motives for doing so.
Maybe you're moving to a state that Erie doesn't service. Or perhaps you prefer a larger car insurance company or want to lower your monthly premiums on comprehensive coverage. Another reason for canceling may be to bundle your auto policy with another insurance product, such as homeowners insurance, renters insurance, life insurance, or business insurance.
See More: Best Car Insurance Companies
Step 4: Secure a New Policy
Once you've found the perfect new auto insurance policy with some help from Insurify, be sure to enroll as soon as you can, before your Erie renewal date. Since it's illegal to drive without liability insurance in most states, this is vital. Locking in a new car insurance plan prior to canceling can also protect you financially in the event of an at-fault accident.
Put simply, securing a new policy before you terminate with Erie will make your life easier. It can save you a great deal of money, stress, and headaches down the road. Thankfully, Insurify makes the enrollment process a breeze.
Step 5: Cancel Your Erie Policy
If you've already finalized a new car insurance plan with some help from Insurify and wish to cancel your Erie auto insurance policy, you'll have to get a hold of a local Erie insurance agent[1]. No matter if you contact them by phone, via mail, or in person, you'll need an official written notice that includes:
Your name, address, and phone number

Your Erie policy number

Your Social Security number and date of birth

Your driver's license number

The date you'd like your policy to end

Your dated signature
Here are more details on each cancellation method.
Phone
To cancel your car insurance coverage by phone, call Erie customer care at 1 (800) 458-0811 any weekday from 8 a.m. to 11 p.m. ET or Saturday from 9 a.m. to 4:30 p.m. ET. You can select option 4 or stay on the line. If you have your local agent's number on hand, call them directly to save time.
Mail
You can also bypass the phone and send your written notice to the Erie Insurance headquarters at:
Erie Insurance Group
100 Erie Insurance Place
Erie, PA 16530
To allow ample time for shipping, processing, and delays, try to send your letter a few weeks before you'd like your policy to end.
In Person
If you prefer a more traditional in-person cancellation, visit a local Erie insurance branch. These branches can be found on the Erie website and are located in Indiana, Kentucky, Maryland, New York, North Carolina, Ohio, Pennsylvania, Tennessee, Virginia, West Virginia, Wisconsin, and Washington, D.C.
See More: Compare Car Insurance
Step 6: Follow Up on Your Refund
Just like any other car insurance company, Erie is in business to make money. Therefore, your refund may not be on their priority list, even if you've been a long-time policyholder and canceled on good terms.
If you know you're owed a refund because of the way you paid for your policy, be sure to contact a local agent if you don't receive it a few weeks after your termination. Since your refund may be hundreds of dollars, don't forget about it. Follow up until you receive the prorated amount you know you're entitled to.
Canceling Your Erie Policy
No matter your age or stage in life, canceling your Erie car insurance plan and switching to a different policy with a new provider can be tedious and time-consuming to say the least. That's why our car insurance comparison tool was created. You can use it to find the ideal car insurance coverage that meets your new circumstances. It's free and doesn't require a sign-up.
Frequently Asked Questions
Does Erie charge a cancellation fee?

Unlike some car insurance companies, Erie Insurance doesn't charge a fee for canceling an auto policy. The provider may even send you a prorated refund for any unused premiums. It's a good idea to confirm any fees or refunds with an agent when you initiate the cancellation process.

When can I cancel my Erie car insurance policy?

You have the right to terminate your Erie auto insurance plan at any time. However, timing your cancellation close to your renewal date is ideal. This will help you avoid a lapse in coverage and simplify your transition to a new car insurance company.

Why would I want to cancel Erie auto insurance?

There are a plethora of reasons you may want to leave your Erie car insurance plan. You might have improved your credit score and qualify for a better auto insurance rate elsewhere. Or you may have purchased a home and prefer to bundle your auto insurance with your home insurance company. You might also be moving to a state where Erie isn't available.

Should I cancel or change my policy?

Whether you should look for different auto coverage from Erie or cancel your plan altogether depends on your unique situation. If you find a better plan and Erie offers you a lower rate or rate lock, staying may be worthwhile. However, if you're moving to a state like Hawaii or receive an unbeatable car insurance offer elsewhere, terminating is likely your best bet.
Compare Car Insurance Quotes Instantly
Secure. Free. Easy-to-use.
Methodology
Data scientists at Insurify analyzed more than 40 million real-time auto insurance rates from our partner providers across the United States to compile the car insurance quotes, statistics, and data visualizations displayed on this page. The car insurance data includes coverage analysis and details on drivers' vehicles, driving records, and demographic information. Quotes for Allstate, Farmers, GEICO, State Farm, and USAA are estimates based on Quadrant Information Service's database of auto insurance rates. With these insights, Insurify is able to offer drivers insight into how companies price their car insurance premiums.