Where do I start when buying a home?
Start researching months, even years before your desired move-in date. Budgeting, application, and preapproval processes can take much longer than expected, and often get delayed due to unforeseen circumstances.
Buying a home is an exciting, nerve-wracking, and rewarding experience.
Whether you're a first-time homebuyer or experienced real estate guru, there are a few vital things to look for when buying a home. For the most part, house hunting with a real estate agent can make the home buying process easier. Regardless of the expertise you have by your side, you'll want to keep a keen eye on your new house to find any red flags before signing on the dotted line.
When buying a home, the last thing you want to worry about is another checklist, more paperwork, or another hurdle to clear. Let this guide help you zone in on the most important things to look for when buying a home.
Once you've decided on your new abode, it's vital you properly insure it. To find the best homeowners insurance policy, use Insurify to compare dozens of quotes in minutes. Before you check your credit score or start packing up your current home, you'll want to read our guide to all things home hunting.
House Hunting 101: What to Look for When Touring Homes
Think about the big-ticket items in terms of home improvements: roofing, water heaters, exterior painting, the list goes on. These aspects of a home may be incredibly costly in a home renovation project, so it's something you'll want to inspect the condition of before making an offer. Identifying these warning signs could save you big bucks in the long run. Fixer-uppers may be keen for affordability, but make sure you take a real close look at every system in the house so you know just how much you'll have to put into the home to make it liveable – HVAC to landscaping, it all matters.
Don't Forget to Look Up
Take a careful look at the roof: could it be in need of repair? Gaping holes, rotting shingles, water stains, or missing coverage should be major red flags. Note, homes with newer roofs generally have lower home insurance rates, as their risk for flooding or leakage is greatly reduced.
To save on homeowners insurance in the long run, be vigilant when inspecting your new home's roof. Plus, when you get to that point, use Insurify to compare home insurance quotes from dozens of top insurance companies side by side.
Drain the Pipes, Not Your Bank Account
Consider the plumbing system of a potential home. Though not the most glamorous or exciting part of a new home, plumbing can be the cause of a lot of stress in homeownership. When doing a surface-level inspection on your own, get beyond eye level. Check underneath sinks, inspect toilet flushing abilities, and take note of water pressure from showers and faucets. Examine pipes and look out for leaks, mold, and existing water damage. Mold is not only unsightly and putrid-smelling, but it can be damaging for the health of you or your family in the long term. Don't overlook these elements during the home buying process.
Speaking of smells, it's important to identify any potential risky aromas that you may notice during a walk-through. Beyond mold or mildew, notice any other foul or unpleasant smells like chemicals, sewage, gas, pet odors, or cigarette smoke.
Recognizing a Sneaky Disguise
During the home buying process, you'll be witness to a lot of staging. Staging is a technique used by realtors to help prospective buyers picture life in a particular space by styling and furnishing a property to enhance attractiveness to visitors during a walk-through.
It can be challenging, but when visiting a potential home during an open house, try to focus on structural features rather than cosmetic ones. Keep in mind things that can't necessarily be fixed with a fresh coat of paint or new furniture. Are there exposed wires? Aging appliances? Rotting grout? These minute details can mount to overwhelmingly large projects that can turn your new dream home into a nightmare. Recognizing these issues before it's too late can save you from unexpected headaches in the long run. It can also help you make arrangements during the negotiation process. Structural issues within the foundation can be a huge headache in the future.
Compare Car Insurance Quotes Instantly
Personalized quotes in 5 minutes or less
No signup required
Establishing the Dealbreakers
The romance that comes with getting caught up in shopping for your first home can be overwhelming and fog a potential homebuyer's sense of reality. Think beyond the basics of square footage, countertop material, or architectural style and try to think in the long term.
If you're thinking about starting a family or have small children, the reputation of the local school district in a home's location should be considered. On the same note, consider your commute to work, and how long you're willing to sit in the car or on the subway to get to your office. Think about the number of bedrooms, and if you have the wiggle room, consider a new home with an extra bedroom—you never know if you could need a nursery, guest room, or home office. Curb appeal is huge, but don't let the excitement of a new home fog your judgment on price range or potential DIY projects that can cause discord in the future.
Know Your Risks
When you're caught up in home buying, you might forget about what lies beyond those four walls. Depending on where in the country you're buying your new home, you could be at risk for different weather-related damage. Make sure you're familiar with and prepared for all potential risks.  Hurricanes? Wildfires? Flooding? How about safety: is there a pool in the backyard? If so, is there an "up-to-code" fence surrounding it? These are the tough, not-so-fun questions potential homebuyers may want to avoid but must ask to ensure a responsible property purchase.
Bring in a Professional Eye
Even the most eagle-eyed and detail-oriented homebuyers may not know everything they should be looking out for in a potential new home. By hiring a professional third-party home inspector, homebuyers can be sure they're aware of any potential issues their new home may present. Beyond plumbing, mold, and structural soundness, inspectors can help home buyers identify other risk factors in a house. For older homes, windows can be a big issue when it comes to insulation and heating. Even the most seemingly flawless home will have an imperfection, and a professional home inspection can help you identify whatever it may be. Prior to making a home purchase, inspectors and real estate agents can help you ensure that the potential purchase prices are fair and realistic. Some mortgage companies may even require their borrowers to have an inspection.
Protecting Your New Home
Knowing what to look for when buying a home is just the first step in responsible homeownership. Once you've done the hard paperwork, negotiating with mortgage lenders, and put down the down payment, the fun has only just begun. The first, and arguably the most important step, a new homeowner should take after purchasing a house is securing sufficient homeowners insurance.
Living expenses and costly home buying elements like realtors, inspectors, and contractors are hard enough to juggle, all while moving into a new house. But, you can't compromise on security and peace of mind when it comes to property investment.
That's when home insurance comes in. Use Insurify to compare dozens of homeowners insurance companies quotes simultaneously. By adjusting desired coverage limits and deductibles, Insurify can help any homeowner property insure their property.
What to Look for When Buying a Home: Frequently Asked Questions
If your new home requires a costly repair you weren't previously aware of, your homeowners insurance rate might reflect that. To be sure you've secured the cheapest most comprehensive homeowners insurance policy, use an insurance quote comparison platform like Insurify, which can help you seamlessly compare quotes side-by-side so you're sure you've found the cheapest rate.

Whether it's your first visit at an open house or your final walk-through before finalizing the paperwork, it's so important you've inspected every aspect of a potential new home—both with your own eyes and with the help of a professional. All aspects of a new home should be considered, including but not limited to the roof, plumbing system, appliance condition, and architectural status.

If you're seriously considering making an offer on a new house, it's vitally important you get a professional to look through the home to make conclusions about the condition of the home. If you choose to forgo inspection and make an offer without fully understanding the ins and outs of the home's condition, you're risking costly surprises in the short and long term. Everything from the plumbing to the roofing to the exterior paint can cause huge headaches. Even if you're approaching the home buying process with the intention of purchasing a fixer-upper as a project, it's important to know exactly what you may be getting yourself into.
What to Look for When Buying a Home: The Bottom Line
Buying a home is the ticket to the American dream, but it's so much more complex than just signing on the dotted line. From mortgage payments to interest rates, the finances alone could make your head spin. Don't forget though, a potential homebuyer shouldn't just be thinking about how they're going to make payments but also what it is they're going to end up paying for.
Protect yourself from any uninvited surprises by fully understanding what you're getting yourself into. Use your five senses to inspect every inch of your potential new home, and be sure to splurge on a professional eye to assist you in this process as well. I
And don't forget, sufficient homeowners insurance is the first step to responsible homeownership, so use Insurify to compare dozens of quotes in minutes. Save money for those closing costs by comparing quotes today.
Happy home buying!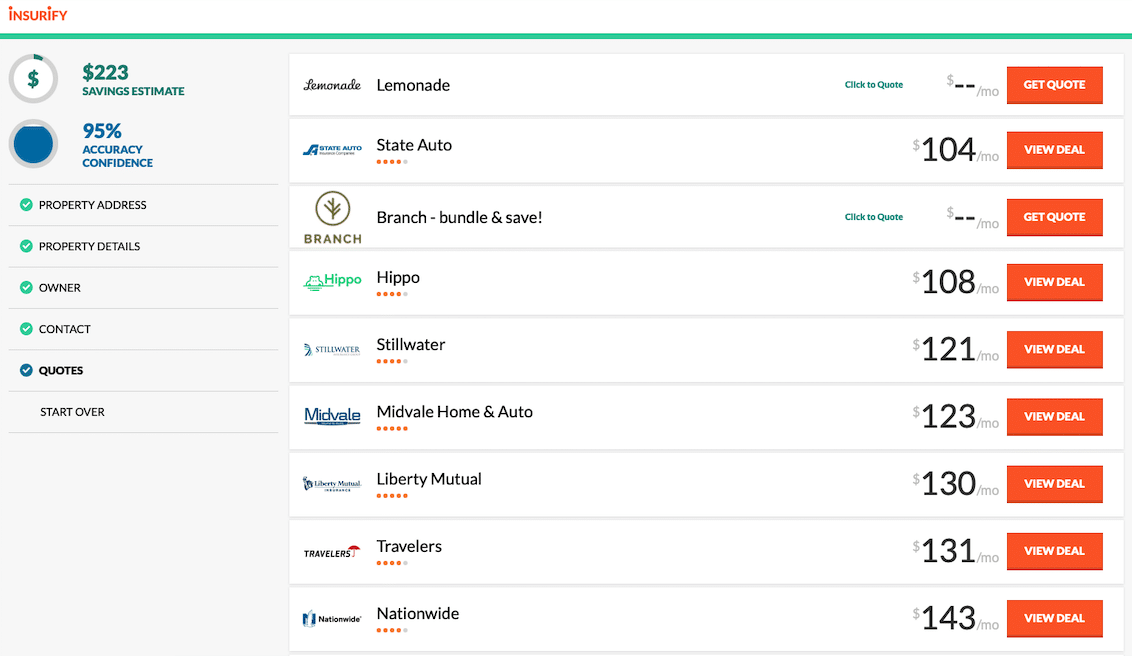 Compare Car Insurance Quotes Instantly
Personalized quotes in 5 minutes or less
No signup required
Data scientists at Insurify analyzed over 40 million auto insurance rates across the United States to compile the car insurance quotes, statistics, and data visualizations displayed on this page. The car insurance data includes coverage analysis and details on drivers' vehicles, driving records, and demographic information. With these insights, Insurify is able to offer drivers insight into how their car insurance premiums are priced by companies.