What do you love most about your home? Is it the walk-in closets or the quiet neighborhood? Maybe it's the walkable location or the view from the big picture window in your living room. Whatever it is, you need to protect it with homeowners insurance coverage.
That's not the only reason to choose homeowners insurance. Your home isn't just the place you live, no matter how much you love it—it's also a major investment, possibly the biggest one you'll ever make. Tread carefully and find the best homeowners insurance for your unique situation. Different insurance companies have different levels of coverage, different endorsements and riders, and different exclusions.
Fortunately, finding home insurance is easier to do than you think. Get started by searching for insurance products and comparing home insurance rates with Insurify, the easy-to-use tool that lets you compare lots of home insurance companies with just a few minutes of research.
Make the search easier with our guide to finding homeowners insurance.
Why You Need Homeowners Insurance
Insuring your home protects you financially in case you have a covered loss from fire, theft, vandalism, or other events that home insurance covers. It will also protect you if someone gets hurt on your property and sues you.
However, not all policies are the same. They can cover different things depending on what kind of residence you have and which coverages you choose. You have to compare insurance services and choose the policy that's best for you. It could be a policy that only covers specified losses or a more comprehensive policy. Read on to find out some of the things home insurance protects against.
What Home Insurance Covers
Whether the policy is from State Farm, Nationwide, or any other insurance company, every policy is a little different. However, there are some similarities. You'll find these common coverages on most policies.
Dwelling: This part of your policy covers the main structure of the house.
Other structures: If your policy includes this, it will cover any structure on your property that isn't attached to the house. That could be fencing, driveways, sidewalks, or even detached buildings like sheds and unattached garages.
Personal property: Your policy covers personal belongings like clothes, furniture, and appliances. Note that you have to prove what you lost and how much it was worth if you're filing a claim for a personal property loss, which is why a home inventory is a good idea.
Loss of use: Your policy will cover your living expenses at another location if your home becomes uninhabitable for a while due to a major loss.
Medical expenses: This protects you in case a guest on your property is injured and incurs medical expenses. In some cases, it may cover people who are injured away from your property. It doesn't cover you or other people in your household.
Personal liability coverage: This applies if someone gets hurt or their property is damaged and it's your fault. It should be high enough to protect your assets if you're sued, so make sure you consider things like how much money you make and what assets you own when you're buying a policy.
Special coverages: You might decide to add on special coverage for high-value collectibles or items like jewelry, guns, or rugs.
Compare Home Insurance Quotes Instantly
Personalized quotes in 5 minutes or less
No signup required
How to Buy a Home Insurance Policy
Buying insurance sounds complicated, but it's actually pretty straightforward. Essentially, you just need to figure out the value of your home and its contents and then choose a plan that covers what you need at a reasonable price.
Here's what you need to do:
Decide what to insure. A standard homeowners insurance policy might not cover high-value possessions, like jewelry or collectibles. You also might pay more if you have a trampoline, pool, or other home feature that raises your liability risk. If you live in an area that floods frequently, you'll probably need to add an extra flood insurance policy from either your home insurance company or the National Flood Insurance Program.

Figure out how much insurance you need. Take an inventory of your personal belongings. Include receipts if you have them. Determine how much it would cost to rebuild your house and any other structures on the property. You can use this information to figure out how much coverage you need.

Pick an insurance company. Look at all your coverage options, and find policies with the coverage you need at a cost that's not too high. The best insurance policy may not be the cheapest one. Using tools like Insurify can make this process easier because they allow you to get a quote from multiple insurers with just a few minutes of work.

Choose a policy. Compare the home insurance quotes you receive and what each policy covers, and determine which is the best fit for your situation. The best policy will have adequate coverage and easy-to-understand terms. It may even come with discounts for things like installing home security systems or smoke detectors. Consider investing in a policy that accounts for the replacement cost of your possessions rather than the current (depreciated) value.
The company underwriting your insurance policy will weigh your risks when determining how much to quote you for a policy. There are several things your insurance agent will take into consideration when figuring out how much of a risk you are, including:
Your home's location

The environment around your home

Typical weather in your area

The age of your home

Whether you have recreational features, like a pool or trampoline
The less risk you have, the less your policy will cost. If premiums are still too high, you can always increase your deductible to bring them down, but this means that you'll pay more out of pocket if you have to file a claim later.
Property Insurance Near You - wFrequently Asked Questions
Ask Insurify's agents! Many insurance companies offer discounts for things like bundling a home and auto insurance policy or installing features that lower your risks, like smoke alarms or security systems.

No, these are usually covered by your homeowners policy up to a specified limit. However, the typical limit may not be enough if you have high-value collectibles in your home. That's why it's important to inventory your belongings and figure out how much insurance you need to cover them.

If you already own the property, you'll need homeowners insurance in case an accident happens on your property or any covered perils occur. Make sure your contractor has enough builders risk insurance—it covers materials and equipment during construction. If the contractor isn't adequately covered, you might want to buy your own builders risk insurance to cover any gaps.
Start Today to Protect Your Home
Becoming a homeowner is an important milestone in life, and your home is your biggest asset. Take the first step to protect it today by comparing quotes for homeowners insurance.
Make the journey easier by using Insurify. This simple tool lets you compare quotes for home insurance, car insurance, and life insurance in just a few minutes.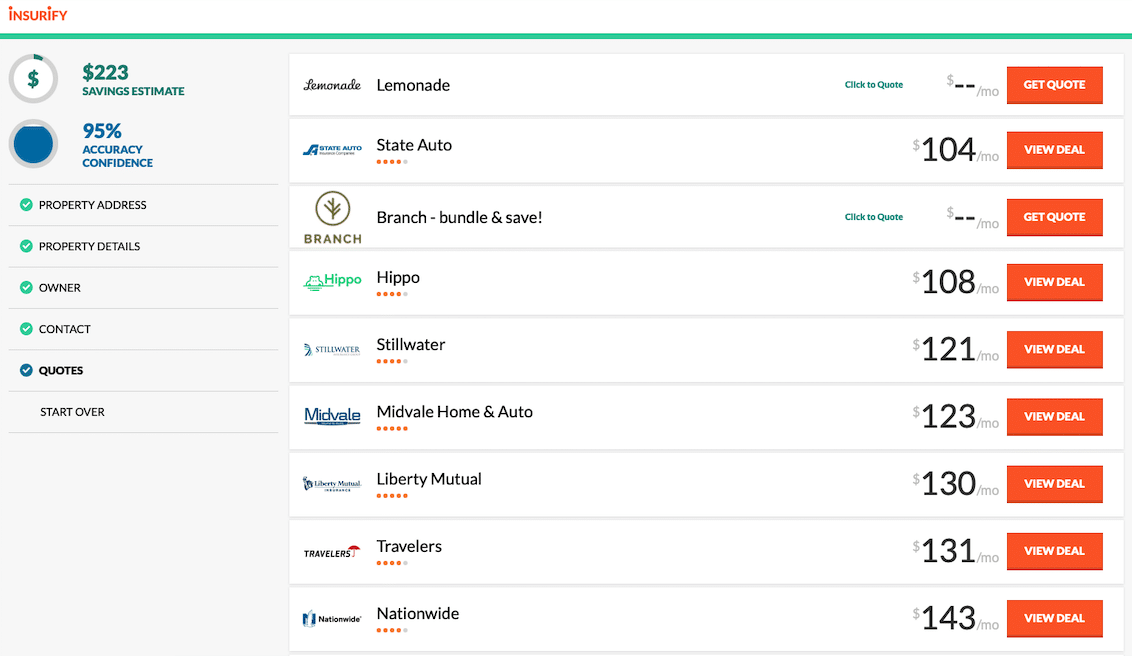 Compare Home Insurance Quotes Instantly
Personalized quotes in 5 minutes or less
No signup required
Data scientists at Insurify analyzed over 40 million auto insurance rates across the United States to compile the car insurance quotes, statistics, and data visualizations displayed on this page. The car insurance data includes coverage analysis and details on drivers' vehicles, driving records, and demographic information. With these insights, Insurify is able to offer drivers insight into how their car insurance premiums are priced by companies.