What does pre-foreclosure mean?
When a property owner fails to make mortgage payments, their mortgage lender will file for foreclosure proceedings. Pre-foreclosure is the period of time leading up to the actual foreclosure.
Pre-foreclosure homes can be a great deal or your worst nightmare. Find out how to tell the difference.
You've likely heard that buying a pre-foreclosed or foreclosed home is a great way to get a discounted property. However, there are some very important drawbacks you should weigh against the possible benefits. You should also know the rules particular to your state. Remember that a little extra research now will pay off in the future. Let's get started!
But first, when you're ready to get home insurance for your new property, don't forget to use Insurify. Our free quote comparison tool gets you several quotes from top insurers in just a few minutes!
Pre-Forclosure 101
As the name suggests, pre-foreclosure is the beginning stage of foreclosure. This means that the current homeowners missed mortgage payments for at least 60 days. When homeowners don't pay their mortgage, they go into default. The lender sends the homeowners a default notice, and this starts the foreclosure process.
What's the difference between pre-foreclosure and foreclosure?
Foreclosure is the process of a lender recouping a loss on a property it's made a mortgage for. This happens when the homeowner cannot pay the mortgage or come to another agreement in order to keep the home. People buy foreclosed properties through an auction. If your home is going
Pre-foreclosure refers to the beginning of the foreclosure process. For buyers, this means negotiating with a distressed homeowner and their lender. Sometimes this works favorably for all parties. However, tensions can easily run high for the seller.
Notably, during pre-foreclosure, the original homeowners can still retain the home if they bring the mortgage up to date. This would then end the foreclosure process. The buyer would then look for a different property.
The Foreclosure Process Timeline
How long does the foreclosure process take? That answer depends on the state the home is in. Every state has different rules and laws governing the foreclosure process. States fall into three categories:
Judicial foreclosures

Non-judicial foreclosure, also known as a "trustee sale"

Both judicial and non-judicial foreclosures
States that use judicial foreclosures require that the foreclosure process goes through the court system. After the notice of default, the lender files a civil lawsuit and summons the homeowner to court. This process usually takes a few months. However, if there are legal objections made, this process can take years to be completed. The legal process can be grueling and expensive.
States that use non-judicial foreclosures do not require the foreclosure process to go through the court system. This usually means a faster process. Non-judicial foreclosures usually take less than six months. However, these can also take up to a year or more if the case is more complicated.
Finally, some states allow for both types of foreclosure. These states tend to favor one or the other. In states where there is an option, be sure to understand how that affects you as a buyer.
The documentation process with foreclosure proceedings can be complex – home loans, public auctions, pre-approval processing, legal actions, and nagging real estate agents just to name a few. If you're thinking about purchasing a pre-foreclosure listing, the best steps to take are to check your credit score, pay off any outstanding loans, and check public records or RealtyTrac for any potential opportunities in your area.
Type of Foreclosure Process By State
| State | System |
| --- | --- |
| Alabama | Non-Judicial Mostly |
| Alaska | Non-Judicial Mostly |
| Arizona | Non-Judicial Mostly |
| Arkansas | Both |
| California | Non-Judicial Mostly |
| Colorado | Non-Judicial Mostly |
| Connecticut | Judicial |
| Delaware | Judicial |
| Florida | Judicial |
| Georgia | Non-Judicial Mostly |
| Hawaii | Both |
| Idaho | Non-Judicial |
| Illinois | Judicial |
| Indiana | Judicial |
| Iowa | Non-Judicial Voluntary |
| Kansas | Judicial |
| Kentucky | Judicial |
| Louisiana | Judicial |
| Maine | Judicial |
| Maryland | Judicial |
| Massachusetts | Judicial |
| Michigan | Non-Judicial |
| Minnesota | Non-Judicial Mostly |
| Mississippi | Non-Judicial Mostly |
| Missouri | Non-Judicial Mostly |
| Montana | Non-Judicial Mostly |
| Nebraska | Judicial |
| Nevada | Non-Judicial Mostly |
| New Hampshire | Non-Judicial |
| New Jersey | Judicial |
| New Mexico | Judicial |
| New York | Judicial |
| North Carolina | Non-Judicial Mostly |
| North Dakota | Judicial |
| Ohio | Judicial |
| Oklahoma | Judicial Mostly |
| Oregon | Non-Judicial Mostly |
| Pennsylvania | Judicial |
| Rhode Island | Non-Judicial Mostly |
| South Carolina | Judicial |
| South Dakota | Judicial Mostly |
| Tennessee | Non-Judicial |
| Texas | Non-Judicial Mostly |
| Utah | Non-Judicial |
| Vermont | Judicial |
| Virginia | Non-Judicial Mostly |
| Washington | Non-Judicial Mostly |
| Washington D.C. | Non-Judicial |
| West Virginia | Non-Judicial |
| Wisconsin | Judicial Mostly |
| Wyoming | Non-Judicial Mostly |
Compare Car Insurance Quotes Instantly
Personalized quotes in 5 minutes or less
No signup required
Should I Buy a Pre-Foreclosure?
Most people looking for a pre-foreclosure or foreclosure sale are looking for a deal. But if it's such a great deal, why doesn't everyone buy a pre-foreclosed property? Because there are major drawbacks to buying a pre-foreclosed or foreclosure property. These drawbacks are important, and you should consider if they make buying a pre-foreclosure right for you.
First, during the pre-foreclosure period, the original homeowner can still make their mortgage current. That means, should they come up with the money, homeowners can make a lump sum payment to the lender. If they do so, the home will come out of the pre-foreclosure process, and the homeowner will retain the property. This is great for the homeowner, but not so great for the buyer.
Second, the original homeowners are strapped for cash. That means that any costly repairs are not being done. Even minor repairs can fall to the wayside due to economic stress. Be sure to make an offer contingent upon a home inspection done by a professional. You should absolutely know the state of the house you are buying.
Keep in mind that any of those repairs will need to be done by you. And you'll need to do many of them quickly. Be sure that you have enough money in savings to cover the cost of repairs. Knowing what repairs you can afford is just as important as knowing the amount of mortgage you can afford.
Third, you may have to have an unwelcome conversation with the original homeowner. That means approaching stressed-out homeowners in default of their mortgage. Don't take this conversation lightly. Your great deal comes at another person's expense, and you should never lose sight of that during negotiations. Be kind and patient with the homeowner. Focus on what your offer can do for them, and let them know you care about their well-being too.
Next, you may not get a chance to walk through the home before making an offer. All the more reason to get that home inspection. But home inspection aside, if you want to see the condition of the home, you may have to wait until after you make the offer. For some homebuyers, this is less than ideal.
Lastly, banks don't always make it easy. Many take a long time to respond to offers and inquiries into properties. This is true for foreclosed and short-sale properties as well. If you're looking to get a deal you may need to exercise patience.
Pre-Foreclosure Frequently Asked Questions
There are several ways to find pre-foreclosures. The easiest way is to use a site like Zillow. You'll find many listings for foreclosures but bear in mind that it may not be accurate. There are two sites that you can pay a membership fee to and get more accurate information. These sites are Foreclosures.com and Realtytrac.com. They go through the trouble of getting public records about pre-foreclosure properties—something you can do as well. We recommend finding a real estate agent who specializes in foreclosed and pre-foreclosure properties. If you're new to home buying, this is the way we recommend. Your real estate agent is a wealth of knowledge.

Sometimes a pre-foreclosed home listed for sale is called a "short sale." Selling short, in investor speak, typically means selling an asset for less than it's worth. For homes, this means selling a home for less than the current mortgage. This is most common in homes that are underwater: the mortgage is worth more than the market value of the home. The current property owners may prefer a short sale to avoid bad marks on their credit.
Buying a Pre-Foreclosure Home: The Bottom Line
Research is your best friend.
Whether you decide to buy a home the usual way or you take your chances with a pre-foreclosure, home buying is a big deal. A lot of planning goes into making a smart investment, and doing research like this will benefit you in the long run.
Whether you're a real estate investor, first-time homebuyer, borrower, title company, or realtor, exploring pre-foreclosure listings can be a tempting and worthwhile step in real estate investing. Securing pre-foreclosure properties through foreclosure auctions or by exploring Zillow can get you real investments at lower than market value prices.
Don't forget to protect your investment with affordable home insurance. Insurify lets you shop top-rated home insurance companies and find the policy right for you and your wallet. Shop, compare, discover, and buy today
If you're ready to trick the real estate market in your favor, start researching average market prices in your area, look over public notices regarding foreclosure, and get ready to make some quick decisions on the pre-foreclosure stage of listings in your area.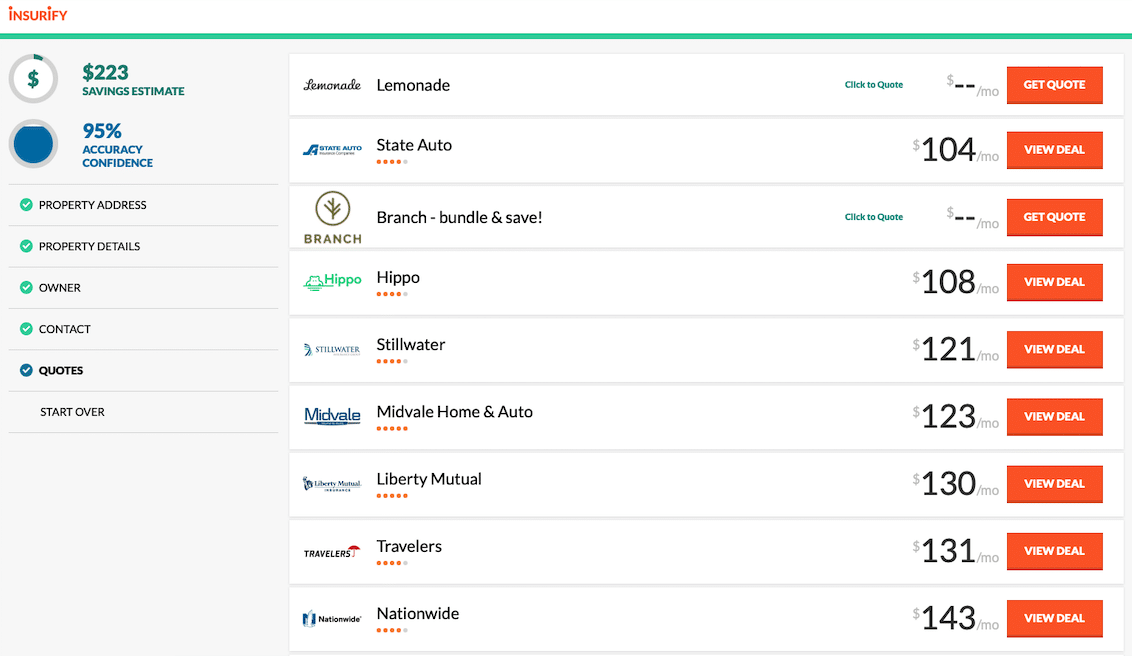 Compare Car Insurance Quotes Instantly
Personalized quotes in 5 minutes or less
No signup required
Data scientists at Insurify analyzed over 40 million auto insurance rates across the United States to compile the car insurance quotes, statistics, and data visualizations displayed on this page. The car insurance data includes coverage analysis and details on drivers' vehicles, driving records, and demographic information. With these insights, Insurify is able to offer drivers insight into how their car insurance premiums are priced by companies.