For some, the idea of living in a perfectly restored Victorian is a dream come true. For others, the idea of plaster walls is less than idea. If you're charmed by the unique and quirky designs of an old home, you should be aware of special considerations when purchasing home insurance. For many older homes, a standard homeowners insurance policy just won't do.
There are steps you can take to reduce the risk of future headaches, for instance, obtaining specialty insurance to protect your old home may protect you financially if something goes awry.
There are many reasons to love your old house – don't let the challenges that come with living in one make you fall out of love. Here's Insurify's guide to insuring your old home.
Insuring Old vs. New Homes
When shopping around for homeowners insurance for a new house, you'll notice dozens of insurance companies will offer you policies. The same doesn't always apply when looking to insure an old home. Home insurance companies perceive homes older than fifty years high-risk. From water damage to worn roofing, older homes often require high cost and frequent repairs, something most homeowners insurance companies don't want to get involved with. That being said, home insurance is an essential part of protecting any property investment– old or new. Don't settle for the first quote you find, use Insurify to find the cheapest quotes from numerous companies, fast.
To determine the premium you'll be charged on a monthly basis, insurance companies must assess the risks and values associated with your home. Replacement cost, the amount of money it would cost to completely replace your property, is then determined based on market value and the contents of your home. For older homes, replacement cost is often higher due to historic, antique, or specialty materials that may be required to restore your home, which may result in higher premiums for homeowners.
Coverage Options for Old Homes
There are multiple options for insuring older homes.
Basic Form (HO1)
The simplest and least comprehensive category of homeowners insurance is called Basic Form, or type HO1 home insurance. This coverage protects against a few general categories of risks to your home. Basic form homeowners insurance covers:
Fire and/or smoke

Explosions

Lightning

Hail/ Windstorms

Theft/ Vandalism

Damage from Vehicles

Riot or commotion
Basic form insurance policies usually only include dwelling coverage, not personal property coverage or personal liability. These may be added as supplemental coverage with some insurance companies. Basic form insurance is often not considered fully adequate by mortgage companies, so if you're financing your home, this may not be an option. However, basic form homeowners insurance may suffice for some owners of older homes.
Old Home Form (HO8)
Since older homes were generally built on less stringent code standards than newer ones, insurance companies have created an entire specialized category to classify old homes – type HO8. Type HO8 home insurance policies often only cover basic perils, similar to those listed under HO1 policies. Historical homes and landmarks are eligible for coverage under an HO8 category. In some cases, owners of registered landmarks may be barred from making substantial changes to their home's structures and systems, this is something to consider if you're purchasing an older home or fixer-upper with the intention of "flipping" it.
If you're trying you're trying to save money on your home insurance (and let's be honest, who isn't?), basic coverage for your older home should suffice. For high-value or historic homes though, HO8 policies are the very best, most protective option.
Special Form (HO3)
Special form phone insurance policies are the most common. As opposed to Basic Form (HO1), which only covers "named perils" (only covering risks specifically listed in the policy), special form home insurance is categorized as "open peril" policies. This means that homeowners are protected from any danger their homes face unless otherwise stated, or excluded in policy documents. Most HO3 policies will exclude the following types of damage:
Earthquakes

Floods

Landslides

Nuclear accidents

Neglect

Mold/fungus

Pests

General wear and tear
Depending on your specific homeowners insurance company and unique policy, these exclusions may vary. However, you can purchase flood insurance and other peril-specific policies as stand-alone additional coverage.
Keep in mind too that homeowners of landmarks or historical properties are often forbidden from updating HVAC, electrical, and other systems in their homes. This is done in order to safeguard historic preservation. This unfortunately excludes them from purchasing an HO3 policy.
Compare Car Insurance Quotes Instantly
Personalized quotes in 5 minutes or less
No signup required
High-Value Homeowners Insurance
Many older homes, historic or otherwise, will be high-value or above average in value. For owners of old homes valued at more than $750,000, especially those that were built with old-fashioned construction methods, styles, or materials, a high-value insurance policy is recommended. These special policies have much higher policy and coverage limits than other traditional home insurance policies. If your old home has a high replacement cost or value, you should consider a high-value homeowners insurance policy.
Supplemental Coverage Options
Once you've settled on the right category of homeowners insurance for your old house, you may want to consider additional coverage options to add to your policies.
Owners of old homes should consider insurance policies with replacement cost coverage . Guaranteed replacement cost covers the entire cost of repairing a home after an accident, even if it exceeds your policy's stated limits. This is opposed to policies that only cover actual cash value. Actual cash value takes into account the depreciation of the home— a major issue for older homes.
Let's say you have a 20-year-old roof that's damaged by a covered peril. Your roof has a 25-year lifespan. Your insurance company will only payout the valuation of the five years left on the roofs expected lifesp
Service line coverage add-ons assist homeowners when repairing damaged service lines after a deductible is already reached. This type of coverage can assist when repairing knob and tube wiring that connect to all kinds of utility systems.
For old homes with high-value personal property inside, there are special coverage add ons that will ensure proper replacement value is met in case of emergency. Personal property coverage can apply to jewelry, art, and other valuable belongings.
The Cost of Old Home Insurance
How much you pay to ensure your home will depend on a number of factors, including:
The age of your home

The foundation

Where you live

Your coverage limits

Your deductible
Below is a table covering the average monthly premium for homes based on the decade they were built. We calculated these rates based on more than 11,000 homeowners insurance quotes. The amounts calculated reflect the national average.
How To Lower Insurance Costs for Older Homes
It's no secret that insurance coverage for an old house is more expensive than coverage for newer homes. But that doesn't mean you can't find savings.
Be sure to take advantage of discounts. Paying in full, auto-pay, and electronic billing can shave off costs with most insurance plans. If your home isn't a historic landmark, you should also consider turning home improvement projects into cost-saving upgrades. Modernizing the electrical system, roofing, heating, and plumbing system can lower your insurance rate. Using higher quality building materials can also save you on insurance costs. Plus, these kinds of upgrades often add additional value to the home, as opposed to a traditional upgrade.
Bundling your home insurance with your car insurance often also offers you a significant discount. If you haven't done it already, get quotes from your insurance agent at both your home and auto insurance providers. That is, so long as both offer a range of property insurance. Don't forget to compare other insurance carriers — it's just as likely an insurer you don't use can offer you a better rate.
You should also avoid filing insurance claims for minor issues. If you can fix a broken window on your own, that will often be cheaper in the long run than filing an insurance claim to repair it. This is especially true when you consider your deductible. The cost of an average window is $300 to $500, below most homeowner's deductible.
Speaking of deductibles, you can also lower your premium costs by switching to a higher deductible. A word of caution, though. Don't raise your deductible so high you can afford it. No savings on a monthly premium is worth the risk of not being able to cover a critically-needed repair.
Finally, don't forget to shop insurance providers and compare insurance rates with Insurify. Our tool helps you shop and compare coverage quickly and confidentially.
Old Home Insurance Frequently Asked Questions
If you're the owner of an old home or considering investing in one, there are a few steps you can take to help you save on homeowners insurance. Stay ahead of repairs and never let inspections run out of date. Look for warning signs in system failures before it's too late- this includes your roofing and electrical and plumbing systems. Compare home insurance quotes for old houses using Insurify- a free online quotes comparison platform.

The replacement cost of your home is the amount of money it would take to repair and/or replace everything in your home in the case that it was destroyed in an accident. It is vitally important that your homeowners policy accurately portrays the replacement cost of your home because the actual cash value matters if you needed to do repairs after an accident.

Insuring an old home is often more expensive than newer homes, but it doesn't have to break the bank. If you're looking for a new homeowners insurance policy to protect your old home, don't settle for the first quote you see. It's important to shop around and the easiest way to do that is by doing a realtime side by side quote comparison using Insurify.
Old Home Insurance: The Bottom Line
Purchasing an older house will result in high insurance premiums, that you can be sure about. However, that's no reason to abandon your dream of owning a historic home. Use Insurify to find the cheapest home insurance quote for your old home.
Happy Saving!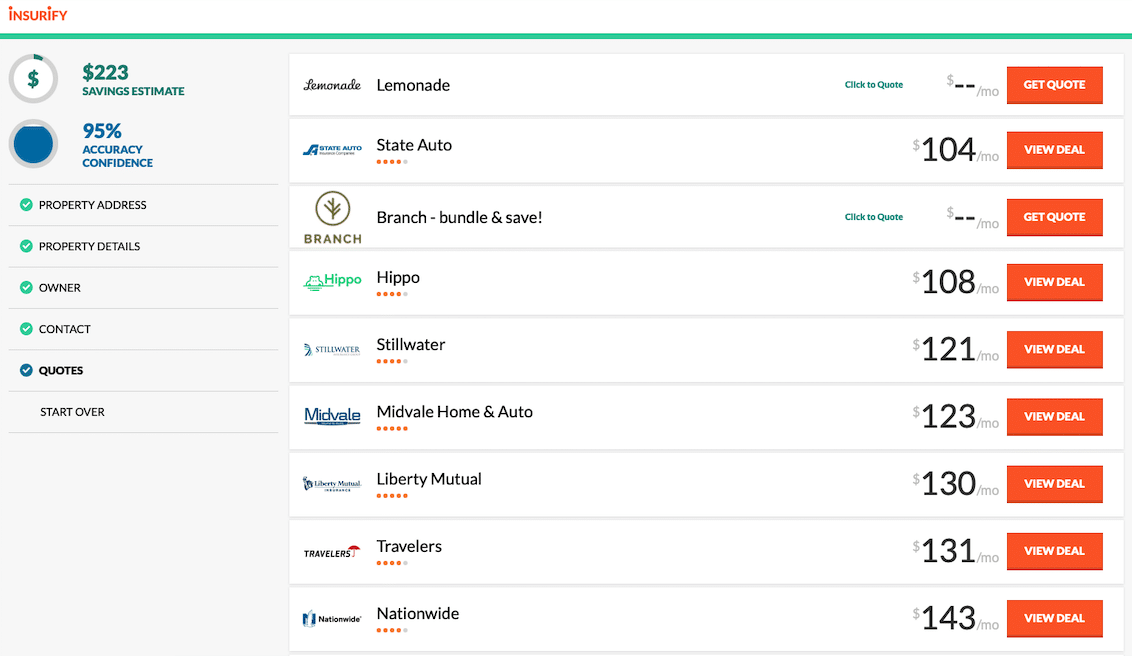 Compare Car Insurance Quotes Instantly
Personalized quotes in 5 minutes or less
No signup required
Data scientists at Insurify analyzed over 40 million auto insurance rates across the United States to compile the car insurance quotes, statistics, and data visualizations displayed on this page. The car insurance data includes coverage analysis and details on drivers' vehicles, driving records, and demographic information. With these insights, Insurify is able to offer drivers insight into how their car insurance premiums are priced by companies.