Does homeowners insurance cover theft outside the home?
Yes, standard homeowners coverage protects your personal property from theft in your home, car, and dorm—even while traveling.
Homeowners insurance policies give us peace of mind that our personal belongings are safe from natural disasters and break-ins. But if you keep your personal belongings in your car or if you're a frequent traveler, it's important to make sure your home insurance coverage protects stolen items outside of the home, too.
The good news is most standard home insurance policies ' personal property coverage extends to theft outside of your home. Still, it's important to know how your insurance company pays for these losses, including your policy's coverage limit, type of coverage, and exclusions.
Insurify is here to make understanding your homeowners insurance coverage easy. Keep reading for a full guide on off-premises theft coverage, and if you're concerned with your level of protection, we can help with that, too! Insurify's home insurance comparison tools let you see insurance companies and insurance quotes side by side so you can choose the best policy for you in just a few minutes.
Home Insurance Coverage for Theft Outside the Home
Your home insurance policy includes various coverage options that help repair or replace your damaged and stolen belongings. Dwelling coverage pays for repairs to your home, liability coverage pays for legal fees in case someone is hurt on your property, and personal property coverage pays for your lost belongings.
Since theft is a covered peril in standard homeowners policies, your insurer will replace your items if you are a victim of theft. This coverage also typically extends to property that is stolen from your car, college dorm, public places like malls and cafes, and even thefts that occur while you're traveling. But many policies cover out-of-home (or off-premises ) thefts differently from home burglaries.
Off-premises coverage has a sub-limit which is generally 10 percent of your personal property coverage limit. That means if you have $100,000 in personal property coverage, you're covered for off-premises losses up to $10,000. This should be fine for replacing low-cost items like clothing or cell phones, but this coverage will fall short when trying to replace high-value items like engagement rings.
Some insurers offer additional coverage options for valuable items and off-premises thefts, so talk to your insurance agent if you think you need more protection for your expensive items.
Know How Your Policy Covers Theft Claims
The best way to anticipate how much your insurance company will reimburse your stolen property after a loss is to check your policy. On your home insurance policy 's declarations page, you can find information like your deductible, premium, and type of coverage. This will help you understand how much you're required to pay when filing a claim, what your policy covers and doesn't, and how much damage you're covered for.
When property damage occurs, your home insurance company will either reimburse your personal items ' replacement cost value (RCV) or actual cash value ( ACV ).
If you have comprehensive coverage, your insurer will pay the entire cost of replacing your belongings, minus your deductible, of course. While replacement cost policies come at a higher price than ACV policies, they also pay out more if you ever need to file an insurance claim.
ACV policies, on the other hand, account for depreciation, so your insurer will pay you less for your older items than for your newer ones. Keep this in mind when filing a claim, as your insurance payout will likely be lower than the cost of replacing your stolen belongings.
Compare Car Insurance Quotes Instantly
Personalized quotes in 5 minutes or less
No signup required
Filing Off-Premises Insurance Claims
The first step to take after your belongings are stolen is to call the police. Whether someone broke into your car or dorm or took off with your luggage, your insurer will likely require a police report before you file a claim.
After filing a report and documenting all of your lost possessions, you'll need to contact your insurance agent or start the claims process online as soon as possible. This may require submitting the police report along with additional documentation of all lost items and their replacement costs.
The claims process can be lengthy, but the sooner you file a claim after the incident and the more information you can provide to your insurer, the easier this process will be. Be sure to take photos of any other damages caused during the break-in to ensure you get the most out of your insurance claim and payout.
Don't forget that you are responsible for paying your deductible when filing a claim, so if your deductible is $1,000 and your total losses only amount to $1,000, you'd be better off bypassing your insurer and replacing the items yourself.
Frequently Asked Questions
While your homeowners policy will cover personal items stolen from your car, it will not pay to replace your stolen car. You'll need to turn to your auto insurance policy for this protection. Additionally, if a car theft leaves your vehicle with broken windows or other damages, you'll need to file a car insurance claim for the repairs.

Making a home inventory can help you determine how much coverage you need and can help your insurer during the claims process, but most insurance providers do not mandate home inventories.

Many insurers will cover stolen cash up to a specified dollar amount (usually $200). But you should talk with your insurance agent to see if your policy covers cash stolen outside of your home.

Yes, renters insurance policies include off-premises coverage, just like homeowners policies.
Off-Premises Coverage —The Bottom Line
Life is full of the unexpected, and insurance helps us plan for the worst. If you're a victim of theft, remember that your home insurance policy has you covered even for thefts that happen outside of your home. But it's crucial that you make sure you have the coverage you need to keep your home, family, and personal belongings safe. Check out Insurify's comparison tools to make sure you're getting the best coverage at the lowest cost.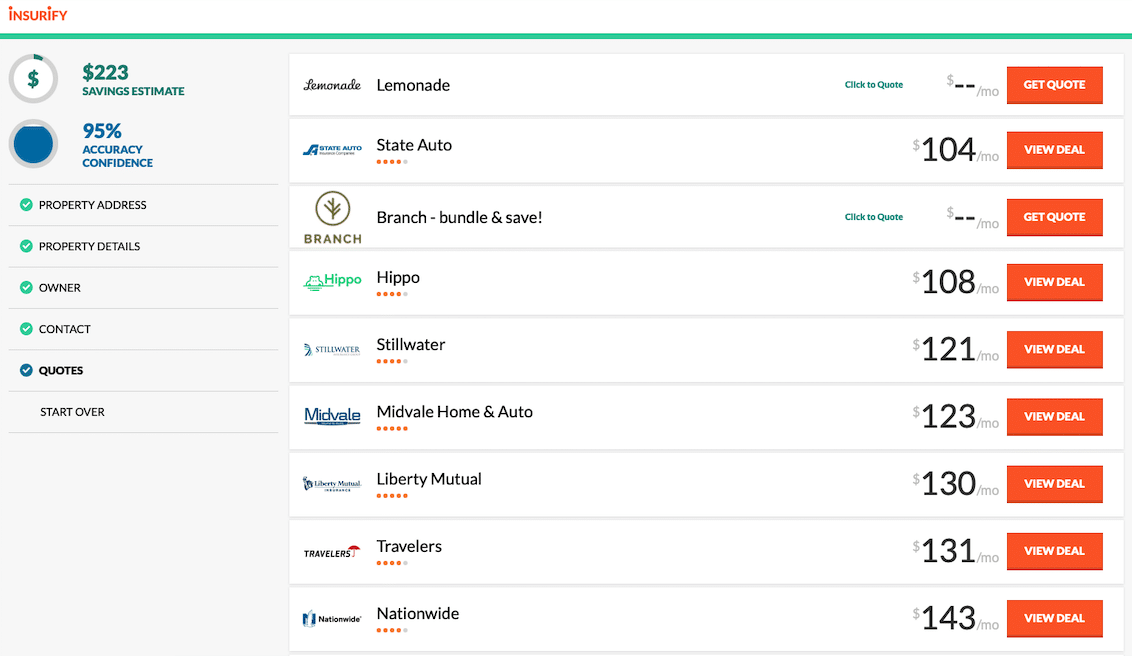 Compare Car Insurance Quotes Instantly
Personalized quotes in 5 minutes or less
No signup required
Data scientists at Insurify analyzed over 40 million auto insurance rates across the United States to compile the car insurance quotes, statistics, and data visualizations displayed on this page. The car insurance data includes coverage analysis and details on drivers' vehicles, driving records, and demographic information. With these insights, Insurify is able to offer drivers insight into how their car insurance premiums are priced by companies.