Are there insurance benefits for low-income homeowners?
Low-income homeowners have the right to sufficient home insurance. Affordable rates exist, you just need to know where to find them. We know a place.
When you're struggling to make ends meet, paying your homeowners insurance premiums can be a huge challenge.
The average cost of home insurance on the rise from California to Maine. And that means homeowners insurance can be quite a burden for low-income families. Those premiums can easily make up a significant percentage of your monthly household income depending on where you live.
To make matters worse, home insurance premiums for houses in high-crime neighborhoods tend to be much higher than average. If homes in your ZIP code have an unusually high amount of theft, vandalism or break-ins, insurance companies will raise your rates to compensate for the increased risk that they'll need to pay for an insurance claim.
Luckily, there are several ways to reduce your home insurance premiums and make them less of a financial burden. Excellent credit is a great goal, but if you have bad credit score, you can still get good home insurance.
Insurify is the easiest way to compare cheap home insurance rates from several companies, all at once. See how much you can save on your home policy with a new provider.
How to Get Affordable Home Insurance for You and Your Family
The first and most important tool for getting cheap insurance is comparing quotes from different companies on a regular basis. The homeowners insurance policy you chose may have been the cheapest option available last year, but it's possible that there's now a better option available to you at a lower rate.
The only way to know is to compare home insurance quotes on a quote comparison site such as Insurify. Comparing home insurance quotes can help you save money and get the cheapest home insurance available. You'll definitely want to compare quotes every time your homeowners insurance policy is up for renewal; if your insurance provider raises your rates for any reason, there's a good chance you'll be able to find a different company that will provide you homeowners insurance for less.
Once you've compared quotes and narrowed down your selection to the two or three cheapest homeowners insurance policies, the next step is to consider discounts. Different providers have different available discounts and ways to qualify for them, so it's important to check online or call an insurance agent to see just what's available for you. Qualifying for several discounts can make an otherwise expensive policy quite affordable.
Common discounts include:
Smoke detectors, fire alarm systems, and other safety equipment

Sump pump and water damage protection

Wind-resistant building equipment

Paying electronically, in full, and/or automatically
Finally, tweaking your policy can have a drastic effect on your premiums.
For example, increasing your deductible (the amount you would have to pay out-of-pocket for a covered loss before your homeowners insurance kicks in) will generally reduce your homeowners insurance rates quite a bit.
It's also important to set your home insurance coverage levels correctly. You may think that your homeowners insurance coverage needs to reflect what you paid for your new home, but in fact, your coverage limits can be quite low. That's because homeowners insurance coverage reflects rebuilding costs for the house itself, and has nothing to do with the price of the land under the house.
You only need coverage levels that reflect the value of the house and structures themselves. Your mortgage lender may require specific supplemental coverage if you live in an area prone to hurricanes, floods, or other natural disasters.
What Homeowners Insurance Covers
Your home insurance policy may cover up to five different types of coverage. These five common coverage options are:
Dwelling Coverage, which protects losses or damage done to the building itself, and covers replacement cost.

Other Structures Protection, which covers things like fences, detached garages, and sheds on your property.

Personal Property Protection, which covers the possessions inside your home—things like furniture, jewelry, computers and anything else that belongs to you but isn't attached to the house.

Additional Living Expenses coverage kicks in if your home is so badly damaged that you can't live in it until repairs are complete; this coverage pays for some or all of the expenses related to staying in a hotel or other temporary lodging.

Personal Liability Coverage, which protects you if someone sues you for injury or property damage that happened on your property.
Types of Insurance Policies
Homeowners insurance policies come in eight basic forms, although only a few of these policy types will apply to you. You'll also have the option of adding additional coverages that might be a good idea if your area is considered high-risk to weather. These optional coverages will allow you to have property insurance with limited exclusions. The type of policy you have will determine what losses that policy will cover and your personal insurance costs. Briefly, the eight types of home insurance policies are:
HO-1, Basic Form insurance, which covers only a handful of specific perils:
Fire or smoke

Explosions

Lightning

Hail and windstorm

Theft

Vandalism

Damage from vehicles

Damage from aircraft

Riots and civil disturbance

Volcanic eruption
HO-2, Broad Form insurance, which covers all of the perils listed in HO-1 plus:
Falling objects

Weight of ice, snow, or sleet

Freezing of household systems (for example, your HVAC system)

Sudden and accidental tearing apart, cracking, burning, or bulging of pipes and other household systems

Accidental discharge or overflow of water or steam

Sudden and accidental damage from artificially generated electrical current (meaning issues to do with your home's electrical system rather than, say, a lightning strike)
HO-3, Special Form insurance, which is generally considered the "standard" homeowners insurance policy. There are two basic ways that homeowners insurance policies can approach coverage: named peril and open peril. Named peril policies (which include all HO-1 and HO-2 policies) only cover the dangers that are specifically listed in the policy.
On the other hand, open peril policies cover everything except what's specifically listed in the policy. An open peril policy gives homeowners much more flexibility in getting coverage for unusual types of losses. HO-3s give you open peril coverage for dwelling protection (losses related to the house itself); personal property protection (losses that affect your personal possessions) are restricted to named peril coverage.
HO-4, Tenant's Form, is the official name for renters insurance. If you rent instead of owning your home, this is the type of coverage you'd get. Renters insurance is similar to a typical homeowners insurance policy except it doesn't include dwelling protection or other structures protection.
HO-5, Comprehensive Form insurance, is a fully open peril policy. Most HO-5 policies cover everything except:
Earthquakes and other earth movement damage, such as landslides

Floods

Non-flood water damage

Pest damage (for example, termites, birds, and rodents)

Basic wear and tear

Settling, shrinking, and other movements of your home's foundation

Pet damage

Mold, fungus, and rot

Deliberate damage by the homeowner

War

Nuclear hazard

Law-related losses (for example, the government seizes your property so that it can build a freeway over the land)

Smog, rust, and corrosion
HO-6 is condo insurance. If you own a condominium, you'd get this type of policy. Condo insurance includes personal property, liability, and sometimes additional living expenses coverage but not dwelling protection.
HO-7 is mobile or manufactured home insurance.
HO-8, Older Home Form insurance, is typically the policy of choice if your home was built 100 years ago or more.
Compare Car Insurance Quotes Instantly
Personalized quotes in 5 minutes or less
No signup required
Best Homeowners Insurance Companies for Low Income and Affordable Insurance
Certain insurance companies are known for providing homeowners insurance policies at relatively affordable rates. Insurance companies use a set methodology to quote your home insurance policies.  Keep in mind that this list is just a starting point; your individual situation and factors may mean you'll be able to get a cheap home insurance policy from a company not on this list. These companies have varying reviews and scores like J.D. Power scores, but all offer fair insurance prices to low-income homeowners.
Allstate
Allstate is one of the largest insurance companies in the USA, and it offers a huge array of homeowners insurance discounts to its customers. This includes not only the typical discounts such as security features (i.e. burglar alarms) and multiple policies but also unusual ones like discounts for customers who are retired and over the age of 55. If you struggle to qualify for discounts with other providers, Allstate may be a good option for you.
Amica
Amica is a mutual insurance company, which means that the company is owned by its policyholders. Unlike other insurance providers, mutual insurance companies are not out to make a profit; that means they can usually afford to offer lower rates on their policies. Among mutual insurance companies, Amica is particularly known for its high customer satisfaction ratings and remarkably low homeowners insurance premiums.
COUNTRY Financial
COUNTRY Financial was the top-ranked company in Insurify 's list of best home insurance companies. It catapulted to the head of the list thanks to its strong ratings in customer service, financial strength and stability, and excellent policy options.
Liberty Mutual
Liberty Mutual is another mutual insurance company, and it's one of the biggest insurance companies in the USA with $5.87 billion in premiums as of 2019. That gives its customers a nice combination of a very large and solidly established insurance company that's also able to offer its policyholders a better deal than typical for-profit insurance carriers.
UPC Insurance
UPC Insurance specializes in homeowners insurance for coastal areas, and its expertise with hurricane damage and similar natural disasters can make it a great choice for homeowners in Florida and coastal Texas. UPC also offers private flood insurance, which may be cheaper than the policies available to you from the National Flood Insurance Program (NFIP).
USAA
USAA only provides policies to military personnel and their families. If you qualify, though, you can get homeowners insurance through USAA at low rates and with excellent customer service. Since USAA specializes in military families, the company also offers military-specific perks that can make its policies a great fit.
Homeowners Insurance Quotes for Seniors
If you're retired and living on a restricted income, saving money on your homeowners policy can be very helpful.
The Hartford has a special program for seniors called the AARP Homeowners Insurance Program that might be a good fit. Other insurance companies may offer special discounts related to retirees. For example, Allstate has a "55+ and retired" discount.
Finally, consider joining AARP if you aren't already a member. Your membership can get you special discounts in many places, including on your insurance policies.
How Bundling Home and Auto Insurance Can Help You Save
Discounts, in general, are a great way to get affordable homeowners insurance, but there's one discount in particular that can make a big difference in your rates: the multi-policy discount.
Companies love it when you buy more than one insurance product from them. They know that if you purchase multiple insurance policies, you're more likely to stick with that company. For that reason, insurance companies will typically offer a large discount if you bundle your home and auto insurance. You can bundle other insurance policies, like life insurance, as well so long as your insurer offers the coverage option.
If you already have car insurance, contact your insurer and ask if it will give you a discount for also purchasing homeowners insurance. You may find that the company you already know and love for your auto policy is also your cheapest source for homeowners insurance.
Affordable Mobile Home Insurance
If you own a mobile or manufactured home, you'll need a special type of homeowners insurance to cover it. Not all insurance companies will offer HO-7 ( mobile home insurance ) policies. These policies typically provide all the same types of coverage as standard homeowners insurance policies, plus some special coverages related to mobile home specific issues. For example, many HO-7 policies include trip collision coverage to protect your mobile home while it's being moved from one location to another.
Because of the extra risks associated with insuring manufactured homes, HO-7 policies may be more expensive than comparable standard homeowners insurance policies. This is particularly true if your manufactured home was built before June 15, 1976, because mobile homes built before that date were not held to any building standard.
However, don't despair—if you collect quotes from several insurance companies for your mobile home insurance policy and aggressively pursue discounts, you can still find affordable mobile home insurance.
Low-Income Homeowners Insurance – Frequently Asked Questions
Absolutely. The trick to finding affordable home insurance is to compare quotes from various providers at least once or twice a year, check regularly to see if you can qualify for any new discounts, and tweak your deductible and coverage limits until you reach a premium that fits your budget.

Because insurance companies look at different factors and weigh them differently, there's no one best affordable home insurance company for everyone. That's why it's so important to compare quotes rather than just looking at one or two options.

Mobile and manufactured home insurance policies can be more expensive than standard home insurance policies because of the extra risks associated with insuring such homes.

And remember, using Insurify to compare quotes for your homeowners insurance policy can help you to identify which policy offers great coverage at the lowest possible price.
Finding Affordable Insurance: The Bottom Line
For low-income families, finding the most affordable home insurance policy can make a huge difference in your quality of life. Financial stability is not an impossible goal. Home insurance can be the fortification you need to protect your savings and largest investment.
Using Insurify to choose your desired coverage levels and then get quotes from multiple companies can make saving money on your home insurance policy fast and easy.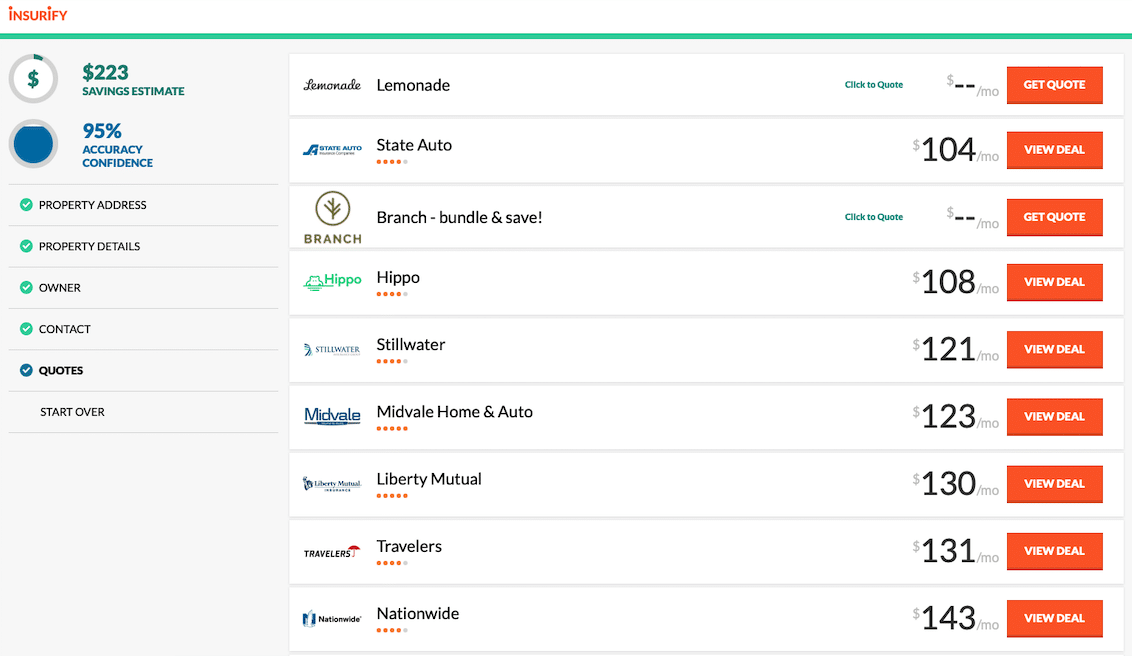 Compare Car Insurance Quotes Instantly
Personalized quotes in 5 minutes or less
No signup required
Data scientists at Insurify analyzed over 40 million auto insurance rates across the United States to compile the car insurance quotes, statistics, and data visualizations displayed on this page. The car insurance data includes coverage analysis and details on drivers' vehicles, driving records, and demographic information. With these insights, Insurify is able to offer drivers insight into how their car insurance premiums are priced by companies.