How does Homeinsurance.com work?
This homeowners insurance marketplace helps you save money by comparing quotes from top insurers.
There are many options out there for homeowners to compare insurance providers. Online comparison tools like Homeinsurance.com are one of the best ways to compare insurance rates side by side. Doing your research online allows you to take your time before sitting down with an insurance agent. When it comes to your personal property, you can't be too cautious when choosing a provider—or a marketplace.
Homeinsurance.com LLC isn't the only online comparison tool out there, however. Insurify is another great option that can help you find the insurance company with the best insurance premiums, lowest deductible, and most comprehensive coverage.
How Does Homeinsurance.com Work?
Homeinsurance.com 's comparison process couldn't be easier. First, enter your ZIP code into the search box on their homepage.
Homeinsurance.com will then return a list of providers in your ZIP code with the option to compare them further. Click on "Compare Rates," and you'll be redirected to the provider's website to investigate further.
If you prefer a more hands-on experience, you can also call Homeinsurance.com and speak to an independent agent who can help you shop for a policy over the phone.
What Insurance Does Homeinsurance.com Offer?
True to its name, Homeinsurance.com offers home insurance. You can also use the service to shop for car insurance.
Many providers offer savings for people who bundle home and auto insurance together. This can be a great way to save money for anyone who needs to buy a home insurance policy and auto policy at the same time.
Compare Car Insurance Quotes Instantly
Personalized quotes in 5 minutes or less
No signup required
Homeinsurance.com Reviews
Customer reviews are one of the easiest ways to see what people are saying about online insurance comparison sites. Homeinsurance.com has mixed reviews, with some people raving about the customer support and savings and others saying the service left a lot to be desired.
Clint H. left homeinsurance.com a 5-star review. "I decided to shop our homeowners insurance and in my search came to this site. The agent that called was very knowledgeable, patient, throughout, and pleasant. He ended up saving us $1,000 a year. We didn't lose coverage, our deductible stayed the same and we even had earthquake insurance. Couldn't be happier!"
Eugene K. gave Homeinsurance.com a 5-star review. "This was a great experience. Our agent did a great job taking care of me. He saved us a lot of money and explained everything clearly. He went the extra mile."
Other reviewers had different experiences, complaining about misleading information and changing quotes.
Homeinsurance.com has 155 reviews on TrustPilot with an average score of 2.4 out of 5. It is not accredited with the Better Business Bureau, but it does have an A+ rating with the BBB.
More About Homeinsurance.com
Homeinsurance.com dates all the way back to 1992, when Carlos Lagomarsino, the CEO, opened an insurance agency in Wilmington, North Carolina. He took the business nationwide in 2001 by launching MyStateInsurance.com. In 2007, he bought the Homeinsurance.com web domain and established it as one of the first insurance comparison marketplaces.
The company then expanded into a larger footprint in 2010 when it purchased Homeownersinsurance.com. It ranked 61st on the Inc. 500 list of fastest-growing U.S. companies in 2011.
Red Ventures, a marketing and sales company, acquired Homeinsurance.com in March 2012.
Frequently Asked Questions
Homeinsurance.com is free to use. When you buy a policy, you pay the carrier for it. You don't owe Homeinsurance.com a penny.

Homeinsurance.com partners with well-known carriers like Lemonade, Farmers Insurance, Allstate, Liberty Mutual, Safeco Insurance, Travelers, and American Family Insurance. All of its carriers have received ratings of "Excellent" or better for financial strength from A.M. Best.

Both are online marketplaces that allow you to compare quotes, and both have extensive blogs that help you understand insurance and lender-related topics, but the comparison ends there. Insurify's search tool asks for more detail about your home, which can help ensure more accurate quotes. With Insurify, you can also buy your policy 100 percent online with savings that are nearly instant.
Is Homeinsurance.com Right For You?
Home insurance is one of the most important decisions a homeowner can make. Buying the right home insurance starts with getting the best rate from a trustworthy comparison site. Find a home insurance company that can protect your real estate investment with a tool like Homeinsurance.com or Insurify.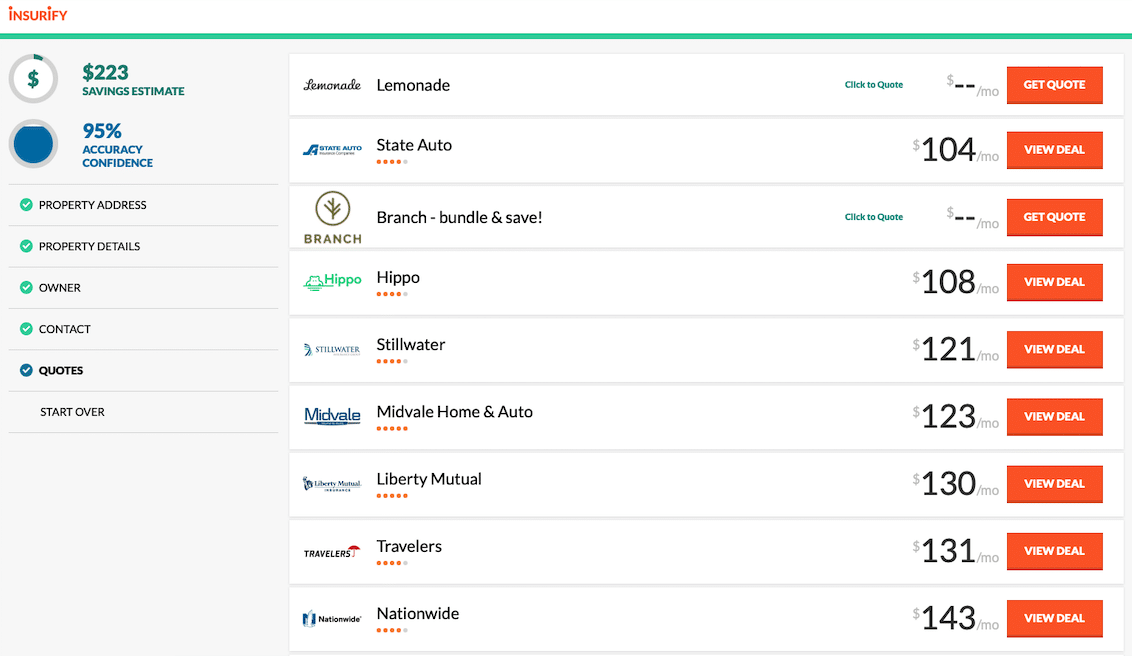 Compare Car Insurance Quotes Instantly
Personalized quotes in 5 minutes or less
No signup required
Data scientists at Insurify analyzed over 40 million auto insurance rates across the United States to compile the car insurance quotes, statistics, and data visualizations displayed on this page. The car insurance data includes coverage analysis and details on drivers' vehicles, driving records, and demographic information. With these insights, Insurify is able to offer drivers insight into how their car insurance premiums are priced by companies.