How does it happen? No matter how much storage space a home has, it never seems to be enough. It doesn't matter if you live in a tiny home or a sprawling abode: storage space gets filled. As the saying goes, nature hates a vacuum.
Don't fret, there are plenty of storage solutions you can use in your home to make any sized space work for you, no matter how small. It's time to get creative and turn those small spaces into storage havens
Did you know Insurify helps you save on home insurance? Start with your ZIP code and end with 6+ real quotes from top home insurance companies. Try it today—for free!
Home Storage: What NOT to Do
Plastic containers are often a default when it comes to home storage and organization. But before you start shoving all your high school yearbooks and bulky sweaters you haven't worn in eight years into Tupperware you stuff onto that precious shelf at the top of your closet, really think through it.
As the great Marie Kondo once said, "Does it spark joy? " Holding onto extra clutter in your home can be like carrying around extra baggage at all times. Living minimally can free up space in your home and closet for items that you love. If you're not ready to purge, though there's a myriad of organization ideas that can help you throughout your home. Throughout your home storage and organization DIY projects, be realistic and mindful when you pack things away. Holding onto mementos and family heirlooms is important, but the same does not apply for dusty Christmas decor and your prom dress from decades ago.
Home Office Storage Solutions
These days, more and more Americans are working from the comfort of their own home. At first, this was an exciting prospect for workers across the country, but for some, the realization that they might not have sufficient space for a proper home office might come with added anxieties. Fret not—there are solutions for home offices in even the smallest of spaces.
In terms of storage, tucking an armoire or another low-profile piece of furniture that doubles as office storage can help you hide supplies, printers, binders, and other work-related items, all while optimizing the space you do have.

Think outside the box when it comes to choosing a desk. For small spaces, use a narrow table tucked behind a couch with an easily tuckable chair. Opt for a corner desk if your space allows, taking advantage of otherwise hard to use nooks.

Use less visible spaces to store work-related equipment, like under-the-desk file organizers or cubbies for paperwork.

No more floor space? Go vertical. Adding shelving as extra storage can provide additional storage and act as a design feature.
If your space doesn't allow room for any of this, try removing doors to a spare closet to create an office nook. This space can fit a small desk or shelf and will have room for shelving and other storage features.
Compare Car Insurance Quotes Instantly
Personalized quotes in 5 minutes or less
No signup required
Picking Furniture Wisely
One of the largest space users in any home is furniture. If you choose wisely, though, most furniture can act in double-duty roles.
Many coffee and dining tables have built-in drawers, cabinets, or hidden storage cubbies. These hideaways can be the homes of knick-knacks, extra blankets, games, and even off-season clothing storage.

Benches and ottomans with hinged tops provide easily accessible storage spaces for out-of-sight hideaways.

In the living room, choosing a hutch or entertainment center that sits snug against a wall with shelving, drawers, and other space-saving storage can help you tuck away everyday items.

Choosing the right couch can also save you major space in the living room. Sleeper sofas or pull-out couches provide guests with a place to sleep if there's no dedicated guest room in your home. Some couches even have built-in storage compartments beneath seat cushions for bonus storage space.
Bedroom Magic
Our bedrooms should be a place of solace and relaxation away from the rest of the world. This is the last place you want to be a stress-inducer, even in smaller spaces, bedrooms can be organized in a way to store all your belongings while acting as a refuge from the rest of your home.
Under-the-bed storage is an excellent option if your closet space does not allow you to keep all your clothing hung up year-round.

During the summer months, you can box up bulkier sweaters and coats and store them in these protective storage containers to make room for other things in your closet.

Platform beds with b uilt-in drawer storage can be a great solution for rooms without room for a chest of drawers. Lining the wall and closet doors with over-the-door hooks or wooden pegs can take advantage of wall space for bonus storage.

Space savers in your closet in the form of hooks and shoe organizers can help you keep things neat and tidy even in small areas. Shoe racks can be placed on the floor of your closet or behind a bedroom door.

Shelf organizers and dividers can help you keep drawers organized, even when it comes to harder-to-fold items like socks and underwear.

If room allows, adding a low set of drawers, even an inexpensive plastic set, can add major storage space to otherwise unutilized portions of your closet.

Adding a second rod to hang more clothing at different levels can help organize shared closets or accommodate shirts and pants separately.

Opting for skinny hangers rather than bulky wooden ones can also help you maximize your closet's space.
Closet storage is the most cherished area when it comes to home organization—use it wisely!
Heart of the Home- The Kitchen
The place where we gather with friends and family, create delicious meals, create the fondest memories, and break bread together: the kitchen. To maximize space for family time in the kitchen, some easy DIY storage ideas can help free up counter space and cut out the clutter.
In cabinets, maximize hard-to-reach corners with lazy Susan turntables and tiers for spice storage.

In deeper cabinets, easy-to-install pullout shelves or baskets from Amazon or Ikea can help you take advantage of every inch of the kitchen, giving you easy access to everything. The same can be done with stacking platform shelves in taller cabinets to maximize.

Drawer organizers can help you neatly store silverware, knives, and other accessories safely and efficiently.

Get yourself a utensil organizer to sit atop your countertop for easy access to your most frequently used kitchen accessories.

Hanging pot racks or grid systems with hooks can help you take advantage of wall space and free up precious cabinet storage for other items.

Under-cabinet racks can be used to free up cabinet space and also allow you to display your prettiest stemware and teacups.

For pans and baking accessories, take advantage of the shelf in your oven to store. Just don't forget to take them out before preheating!

Using a bulletin board in your kitchen to post important memos, mail, and calendars can help you clear up unsightly clutter from your countertops and desk.

For your refrigerator and freezer, storage and proper organization are essential to avoid food waste and maximize space. Freezing things in flat ziplock bags can help you organize your food.

Organizing leftovers and ingredients in clear glass or plastic containers in your fridge can help you keep track of your food so you can use it up before it goes bad. That's right—proper home storage can actually help you save money!
Speaking of saving money: don't forget to use Insurify to get the best deal on home insurance. Unlock discounts, adjust coverage options, and get the right policy for you!
Organizing Your Bathroom
Bathrooms are an area of our homes that should be kept organized and clean for sanitary reasons. With so many products and linens, taking a few organizational steps in your bathroom can really transform your storage system to make it a more pleasant place.
Bathroom storage can be limited, but a little creativity can go a long way.
If you don't have a linen closet, utilize low-profile baskets or plastic bins to roll up extra towels and other linens. These can be stored on your bathroom floor, on a shelf above your toilet, or under the sink if space allows.

Hanging a wired organizer over your shower curtain rings or showerhead can help you organize shampoos, soaps, and razors.

Putting clutter into canisters can be an easy way to add simple design elements to your bathroom that neaten up the room while acting as a storage hack. Storing Q-tips, toothbrushes, and other small items on your countertop in ceramic pots or storage containers.

Take advantage of the little corners on the sides of your toilet and beside the vanity for small sets of drawers. Towel bars and tension rods can help you dry out towels and avoid messes in your bathroom.

Place a magazine rack in the bathroom to keep reading materials tidy.
Laundry Room, Mudroom, and Garage Tips
There are some parts of every home that are somehow magnets for clutter and disorganization, including the laundry room, mudroom, and garages.
In the laundry room, use a curtain rod or a piece of PVC pipe to act as a bonus drying rack for clothing. Stash away detergent, dryer sheets, and other laundry accessories on storage shelves. If you have them, attach racks to the back of cabinet doors for extra spaces to hide small items.
In a mudroom or entryway, a sufficient storage unit can go a long way. A false closet, wardrobe, or armoire can help you store coats and other cold-weather accessories, plus, it's an extra place to store shoes. Protect your floor with an indoor-outdoor mud rug to avoid dirt being dragged into the rest of your home.
Arguably the most prone to faulty storage tactics and disorganization, garages, and sheds can also be the perfect place for DIY organization solutions. Use walls studs and pegboards to store tools and hardware vertically. Utilize drawers and organization shelves to store larger items in plastic bins and luggage. Using old bookcases in your garage can help you avoid waste while organizing clutter.
Home Storage FAQs
If you're trying to get rid of hazardous materials such as old paint, motor oil, dead batteries, and lightbulbs, don't just throw them on the curb with the rest of your garbage. These items should be taken to your local recycling or hazardous waste disposal centers. Check with your municipality to see where you can take these items to properly dispose of them.  Simply storing these items should also be done thoughtfully and carefully. Ensure all containers of hazardous chemicals are properly labeled with the identity of the hazardous chemical(s) and appropriate hazard warnings. Keep them tightly shut and out of reach from any children or small critters that find their way into your garage.

Renting a self-storage unit can be an expensive long-term investment. If you're moving abroad for an extended period of time or will be moving out of your area without a place to store your belongings, a storage unit can be a useful resource. However, if you're using a storage unit to tuck away old belongings that don't mean much to you, think twice. Monthly rent payments will add up too

Organization is the key to successful home storage. Knowing what you own, and where you've stored it can be incredibly helpful when it comes to reducing waste and saving money. That box of paper towels you're storing in your attic will only be useful if you remember you own it before going out to buy more. Start small—adding in drawer organizers, spice racks, and extra shelving is a great place to begin.
Conclusion: Maximizing space and savings
No matter how small your space is, smart storage ideas can allow you to keep all your precious belongings organized. Simple storage solutions for your home can be as small as an extra bookshelf to as large as a new shed in your backyard. DIY home storage and organization projects can be a great weekend pastime, revisit old memories, and make room for new ones.
Don't forget, in order to protect every item in your home, sufficient homeowners insurance is the first step to responsible homeownership. Use Insurify to compare dozens of quotes from the best home insurance companies in a matter of minutes.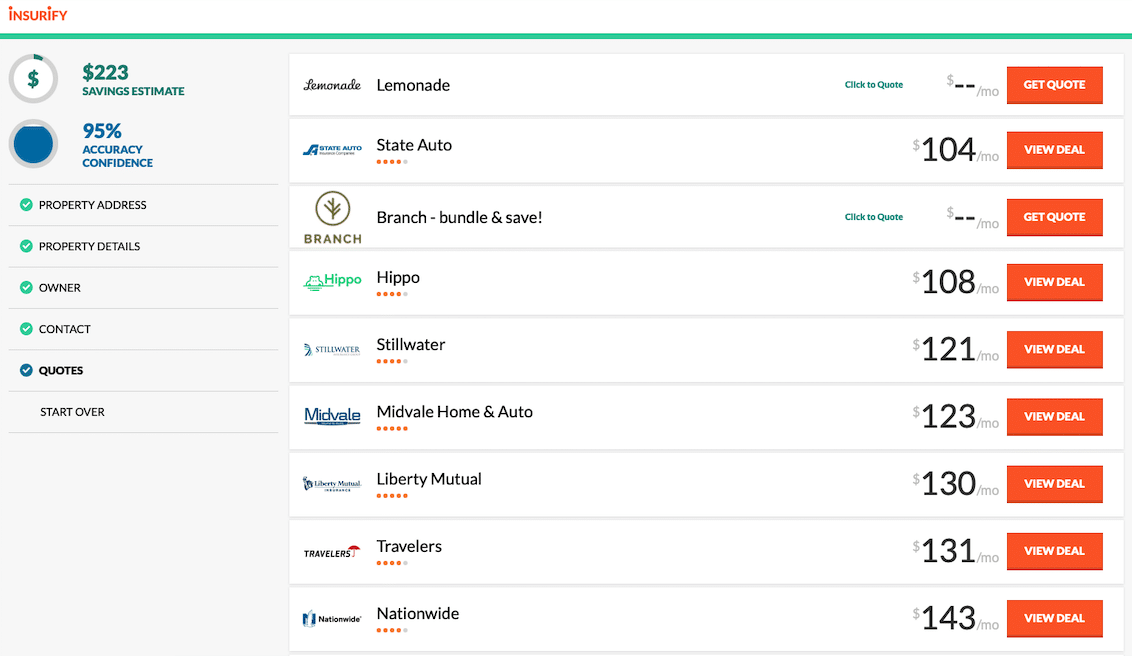 Compare Car Insurance Quotes Instantly
Personalized quotes in 5 minutes or less
No signup required
Data scientists at Insurify analyzed over 40 million auto insurance rates across the United States to compile the car insurance quotes, statistics, and data visualizations displayed on this page. The car insurance data includes coverage analysis and details on drivers' vehicles, driving records, and demographic information. With these insights, Insurify is able to offer drivers insight into how their car insurance premiums are priced by companies.