What's a home insurance quote and where can I get one?
A home insurance quote is an amount an insurance provider would charge you for standard coverages of homeowners insurance. To get one, you'll have to provide information to the insurance company like your address and your social security number. The easiest way to get home insurance quotes is to use a quote comparison site like Insurify to compare home insurance rates from top companies all in one place.
Shopping for homeowners insurance can be a daunting, confusing, and downright boring task, but making sure you have sufficient insurance is a fundamental step in responsible homeownership.
Choosing the right home insurance policy begins with establishing your coverage needs, which may differ based on your location. Find out how to compare home insurance quotes among the best homeowners insurance comparison sites and save hundreds on a new policy.
Everything You Need to Know About Home Insurance Quotes
Before committing to an insurance company, homeowners have the right to shop around. This is where the home insurance quote comes in—while you're shopping around, home insurance companies will give you an estimated policy rate based on simple demographic and geographical information.
Since insurance policy prices reflect risk, quote amounts vary from place to place and family to family. Homeowners insurance quotes are based on the perceived level of risk that a potential policyholder represents to an insurance provider. Credit history, natural disaster frequency, and crime rates may affect this number.
Depending on the insurance agency, the level of homeowners coverage and policy limits differ. The replacement cost of personal property will depend on coverage limits pre-set in your policy. Since insurers weigh these variables differently, premiums will vary from carrier to carrier. That being said, it's essential to check and compare quotes from multiple companies before deciding what to buy.
Here are some similar terms you might come across in your home insurance shopping journey:
A quote is a tailored estimate of how much your home insurance policy will cost with a specific insurance company. Quotes aren't set in stone, however, and may fluctuate once you've provided a company with your more specific information like your Social Security Number. Still, a home insurance quote is the most accurate prediction of the rate a company will set for you.
A rate is the actual cost of your insurance coverage. All of the factors that go into estimating your quote are what ultimately impact the price you must pay to receive insurance coverage.
A premium is what the insurance company determines you'll be charged per pay period based on your rate. Your total monthly or annual premium should represent the final cost of your insurance policy after all discounts, coverages, and endorsements have been applied. Typically, a home insurance policy constitutes six months or one year of coverage, divided into monthly installments.
Some insurance companies offer bundling options to pair with your homeowners policy. Oftentimes, auto policies, renters insurance, life insurance, and other products may be able to be combined with your homeowners policy through a multi-policy discount, which gets you deals on all fronts.
Approved home security systems, like smoke detectors, alarm systems to protect against vandalism, and other burglar alarms may qualify for other homeowners insurance discounts. To find the best home insurance company for you and your lifestyle, you may need to do a little research on the best companies.
Getting Free Home Insurance Quotes
The best way to find and compare cheap home insurance quotes for free is with the highest-rated online comparison platform, Insurify.
Be wary of local insurance agents focused on meeting quotas or lead generation sites mining for your data. Instead, take your insurance decisions into your own hands and spend a few minutes on Insurify —an unbiased, reputable resource for homeowners searching for the right policy. Your mortgage lender will likely require proof of insurance before signing your loan. Get covered first!
When you use Insurify to shop for a homeowners insurance policy, you can have peace of mind knowing the service is completely free for you to use, and your data is always secure. Get covered before you need to file an insurance claim.
Browse, Compare, Discover with Insurify today!
Compare Car Insurance Quotes Instantly
Personalized quotes in 5 minutes or less
No signup required
Factors that Affect Your Home Insurance Rates
If you're wondering why your home insurance is so high, you're not alone. Most homeowners can be blissfully unaware of the sheer number of factors that will slightly or significantly alter their home insurance quote.
Your ZIP code. Insurance costs vary immensely from state to state, city to city, and even one street to the next. Local crime rates, regional weather patterns, and the value of your home are all factors that will go into how much or how little you'll have to pay for a home insurance policy. Your area has a big impact on quotes.

Who you are. Do you own your home or rent it? Do you pay your bills? Your age, gender, marital status, and credit score are all factors that insurance companies can take into account when calculating your quote.

Coverage levels. The higher your liability coverage levels, the more you're potentially asking an insurance company to payout if you file a claim. Obviously, this means the more coverage you have, the more you're going to shell out every month.

Dwelling type. Different types of homes will pose different risks. A beachside home may be more prone to flooding, while a mobile home could be at risk in an area with frequent storms.

Deductible amounts. For any non-liability coverage, you get to decide how much money you'll have to pay before the insurance coverage kicks in. This flat amount is called a deductible. The higher you set your deductibles, the lower your monthly premium will be, and vice versa. Let your financial situation inform how much you want to pay for an insurance policy, how much you can pay, and how much you're willing to "risk" by opting out of appropriate coverage.
The Cost of Home Insurance Coverage
Protecting your property investment doesn't have to break the bank. With the right research and understanding of your coverage options, you can snag a deal on your homeowners insurance policy. According to the National Association of Insurance Commissioners (NAIC), Americans pay an average of $117 per month for their home insurance premiums. Based on your level of desired dwelling coverage here's an idea of what you can expect to pay for your home insurance premiums. A home insurance calculator can help you determine how much to budget for your monthly home insurance premiums prior to committing to a company. Bundling your home and auto insurance can also help you save big on all of your insurance policies.
Most homeowners insurance companies include covered losses like dwelling coverage and living expenses. Other insurance products, such as flood insurance, casualty insurance, or property damage coverage, may need to be purchased separately or as a supplemental add-on product since exclusions may apply on standard policies.
| Coverage Amount* | Annual Premium |
| --- | --- |
| $100,000 to $200,000 | $933/year |
| $200,000 to $300,000 | $1,081/year |
| $300,000 to $400,000 | $1,242/year |
| $400,000 to $500,000 | $1,466/year |
| $500,000 + | $2,164/year |
*Coverage amount refers to the level of risk or liability covered by an insurance policy. The higher the coverage level, the more expensive the policy, but the more protection your personal property has in case of an emergency.
Average Cost of Home Insurance by State
| State | Average Annual Premium |
| --- | --- |
| Alabama | $1,921 |
| Alaska | $1,151 |
| Arizona | $1,355 |
| Arkansas | $1,566 |
| California | $1,160 |
| Colorado | $2,263 |
| Connecticut | $1,130 |
| Delaware | $677 |
| Florida | $3,585 |
| Georgia | $1,533 |
| Hawaii | $892 |
| Idaho | $843 |
| Illinois | $1,284 |
| Indiana | $862 |
| Iowa | $1,351 |
| Kansas | $2,212 |
| Kentucky | $1,462 |
| Louisiana | $3,227 |
| Maine | $760 |
| Maryland | $1,289 |
| Massachusetts | $984 |
| Michigan | $1,035 |
| Minnesota | $1,745 |
| Mississippi | $1,530 |
| Missouri | $1,868 |
| Montana | $1,921 |
| Nebraska | $2,119 |
| Nevada | $908 |
| New Hampshire | $727 |
| New Jersey | $917 |
| New Mexcio | $1,319 |
| New York | $911 |
| North Carolina | $1,101 |
| North Dakota | $1,758 |
| Ohio | $1,148 |
| Oklahoma | $3,249 |
| Oregon | $995 |
| Pennsylvania | $864 |
| Rhode Island | $1,204 |
| South Carolina | $2,026 |
| South Dakota | $1,446 |
| Tennessee | $1,418 |
| Texas | $1,387 |
| Utah | $692 |
| Vermont | $576 |
| Virginia | $1,092 |
| Washington | $731 |
| West Virginia | $1,285 |
| Wisconsin | $1,203 |
| Wyoming | $1,212 |
Home Insurance Quotes for New Homes vs. Old Homes
Older homes are prone to degradation, so buying a newer house that's up to code might lower your risk profile, granting you further discounts.
Older homes have their own category of homeowners insurance coverage called HO-8 coverage. Older homes have generally been built to less stringent code standards than recently built homes, and so insurers have designed a specialized type of homeowners insurance policy for them. HO-8 policies often only cover the basic perils listed in HO-1 policies and generally apply to homes that are registered landmarks or otherwise deemed historic homes.
Owners of registered landmarks are typically forbidden from updating HVAC, electrical and other parts of the home to enable them to qualify for a standard HO-3 policy, so an HO-8 policy is often the only option for them. So, you may end up paying more for that charming old house of yours. For more information, visit our ultimate guide to getting cheap home insurance quotes.
Home Insurance Quotes FAQ
To get fast and free home insurance quotes from the top-rated and cheapest providers in the nation, use a home insurance quotes comparison site like Insurify. Just a few minutes and a couple of clicks can get you side-by-side insurance rates from multiple companies at once, ranked by price or by recommended home insurance coverage. Save time and avoid spam calls by purchasing your new homeowners policy immediately online or over the phone. Protect your personal property and investment with proper dwelling coverage, personal liability, and other forms of property insurance.

You can get a home insurance quote online (directly through an insurance company), over the phone, or in-person at an agency. But generating and comparing multiple quotes is a major time commitment without a home insurance quotes comparison site like Insurify. Compare multiple quotes side by side, with no risk of getting hunted down by robo-calls or scammers. The best part is that Insurify offers fresh, personalized, ready-to-buy quotes after just a few clicks. No surprises or estimations—we'll show you real quotes upfront based on the exact policy you want.

Living expenses are expensive and increasing all the time. In addition to comparing home insurance quotes with Insurify, don't forget to consider all the discounts you may be eligible for. Multi-policy discounts can be a great way to score further homeowners insurance discounts. Consider choosing an insurance agency that will grant discounts by bundling your homeowners with your auto policy, life insurance, or renters insurance for other properties. Installing home security systems and burglar alarms to protect against vandalism, smoke detectors for fires, and flood insurance for water damage may also lower your rates. Coverage options are endless, so find the right combination to make you and your insurer feel happy and protected.

Home insurance quotes are simple– they're rough estimates of how much your home insurance policy will cost with a specific insurance company. Quotes aren't set in stone, though, and will likely fluctuate once you've provided a company with more personal information like your SSN. Still, a home insurance quote is the most accurate prediction of one company's monthly rate it will charge for your insurance premium. Traditionally, obtaining quotes from every major company could take hours of talking on the phone. Today, you can save time by comparing home insurance quotes from multiple companies in minutes with a comparison site like Insurify.
The Best Way to Get Free Home Insurance Quotes Online
Insurify is your best bet if you're looking to compare cheap home insurance quotes side by side. Whether you're prioritizing savings (we've all got to stretch the dollar!), coverage perks, or industry reputation, Insurify puts you in the front seat and lets you choose the real quote you want to buy today. You deserve the best rates, let Insurify show them to you.
Real policies, real savings, real fast. Compare homeowners insurance rates today with free, ready-to-purchase quotes from Insurify.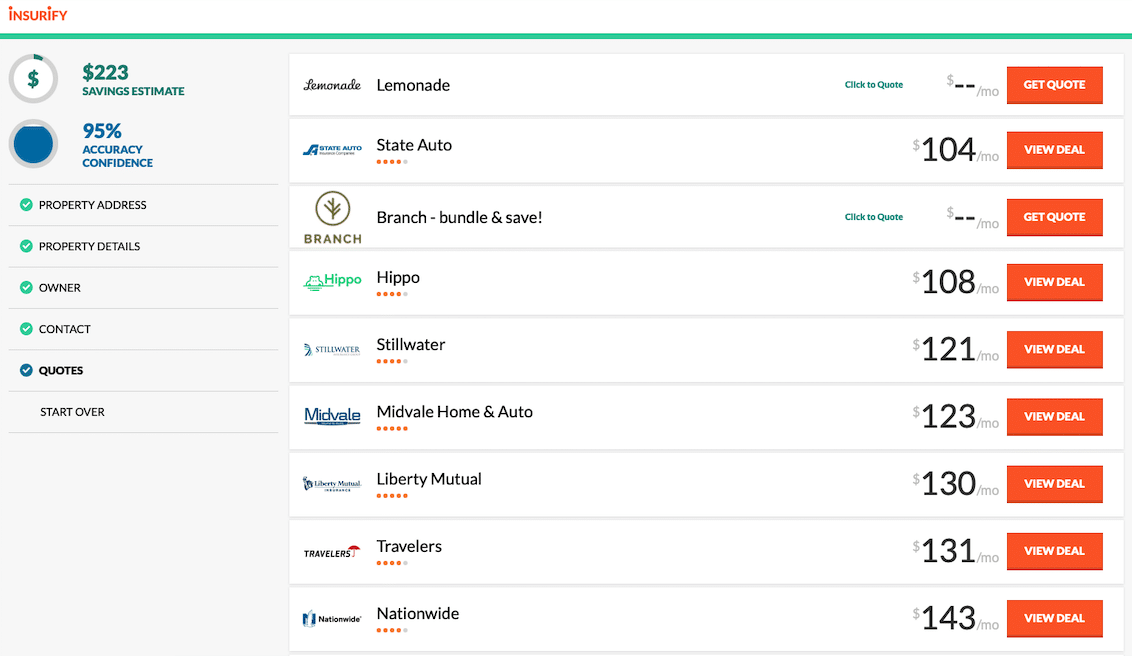 Compare Car Insurance Quotes Instantly
Personalized quotes in 5 minutes or less
No signup required
Data scientists at Insurify analyzed over 40 million auto insurance rates across the United States to compile the car insurance quotes, statistics, and data visualizations displayed on this page. The car insurance data includes coverage analysis and details on drivers' vehicles, driving records, and demographic information. With these insights, Insurify is able to offer drivers insight into how their car insurance premiums are priced by companies.