Blog
Home Insurance
Compare Home Insurance Quotes
Why you can trust Insurify
Edited by John Leach
Updated September 13, 2022
Reading time: 8 minutes
How do I compare home insurance quotes?
There's an easier way to compare home insurance quotes than sitting on hold and with different insurance companies. Use insurify.com to compare home insurance quotes from top insurers.
Buying or renting a home comes with the added costs of purchasing home or renters insurance. It will help you protect your property investment and personal belongings. How do you ensure you're getting the best home insurance policy at the best rates? And how do you still maintain peace of mind with so many insurance companies out there? Comparing home insurance quotes doesn't have to be so difficult.
That's why Insurify is here to help make it easier for you to choose the right dwelling coverage at the lowest price. Give us a try!
Comparing Homeowners Insurance Rates & Coverage Options
Have you recently bought a new home? Are you renting a home? Are you looking for a better home insurance company? It helps to compare home insurance quotes. There's no way around it. It's often daunting to search for the best homeowners insurance policy. The internet is full of baffling coverage limits, ambiguous pricing, and confusing insurance agents. On top of everything, insurance jargon is hard to digest.
What's even more annoying are the endless forms and hours spent online and on the phone. You're met with unclear pricing and pushy independent insurance agents. These roundabout ways can take up your whole day, making the process painstaking. It often seems like there's no exact way to compare home insurance coverage options.
Comparing home insurance quotes doesn't have to be so daunting. Sure, there are many considerations, and some education on home insurance companies is needed. Once you've found out the ways to save, the process of comparing home insurance quotes is simple.
With Insurify, all you have to do is fill out a simple questionnaire and tell us more about your property and coverage requirements. Soon, you'll get accurate quotes from home insurance carriers. You'll be on your way to securing the best and cheapest homeowners insurance to fit your needs.
Follow along as you learn how to compare home insurance quotes, saving you time and money.
Home Insurance Coverage Considerations
Before you compare homeowners insurance quotes, you must know what to expect. The only way to see if you're saving is to know your coverage options. You should also see the amount of coverage you're getting. There may even be additional homeowners insurance costs. Check out these considerations before you can save a dime and get the best home insurance quotes.
Coverage Options
Standard home insurance covers replacing and repairing your home. Coverage may include damages from different perils like vandalism, theft, or fire. If someone is injured on your property, your home insurance policy will cover medical costs. There are liability coverage options for when you damage someone else's property on accident. Your insurance will pay for that, too. Pets are also included in personal liability in case they cause any damage. Liability insurance also comes in handy.
There are instances where you'll need to purchase add-ons for protection from other damages like earthquakes and flooding. These are not included in a standard policy. If you need to cover pricier personal belongings, there are coverage options for personal property coverages, too.
Amount of Coverage
Liability coverage: Figuring out the amount of coverage you need can be overwhelming. However, most homeowners insurance policies set a minimum for liability coverage. In this case, you know your coverage options. It's typical for homeowners insurance policies to have $100,000 as a specified minimum in liability coverage. Liability coverage can be the most important part of your purchase, so it's quite common to purchase anywhere from $300,000 to $500,000 in coverage.
Deductible: Your deductible is the amount paid out of pocket if you make a claim. Standard homeowners policies have a flat deductible of $1,000, but $500 and $2,000 are also common. With a higher deductible, you will save more on your overall premium.
Personal possessions: Your homeowners insurance policy will likely provide coverage for your belongings. The amount of personal belongings coverage is usually anywhere from 50 to 70 percent of the value of your home. It's wise to conduct a personal inventory of your belongings. Find their fair market value to have a convenient record and to see whether you need extra coverage. It's always wise to check the coverage limits for individual expensive items. Jewelry and musical instruments should be noted. That way, you will know to purchase additional coverage. Most people buy a floater or an endorsement to insure these expensive items individually.
Replacement Cost vs. Actual Cash Value
Going with the right policy makes a world of difference. You may get caught up deciding if you should cover your home with replacement cost or actual cash value coverage. When or if something happens to your home, homeowners insurance companies will base your payout on local labor, building materials, additions to your home, the age of your home, and other factors.
Every payout is different. Everything from your home's building materials to the personal belongings inside it can affect the amount. Homeowners insurance coverage will either pay for replacement cost coverage or actual cash value. Replacement cost homeowners insurance covers the full replacement costs of the material or personal items at current prices. Actual cash value will pay for the depreciated value of the items, that is, their original price minus the value lost over time.
The depreciated value is often far less than you expect. Let's say your $700 TV from five years ago needs to be replaced. Actual cash value means you'll receive much less than $700 to replace it. Replacement cost is equal to a replacement's fair market value. It's always wise to go with replacement cost coverage. Otherwise, you're losing on replacing your home or the items inside your home.
Additional Living Expenses (ALE)
Additional living expenses, also known as ALE, are living expenses needed in case of emergency. When you and your family are left without anything after a fire or other qualifying event, you will need ALE. Let's say you have nowhere to live, no kitchen, no bathroom, and so on. ALE coverage reimburses you for the added cost of living without a home. So, if you tend to cook at home and usually spend $500 a month on food for cooking but have no kitchen, ALE will cover the cost of eating out. This is known in the insurance industry as a loss of use. Eating out is more expensive, and you have to feed your entire family. Let's say these expenses jump to $1,000 a month; you would be reimbursed an extra $500 a month from loss of use.
Additional living expenses on most homeowners insurance policies are calculated from a percentage of your dwelling coverage. Usually, the calculated ALE are between 20 and 30 percent. If you have extended dwelling coverage at 30 percent, your insurance provider will give you $60,000 for loss of use based on standard coverages. You can ask your insurance agent for more ALE. You will require more money if you have a large family and your additional living expenses would be higher in such cases.
Bundling
Chances are, you will need to insure more than your home. Multi-policy, known as bundling, combines one or more insurance policies, like home and auto insurance. Most popular insurance carriers, like Allstate and State Farm, offer bundling packages. You are at an advantage if you bundle your car insurance or life insurance with your homeowners insurance. Companies often include discounts with these packages. Be sure to look at your current policies to see if there is room to bundle.
Compare Home Insurance Quotes Instantly
Personalized quotes in 5 minutes or less
No signup required
How Home Insurance Companies Decide Rates
Home insurance rates are a mixed bag for insurance companies. There are a few considerations that directly affect what you pay on home insurance. Here are some factors that help companies decide your home insurance rates.
Average Cost of Home Insurance by State
| State | Average Annual Premium |
| --- | --- |
| Alabama | $1,921 |
| Alaska | $1,151 |
| Arizona | $1,355 |
| Arkansas | $1,566 |
| California | $1,160 |
| Colorado | $2,263 |
| Connecticut | $1,130 |
| Delaware | $677 |
| Florida | $3,585 |
| Georgia | $1,533 |
| Hawaii | $892 |
| Idaho | $843 |
| Illinois | $1,284 |
| Indiana | $862 |
| Iowa | $1,351 |
| Kansas | $2,212 |
| Kentucky | $1,462 |
| Louisiana | $3,227 |
| Maine | $760 |
| Maryland | $1,289 |
| Massachusetts | $984 |
| Michigan | $1,035 |
| Minnesota | $1,745 |
| Mississippi | $1,530 |
| Missouri | $1,868 |
| Montana | $1,921 |
| Nebraska | $2,119 |
| Nevada | $908 |
| New Hampshire | $727 |
| New Jersey | $917 |
| New Mexcio | $1,319 |
| New York | $911 |
| North Carolina | $1,101 |
| North Dakota | $1,758 |
| Ohio | $1,148 |
| Oklahoma | $3,249 |
| Oregon | $995 |
| Pennsylvania | $864 |
| Rhode Island | $1,204 |
| South Carolina | $2,026 |
| South Dakota | $1,446 |
| Tennessee | $1,418 |
| Texas | $1,387 |
| Utah | $692 |
| Vermont | $576 |
| Virginia | $1,092 |
| Washington | $731 |
| West Virginia | $1,285 |
| Wisconsin | $1,203 |
| Wyoming | $1,212 |
ZIP Code, Property Type, and Value of Your Home
These factors are the key reasons your home insurance rates are higher. Crime in your town or your ZIP code, such as property damage, vandalism, and theft, can affect your rates, too. As home insurance claims go up in volume, so do your rates, whether your home is a townhome, single-family, or a condo. And the value of your home directly impacts your rates. Your rate is going to differ from your neighbors due to these factors.
Credit Score
It's illegal for insurance companies to refuse coverage based on your credit score. But it helps to have a higher credit score. If your credit score is high enough, you could get some discounts.
Natural Disasters
Insurance premiums go up based on the occurrence of natural disasters in your area. The volume of natural disaster claims nearby directly affects your home insurance rates. Are there many claims filed due to natural disasters like windstorms, tornadoes, and snowstorms in your area? Your premiums will be higher. That's why it's essential to get the most out of your policy and buy additional policies when necessary.
Discounts
Having your home set up the right way makes insurance companies happy. When insurance companies are happy, they give you discounts! Installing special features in your home, like an alarm system, can give you a good deal. Burglar alarms mean that fewer claims will be filed, saving your insurance provider money. A discount makes sense when you have extra protection.
Your demographics also play a part in insurance rates. Statistically speaking, married couples file fewer insurance claims. If you recently got married, you could receive lower rates, depending on the insurance provider.
How to Compare Homeowners Insurance Quotes
Now that you know what you need, it's time to find the best homeowner insurance company based on a few factors. Keep the following factors in mind when comparing home insurance companies.
Customer Satisfaction
Customer satisfaction is critical when choosing a home insurance company. You want an insurance provider that will cater to you, not only pay out insurance claims. Look for companies that are rated by J.D. Power. J.D. Power is the leader in consumer insights and analytics. J.D. Power also provides truthful and accurate customer ratings from customers all around the country.
Special Offers & Additional Coverage
Bundling offers and discounts are readily available from your prospective home insurance companies. More offers lead to more savings. Also, look for special offers on additional coverage to help you save if you need to purchase essential add-on coverage like flood insurance. And remember, water damage from floods is not covered on a standard policy. If you go without flood insurance and something happens, you could end up paying the price. You'd lose money in the long run.
Don't forget that Insurify makes the process of comparing home insurance quotes easier than ever. It takes just a couple of minutes to provide your home's information. Then, in a matter of seconds, we'll send you quotes from the best home insurance companies out there. Try it for yourself and save time, money, and energy. You'll be able to pick and choose the home insurance that works for you.
Frequently Asked Questions - Replacement Cost
Your standard home insurance policy does not include flood insurance. Flood insurance through the National Flood Insurance Program could help significantly. Talk to your local agent about additional coverage with flood insurance and whether you will need it.

If you live in an earthquake-prone state like California, earthquake insurance is vital. Home and renters insurance does not cover earthquake damage. Though, a standard policy will cover fire losses due to earthquakes and will help out if you must vacate during repairs. If you live in an area prone to earthquakes, you will end up saving in the long run with additional earthquake insurance.

Yes. You will save money by bundling multiple insurance products like home and car insurance in most cases. Most insurance companies ask if you would like to bundle when you go to sign up. It's that easy!

Actual cash value is the value of an item minus the depreciation cost. It is equal to the replacement cost minus depreciation of the item in question. You should now if your policy covers replacement cost value or actual cash value. Check your policy and make any necessary changes with your agent.
Comparing Quotes: The Bottom Line
As long as you know what you need with home insurance, you will easily compare and save. Always know what coverage options fit your home and needs the most. Also, look at the homeowners insurance companies that offer the best discounts. And always look at other vital variables, like customer satisfaction. That way, you'll get the most out of your insurance carrier.
Don't forget to use Insurify to make comparing home insurance quotes easy. Try it out now and have your free quote delivered to you in seconds.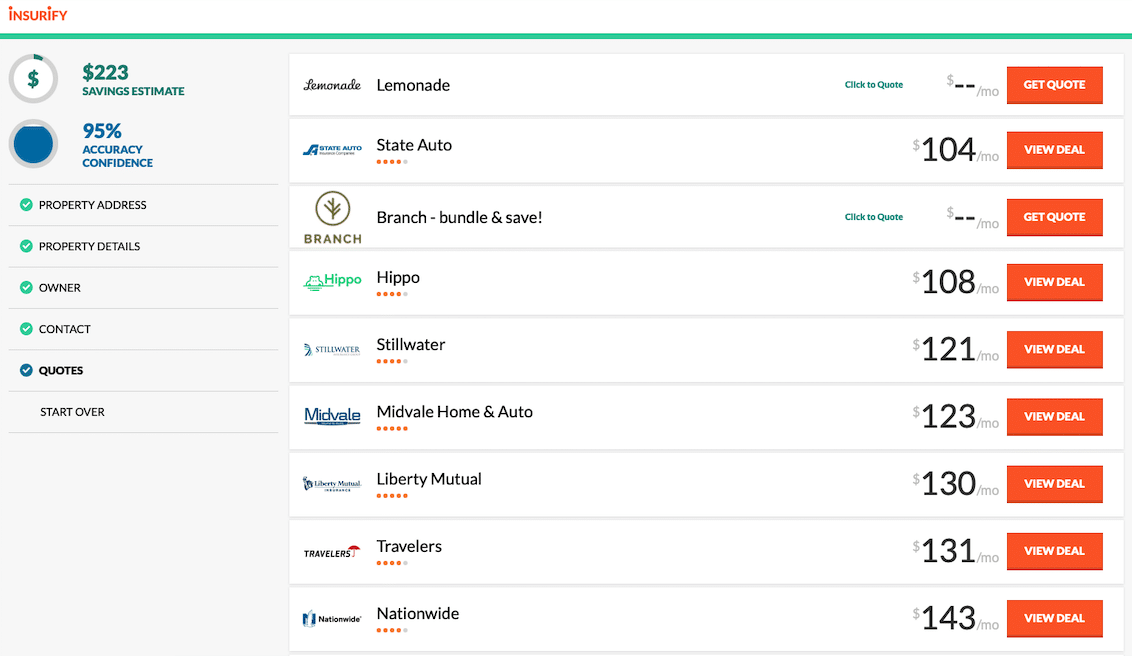 Compare Home Insurance Quotes Instantly
Personalized quotes in 5 minutes or less
No signup required
Data scientists at Insurify analyzed over 40 million auto insurance rates across the United States to compile the car insurance quotes, statistics, and data visualizations displayed on this page. The car insurance data includes coverage analysis and details on drivers' vehicles, driving records, and demographic information. With these insights, Insurify is able to offer drivers insight into how their car insurance premiums are priced by companies.