Since even peaceful protests have the potential to escalate, civil unrest has the potential to lead to riots and looting of homes, businesses, and personal property, causing homeowners concern about damage.
It can leave many people asking: does insurance cover damage caused by civil unrest? The short answer is yes. Standard insurance policies generally cover destruction from civil commotion, including rioting, looting, and vandalism.
While that's good news for most policyholders, it doesn't solve the problem of overpaying for home insurance. Take two minutes to compare quotes and insurance coverage options with Insurify to keep your home safe, no matter what life throws at you.
Does Insurance Cover Damage Caused by Civil Unrest?
You may have heard of rioting, looting, and vandalism, but there's another term you must know as a homeowner: civil unrest. Civil unrest, or civil disturbance, is a blanket term that includes any disruption of normal social order. Generally, peaceful strikes and protests—when a group of people are seeking change and to have their voices heard—fall into this category.
Civil unrest can turn violent. When it reaches the point of being out of control, a civil disturbance becomes a riot. Damage from riots can include vandalism, which is a deliberate act of property damage.
You're more prone to physical loss if you live in a large city, such as New York, Los Angeles, or Minneapolis. If a riot breaks out in your town, the last thing you want to do is worry about paying for repairs. Comparing the best home insurance companies to get the right protection is crucial to minimize your out-of-pocket expenses.
The insurance industry factors in the risk of civil violence. According to the Insurance Information Institute (III), several types of insurance are available to protect your home, vehicle, or business from malicious destruction. Remember that your coverage can depend on your individual policy options.
Damage to Your Home
If a civil disturbance causes damage to your home, your level of protection can vary. Most house insurance policies cover repairs or replacement in the event of a fire, explosion, riot, or civil disturbance.
What if the destruction is so bad that you can't live in your home? Check your policy or ask your agent about insurance coverage for additional living expenses (ALE). If your policy covers the cause of the damage, meaning the damage from an insured disaster, ALE will cover the extra expenses of living away from your home.
The money you receive from your ALE coverage can pay for things like hotel bills, meals, and other necessary expenses while your home is being repaired or rebuilt.
If you rent an apartment, condo, or house, you may worry about your insurance covering physical damage from riots. Renters insurance can include protections for civil commotion, vandalism, and riots. Like traditional homeowners insurance, renters insurance can also include ALE if the damage is considered an insured disaster.
Damage to Buildings and Personal Property
Your house may not be the only part of your property to suffer damage from civil commotion. If it impacts your gazebo, shed, or garage, property insurance policies usually cover the cost of repairing or rebuilding those structures.
Called "other structures protection," the standard insurance coverage for unattached buildings equals 10 percent of the total coverage on your home. For instance, coverage for your detached garage, fence, barn, or other structure would be $25,000 if your home is insured for $250,000.
If you put in a new structure and don't notify your insurer, your policy might not cover the physical loss. Let your agent know of any new buildings, fencing, or changes to your house or property.
Because home insurance also covers personal belongings, your policy generally covers any damage to or theft of possessions inside and outside your home stemming from civil disruption.
How to File Insurance Claims for Civil Disorders
Filing an insurance claim for civil disruption is similar to how you would file other types of claims. Insurers encourage policyholders to report damages immediately.
Remember: you don't want to attract attention if you find yourself in unrest. Safety is your first priority. Once it is safe to do so, inspect your home, property, and belongings to determine the extent of the destruction.
You can also take additional steps to secure your home and personal items from further loss. You might move your lawnmower to your shed, lock the door, lock your fence gate, close your curtains, and move away from windows and doors.
Because looting, vandalism, and rioting can result from criminal behavior, your policy may require you to file a police report to accompany your insurance claim. Police can usually respond faster, while there may be a waiting period before an insurance adjuster can inspect property damage.
Meanwhile, track all expenses you incur that are above and beyond what you'd normally spend. Keep your receipts if you aren't able to return home and need to stay overnight in a hotel or eat at a restaurant. Also, write down costs you might incur for preserving your property and completing emergency repairs.
Save your damaged property and items; your insurance adjuster will want to see them. It's helpful to take photos and video recordings of the destruction, especially when dealing with perishable items you need to discard.
You may also need to file a claim with your auto insurance company if your vehicle was vandalized. However, you could save time and frustration if you bundle your home and auto insurance.
Compare Car Insurance Quotes Instantly
Personalized quotes in 5 minutes or less
No signup required
Frequently Asked Questions - Civil Unrest and Home Insurance Coverage
Homeowners insurance doesn't generally cover vehicle damage. Instead, you'd rely on the optional comprehensive portion of an auto policy. If your policy doesn't include comprehensive coverage, destruction from civil unrest probably isn't a covered peril under your auto policy.

If you live in a mobile or manufactured home, your mobile home insurance should include riots and civil commotion as a named peril. Your insurance company generally pays to rebuild, repair, or replace your property, including your mobile home and possessions. Most policies also have loss of use coverage to reimburse extra living expenses you incur if damage to the home prevents you from living there.

Civil authorities, such as police or fire authorities, may block off access to your home during periods of unrest. Although it depends on the extent of the damage, they may also prevent you from returning to your home or neighborhood for several days or weeks if the commotion turns violent and destructive. Civil authority coverage in your insurance policy can also replace loss of income, which is helpful with so many people in the United States working from home during the 2020 COVID-19 pandemic.

If you own a small business or larger commercial operation, your standard business owners policy (BOP) generally covers damage to your physical building and its contents from civil unrest. Some insurers require businesses to purchase a separate plate glass windows policy, but that can vary by company and region. If riots, fire, and vandalism force your business to shut down or limit hours of operation, business interruption coverage may cover loss of income.
Is Your Home Covered from Civil Unrest?
When violent protests break out, the commotion can lead to uncertainty. You may also experience a wide range of emotions, whether or not it directly affects your home or disrupts your normal routine.
If you're concerned about damage to your property, your homeowners insurance policies typically cover property losses from civil unrest. Your policy language may also include reimbursement for additional living expenses, such as hotel stays, meals, and other necessary expenses, if you're unable to return to your home.
Because civil disturbances can be unpredictable, the well-being and safety of you and your family should be your top priority. Document and report damage to your insurance company quickly, but only after the danger or threat of harm has passed.
Use Insurify to compare home insurance premiums for your property.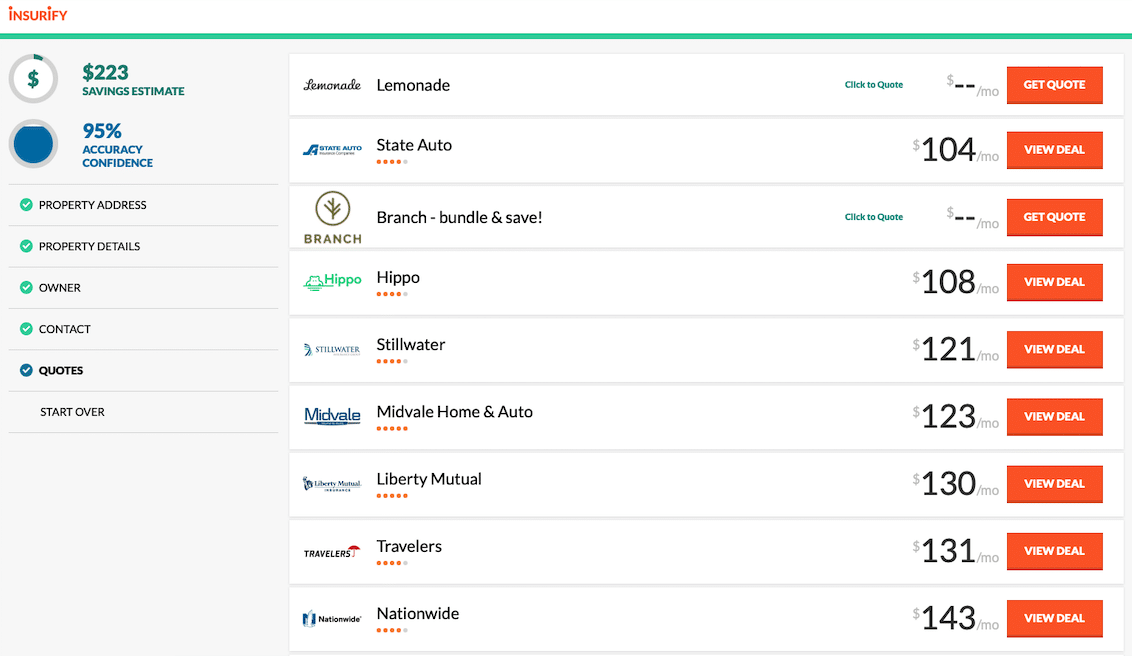 Compare Car Insurance Quotes Instantly
Personalized quotes in 5 minutes or less
No signup required
Data scientists at Insurify analyzed over 40 million auto insurance rates across the United States to compile the car insurance quotes, statistics, and data visualizations displayed on this page. The car insurance data includes coverage analysis and details on drivers' vehicles, driving records, and demographic information. With these insights, Insurify is able to offer drivers insight into how their car insurance premiums are priced by companies.